Spring Barometer Readings
It's overlooked. Barometric pressure is usually overlooked by the average angler who's planning what days to fish this week or next, but it can be important. Especially so in springtime. Spring is a time of the season when barometric pressure can make or break a fishing trip. So, I'd like to give you a few pointers about barometric pressure and how to deal with it. This article will help you most if you have "flex time" that allows you to fish any day of the week. Then, you can basically avoid barometric highs if you find, like I do, that such periods are tough times to catch bass.

It's also deceptive because anglers often get the urge to make a few casts when it's "good" weather that's comfortable for us (bright, dry, clear skies) but this same high pressure pattern that's so favorable to us often means poor fishing. Meanwhile, the arrival of wet, stormy weather will cause many anglers to decide to stay home even though such inclemency, as uncomfortable as it is to us, can yield a bounty of fish!

Pre-frontal conditions. When the barometer is falling, you will usually have non-westerly winds. This is usually a good time to fish, but it usually also means some wet weather is on its way into your area. Southerly or southeasterly winds are usually harbingers of wet weather that will usually pass through quickly (albeit sometimes dramatically with heavy downpours and lightning). Northerly or northeasterly winds usually indicate slower-moving larger weather systems which will take longer to pass, and often trigger protracted feeding sprees before it's arrival.

Just before the wet weather arrives, it will be preceded by a "front" (an abrupt change in weather) which can often trigger feeding binges by bass before and during the frontal passage. Keep in mind, however, that fronts can be dangerous, especially ones with high winds and lightning -- not to mention getting soaked and possibly sick.

However, if you want to fish in one, it can be good to position yourself on a shore that has the wind blowing into it -- which often means the northwest shoreline. Try to get the wind blowing "into" something such as a small bay, a point, a dropoff where a shoreline flat slopes into deeper water for example.

Post-frontal conditions. Fair fishing will usually last for a brief period after the wet weather passes -- especially near mouths of feeder creeks. You should continue to do fine with the fish if the wet weather "tails off" gracefully without brisk westerly winds clearing the front out. However, if the wind quickly turns west after the front passes, this means that a high barometric pressure system is being pushed/pulled into the void left by the recently-departed low pressure wet weather. On such a west wind, you can sometimes expect this to cause the fish to get "lockjaw" and pull back (either out to the nearest deep water or into the closest heavy cover). This will often last 2-3 days before the west wind subsides and the barometric pressure stabilizes near normal.

In between fronts. At this point, the barometer and the weather may stabilize for a few days and you can usually expect the fishing to stabilize also. As the barometer starts dropping again for a day or two in advance of the next wet weather coming your way, fishing will improve! Then the whole cycle of pre-frontal low pressure, precipitation and post-frontal clearing will repeat itself.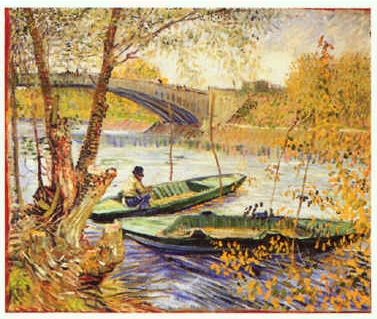 The odds are in your favor. Just like in the lottery, it's a game of chance where you can win some and lose some! Fish don't always follow the same game plans we do, but the average springtime angler's odds are better to be on the water just before, just after and during the arrival of wet weather (when the barometer is dropping, bottoms out, and then slowly rises). Remember, you will find that "just before" and "just after" mean exactly that! If a low pressure front comes through in the morning, it may already be "too late" if a stiff clearing wind is blowing through by lunchtime!
Five day forecasts. Five day forecasts are the best (and only) tool to help you plan ahead for when to fish or when not to. The five day forecast lets you see what is coming a few days from now. Although the weatherman may not be exactly right for any single given day, although it may not exactly happen as they predict it...the "big picture" including the passage of fronts, the lead-in before them and the clearing trend after them should be obvious if you pay attention closely.
Where to get it on the Net. One good place to get a five day forecast for your area is by clicking here to get All Fishing Info for Any State, including weather forecasts, tide predictions, solunar tables sun rise/set, moon phases/rise/set and lake/stream conditions. Here you will find a local five day forecast for your area from Wunderground.com. Simply click on your state, then click on weather. This will whisk you away to the weather web site at Wunderground.com. Now click on your local area within the state, and you'll get your five day forecast.
Get it delivered by email. Weathertrac.com is another weather web site which will automatically email you a five day weather forecast for your zip code every morning. Simply click here to be whisked away to Weathertrac.com's email page. Once there, enter your zip code (or the zip code of the spot you plan to fish), enter your email address. If your browser supports it (most do), it is far better to click on "HTML" rather than "text" email. The HTML email will have visual weather images in it whereas plain text email will not! As they say, the picture is better than the words.
Well, that's all for now folks! Hope this article helps you plan when to go fishing versus when to enjoy other springtime activities (sleeping, eating, etc.). Sure, you can "tough out" a high pressure day by going deep into thick shallow cover...if the fish went in there...or you can move out deeper...if you have a boat and you know where the fish might have gone...but odds are you're still going to have stubborn "lock jaw" bass to unlatch during high pressure post-frontal conditions in spring.