ICAST 2008:
New Bass Tackle for 2009
It's not really fair to you, the angler, to read the report below. It isn't really fair to the vendors, distributors, wholesalers or retailers either. Maybe next year they shouldn't let the media in to ICAST (except for me). It probably should be an insider show for tackle vendors and tackle buyers, not the general public nor the media.
Among other things, ICAST assists the new product introduction cycle for next spring. Many of the new products you will read about here do not exist yet, not in production. Many are still in the prototype stages. It's important for vendors to show these products and prototypes now to large distributors and their biggest buyers especially. Those distributors and wholesalers can then give vendors a feel or commitment or estimate for how many units they would need allocated for their 2009 mail-order catalogs or distributor's dealer-only shows late this fall and early next spring, so production can ramp up and the new products can be on local dealers shelves, available online or in mail-order catalogs for you by the time bass fishing season opens next spring.
With traditional media, meaning fishing magazines and mail-order catalogs, you would not normally hear of most new products shown at ICAST until the December issue, which traditionally is the issue that gets winter-bound anglers thinking of all the new tackle they'll need for bass fishing in spring 2009. Then, consumer buying of these new items rockets sky-high in January through April. That's the cycle that ICAST initiates each July.
One other caveat is not every vendor attends ICAST. I'd say less than half of the major bass tackle vendors attend ICAST. We just don't know what the other half are coming out with yet. We'll have to wait for the traditional year-end magazine reviews and mail order catalogs for that missing information!
Most of all, I desire to thank everyone in the tackle trade who gave me a moment of their busy time to help produce this report for you. Thank you all who gave me your time at ICAST.
Now, on to the report!
Special Features of ICAST 2008:
Allen Cole discovered in the late 1980s that trophy largemouth targeted stocked trout as a food source. Armed with that knowledge, Cole set about matching the coloration and deadly snake-like swimming of his huge wooden A.C. Plugs to duplicate the hues and mimic the movements of small trout that are preyed upon by trophy bass. For four years, Cole secretly perfected his idea. By the early 1990s, Cole was ready to unleash his A.C. Plugs on California's trophy largemouth bass and the angling world, catching a 15 pound largemouth on his first trip. It sounds incredible, but most Californians believed at that time, that big bass (over 10 pounds) could only be caught with live bait. On that history-making day, Cole single-handedly began the big swimbait craze in California, which has now become a worldwide phenomena, and swimbaits have proven to be the best method to catch truly trophy bass.
Thanks to Allen Cole, we have many giant lures of all kinds today, called "swimbaits" that have become the way to catch trophy bass. Some are wood, hard plastic, soft plastic or combinations thereof. Many still incorporate some feature or another of Cole's, from his original to his latest designs.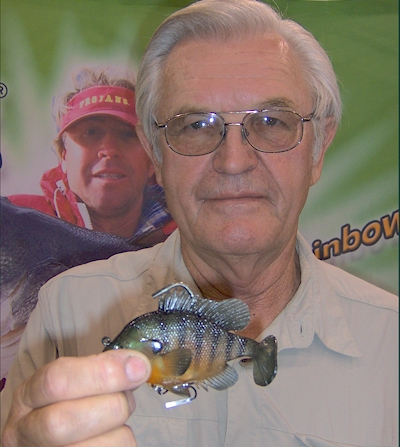 Allen Cole with his newest creation, the AC Bluegill. It features flared pectoral fins and three sink rates.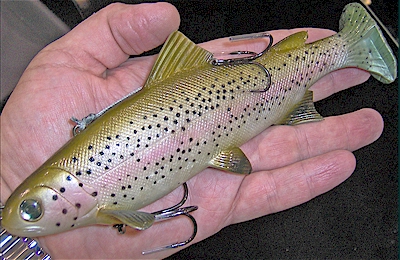 AC Casitas Version 2 has new hybrid tail design. It swims slow using the top of the tail. On a fast retrieve, the bottom part of the tail paddles hard, says Cole.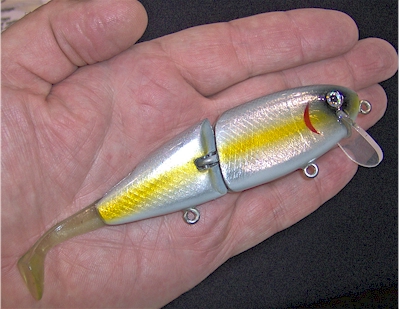 Mag Shad Jr shows new finish style where the paint scheme is protected so it cannot chip under a thick, lustrous topcoat.
---
Ego Large Floating Landing Net. This net seems heavy duty and solidly-constructed in every way. Best of all, it floats. You can drop it overboard by accident, or even if you need to let it go during the landing process, you can just drop it in the water, no worries. Everything about this net is what you'd want. The juncture where the hoop is joined to the shaft is sealed in a solid plastic sheath - so there are no nuts, bolts or sharp metal edges exposed that could cut your line. There's nothing on this net for your line to catch on. The rubber basket doesn't damage fish bodies or their fins as does finer mesh, and it's a whole lot less likely to snarl hooks on lures. The large size hoop is amply-proportioned for most bass you are likely to ever encounter. The handle is aluminum tubing, sealed off so it floats. A very good-looking net indeed. I need one now!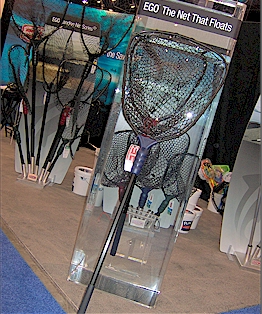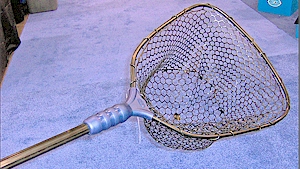 ---
Bandit did not have any new models, but they were at ICAST to display six bright new color patterns sure to raise interest among bass and anglers alike.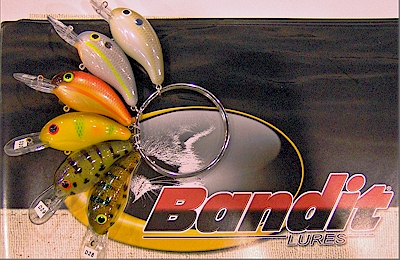 ---
Okay so this is not new tackle, but it is a new push they're making for this magazine, and they had a booth at ICAST.
Mark Lassagne, the California-based publisher, says "We are a quarterly publication focusing on western bass fishing and anything that will help our readers become better anglers. Our writers are bass anglers, and we have more content than any other magazine on the market - up to 40 articles per issue. In addition, we are the only print media source for western tournament dates."

---
The new product emphasis at Bass Assassin is on swimbaits for 2009. Two in particular that caught my eye are:
6" Swimbait. This also comes in other sizes, but I liked the long, slanky look of the 6" swimbait best. It's a little different than the dozens of fat-bellied others out there. So the thin profile sets it apart, and is a reason to try it. It's solidly constructed, with a hook slot on the belly.
5" Next Generation Swimbait. A deeper-bellied bait that will be weighted with a line-through sinker inside. You simply thread your line through the nose, out the belly and attach your favorite treble hook.
Dropshot Bait. I don't recall the exact name of this one, but it is a small dropshot bait with a flat belly. It's shown in a rainbow trout color in the photo below. I did not have a chance to photo the rainbow trout color in the bigger swimbaits, but it really is one of the better rainbow trout swimbait colors I've seen in soft baits. Do give it a try in 2009!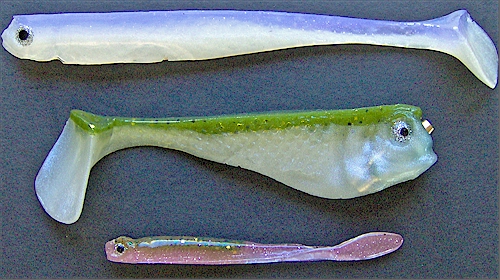 Top down: 6" Swimbait. 5" Next Generation Swimbait, Dropshot Bait.
---
ICAST was my first introduction to Big Bite Baits. I met one of their representatives at the new product preview reception held the evening before the show opened, and two of their soft bait products caught my eye, the Super Shad and Wacky Worm.
Super Shad. This looks for all the world like a lipless crankbait molded in soft material with a swimbait tail added to it. If I am not mistaken, these are biodegradable baits. Whatever material they are made of, the tail felt more supple than typical soft bait plastic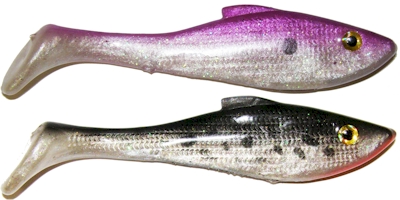 Wacky Worm. This was remindful of two paddle tail worms joined together head-to-head, forming a wacky worm. I did not get to see this in action or speak to the Big Bite Baits staff about it, but it looks noteworthy nonetheless. If you try it, and it works, don't tell anyone. It will be our little secret.

---
If you like to use attractant, and you like the notion of an attractant that's naturally what fish eat, BioEdge fishing products are designed with that concept in mind.
The company's attractant products are extracted from - and only from - the whole baits that fish eat in the wild. The only thing that goes into the product are whole baits, the scales, digestive system, skin, skeleton, everything. Unlike many other attractants, there is no water, no vegetable oil, no man-made chemicals, artificial scents, no fillers or inert additives. Since the end result is a natural oil base, there are no preservatives necessary.
The only thing that goes into the product are whole fresh crayfish, frog, insect larvae, minnow, night crawler, shiner, herring or smelt. That's all. What's extracted are a rich mixture of natural oils, pheromones and amino acids - the very ingredients that fish have the ability to detect.
There are two versions. One is a 'wand' which is like a chapped lip stick applicator to apply a semi-solid, waxy formula. This seems like it may melt on a hot day. Therefore, I liked the liquid oil version better than the wand. The company says there is no actual shelf live, but reasonably expect it to last five years if you can keep it out of the sun and heat. Store at room temperature, not in sunlight, and it tends not to go bad since it is a natural oil base. The product is super-filtered so it appears as a 100% pure oil with no other material in it.
I think I'll try it, starting with the crayfish, since this gives me the ability to test and compare it against so many of the other crayfish products on the market. If that works, then there also are 100% pure frog, insect larvae, minnow, night crawler, shiner, smelt and herring extracts too.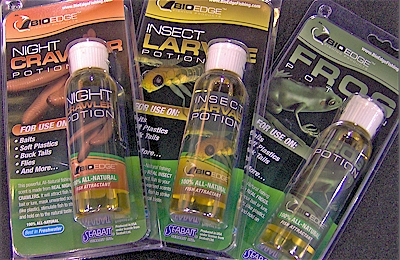 ---
The Blackfin Skeg is not a new product, but it was new at ICAST and to me, maybe to you too. The company says it is a high-performance replacement or add-on skeg for your outboard. The product features seem well-thought out. The company's website has video clip demos and more information.
Unfortunately, I don't think it will be a question of if but when I'll need yet another new skeg. Hopefully that won't be too soon, but when it's time, the Blackfin may be something I'll evaluate more closely.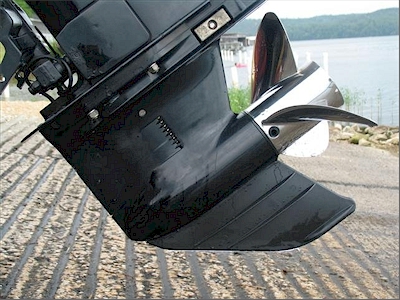 ---
What do you get for the crankbait anglers who thinks he has everything? Well, it's almost guaranteed he doesn't have one of these side-swimming crab crankbaits.
If I was fishing brackish tidal water, I'd certainly give these blue-clawed crab cranks a shot!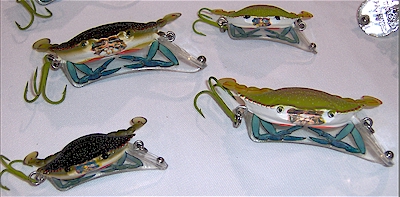 ---
One of the coolest new product concepts were powerful magnetic bullet sinkers. I really hope they work out on the water as good as they worked in the booth at ICAST.
The innovative new MagWeights from Bullet Weights use a powerful natural force - magnetism - to keep a Texas-rigged soft bait and sinker together as one unit. In concept, it is brilliant, and the price is reasonable.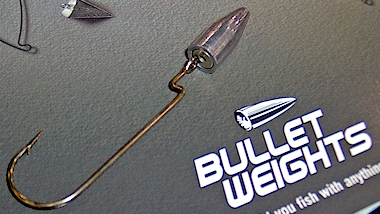 New MagWeights are traditional bullet-shaped lead sinkers with a strong magnet at the bottom that allows anglers to attach the sinker directly to the hook without anything else involved. Using a strong magnetic force, the MagWeights attach instantly to the hook, even through most soft plastic baits, says company president Joe Crumrine.
This eliminates the need to carry separate pegs, toothpicks, bobber stoppers, screw-in devices or anything else. No additional component is needed except the sinker, and no line damage is possible.
"There has also been some thought among anglers that magnetic fields can trigger fish to bite," said Crumrine. "We don't directly make that claim but I know most anglers are looking for any possible edge they can get."
Available in natural or powder-coated black colors in 1/8, 1/4, 3/8 and 1/2 oz.
MSRP $3.99 for 6 pieces (1/8, 1/4) or 4 pieces (3/8, 1/2), which is the same price as the company's screw-in sinkers.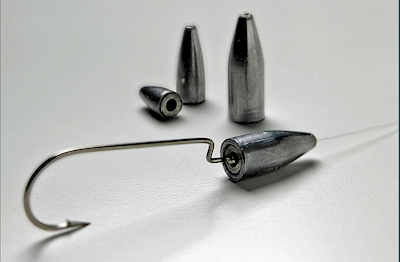 ---
Note: I do not have any good photos of this vendor's new products, but if you visit their website, you may be able to see some there.
Garry Garland is one of the pioneering legends in our sport. Garry helped his brother Bobby Garland invent tube baits (and the skirted, twin-tail spider jig) in the seventies. Garry's experience goes back to the very first tube bait ever. His health is not that good now, but there's still a sparkle in his voice when Garry talks tubes, and every word he speaks is like gold.
New Pro Series 'Extra Salty' Gitzits. Canyon Plastics has made over 150 colors and color combos over the years, but Garry highly recommends two colors today. One he calls 'Truly Ugly' Light Watermelon color is one of the best in the Gitzit product line, says Garry. It has no flake, just a lot of molded-in salt which make the light watermelon color turn milky or 'Truly Ugly." Jay Pennington, owner of Canyon Plastics now, continues to work closely with Garland, and Jay showed me the Truly Ugly color at the show. There's no way to be nice about this, but it looks like something nasty that you'd cough up when you have a bad case of the winter flu.
The second color Garland recommends is Brown Melon with Purple Glitter. Actually Garry's been recommending for 7-8 years, which is when he first perfected it. I have used this color about that long, and even under the worst conditions or on the slowest days, even in the dead of winter when nothing else will work, this color has always produced for me. So do give it a try. It is as good as Garry says. Other companies may make something close - but not the same nor as good - either in color, the buoyant material, shape, and the way the skirt is cut.
Great Lakes Pro Series Goby Tube. There's a new Goby Tube which has a sprayed white belly on darkish brown and green goby-colored tubes. It's not paint but white tube plastic that's sprayed on, so it bonds chemically and becomes part of the tube body. It can't peel or flake off and is flexible. The series is called the Great Lakes Pro Series, and has been very popular and productive especially on Lake Erie, says Garry.
5" Swim Doctor Swimbait. "The 5" Swim Doctor is also new," says Garry. "We introduced the 7" Swim Doctor last year, and anglers have requested for us to produce the 5" version too."
Now here are some tube bait tips in general from Garry. He says, "The overall best size tube bait for smallmouth is the 3" mini tube. It's favored in the Eastern US where smallmouth are found in a lot of streams and many smaller natural waters, so the 3" size makes sense there. In the West where smallies are mostly in massive man-made impoundments and also on the Great Lakes, the 4" tube is favored," advises Garland.
---
Mr. and Mrs. Charlie Brewer Jr. showed me a series of new soft bait colors for bass across the Slider product line. What Charlie wanted to emphasize the most was their new 1/2 oz wide gap ballhead Slider Jig. All our jig heads are made with custom hooks designed exclusively by and for Brewer, says Charlie.
The new 1/2 oz model was made to meet the needs of anglers fishing in deep water and moving currents. It certainly looks like it will get down fast and stay there. It's a good, solid jig that nicely meets a need in the Slider product line.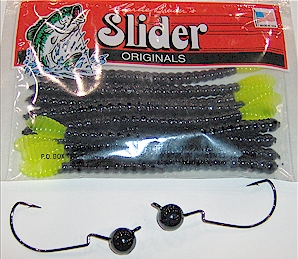 ---
Culprit introduced several new products at ICAST, including an artistically-colored hollow body paddle tail swimbait with defined red gills. Also an equally artistic new soft plastic topwater toad. They've done a good job on color patterns with their new hollow belly swimbait and topwater frog for 2009.
Ultimate Goby. What impressed me most of all was Culprit's new soft plastic goby swimbait. It's 4-inches long, has a swimbait paddle tail with an molded-in internal jighead. They aced it in terms of its ultra-realistic goby body shape, etched scales, gill plates, fin details and high quality natural goby colors. I'd put the quality and appearance of this goby bait on a par with many high quality trout swimbaits, except it's a goby. It's a beautiful lure. I did not see it swim, but at least in the hand, this is the nicest goby-imitating lure I've seen. It should be ideal on the Great Lakes such as Lake Erie where smallmouth key on gobies as a large part of their diet.
This is actually the second - and much improved (in terms of realism) goby bait that Culprit has produced. So they have a lot of experience, expertise and insight in making good-looking goby-imitating baits. The previous version was also quite artful and detailed - except it had a realistically shaped and painted external goby jighead.
The new version is much improved, and has an unseen, molded-in internal jig head. There's also a removable treble hook hanger extending from the belly. Company staff say anglers who have gotten the knack of fishing with it can use the Goby with the belly treble, even on snaggy mussel bottoms without hanging up much, and the treble increases the number of fish landed. However, the treble and split ring may be easily removed or reattached at any time. Culprit's done a goby good job!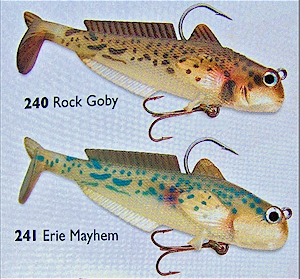 ---
deps
deps products (from Japan) are distributed in the USA through Optimum Baits in Temecula, California.
deps Balisong Minnow. True, the new Balisong Minnow is a jerkbait - but one that does not depend as much on jerking as on its body-rolling action. The lure concept is to move with a real flashing, rolling action, says Matt Paino.

Matt Paino shows deps Balisong Minnow.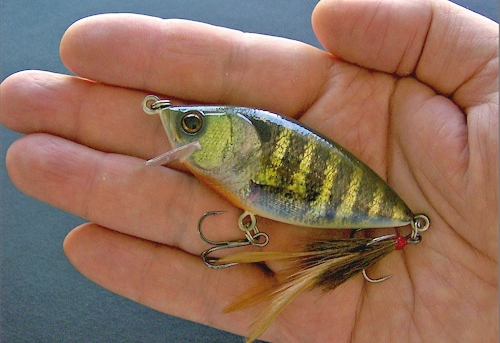 deps Realiser Jr is a low floating, slow rising, medium diver. Weighs 1/2 oz. 3" long.
deps DC-400 Cascabel Heavy Duty Deep Crankbait. This is the strongest, stoutest crankbait out there. It is designed for catching the very biggest trophy bass. It is for use on heavy line with stout rods and reels. It has big, strong hooks. Most importantly, the crankbait swimming action is designed to remain lively and crisp, even on heavy line. This deep diver weighs 1 oz, reaches depths from 11 to 13 feet deep, and is 3: 3-1/2" excluding lip.
The Cascabel has a large-sized rolling tungsten rattle inside a chamber, so it rolls and knocks loudly when it impacts the front and back chamber walls. This weight moves to the rear to ensure long distance on the cast.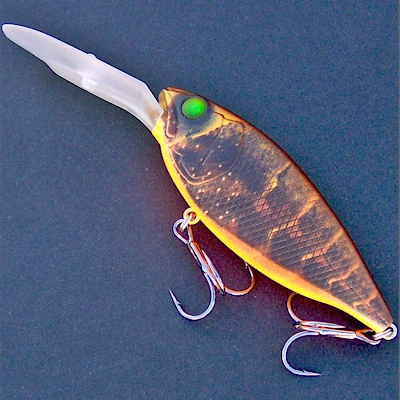 deps DC-400 Cascabel Heavy Duty Deep Diver.
deps Highsider Jr. Swims with an action that traces the letter S through the water on a steady retrieve.
The Highsider Jr. creates a similar side-to-side sliding effect as a jerkbait. Constant, skillful rod action is required to make a jerkbait to dart and flash left, then right throughout the retrieve, zigzagging back and forth. In comparison, the constant natural "S" action of the Highsider is accomplished with a simple, steady retrieve.
When paused and allowed to float on the surface, the Highsider Jr. will roll over and lay on it's side, The jointed body will arc over and downward in a semi-circle with the tail hanging downward like a dying fish. Any water movement will cause the jointed body to sway and flex feebly like a dying fish, and the feathered tail will flicker enticingly, often getting hit when deadsticked on the surface like this.


deps Highsider Jr. weighs 1-1/2 ounces and 6 inches long.
---
Do-It's become more active and a bit more of a full-service tackle-making source in recent years.
The guys showed me new powder paint colors geared toward bass anglers, and also told of their new airbrush paints that come pre-thinned and ready to go.
Do-It says they've seen a lot of growth in their sector of the business, which caters to home hobbyists who enjoy making their own tackle.
In molds, Do-It mentioned a new buzzbait model with a keeled underside. New molds for swimbait heads, for bass jigs with recessed line tie eyes, and the latest, called a 'Flutter Jig' which will be available from 1/4 to 1 oz (Flutter Jig shown without molded-in eyelets on top/bottom).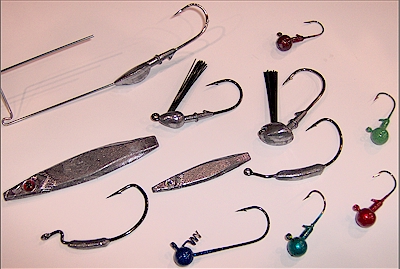 ---
Note: I do not have any good photos of this vendor's new products, but if you visit their website, you may be able to see some there.
Bow Mount Trolling Motor Lock. DuraSafe has developed a lock that helps prevent the theft of bow mount trolling motors.
"Our Bow Mount Lock offers reliable, affordable theft protection and eliminates the hassle of having to remove the motor when the boat is left unattended," said Cathy Kraatz, DuraSafe Marketing Director.
The lock, which acts as a knob, replaces the factory knob to secure the motor to the mount, and fits on most MotorGuide bow mount trolling motor models. MSRP $16.99.
DuraSafe Universal Electronics Lock. Helps prevent theft of bracket-mounted GPS, fishfinder and VHF radio units. The compact and rugged lock replaces one of the bracket knobs and secures the unit to the bracket. One size fits GPS, fishfinders and VHF radios made by virtually every manufacturer, claims Durasafe. It can be keyed alike if more than one bracket-mounted device needs to be secured on board. MSRP $24.99
---
The company's new Skip Jig looked good. It has an easily-collapsible brushguard peg retainer for weedless rigging. The plastic peg looks like it will keep soft baits in place even when skipped hard off the water's surface. This is a chronic problem with trying to skip baits on other jigs or hooks, but the plastic peg on the Fin-Tech Skip Jig looks like it could solve that problem.
The round jig head is flat underneath like a good skipping jig should be, plus the recessed hook eye is low and inline with the fishing line trajectory. Seems like they covered al the bases with this one. Available in 1/8, 3/16, 1/4, 5/16 with 3/0 wide gap hook.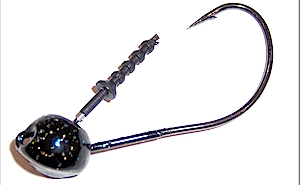 ---
Kai Tham, owner of Fishbelly, only has a small but well-chosen product line. By that I mean Kai has cleverly selected the products he offers, and has refined and ratcheted up his product mix over the years. Today, his product mix is pretty good, and it's not the usual stuff found everywhere else.
Two swimbait models by Fishbelly are unique in design: 1) the three-footed Kick Shad and 2) the open-mouthed Popper Shad.
They show the ingenuity of Fishbelly's product line.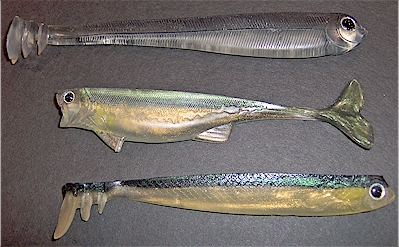 Three-tailed Kicker Shad (top and bottom). Open-mouthed Popper Shad (center).
Samurai Twin Spin. Possibly most ingenious of Kai's new products is the Samurai Twin Spin. I did not see this in the water, but it has not one, not two but three ball bearing swivels, and the entire free-spinning arm assembly generates three different movements, says Kai with pride. It helicopters on descent, and since the two blades are uneven, it's never truly balanced, so it has crippled action. The crippled wobble is there even when not helicoptering, but retrieving the spinnerbait horizontally. Anyone who knows me, knows I love spinnerbaits, and this is the niftiest new spinnerbait idea I've seen in years. Also, if you look closely, the three loop ends are welded closed. That's quality. I'm keeping my fingers crossed in hopes it may work as good as it looks.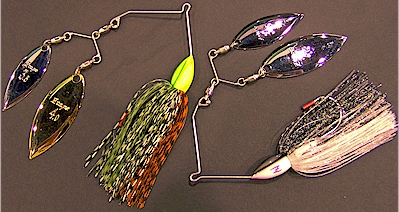 ---
Original Florida Rig Screw-on Weight. It's back again, after going off the market for four years. Same quality components and construction, available in plain black (1/32, 1/16, 1/8, 3/16, 1/4, 5/16, 3/8, 1/2 oz) and rattling black (1/16, 1/8, 3/16, 1/4, 5/16, 3/8, 1/2, 3/4, 1oz).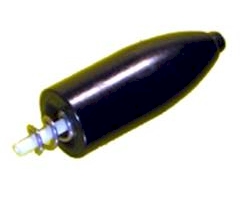 Carl Svebek Wacky Jig Head. It was a little surprising there weren't more new wacky jigs introduced at ICAST. It seems like many companies are missing out on this new tactic from Japan - but not Gambler. The Carl Svebek Wacky Jig Head is one of the few American made wacky jig heads on the market today. It has an Owner hook with a light five-strand fiber weed guard, and a unique ridged head design. Available in 1/32, 1/16, 1/8 and 3/16 oz.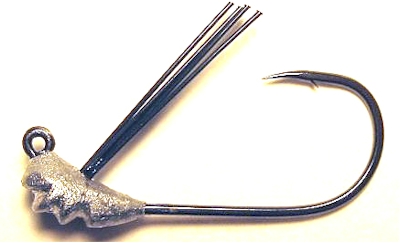 13" Ribbon Tail Worm. Possesses the same proven characteristics as Gambler's 10" Ribbon Tail in a bigger package.

Deep Diving Custom Cranks. Gambler's new Deep Diving Custom Crank runs 16 to 18 feet deep and has been known to reach depths of 20 or more feet on 10 lb braided line, claims Byron. It features a computer chip bill, through-wire harness, and an eight layer custom paint job.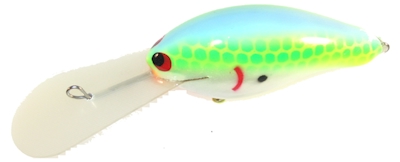 ---
Gary Loomis
Gary Looms hand-tied spinnerbaits were new last year, but many anglers have yet to see them, so here you go. They are hand-tied in Thailand.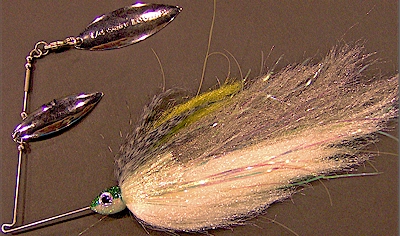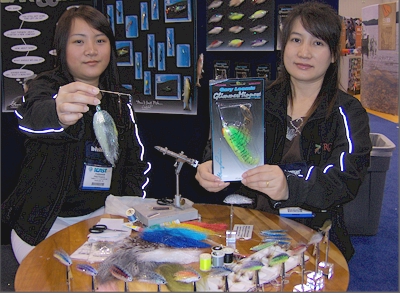 Gary Loomis may also have plans to get into the hard swimbait, crankbait and jerkbait market and had several prototype hardbaits at ICAST.
Soft baits are also planned for the future. Prototypes were shown of two models: 1) the 5" GL Rattle Slap worm which is molded in an S-shape and has a channel for a rattle in one end, and 2) the 5" GL Leech. Details were sketchy at this time.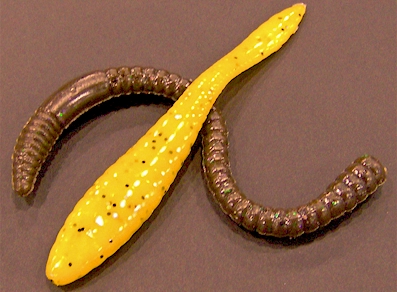 ---
GYB added 'cream to the top' of their product line with 54 top-selling colors infused across their 14 top-selling items, including laminate two-tone colors in some models for the first time, pus 6 brand new killer colors.

In 2009, GYB hopes to do for crappie and panfish anglers what GYB has already done for bass anglers - provide them with some of the finest soft baits in the world.

---
5" Biffle-O Jr. Larew company owner George Toalson will also use a pinch of worm to cork the Biffle-O's but that's hardly necessary. The front half of the body is identical to a hollow tube bait, except the long tapered tail is like a trailing pennant. The Biffle-O's tail that is the secret to this bait's success. The tail has a fluid, fluttering action like a strip of supple pork rind.
There's an 8" Biffle-O that looks and swims the same, only bigger, but the 8" isn't new this year. It's been on the market. Give it a try.
The smaller 5" size is new - and it looks especially appealing for dropshot and shakey head set-ups. One of the problems with many shakey head jigs is not being able to set the hook, and the thin wall of the Biffle-O solves that.
Of course, you'll often want to rig it on an insider jig, just like a tube bait. But the Biffle-O action is totally different than a traditional shredded-tail tube bait.
Bass West USA magazine editor Jamie Cyphers split one Biffle-O tail all the way down the middle - and the split-tail mod wiggled swell in the demo tank, but so did the undoctored Biffle-O tails too!
8-1/2" Biffle-O Lizard. Tackle industry PR hondo Gary Dollahan told me to make sure I see Larew's Biffle-O Lizard. I'm glad I did. It's dynamite.
It's a big lizard, but very light. The lizard's head is solid soft plastic down to the upper arms. From there, the wide body's hollow with thin walls just like a tube bait down to the lower legs. The tail is also thin-walled and hollow, but the tail is tapered like a long pennant, not fully round. So it's cupped. It looks like you sliced a tube bait open, but it's injection-molded that way, not cut, says Larew's George Toalson.
In the demo tank, the hollow body and long thin tail exhibited plenty of enticing action. George Toalson uses a short piece of soft plastic worm like a cork plug in order to trap air inside the lizard body. This little trick will let the lizard float, even with a heavy hook rigged in it.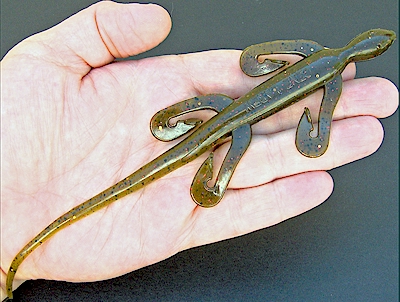 A big lizard - but hollow and ultra lightweight.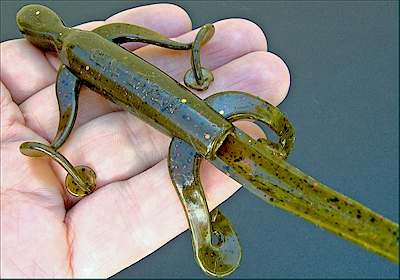 Solid soft plastic head. Thin-walled body, hollow like a tube. The tail, thin-walled. Big, round paddle feet on all four legs.
---
Treats Swimbaits. Many experienced swimbait anglers think Kamakazee makes one of the better swimbaits on the market, in terms of quality, finish and action. It may look similar to many of the others, but the Treats Swimbait has the reputation for consistently getting that one extra or bigger bass.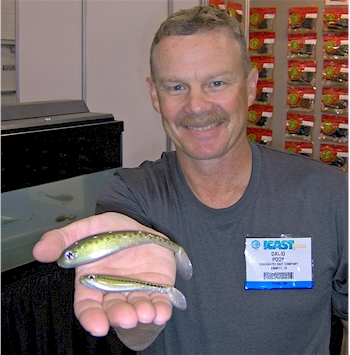 David Pook, owner, had a lot of buyer interest at ICAST.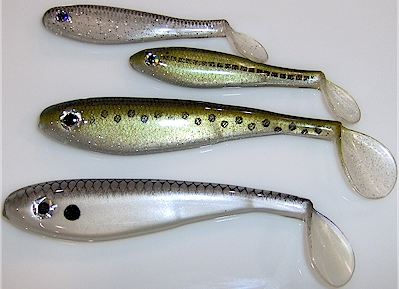 Treats Swimbaits are available in sizes from 3-1/2" to 6"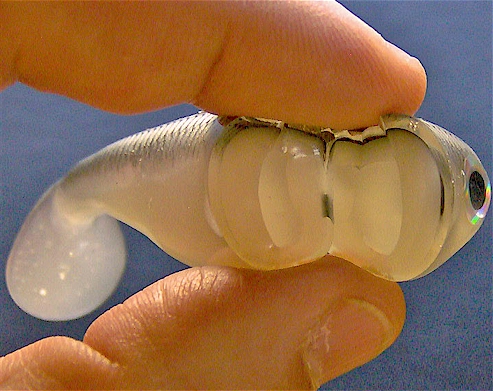 Treats Swimbaits are hollow inside.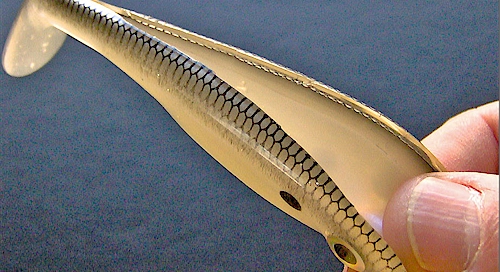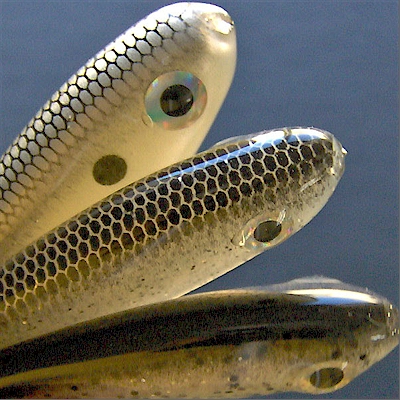 Clear Coat Magnification. A deep, lustrous clear coat of plastic encases the entire Treats Swimbait. It adds lifelike depth and an additional dimension of realism. Furthermore, the clear coat magnifies the colors, especially the scale finish and any glitter flake in the finish is magnified due to the deep clear coat finish over the entire bait.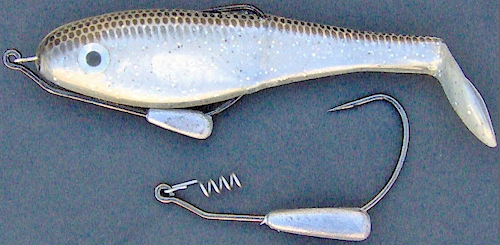 Shank Weight Hook Rigging.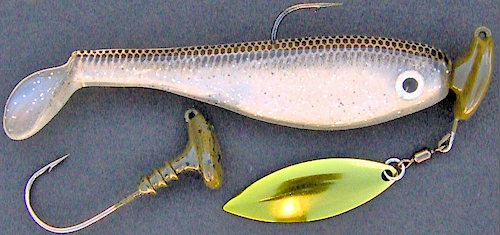 Spinner Jig and Stand Up Jig Head Rigging.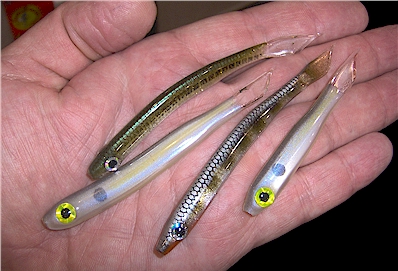 Not sure what Kamakazee calls these. I call them.. Nice!
---
Kanji is well-known for its premium tungsten weights and sinkers.
Tungsten Nail Weights. New for 2009 are Kanji tungsten nail weights in four sizes. A key feature are the extra big grooves or ridges in the nail weights. Says John Morrow. these will not fly out of lure like others, and the price is reasonable considering they're tungsten.. They're $2.90 per pack, ranging from 9 to 21 pieces per pack, depending on weight size.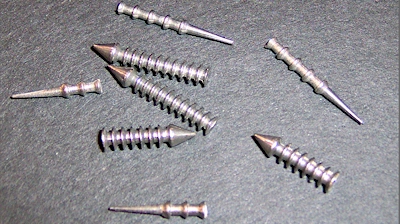 ---
Note: I do not have any good photos of this vendor's new products, but if you visit their website, you may be able to see some there.
IronClad Soft Baits. These are not new shapes, and were first debuted at ICAST last year, but may still be new to most anglers. The material used that's new, if I'm not mistaken, is a polymer material used in medical skin-grafting procedures, according to Ben Hobbins. From the looks of it, there's a mesh-like membrane that lends strength and cohesiveness to the surrounding relatively softer body material. A worm-shaped model seemed impossible to tear, and I wasn't able to remove the wacky-rigged hook from the IronClad soft bait. Hobbins compared it to getting a hook stuck in your flesh or finger, and if you've ever done that, then you know how difficult, almost impossible it can be to remove it. Obviously, it seems you're not going to lose nor tear too many of these during a fishing trip.
There are currently several stick worm sizes, a trick worm, soft shad jerkbait, tube bait and shrimp tail shapes in the IronClad product line.
---
Most blinking or other internally-lighted lures I've seen had LED lights inside. The Laserlure is different in that it has a red laser pointer device inside. I have seen and heard accounts of bass in tanks that follow a red laser pointer beam around. So maybe there's something to it.
Mike Lopez, Laserlure's national sales manager says the red laser beam looks like heartbeat inside a hardbait. It's a true laser like in a laser pointer. The laser pointer comes out through the lip or front of the lure, and when the beam hits the lip, the lip diffuses it so the whole lip lights up. It's good in low light or at darker depths. There's a topwater popper model that is Mike's favorite in the low light of early morning. At night, you can see the whole bait gets illuminated, states Long.
The light is only activated when the lure is in water. Mike says the laser lasts about 80-100 hours. He estimates that's two years or longer for the average angler. After that, it's effective as a regular lure.
There are shallow and deep-diving crankbait models, a topwater popper and hard plastic jerkbait models.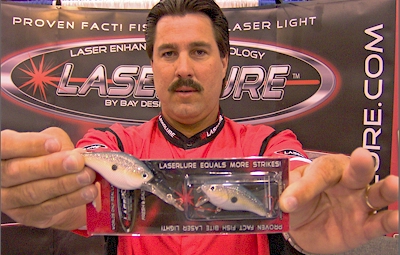 ---
The company started with attractant products in squeeze tubes about five years ago. They've since carried the formula over to the gel caps. The effect lasts about twenty minutes depending how many piercings you make in the gel cap, states the company.
They are particularly well-suited for inserting in tube baits as well as the new crop of hollow-bodied swimbaits, states the company.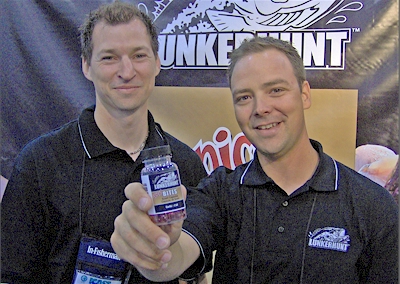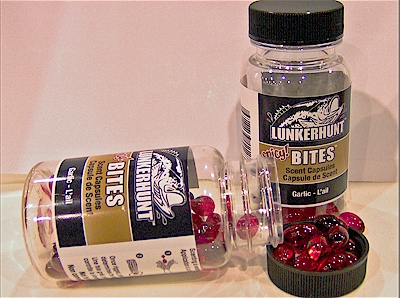 ---
HardNose SwimShad. This 5-1/4" hollow-bellied swimbait has Mann's patented harder head. So they won't tear as easily.
Another vexing problem with swimbaits is getting the right hook that fits and works best with each different brand or model of swimbait. In the HardNose SwimShad's case, anglers don't have to worry whether they have the right hook for the job. Every package of HardNose SwimShads contains a 7/0 Eagle Claw Lazer Sharp Platinum Black 3/16 oz. weighted swimbait hook. This ius the ideal hook to use with this swimbait, says Hunter.

Baby Waker Elite. Mann's baits are the most popular super shallow subsurface crankbaits in certain parts of the midwest, central and southeast regions of the country, indeed nationwide. The Baby Waker Elite is the latest from Mann's in this lure category. Weighing 1/4 oz and 2-1/2" long, the Baby Waker Elite runs only 1-3" beneath the surface no matter how fast it is reeled, says Hunter. It produces a large wake and gurgles when reeled across the water.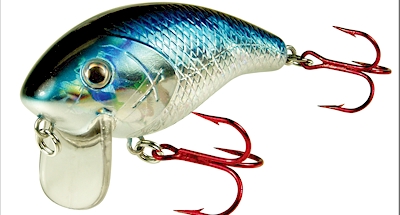 ---
I loved the concept of these prototype baits, n ever having seen anything quite like them. The flapping tail reminded me a little of a trapeze swing. The company had a video at their booth that showed the rising and fluttering falling action that imitates an injured baitfish struggling on its side.
It tends to stay near the surface, and rises up on the retrieve with an up-and-down type of body motion. All the while the tail flutters. When allowed to sink, it tends to do so head-first, as the fluttering tail sort of suspended above it.
Overall, it was a refreshing new lure concept to me, and I wish the company good luck with it.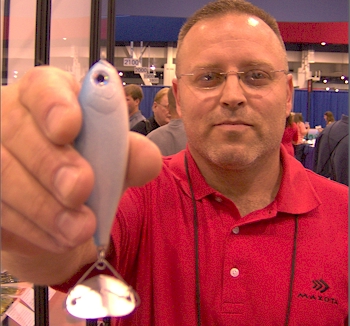 Tim Peterson, president of Maxota.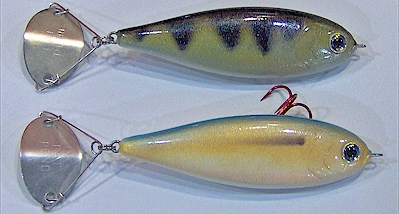 ---
Troy showed me a number of new baits for 2009.
Swimbait. Mizmo's new swimbait has a different profile. It moves a lot of water, and the fatter tail has a lot of kick. It's more durable than many other swimbaits, and holds up longer, so you can catch more fish with it, says Troy.

Ledge Houdini Jig. Has a light wire hook for better hook-ups fishing deeper ledges. Can also be used for shallow water flip bait, keeping lighter hook in mind.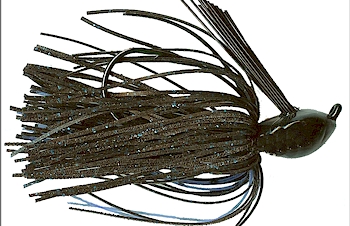 Shredder Chunk. A nice, tough chunk for use as a jig trailer. Has same type shredded tail as on a tube bait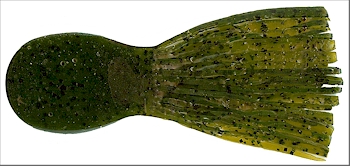 10" Hogzilla Hand-Poured Worm. Being hand-poured makes it super soft, so it has lots of action. You don't have to move it a lot in order to get the tail to paddle a lot. Troy says.

New Round Ball Shakey Heads.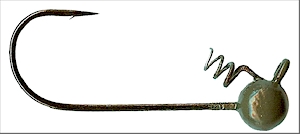 ---
Castaic's Jason Scott is one of the best swimbait designers in the industry. He has been at the forefront of swimbait development since Castaic helped create the swimbait lure category eleven years ago.

Castaic has experienced overwhelming growth every year since, and Jason has continued to evolve the product line, with intense and continuous research and development. It's brilliant some of the things he has pulled off. Who else could innovate the company's Tri-Claw hook for example. The issue with standard trebles is you often only get one barb on a treble into a fish - and a big bass can easily straighten one barb. So Jason came up with the Tri-Claw treble, which will get at least two of the barbs in a fish. So the hook won't straighten out.

RockHard Swimbait Series. Their newest big bass bait is the RockHard Swimbait series, which Mike Long helped develop.

Crafted to precisely mimic the shapes and textures of live fish, and coupled with the lure's triple hinged construction, RockHard lures swim with a fluid yet seductive motion that is seen only in nature. Available in floating, slow sinking or fast sinking in a variety of species patterns and sizes (from rainbow trout, baby bass, sunfish, shad and perch).

RockHard baits feature Castaic's Magnetic Hook Holder and Tri-Claw hook system. The Hook Holder pins the Tri-Claw hook tight to the lure's belly at all times, assuring a streamlined presentation and a rock-solid hookset.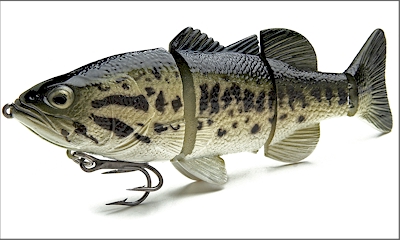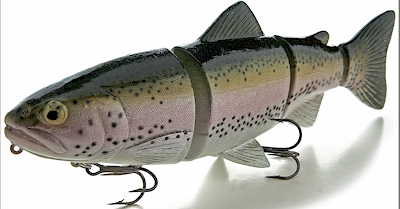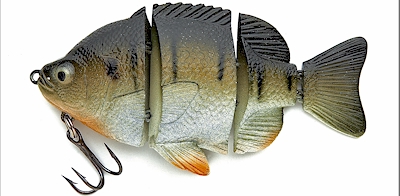 In particular, the 6" sunfish displayed stunning realism in the demo tank. Even suspended at a standstill, it exuded something to it that looked very nice and natural like a fat bluegill suspended in the water. Between the action and the mimicry of shape and size, the 6" RockHard may be the best sunfish swimbait out there. After all, it is a Castaic!
Over time, Castaic will release 25 RockHard models in various sizes, shapes and weights.
Castaic Jerky J Swimbait. "Our larger swimbait products tend to be favored by expert big bass hunters," says Jason Scott. "In terms of a product series, however, the 5-inch Jerky J soft jerkbait is probably our most popular series," says Jason. Now, the popular Jerky J is available in the new Jerky J Swimbait version with the desirable swimbait paddle tail - in 5" and 7" sizes.
Bob Scott, Jason's Dad, showed me how the new Jerky J Swimbait acts in their demo tank. Rob had it rigged on a MegaStrike ShakE2 jig head.
The Jerky J Swimbait swims 'big' on the ShakE2, meaning its side-rolling motion creates a larger visual presence or 'footprint' in the water than the actual size of the swimbait at rest. Think of what a spinnerbait blade does when it revolves - it casts a bigger presence than the spinnerbait blade at rest. The new Jerky J Swimbait is able to do something similar with its sides, throwing off a bigger impression of itself as it swims.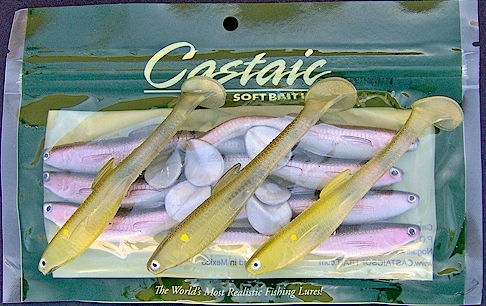 ---
Normark emphasized a trio of new Rapala hard baits for bass.
DT Fat 01.

Subsurface bait runs 6-7-8 inches under the water. If you are finding fish that are missing any type of topwater buzzbait, popper, or whatever. Throw back on missed fish with the DT 01. If you get used to using it as a follow-up bait that way, the DT 01 will pick up a lot of those missed hits, says the company.

Rapala DT20.

Fulfills the DT crankbait series with a true 20 diving foot bait. The key is a lead disk on the front of the diving bill, weighting the bill to get it to dive deeper.. What also helps it dive is the body size is the same size as the DT14 fishes. So it is a deep bait, but not a huge body. The company claims it will fish 20 feet deep - and even deeper on braided line.

Clackin Rap.

Has an exposed metal drum with rattles inside. The drum runs side-to-side through the body. One thing not easily seen in the photo is that the body width or girth is greater than most any other lipless. It is side from side-to-side. Rapala says it can be fished from top to bottom. you can go real slow with it too, even wake it slowly on the surface, claims the company.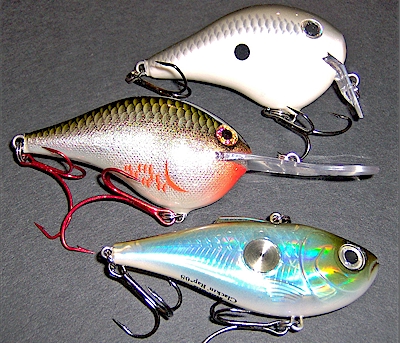 DT 01 (top). DT 20 (center). Clackin Rap (bottom).
---
John Crane and Jeff Gustafson emphasized Northland's new Dean Rojas Signature swimbait also known as the Slurpies Rock-R-Minnow.
A custom Gamakatsu shank-weighted hook comes with each pack of swimbaits. So you always have the perfect hook for it. Available in 4-1/2" and 5" sizes.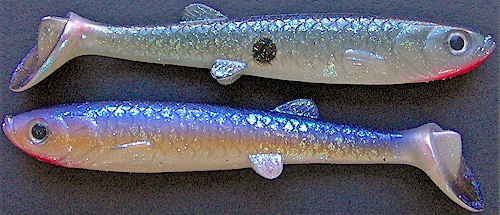 Dean Rojas Signature Slurpies Rock-R-Minnow
John and Jeff also wanted to emphasize their new jig head designed to best hold Gulp! Alive! soft baits.
Gulp! Alive! is absolutely taking the northern tier states, the Great Lakes and Canada by storm. However, standard jig collars don't work well to hold Gulp! Alive! in place. Northland's new jig will!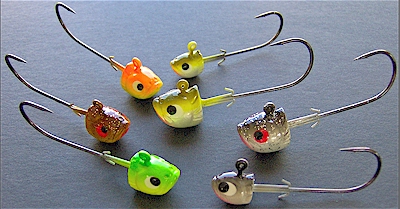 New Northland Jig head has barbed wire to best hold Gulp! Alive! - the current rage up North.
---
Optimum released the Double Diamond Swimmer (see ICAST special feature report) and the Baby Line Thru (see below).
Optimum is also North American distributor for leading brands from Japan: Active, deps, ima, Rein, Vagabond and Zappu.
Baby Line Thru. Tony Paino presented two sizes of their new Baby Line Thru.
The 3 inch (1/2 oz) size is available now.
Molds are currently being mastered for the 5" (approx. 1.2 oz) size. It will be available starting Labor Day.
Both come in Optimum's ten most popular hand-poured swimbait colors.
You run your line through, tie it to the treble hook (included) and insert one hook tine in the space provided in the belly to secure in place. When a fish hits, and the hook is set, the fish will pull the hook out of the lure, and the bait will run up the line, away from the fish, where less wear and tear will occur to the bait. The line through assembly is also weighted, to give the bait balance, action and casting distance.
"We pounded the nose full of lead since customers were telling us they wanted to be able to fish a swimbait faster than most swimbaits will go - and not flip over. At the same time, you can fish it slow, medium or any speed. It's speed versatility is an advantage" says Tony Paino.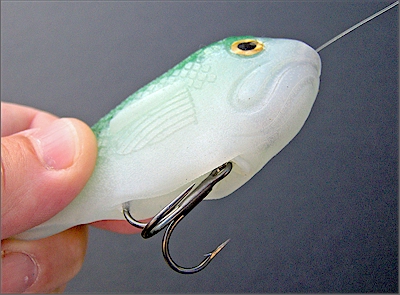 ---
If you are into setting your own brushpiles, this may be the product for you! Very well thought out, and shipped unassembled - but it's as easy to put together.
The photo shows the deep water 'Honey Hole Tree' model that can be sunk in deepwater - or suspended hanging down from under some other structure is also possible.
Not shown is the shallow water 'Honey Hole Shrub' model which is a low, wide, round mound base that has the same rubber hose/tube branches you plug in. The 'shrub' model may be planted in as little as a few feet of water!
Both come unassembled and come with weights. MSRP for the tree model is $109. For the shrub is $89 (does not include shipping).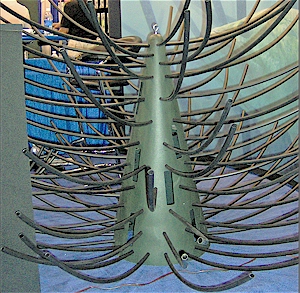 Deep water 'Honey Hole Tree' model shown.
---
Booyah Alton Jones A Jig
Alton Jone's A Jig has big strands and puffs up when paused. Alton Jones says he can slow way down and not even move this jig at all, but the strands will show action, according to Pradco's Jeff Samsel.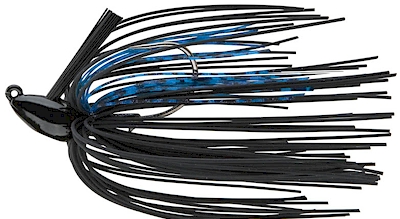 Booyah Pigskin Jig
The Pigskin Jig, on the other hand, has small strands as Alton Jones indicates there are times fish call for it instead of the bulkier A Jig, Jeff informs us.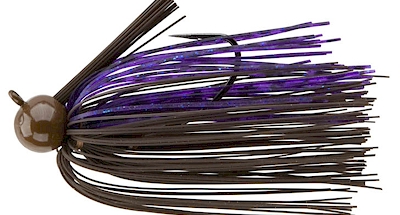 Yum Money Craw
The Money Craw has hand-painted crawfish molting spots. Extra accent color on claws. Realistic colorations you can't do with injection-molding, says Samsel, plus a crazy swimming action. It's killer on a little smallmouth jig or as a skirted jig trailer, Jeff says.

Jeff Samsel also emphasized the following new Pradco products for bass anglers.
Booyah Big Show Shakey Heads. Available in round or football head styles, both with 60 degree hook eyes.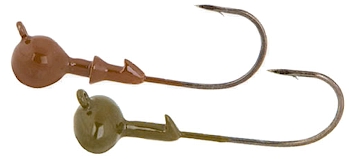 Booyah Vibra FLX Spinnerbait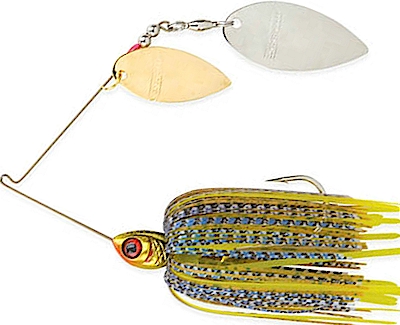 Booyah Zell's Pip Zqueek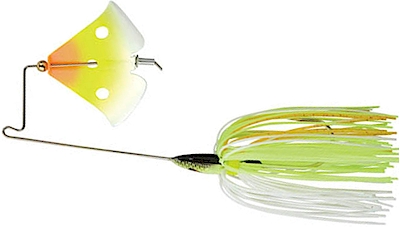 Xcalibur Xrk100 One Knocker. A one-ounce single-knocker with an extra large profile to appeal to big fish - and hard-thumping vibration.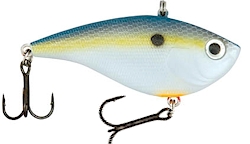 Yum Doozee. This extra long, slim hollow-bodied tube bait was designed for shakey head fishing, but works with a variety of other tactics.

Yum Fat Money Minnow

---
Ron Giudice wanted to emphasize that, "We have some new FireLine and Spiderwire that will be great for bass fishermen. Also, some new Abu Garcia reels, including the new Skeet Reese Revo."
"PowerBait you may have seen already... HollowBelly and Sink Worms," says Ron.
"Baits, new in Gulp! and Gulp! Alive! include 6-inch lizard, crazy legs jerk shad."
Indeed the new Berkley Gulp! Alive! 5" Crazy Legs Jerk Shad was voted winner of the best new soft bait for 2008 at ICAST.
Gulp! Alive! has already started to become one of the most popular bass baits across the US northern tier states, Canada and the Great Lakes, especially for smallmouth.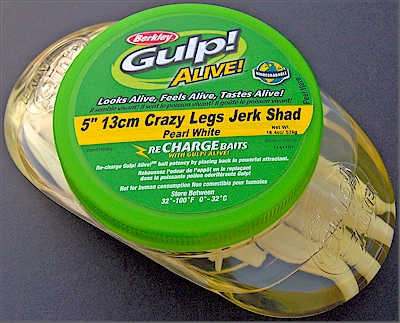 Gulp! Alive! baits come in flat bait 'buckets' or jars to keep them fresh and new.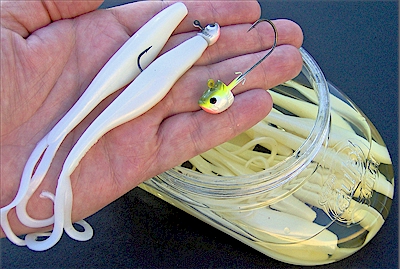 Northland Tackle's 'BarbWire' keeper jigs are designed to hold Gulp! Alive! better than other jig keeper collar methods.
---
Diane and Steve now have a new titanium coated version of their popular lure keeper clip that comes with glueless, self-sticking silicone tape to attach it to any reel. Even if your rod already has one of the traditional 'D' shaped lure keepers, you can't clip dropshot sinkers nor can you clip Texas-rigged soft baits - unless you pull the hook out of the bait - unless you use Reel Time Designs Keeper.
With the popularity of split grip rod handles lately, many anglers are using the 'D' clip that comes from the factory on a rod above the reel or foregrip, and then they are using the silicone tape (included) to attached the titanium coated Reel Time keeper to the exposed blank in the split grip section - the best of both worlds!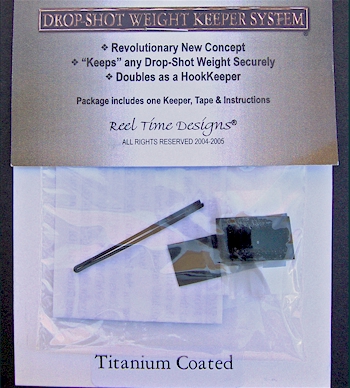 Do give this a try. It works and is a useful add-on to any rod.
---
Rein products (from Japan) are distributed in the USA through Optimum Baits in Temecula, California.

As a bit of background, first, the Zoom Swampcrawler has historically always been a popular finesse worm in Japan for all kinds of rigging methods. As of late, however, Japanese anglers have been 'crossing' two Swampcrawlers and fishing them that way on wacky jig heads. Also, simply Texas-rigged, so one worm is like wacky wings on the other worm that's Texas-rigged. That's the background or Rein's new 'Cross Swamp'.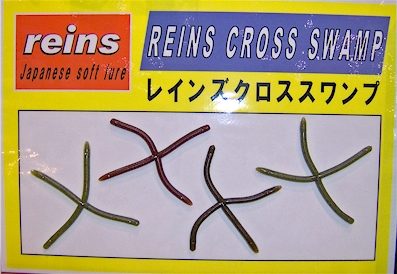 ---
KK Chan showed me the new smaller Nest Raider 128 size. It is 5" long
The original Nest Raider was even more successful that any ever imagined, but the size relegated it to being more of a spring time seasonal lure.
People were looking for year-round bait, so River2Sea designed the new smaller version for year-round use, says KK.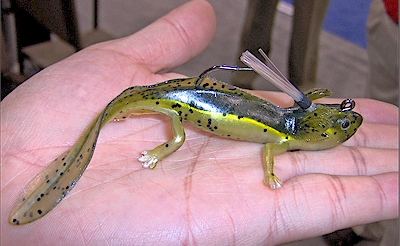 Feather thin tail is one of the features of new, smaller Nest Raider.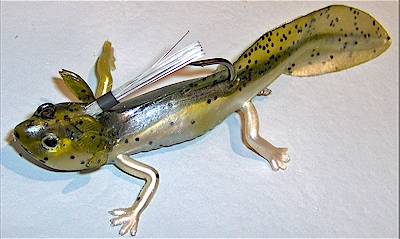 When not fishing, the Nest Raider sells car insurance on TV.
---
New at ICAST this year was a bow trolling motor lock tested on the Great Lakes and Lake Erie for over one year.
It's designed to keep your trolling motor from bouncing around when traveling in rough or choppy water.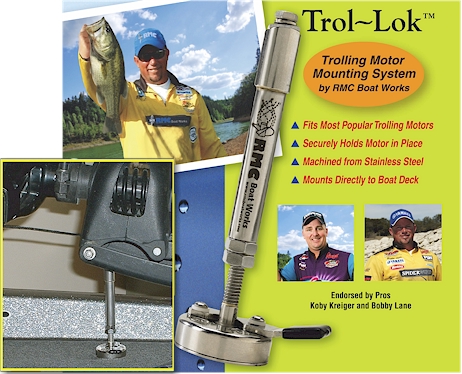 ---
Snag Proof has now added a double rattle to their double hook, double weedguard jig.
and now have added a double rattle.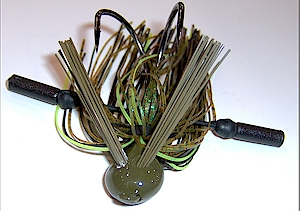 ---
SPRO's new line-up for 2009 has been designed by fishing professionals Dean Rojas, Mike McClelland, John Crews, and Bill Siemantel.
BBZ-1 Shad ~ Hard Swimbait. The four-section bait design gives it incredibly life-like action in the water. With its realistic scale pattern and hauntingly real eyes, it swims and swerves like no other swimbait on the market. Available in 3/4 oz floating, 7/8 oz slow-sinking, and 1 oz fast-sinking models. Equipped with 2x-Strong Gamakatsu Treble Hooks.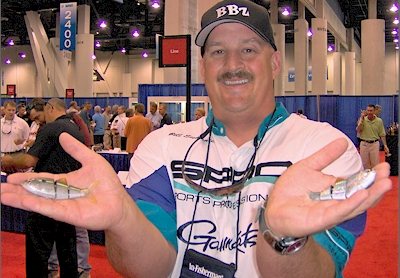 The pictures here do not do justice to the finish on this lure. At first when I saw it from across an aisle, it almost appeared like a soft plastic bait finish. It's very glossy and practically has a translucence. Long story short, the finish looks much better in reality than in the photos.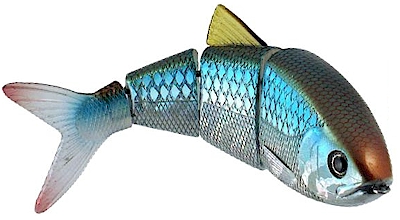 McStick Jerkbait. The Mike McClelland Signature Series McStick jerkbait is designed to be a year-round jerkbait. It suspends at lower water temperatures for those fickle early and late season fish, and it is perfect to be fished a little faster for those aggressive warmer water fish. SPRO engineers designed the McStick to swim nose down, creating more head strikes and better hook-sets. It has 3 sticky sharp Gamakatsu trebles that ensure solid hook ups. The McStick is 110 mm and 1/2 oz.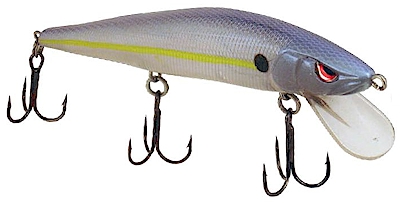 McStick Jerkbait
Middle John Crankbait. The John Crews Middle John 1/2 oz crankbait is designed to run deeper that the original Little John crankbait. This bait will run down to about 9ft on 10 lb monofilament line to get down to those fish hanging on ledges where predators like to feed, and has a silent weight transfer system for long casting distance.
---
I do not know quite what you would call this new rod protective covering device?
Could be that it's a 'snood' would be the right word.
Anyway, it is a slick plastic weave that quickly pulls over a rod without any snagging or problem. Once in place, however, it fabulously seems to grip around the guides and stay in place. It's a protective plastic mesh. I like these rod 'snoods' or Stick Jackets indeed!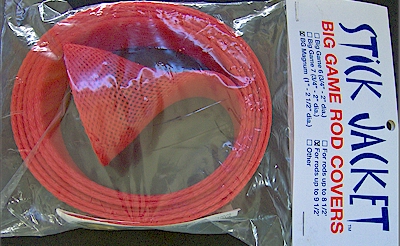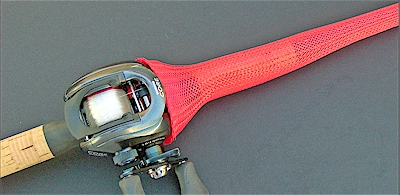 ---
A new company with some of the most refreshing lure concepts at ICAST was Copenhagen, Denmark-based Svendsen Sport.
The company started business in the USA this year. It has been a player in the European tackle market for 30 years. In the past 4 years, Svendsen acquired the business of lure-designer Mads Grosell who is now Svendsen's Product Manger. Since then, the gang has turned the burners up, churning out exceptional lures. They've become the fear of more entrenched players they say, such as Rapala, Nils Master, Strike Pro, for example in Europe. Now Svendsen has shown up at ICAST too, and has opened an office in Illinois, in order to place their lure products into the US market.
Their specialty is swimbaits and hybrid baits. To make big swimbaits is easy, they say. Smaller ones become increasingly harder to make. They know what they're doing, there's no doubt in my mind.
Their recent big hit, named the Smolt, was about 3-4 years ago. I didn't get a photo, but it's probably on their website (see link above), and it's an interesting, articulated soft swimbait.
The 4Play was the next hit to follow, in multiple sizes, with a head jointed at the gills, remindful of how a real fish's head is attached, plus three other jointed body parts (see 4Play photo below).
Their Rattle Shad is a soft swimbait that falls realistically when paused and allowed to sink. It's also one of their hits. They point out that many other soft swimbaits tailspin unattractively when they sink. The Rattle Shad, on the other hand, is at its fish-enticing best as it falls forward headfirst with a swaggering action designed into it.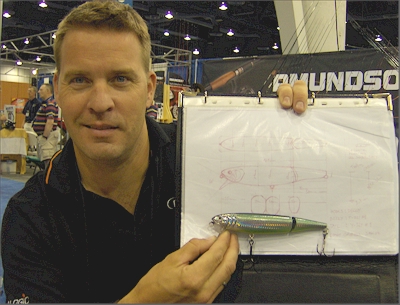 Mads Grosell, with a 20 year background in lure concept development is Product Manager since Svendsen purchased Mads company 4 years back. He still does lure design concepts by hand on paper, in what appears to be a blueprint-like approach.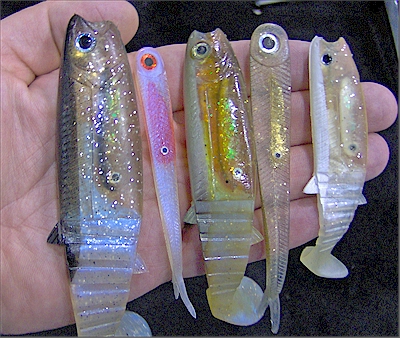 Big fish eat little fish and so do Svendsen 'Cannibal' line of soft baits.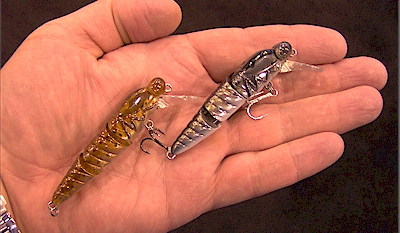 The 'Larvae' is what I've been looking for all my life! A triple-jointed dragonfly larvae imitation with a jewelry-grade finish. A shallow-runner that floats head-up like a true dragonfly nymph.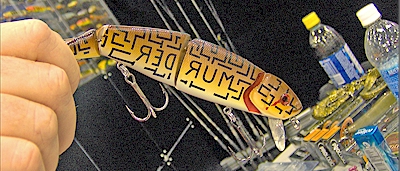 One of Svendsen's flagship baits - the 4-part 4Play - has a jointed head. It spells 'murder' on fish that stay in schools, since they are the ones that can read.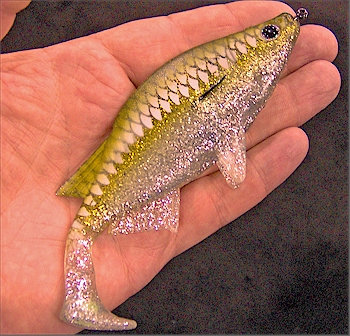 Look closely at this swimbait. It's meant to swim and flounder on it's side like an injured fish that can't right itself.
---
Depth Shad ~ Soft Jerkbait. These are great! Especially the action of the weighted ones in the demo tank was perfect. The clear coat finish is awesome also. You can't see in the poor photo, but the baits are dipped after painting, resulting in a thick layer of clear coat over the paint schemes. The clear coat magnifies the scales and color schemes under it. Available in 4-inch and 5-inch sizes, either unweighted or weighted
The weighted models are the bomb and have incredible jerkbait action. No other soft jerkbait seems quite like the action it has. The weight is actually a number of precision-placed tiny clumps of fine tungsten powder. The implementation is prefect- and brilliant. Great jerk action in the demo pool. Good profile. Very regular, stable action like a hard jerkbait - not the irregular, unpredictable action of an unweighted soft jerkbait. Slight nose-down gliding action on the fall, moving forward. Did not seem to spiral on the fall. Dipped in clear coat to get the deep, magnified finish effect.

4-Inch Tru-Life Swimbaits Tru-Life Swimbaits now come in a 4-inch size. They feature the same high-quality hooks and attention to detail as the full-size models. Available in: 1) a wake/slow sink model and 2) a slow sink/fast sink model. Each bait comes with two tungsten weights that are easily inserted or removed. This will allow the rate of sink and running depth of the lure to be instantly fine tuned by the angler to meet changing conditions.

4" Tru-Life Bluegill
8-Inch Trout Swimbait. The newest offering, the 8-inch Trout, features the same high-quality construction, and attention to detail, as all Tru-Life Swimbaits. Equipped with removable tungsten weights and armed with quality hooks.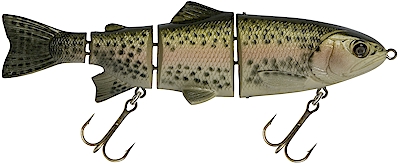 8" Trout Swimbait
Pill Jig Head. Designed for skipping docks. Available in 1/8, 3/16, 1/4 oz.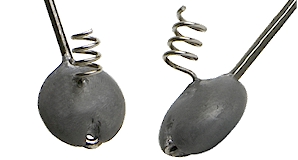 Picasso Quick Change Swimbait Weights. As popular and effective as plastic swimbaits are they have one drawback - weight. Sometimes we need to cast further or fish deeper. To solve that problem Fish Harder Companies designed the Picasso Quick Change Swimbait Weight. It easily attaches to any hook style or size with two wire clips. Available in 3/16, 1/4, 3/8, 1/2 oz.

Youvella Hook Company. Tru-Tungsten is also associated now with a brand new company, Youvella. I only got sketchy info on it, but seems Youvella will concentrate more on specialty hooks and novel hook ideas or high-end, almost custom-feature hooks based on specifications from Youvella's pro staff such as Ish Monroe, Peter 'T' Thliveros, for example.
Fir example, braised closed eyes on some hook models were mentioned by Peter T - which prevents slick braided line from getting under or cut by the open eye of a standard hook. That is, no matter how close a manufacturer shuts the hook eye, there is a little gap that braid can get into, so braising fills that gap.
Peter T also mentioned hook models that may have keepers braised on the shanks. The braised keepers would face 'in' so they would not pick up tiny bits of 'frog hair' grass which is what could happen if the keepers faced out.
Also, all (or many) Youvella hooks will have big barbs on the points, to keep fish connected better.
Those are just a few examples of how Youvella hooks may be optimized with advanced features specified by the Youvella top pro team So look forward to finding small things like that can make the difference in a few more casts or a few more fish during a tournament or day on the water, explains Peter T enthusiastically.
Youvella hooks are not available yet, but the organization of which Youvella is the latest part, is one of the companies that makes good use of communication. So you can expect to hear more about Youvella and the progress it is making soon.
---
Matt Bichanich wished to emphasize their new Fire Tip pork rind, but the real big excitement was about their new Bump-n-Run Buzzbait and Swim Jig. The picture below isn't the greatest, but what you really need is to go to their website and see the Bump-n-Run video. If it is not there, email them to put the video up.
Bump-n-Run Jig and Buzzbait. The buzzbait and jig head has a wide lip molded as part of the head - like a crankbait. The difference is, you can rotate the head, and therefore the lip, and set the head at about six or different positions so the lip is straight up, straight down, 30 degrees down to left or right, and 30 degrees up to left or right for instance. So the jig or buzzbait will run different directions, depending what angle you set the lip. See the video. You won't realize what this new product can do until you see the video.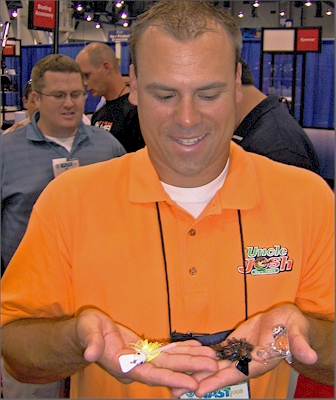 Matt smiles over the jig (left) and buzzbait (right) that can swim whatever direction you set it to.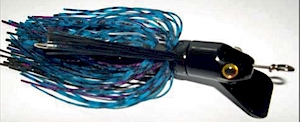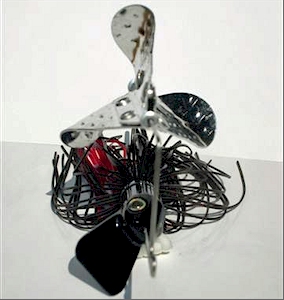 Kalin's Screw Lock Darter Jig. Number one seller in the Kalin's brand is their darter jig head with a Kalin's grub on it, So it only made perfect sense to add a Screw-lock darter head style - one of the first in the industry.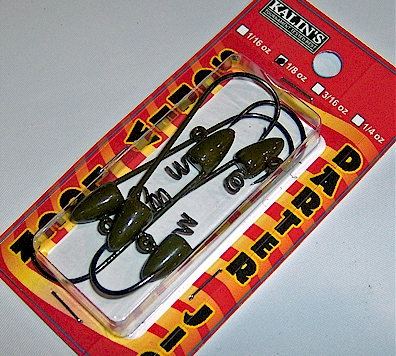 ---
Note: I do not have any good photos of this vendor's new products, but if you visit their website, you may be able to see some there.
Vagabond products (from Japan) are distributed in the USA through Optimum Baits in Temecula, California.
Hajime Oguri, president of Vagabond emphasized these lure models for North American bass angling: 1) Endrean, 2) Wobble King, 3) Persimmin Seed Ver. 2 Jointed Bluegill, 4) Bush-0 Zero frog, 5) Surf Hastler.
"The new Surf Hastler is a big bait that is going to be dynamite in California," says Hajime.
Vagabond lures are each hand-made and take a lot of time, says Hajime. "We make lures in batch of 200. So we will create 200 lure bodies, then paint 200 lures, and go through the full manufacturing process on 200 lures at a time. When we average out our production statistics, we produce approx. 300 lures per month, and each one is very special," says Hajime.
---
"The emphasis of Vertical Lures product line is focused upon heavy cover flipping/pitching jigs and soft baits," says Chris Huffine.
Maximum displacement and commotion were what the company was trying to accomplish with the new Creature X concept.
They noticed there wasn't a whole lot going on with some other brands of creature baits on the fall - they were too stiff on a slow fall.
The new Creature X lure has scoop-like paddle arms that are molded very thin like a knife. They're made that way to catch the water like the paddle wheel slats on a river boat, says Chris.
The arms especially on slow fall, generate lots of thumping action, Chris says.
Like the company's successful Tube X bait, the Creature X also has four separate tail blades that are each placed 90 degrees or perpendicular from each other. In this way, the tail blades stay apart from each other on the drop, and open when they reach bottom.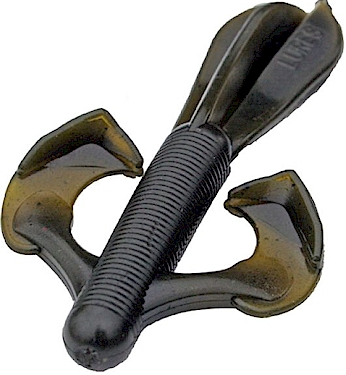 The Creature X is 4-1/2 inches long.
---
Wave emphasized four new soft baits for 2009: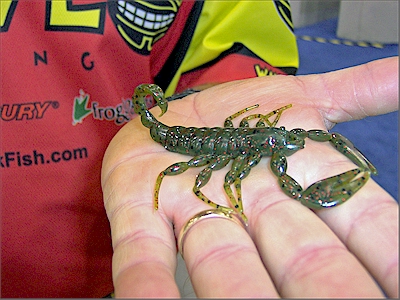 3D Scorpion. I think the name and the photo says it all. Wave said it was a little tricky to make a mold for it, but that's been accomplished now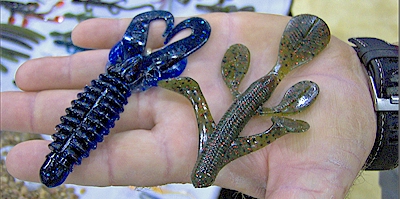 New Wave Swim Bug (left). Wave Kreature (right).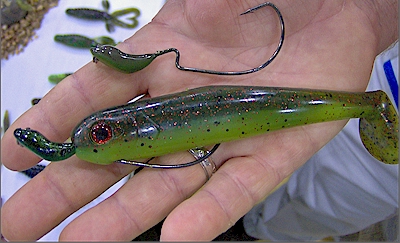 New Wave Swimbait. A lot of other hollow body swimbaits suffer from the hollow head getting torn up. So Wave has incorporated a solid head, hollow body and a hook slot on the belly
The 'Chicken Foot' jighead shown above is new too. The Chicken Foot gives the swimbait a side to side wobbling action.
---
Jim Maxon gave me samples shown below of the new Wingman soft baits.
The company markets it as their own unique category of swimbait they call the Wingbait..
Company material lists several different sizes of Wingbaits between 2 and 4 inches.
One way to describe them is they are remindful of a small leaf of Romaine lettuce. That's not exactly correct, but you get the picture.
From the way they are built, with an eel-like body (with wings), they appear they'd be right comfy on most any jig or any popular soft bait rigging method.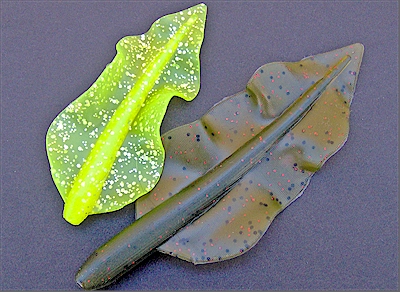 Wingbaits make me daydream of cool, natural northern waters where smallies like to take a big lake leech for lunch.
---
Many attendees at ICAST were impressed by the reel cleaning/lubricating demonstrations being done by Augie in the Xtreme Lubricants booth. There was so much buzz about it that I picked some up to try myself the next time I go to service my reels.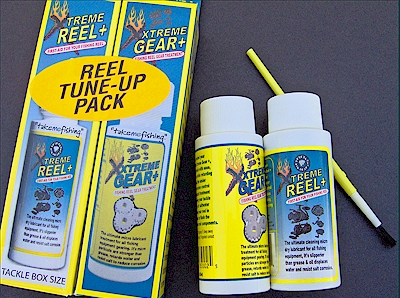 ---
Hildebrandt Drop Dead Fred ~ Spinnerbait. A new Hildebrandt spinnerbait that spins both on the drop and the retrieve, has been developed with the help of bass pro Fred Roumbanis and world class lure designer Lee Sisson. Called the Drop Dead Fred, the new lure features a hinged spinner arm that allows the dual spinner blades to fold up and spin as the lure drops through the water. Then, when the lure is retrieved, the arm folds back parallel and works like a regular spinnerbait. The Drop Dead Fred features the same premium Hildebrandt blade finishes and construction that anglers have come to appreciate over the past century. Available in 3/8, 1/2, 5/8 oz.