ICAST 2004: Bass Industry Trends & New Tackle for 2005

At the Las Vegas Convention Center, July 14-16, the sportfishing industry's premier event, the International Convention of Allied Sportfishing Trades (ICAST) convened for its 47th annual gathering. The sell-out show hosted almost 400 exhibitors with nearly 6,500 tackle industry insiders attending. Nearly 200 companies entered their very best brand new angler equipment into the New Product Showcase hall to be judged by buyers and press members in hopes of winning an award. Yet the New Product Showcase is only a trickle dripping off the innovation iceberg. Thousands more new products were not entered for judging, but shown only in manufacturer's booths.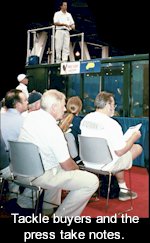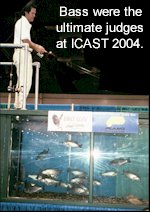 Enter the Ultimate Judges. Right outside the New Product Showcase hall, a demo bass tank was set up for the first time in three years for manufacturers to make product demonstrations on the tank. I looked at many new bass-related bait on the show floor. Some that looked good in the booth, hardly raised fins in tank demos. Others that looked merely ordinary in the booth -- bass wouldn't stay off them in the tank. Truly, the bass tank contained the most expert ICAST judges this year - the bass themselves. Hefting a new lure in your hand in a booth paled in comparison to seeing it "voted on" in the bass tank.
The reason I attend ICAST is to review new products and engage in conversational fact-finding with my peers in the industry in order to help me form accurate perceptions of where the bass sportfishing industry is headed each year. This is so I may help advise those companies that are clients or associates of mine to best position themselves in the industry, and so I may best inform anglers and readers who desire to position themselves on the leading edge of bass fishing innovation on their own home waters.
It's a daunting task to visit all the bass manufacturers at ICAST. Even though I spent four days doing it, I did not get to meet them all. However, fifty-three companies that have new products I intend to try in 2005 are reviewed here for you. We'll zoom in on the nifty new products soon, but first I desire to go over some industry-wide trends with you. I've already identified some of these trends in The Changing Landscape in Bass Tackle and ICAST 2003: New Trends, Tackle and Tools in the Bass Industry for 2004 as well as ICAST 2002: New Products for 2003. Most everything mentioned in those earlier reports is still developing in the industry (these are major trends, not flash-in-the-pan fads), so you can read them there, and they still apply today. In addition, the following are additional trend developments or insights I uncovered at ICAST last week.
Innovation matters. The first trend we witness at ICAST is unbridled innovation itself. The bass fishing tackle industry is rocket-fueled by innovation. New technologies, advancements in design, and exciting new materials are entering the market at a supersonic pace. The dropshot rod, dropshot line, dropshot hooks, dropshot sinkers and most of the dropshot baits I use did not exist a few years ago. The trio of G. Loomis crankbait/spinnerbait rods I use did not exist a few years ago. Most of us may now use the Senko but how many used Senkos more than a few years ago? Ninety percent of the hook models I use now did not exist a few years ago. Half the hardbaits I use now did not exist in the USA market a few years ago. The SPRO Power Swivels I use weren't available a few years ago. The Mojo Rockhopper, Rig Saver, Pineapple and Drop Shot Dream sinkers I use for much of my rigging now - did not exist a few years ago. Tungsten wasn't widely available a few years ago. Pick any progressive bass manufacturer, and an impressive percentage of their sales today are items they did not offer a few years ago. By a few, I mean three years, more or less. That's the short cycle of innovation. As an angler, if you're not on it, you're missing out on much of the best bass tackle.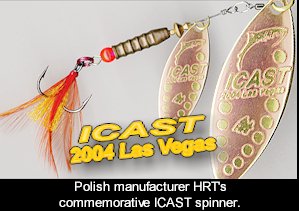 Color Continuum. When the outdoor press covers new products at shows like ICAST, new colors tend to get the short shrift from the press. New colors get no real mention, scant attention in the press. However, manufacturers will tell you their carefully-designed new colors climb their sales charts. For manufacturers who are savvy color crafters, I'd wager over one in four of their most-requested colors did not exist just two years ago. So in addition to new products, new colors of legacy products fuel the bass industry also. Not just any new colors, but the key here say companies is that new colors do need to catch an angler's eye, but they have to catch bass even better. Some new colors are field-tested for several years until bass respond to them perfectly. New color innovations are as important as new products. Several color trends in the industry are:
Capture and use of ambient light in lures. One new color trend apparent at ICAST this year is an movement toward light-capturing translucence in lures. Lure bodies are being designed to capture ambient light and use it. A precursor to this could have been the Japanese genre of translucent "ghost" colors, but ghosts tend to pass light through, not amplify or bend it and emit it back out along the lines of what Rapala, for example, is attaining in its Glass Shad Rap, Glass Fat Rap and, slightly different ambient light play in its new X-Rap slashbait. Capitalizing on ambient light as a lure feature is evident in soft hardbait color patterns also. One example is the colors in Jackall's Mask series.
Holographics are here. Another developing trend is toward holographic flake, foil, film or holographic paint finishes in lures. A popular approach is using holographics internally for light capture, rather than externally. Storm's WildEye series of soft hardbaits and integrated swimbaits are great examples of holographic usage. Yet other brands of holographic baits abound in every aisle at ICAST, with some brands appearing to stem from common factory sources in China. I believe the industry is just at the starting stage with holographics. We should see companies incrementally ratchet up and perfect the application of holographic finishes in ensuing iterations of development.
Is everyone "reddy"? There is more red in bass lures now than at any time in history. For 2005, more manufacturers are "reddy" with red hooks, red split rings, red strands in skirts, red eyes, red gill flaps, red jig hooks, red weedguards, red accents in paint jobs are obviously a raging trend. It's fair to say TTI Industries' Wes Campbell and TJ Stallings single-handedly popularized this red trend a few years ago, beginning with Daiichi Bleeding Bait hooks. Fact is, anglers have found success with red hooks, and are demanding this redness on their lures. Interestingly, chartreuse is also a color accent found in shad and panfish, both great snacks for bass. Especially the tails and fins (which trebles emulate) tend toward chartreuse. So when can we have some shad and sunfish imitating chartreuse hooks, TJ? I'd sure like to use them. (P.S. I predict when red highlighting has run its course and every bass has seen it, the next trend will be toward no red in lures. Until then, red works.)
Go West, young bass lure designer. A significant percentage (about 40%) of the tackle and tactical innovation in the national bass market as seen at ICAST comes from the Western USA, particularly California. This is noteworthy since the majority of bass anglers don't live in the west. Companies center around California, Washington, Arizona in part because it is the closest place for innovative Japanese companies to establish USA offices. This Western concentration may be slightly skewed since ICAST is also held in the west (Las Vegas). If you are an innovative bass company waiting for ICAST to come east, that won't happen soon. For the next three years, 2005 through 2007, ICAST will still be held in Las Vegas. So if you've got something to show the bass industry, they're not coming to your hometown. Go West young bass lure designer and make the scene to be seen at - ICAST in 2005.
Triangulation. Three major countries are influencing the bass fishing tackle market:
American manufacturers/vendors (including European influences like Rapala and VMC). American manufacturers have decades of experience fine-tuning proven products by lots of bass anglers and the world's foremost bass pros. Many of the legendary original pros and products that are still among the best. American products tend to look somewhat old-fashioned like the originals they are.
Japanese manufacturers/designers embody precision, painstaking detail, intricate construction and finishes. Legendary (in Japan) lure designers I suspect are overachievers toiling to perfect their ultimate bass fishing creations, and they excel at it. Japanese products tend to look (and are) high-tech. As good as they are however (some are truly great), they haven't the decades of fine-tuning by millions of American bass and bass anglers. Premier Japanese designs tend toward medium/light tackle most used in Japan. They are the perfect complement since they do not overlap premier American baits designed for medium/heavy tackle. Best Japanese hardbaits tend to be subtle in action and appearance. Best American hardbaits tend to be overt. Lucky Craft got an early start here and is ahead of others on integrating American attributes (bigger profiles & hooks, better balance for heavier baitcasting gear, overt actions). Japanese soft baits haven't gotten over here much yet.
Chinese manufacturing is a significant force in the bass markets today. Chinese products are well-made and tend to look like American or Japanese products. Chinese manufacturing is more of a production process, less of an on-the-water design/development and field-testing for bass process. Since the product is so well-duplicated, sometimes you can't tell from its appearance what is American (note, not necessarily made in America but Mexico, Dominican Republic or out-of-country), Japanese or Chinese origin.
Full Service Expansion. The expansion of a core product line to include ancillary product lines, thereby becoming a full-service provider is a trend. For instance, Pure Fishing designs and provides products in every single tackle market category. Gary Yamamoto Custom Baits, whose core product is soft baits, provides ancillary product lines it has designed/developed to complement its core product - attractant, rods, line, hooks, jigs, spinnerbaits, buzzbaits, poppers. Many bass companies are trending toward this. The path is made easy by non-core products available from China, for example. So, expect to see lots of rods, reels, lines tacked on to core lure companies, and notice lots of lures tacked onto core rod, reel, line companies. You'll see hardbaits tacked onto core soft bait companies and soft baits tacked onto core hardbait companies. The difference between a core product line and a tack-on product line is that often the core line tends to be designed/developed/refined by the company whereas the tack-on lines often tend not to be. At ICAST, it's easy to see many companies taking this path. Not just manufacturers/vendors either, but distributors are tacking-on full service product lines of their own. It's a trend.
Angler Flight to Quality. This is the result of several other trends including the triangulation we spoke of, the newness and unfamiliarity of Japanese and Chinese product flowing into the US, and as the market trends to full-service expansion, there becomes many choices, many unknown or unproven products, and the fact that the short cycle of rapid innovation we spoke of doesn't always work or isn't always embraced at first. Innovation may take several iterations to perfect it and/or several years to try it. Dropshot is an example of innovation not speedily embraced. Fish love it, yet years after being introduced in the West, many western anglers I know still don't dropshot often, well, or at all. The Senko is an innovation that took several years for us to try it. A decade-old design by Gary Yamamoto, it only got "discovered" by anglers in recent years. So rapid innovation can cloud a market at first. Getting back to flight to quality however, as a market becomes too good, too diverse, too novel or conversely, shaky (not the case here), a phenomena called flight to quality materializes. It's seen in stock markets as investors pull out of the hubbub and park their money in the blue chip (highest quality) stocks to safely wait out whatever's happening (good or bad) in the market. In the bass fishing market too, we are witnessing a mild flight to quality as anglers appear to be investing in blue chip baits, so to speak. Storm Lures received a storm of response when the original well-trusted Wiggle Wart was suddenly vanished, replaced by a totally new Wiggle Wart unknown and unproven to the angling market. Angler demand (due to uncertainly over the new Wiggle Wart) brought the Original Wiggle Wart back for 2005. Note the new Wiggle Wart is a good bait, just unproven and unaccustomed to, relative to the original. Jim Bagley too may have sensed something of this phenomena, and Mike Rogan has followed through on Jim's desire to reintroduce Jim's trusted Original Bagley B, Original Kill'r B and Original Diving B exactly as Jim made them decades ago. Flight to quality is going on toward other well-trusted lures that have earned blue chip status over decades of proven reliable performance. The original Senko, imitated industry-wide but not necessarily equaled, is another instance that evokes angler flight to quality back to the trusted original. At the same time as this mild flight to quality, there is full-service expansion, triangulation and other trends occurring, a multiplicity of market movements in contrasting directions.
Big Monster Bait Boom. Something simpler to understand now - or maybe not since few of us use them - but a big monster bait boom is going on among manufacturers in the West and in Japan. It's fair to say Castaic Soft Baits popularized it all by marketing monster trout baits, going back to 1995, but the trend in manufacturing monster baits has never seemed more prolific than right now. Monster soft swimbaits have morphed into hybrid half soft/half hard swimbaits, monster wooden swimbaits, more recently surface-struggling wakebaits and jointed clackbaits, some with metal-lined joint facings to accentuate the clack the joints make. The flagship models are typically huge baits requiring specialized tackle, yet junior "monsters" are available for standard medium/heavy gear too - although few of us use even the junior monsters yet. Should you?
Soft hardbaits. I struggled with what to definitively call these. Some refer to them as hybrids or half-and-halfs. Paul Michele of Yo-Zuri may have nailed this new lure genre's nomenclature - soft hardbaits - since some renditions like Yo-Zuri's Real Bait series aren't hybrids, but head-to-toe soft hardbaits. Most manufacturers making these, however, currently feature hard heads and soft tails. In some cases, from a few feet away, it's difficult to delineate what parts are hard or soft until you pick it up. Water pressure against the lure head design and action lip (if any) imparts lure action, and the soft lure tail expresses that action. Through-wiring beginning at or in the head, extends to the tail, and harmonic flexure, beginning in the head of the through-wire develops tail action also. Soft hardbait advancement in design is happening rapidly even as you read this. First generations, such as Lucky Craft's Live Pointer technology, which won Best of Show in the hardbait category at ICAST last year, have already been superceded by the next generation of Live Pointers.
High Tech Baits. These baits may not be fully here yet or pervasive in the industry, but will be soon. A harbinger of what's to come (in fact, what's here already) was debuted by Bikini Lures who won Best of Show in the hardbait category this year at ICAST for their Solaris FATSHAD crankbait. It contains a software-programmable microcomputer chip, fourteen LED lights simulate movement by flashing in an erratic sequence (available in green, red, or alternating red & orange), a speaker system and rechargeable coin-cell battery. The system is well-hidden inside a classic crankbait body. From the outside, it looks like an ordinary crankbait. Clipping alligators onto the line tie and rear treble eye recharges the internal system off an ordinary 9-volt battery for up to 24-hours of system activation. It is a water-activated system, meaning the system automatically switches on when actively fishing it, and automatically shuts off when removed from water. The internal speaker system uses electromagnetic sound waves to amplify the actual signal emitted from a live baitfish in distress, says the company. Some day soon we will be asking each other, "What computer system did you catch them on?"
Trend Toward Tungsten. Tungsten and blends of it with other materials is maturing into manufacturers' metal material of choice for ballasting rigs and baits. Sinkers, jigheads and ballast for hardbaits is trending toward tungsten and composites of it as the choice materials.
Guarded Hooks. Wire and nylon filament hook guards for use in cover have always been around, but tended to be too stiff or imperfect for the majority of anglers to confidently use them. A recent spate of renewed hookguard development is happening, and the soft filaments and thinner wires appear better than previous offerings. The proper wire type also works on jig heads used in cover, and can be bent down to expose the point in open water. Laketown Manufacturing is a great example of properly-wired jigs.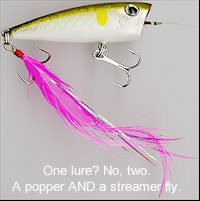 Dressed Trebles. Most hook manufacturers have added feather-and-flash dressed trebles in the past few years. Always popular on topwater tails, dressed trebles are slowly finding their way onto subsurface hardbaits, as spinnerbait and buzzbait trailers as well. It's almost like using two lures at once, since a well-dressed treble is a lure in its own right, as any fly fishing angler who's ever double-haul cast a streamer fly will tell you. Put one of these streamer-like treble patterns on the back of another bass bait, and some days the bass seem more interested in the tacked-on streamer fly pattern than the bass lure it is attached to. In fact, as Mike Bucca who popularized it will tell you, even a modest hank of synthetic Flashabou can transform an ordinary treble into a light-flickering mirage of life with or without being attached to a bass lure. An interesting observation I made at ICAST is that Bomber's saltwater line-up included a new model called the Pop 'N Shrimp. Both belly and tail trebles have sparse strands of Skirts Plus silicone skirting material on both fore and aft trebles to imitate the crawling, swimming legs, antennae and other operating gear under a shrimp. Now, crawdads have about as many leg-like moving parts underneath them as shrimp have, so how about some of those highly-detailed shell and carapace-designed crankbaits in craw colors coming with silicone-stranded fore and aft trebles too, eh, Bomber?
Run for (Eye) Cover. One other trend my eagle eyes spotted at ICAST this year is more competition than ever heating up between outdoor eyewear manufacturers/vendors for the privilege to cover anglers' eyes. Perhaps more than other outdoor sports, good shades are essential tools to anglers to glimpse through the looking glass, the water's surface, to see what is going on below - and many outdoor eyewear brands are currently competing for market position and the privilege to shade our eyes in their latest eye gear.
Those are some of the trends I perceive. Below, please meet some of the players I applaud. They are the ones making modern bass fishing products possible for us. A few are new. Most are long term leaders in quality and angler satisfaction with their bass fishing products and services. Thank you, from bass anglers everywhere.
---
Airrus Rods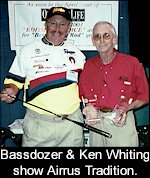 Rod engineer Ken Whiting has won triple back to back to back Best of Show awards in the rod category for three years in a row at ICAST. Ken's truly the innovator in both rod technology and rod beauty. A rod is a fine thing, and there's none finer in appearance than an Airrus rod. Ken's an individual and hasn't the backing of an entire corporate research, production and development staff nor deep corporate pockets. However, in accepting this year's award, Ken thanked his strongest and most important backer, his wife.
Ken debuted two new rod engineering innovations at ICAST:
Airrus Tradition series. A totally new concept based on an advanced filament winding technique and mandrel which allows the rod shaft and grip to be totally integrated into one contiguous unit. The rod blank makes a diameter change from 3/8" to a little over 1-inch to form the grip. This results in a structurally superior rod of unequalled sensitivity and lightness. The spinning rod has a Tennessee type handle which secures the reel with two graphite anchor rings and/or tape. The graphite rings morph and conform to the reel stem, integrating any shape reel stem closely with the rod. The reel can be positioned anywhere on the grip for ideal individual comfort and precise harmonic balance of the reel with the rod. The 6'6" Airrus Tradition is a killer dropshot set-up, says Ken. I handled it and can only describe the sensitivity as overwhelming. Ken describes the handle as creating a megaphone effect, due to its shape, to amplify bottom, bass and lure feel. In terms of lightness, the finished rod weighs only 2.6 oz.

Airrus Ultra XL series. In a second new breakthrough rod series, Ken's completely removed the reel seat mid-section from the Ultra XL series (photo not shown), exposing the maximum amount of rod blank surface which the reel seat covers up on other rods. There's no foregrip either, an unneeded part of a rod most anglers don't use. According to Ken, reel seats and foregrips rob sensitivity, dampen feel, add weight and bulk. So he's eliminated them as much as possible on the Ultra XL series. Each rod has multi-functional butt sections. Each comes with two different length (short and long) removable grip sections which are interchangeable. This gives each rod three configurations. First, with both butt sections out, you have a pistol grip for in-close work and underhanded roll-casting. Second, insert the shorter of the two grips and you have a standard handle. Third, insert the longer of the two grips for a great two-handed rod for longer power casts and greater leverage when fighting the big ones. Both interchangeable butt sections have their own weight ports to add custom weighting to truly balance a rod for better sensitivity and comfort. Adding rod balance weight is something most anglers and rod manufacturers pay no heed to, yet it is important and appreciated that Airrus Rods recognizes and enables savvy anglers to do so.
Outdoor writer/editor and media, contact:
www.rodsbyairrus.com Ken Whiting, President airrusrods@cox.net 702-395-2173 Las Vegas, NV
---
Albackore Sportfishing Gear
Albackore showed two new accessories worth trying in 2005:
FX Shot Stopper is an unobtrusive plastic rod clip intended to hold a dropshot sinker, eliminating potential tangles. Another potential usage I envision may be for Texas-rigged soft plastics with the hook buried deep in the bait, you may be able to clip the FX Shot Stopper onto the hook bend or onto the line without pulling the embedded hook point out of the bait. Don't know if this will work, but I plan to try it.
FX Bait Keepers are see-through fold-over pockets. I plan to try these for jig-and-pigs where the Bait Keeper may retain moisture during transit from spot to spot. I also see a possibility for spinnerbaits and buzzbaits, two of the biggest pains to untangle and avoid line damage in a rod locker or for a non-boater.
Both the Shot Stopper and Bait Keepers come in several sizes to fit different rods and lures.
Outdoor writer/editor and media, contact:
www.albackore.com Jeff Jost, CEO/President jeff@albackore.com 818-704-6824 West Hills, CA
---
Aquapac International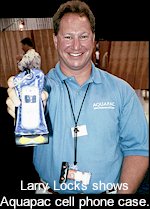 UK-based Aquapac manufactures waterproof pliable transparent case coverings for cameras, radios, camcorders, mobile phones, and more. Phones, radios, camcorders and cameras can be operated without removing or opening the Aquapac waterproof covering. It not only keeps water out, but dirt, grime and dust common in the outdoor environment. According to Larry Locks, the USA distributor, there's nothing else of comparable quality. For photographic equipment, the Aquapac case window itself is special photo-correct lens material. It's not like photographing through a car window, the Aquapac photo-correct lens material will not distort the picture, says Larry.
Importantly, not only may your equipment survive the elements better, but you may too, by having a waterproof-cased cell phone. Attached to your life jacket, God forbid you go overboard, it may be possible to use the phone to dial and speak without removing it from the AquaPac, says Larry. Furthermore, they have a waterproof beacon distress light signal, viewable for 2 miles, that inflates. Uninflated, it's more or less the size of a cigarette pack, but the beacon light extends on a rod for better visibility in actual use. It's attachable to your life jacket by a lanyard, so when inflated, it may float more highly on the surface and may be more visible. Essential equipment for bass boaters? You decide.
Outdoor writer/editor and media, contact:
www.aquapacdirect.com Larry Locks, USA Distributor sales@aquapacdirect.com 516-628-8486 East Norwich, NY
---
Bagley Fishing Products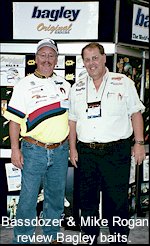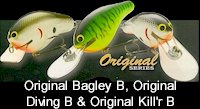 What's new are Jim Bagley's trio of "Originals" - the Original Diving B, Original Balsa B and Original Kill'r B. We've gone back to what Jim Bagley started with, says Mike Rogan. We've renewed and welcome back Jim Bagley's Original molds ... original fat shapes, original lead weighted lips with ballast in the lips to angle the nose down into the strike zone, and original brass hangers ... all providing the Bagley original trademark action that many of today's legendary crankmasters got their start with, says Mike.
Many of the legendary crank masters got their start with the Diving B way back when. Some of these guys have gone on to represent other sponsors, but the Diving B got them started. Early season colder water, mid-December to mid-May (depending on region), Jim Bagley's philosophy holds that bass are more lethargic, and Jim realized a tighter wobble like a wounded baitfish entices lethargic bass. The new Original Diving B has that tight wobble just like a wounded baitfish and is designed to excel using "starts and stops" like a struggling baitfish that isn't quite okay. Cold water bass sense the Original Diving B is not going to easily evade bass in a lethargic state.
The reborn again Original Balsa B has a big fat tail, and therefore tight wobble with the least amount of water displacement. The Original Balsa B also works well on cool water bass in lethargic moods. Whereas the Original Diving B gets down 10 or 16 feet (ODB2 or ODB3 respectively), the Original Balsa B excels in shallows during spawning cycles since the Original Balsa B doesn't dig below three feet deep. The most popular size on the pro tour is the larger #3.
The Original Kill'r B is also now available again the way it was originally made by Jim Bagley, with Ultra Select Balsa, the original body shape, original weighted lip and original brass hardware. Jim Bagley's philosophy was that bass in warm water want an action like the Original Kill'r B, says Mike. The Kill'r B has a slimmer tail, enabling a much bigger wobble and more water displacement. When a bass senses a Kill'r B go by, it recognizes that this "baitfish" is active and the active warm water bass is going to work hard to get it. The most popular size on the pro tour is the Kill'r B2 which dives to eight feet. It's a best-seller, says Mike.
The Bulgin' B is new (three sizes). This is a surface "wake bait" that causes a tremendous wake and bulge flowing over the bait's nose. To compound matters, there's a resonating rattle chamber to produce a thumping vibration in the Bulgin' B.
There are new additions to Bagley's Small Fry series too. The Small Fry series mimics bream, crappie and bluegill. During bass nesting cycles, these species are just not tolerated in the territory since they are notorious egg robbers. However, territorial supremacy is always a constant drive in bass, all season long. So any time a Bagley Small Fry Bream, Crappie or Bluegill saunters by, strikes are triggered by this most basic drive ... territorial supremacy.
Outdoor writer/editor and media, contact:
www.bagleybait.com Mike Rogan, Owner hnash@bagleybait.com 239-693-2282 Fort Myers, FL
---
Bandit Lures
Bandit added the Flat Maxx, their new crankbait design with a tighter action, thinner side profile and coffin lips. Available in two depth ranges (8-10 feet and 3-5 feet).
Outdoor writer/editor and media, contact:
www.banditlures.com Christopher Ross, VP/GM chris@banditlures.com 662-563-8450 Sardis, MS
---
Bass Assassin Lures

Jim Noah of Missouri BASS and Teresa Shiver showed me the new Eel designed for saltwater and proven effective on the pro redfish tour. The Eel is equally awesome for freshwater bass according to Jim Noah. It's got a unique and fluid shape which can only be described as reaper-like, but it's not a reaper. The 5-1/2 inch size is a perfect size and profile for bass. The head is meaty and should rig well whereas the tail pennant has supple thinness.
Outdoor writer/editor and media, contact:
www.bassassassin.com Teresa Shiver sales@bassassassin.com 386-294-3495 Mayo, FL
---
Biosonix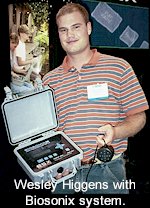 Face it, we're not that quiet. Fish hear every sound we make. Most of our sounds send them running for cover before we even get a cast off. Biosonix sound technology plays back recordings of actual sounds of distressed prey and feeding gamefish. Biosonix claims these "sound signatures" attract game fish and stimulate more aggressive feeding behavior. I also feel that sounds of distressed prey and feeding gamefish may mask, cancel out or cause fish to overcome their avoidance of our own sounds. Have you ever tried to approach a school of non-feeding fish? Often times, you can't. They'll be gone before you get into casting distance. But when prey are distressed, gamefish are feeding, you can pull into the midst of the melee at wide open throttle - and they won't care. So that's why I say sounds of feeding and fleeing prey can be a mask, a cover-up for our own clumsy approach.
The original research and development team for Biosonix included William Lewis (president of Bill Lewis Lures), renowned Dr. Loren Hill, Dr. Steven Holt and others. Lewis' interest was fueled by thirty-five years of outstanding success of sound-producing lures, particularly the Bill Lewis Rat-L-Trap, the first to incorporate an internal sound chamber. Lewis became convinced existing lure products had barely touched upon the potential to use sounds to catch fish.
Anglers are attentive to lure color or scent to appeal to sight and taste senses. Yet sound covers more distance under all conditions than color or scent, says Wesley Higgens of Biosonix.
In years of experimentation with Biosonix technology, says Wesley, 400% more fish have been caught with the unit than without it. That is, if you may catch ten fish per trip without the unit, Biosonix researchers may catch 40 fish with it under comparable conditions. That's a 40:10 ratio on average per trip using Biosonix. BASS pro Kenyon Hill placed fourth in a recent Elite 50 tournament, one of the first pro uses of Biosonix.
Outdoor writer/editor and media, contact:
www.biosonix.com Randy Flint, Dir. Product Development sflint@sport.rr.com 318-861-6133 Shreveport, LA
---
Castaic Soft Bait, Inc.
It's fair to say Castaic has been revolutionizing the bass lure industry since 1995, setting trends in realistic soft baits and swimbaits. Even in recent years, the largest largemouth bass was caught on one of their lures in 2000 (Bobby Swartwood), 2001 (Mike Long) and 2002 (Randy Crabtree) according to the company. Although our larger products tend to be favored by expert big bass hunters, probably our single most popular item is the 4-inch Baby Rainbow Swim Bait Trout, says Jason Scott. In terms of a product series, the 5-inch Jerky J soft jerkbait is our most popular series, says Jason.
New for 2005 is the Quick Snap series featuring a hardbait head and soft bait replacement body that snaps into the head. Available in 6, 9 and 12 inch floating and slow-sinking models and 10 of Castaic's most realistic colors.
Outdoor writer/editor and media, contact:
www.castaicsoftbait.com Jason Scott, President casoftbait@aol.com 520-281-5108 Nogales, AZ
---
Charlie Brewer's Slider Company
Charlie Brewer Jr. showed and told me of the new Pro-Slider Head, one of a genre of jigs I label as "Texas jigs" that are designed to Texas rig soft baits on offset shank jigs. It took three steps to work up to the Pro-Slider Head, says Charlie. First, the Original Spider Slider Head had a thin wire 2/0 finesse hook. Second, the Spider Classic Head was bumped up to a 3/0 hook and heavier wire for medium-sized worms a few years ago. Third, for 2005, the new Pro-Slider Head has been upsized again with an extra wide gap full-sized hook for larger soft baits.
Also new, the Pro-Whirly Bee has been upsized and outfitted with a larger Daiichi Bleeding Red hook. It weighs about twice as much as the original Whirly Bee and the tail spinner on it sports a ball bearing swivel so the spinner whirls on a whim. It's a great new improved Pro-Whirly Bee for smallmouth, especially river and stream bass fishing.
Outdoor writer/editor and media, contact:
www.sliderfishing.com Charlie Brewer, Jr., President slider@sliderfishing.com 931-762-4700 Lawrenceburg, TN
---
Daiwa Corporation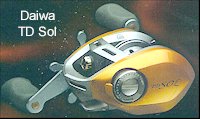 Daiwa has not been at ICAST in ten years. Seemed some disagreement happened way back when, but the feuding parties on both sides are since gone and nobody really remembers what started it. So Daiwa was back at ICAST again. Daiwa got started in the fishing business in Japan in 1956. The owner originally made watch parts before making spinning and spincast reels. Most spinning reels on the market today have features that Daiwa invented or made popular.
Today, Daiwa is the world's largest manufacturer of fishing rods and reels. More BASS pros have used Daiwa rods and reels to win more Bassmaster Classics in the last twenty years than any other brand of rods and reels. In fact, more Classics have been won in the last twenty years with Daiwa than all other rod and reel brands added together.
Bill Liston presented Daiwa's three new series of baitcasting reels for 2005:
TD Sol is intended for light line under 10 lb test and light lures. It has an ultra-sleek low-profile shape and sun gold sideplates, a rigid aluminum alloy frame, seven bearing system and lightweight perforated free-floating spool intended to cast the lightest lure on light lines.
TD Fuego in red features an ultra-lightweight, ultra-compact magnesium frame and magnesium left sideplate. Free-floating spool is kept under control by Daiwa's new Magforce-Z system, applying smooth magnetic braking only when needed most to help control backlash. How Magforce-Z works is, as you start a cast the magnetic system is off, away from the spool, so it spins freely as velocity begins to build. By the middle of a cast, as the spool approaches maximum speed, centrifugal force moves the magnets into play to apply smooth magnetic braking and prevent spool overrun. At the end of a cast, as the spool slows, the magnets automatically retract away from the spool again, so the spool keeps spinning longer, unhampered by magnetic braking.
TD Advantage series is more of an everyday reel, available in three models. First, a standard 6.3:1 configuration with six bearings. Second, the same configuration super-tuned with 9 bearings. Third, the standard six bearing model but with a 5:1 gear ratio especially for cranking. All feature Magforce-Z, Daiwa's new magnetic anti-backlash control that Daiwa claims will outperform ordinary centrifugal brakes.
The first thing I noticed handling these new Daiwa reels is the ultra low profile palming shape. Definitely felt lower, more compact and palm-able than any other reel. Sure enough, Bill Liston confirmed what I felt. These new reels are up to 6 millimeters lower profile than comparable brands for unmatched palming comfort. That ultra low profile may not make a major difference at slower worm or jig paces, but a low palming profile starts to help reduce hand stress with steady pressure exerted by crankbaits and spinnerbaits. When popping jerkbaits and topwaters, the lowest profile and most comfortable palming position becomes essential to me to minimize wrist stress and hand grip fatigue.
So I certainly plan to try these new ultra low profile Daiwa reels in 2005, starting with the TD Sol for light line and light lures. There are few baitcasting reels I've encountered that convincingly fill this light line niche for me. Perhaps the TD Sol will shine a ray of light line here?
Outdoor writer/editor and media, contact:
www.daiwa.com Bill Liston, Advertising Manager bliston@daiwa.com 562-802-9589 Cerritos, CA
---
Dulamar, Inc.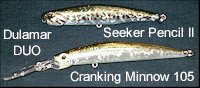 Dulamar is the USA distributor for the Japanese-made DUO line of lures. DUO has earned a reputation in Japan for excellence in action and fish-catchability. The Seeker Pencil II in particular interested me. It's a slim 4-inch 1/2-oz topwater walking bait. There are two reasons I like it. First, the profile. Most topwater walking baits are sassy and fat, not slim. The Seeker Pencil II has a slender jerkbait-like profile seldom seen in topwaters. Second, many topwaters today have rattles, whereas the Seeker Pencil II doesn't rattle. It's stealthy. Plus it has an innovative tungsten tail weight for distance casting and a desirable tail-down posture at rest, putting the treble down.
Outdoor writer/editor and media, contact:
www.dulamar.com Takao Nakaya, Vice President nakaya-us@kdd.net 310-316-2878 Torrance, CA
---
En-Lure Fishing Equipment Co.
The young gents from En-Lure presented a new lure-making material - Compound Wood claimed to be lighter than balsa wood. Best potential feature I see here is consistency since it is not a piece of original wood (which can vary slightly from lure to lure), but a compound reconstruction of moldable wood material that won't vary from one lure to the next.
Outdoor writer/editor and media, contact:
www.enlure.com Kevin Chu-Chiang Ho, Sales Manager kevin@enlure-com 408-268-6410 San Jose, CA
---
Falcon Lures
During a pleasant visit with Wayne Falcon, I learned of the two new sizes (1/0 and 3/0) to fill in the Bait-Jerker EWG hook series in several weights from 1/16 to 3/32 oz plus the addition of a 4/0 SuperLine EWG Bait-Jerker. It works well weighting soft baits like Senkos and such. The small diameter weight is tapered not to damage soft baits during the rigging process.
Also a new line of small profile Western series spinnerbaits by Dean Rojas will be added to Falcon's line for 2005. These are downsized compact models with small profile heads, skirts and small blades. Finesse spinnerbaits you might say.
Outdoor writer/editor and media, contact:
www.falconlures.com Wayne Falcon, President falconlures@bellsouth.net 337-232-7326 Lafayette, LA
---
Flambeau Outdoors, Inc.
Most interesting new item to me from Flambeau was their lead-free Safe-Sink bullet sinkers, egg sinkers and jig heads, made from a composite material having the same size, properties and performance as lead, so you can fish the same techniques with the same shape, size and performance of sinkers and jigs you are accustomed to in lead, except made of environmentally-friendly material.
Outdoor writer/editor and media, contact:
www.flambeau.com Frank Lovich, Marketing Manager jtkennedy@flambeau.com 440-632-1681 Middlefield, OH
---
G. Loomis, Inc.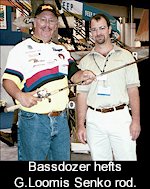 Designed with lightweight GLX technology to provide sensitivity fishing jigs and soft plastics, G. Loomis announce no less than 17 new models (14 baitcasting, 3 spinning) in what they call their new Jig & Worm Rod Series for 2005. Sensitivity is further enhanced by lightweight nickel-titanium REC Recoil guides that not only add to the overall lightness and sensitivity, but perhaps most importantly will bounce back to the original guide shape even when jammed into a rod locker. There are no ceramic insert rings, instead a coiled titanium wire guide. This is the first time G. Loomis will use the REC Recoil guides for bass. Yet there is no doubt to their durability. You see, the REC Recoil guides have been proven over three years in use on G. Loomis rugged salmon rods.
All 17 models feature a fast taper for casting accuracy and line/lure control even when windy:
3 new (2 baitcasting, 1 spinning) rods to toss Senkos and unweighted soft baits
9 new (7 baitcasting, 2 spinning) rods for pitching/casting jigs and worms
3 new flipping baitcasting models
2 new baitcasting rods for throwing long-leadered Carolina rigs
As much weightless and wacky Senko fishing as I do, I can't convincingly say I've yet found the ultimate rod for it. So naturally the three new G. Loomis Senko rods intrigued me. One is geared toward ordinary everyday Senko fishing. The second baitcaster is tailored toward timber, thick vegetation and/or larger Senkos. The third spinning model may prove ideal for weightless wacky Senko applications. To me, I can't easily cast a weightless wacky Senko with a baitcaster. It often tears off during the initial power propel, right when I release my thumb from the line spool. Oops! Thus my preference for a spinning rod for weightless wacky Senkos.
Outdoor writer/editor and media, contact:
www.gloomis.com Gary Schaefer, gschaefer@gloomis.com 360-225-6516 Woodland, WA
---
Gamakatsu U.S.A., Inc.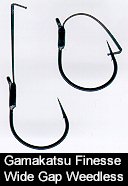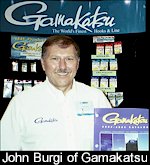 John Burgi boasted (rightfully so) of scads of new product releases in store for 2005:
Round Bend Treble Odd Sizes. Balance is important with hardbaits, particularly the tightly-engineered Japanese ones. Problem is many of the precision Japanese baits are painstakingly calibrated to produce their best actions with trebles smaller than desired by an American bass angler. Upsizing trebles, one can run into trouble since traditionally trebles skip sizes from 6 to 4 to 2. Gamakatsu has filled in the "treble gap" with new sizes 3 and 5. The new sizes will be available in bronze finish, which for whatever reason, the Gamakatsu bronze finish is still the best and sharpest of all Gamakatsu finishes to me.
The Finesse Wide Gap was debuted in 2004. For 2005, two new 3/0 and 4/0 sizes debut for big bass and big baits. The Finesse Wide Gap Weedless version will debut in 2005, featuring a flexible nylon weed guard for fishing wacky style around thick cover. Truly flexible, it allows unencumbered exposure of the hook point on a strike.
Red Bass Hook Additions. Continuing to add to its red hook family, the EWG was introduced in red in 2004. For 2005 in red will be the stronger Superline EWG, the Finesse Wide Gap, the Red Spinnerbait Trailer with red retainer tubing. Importantly for dropshotters, the Split Shot/Drop Shot hook will get red in sizes from 4 to 1/0.
Outdoor writer/editor and media, contact:
www.gamakatsu.com John Burgi, Regional Manager, Western U.S sales1@gamakatsu.com 253-922-8373 Tacoma, WA
---
Gary Yamamoto Custom Baits
Yamamoto unveiled a diversity of new products at ICAST:
The Yamamoto Kreature. Western pro tournament dominator Gary Dobyns says what's been missing from the Yamamoto product line is some kind of bulky flip bait - some kind of creature type of bait by Yamamoto. Although I flip Senkos and Fat Ikas 80-90% of the time, I would still love to have a bulkier flipbait by Yamamoto, says Dobyns. Now it's here. The Kreature's compact 4-inches weigh a hefty 7/16 oz without any hook or sinker. Although bulky for its size, much of the mass is in the multiple appendages. The torso where the hook hides is not excessively thick - so you can get a quick, solid hookset. It can be used as a traditional dropbait to flip in bassy cover. Rig it either forward or backward to flip, with or without a sinker. In more open water, use it like a swimbait rather than a dropbait. Swim it weightless a foot or two under the surface for smashing strikes, or hold your rod tip high to buzz-swim it right on the surface. The long, limber swimming arms hardly ever stop when the Kreature's in motion. With it's slow weightless descent, count it down, then swim it slowly through the tops of underwater weed beds or brush piles. The arms swim constantly, but when the Kreature settles its head down to rest on bottom, the two short side paddles become the attraction, springing open and closed at the slightest movement. When totally deadsticked on bottom, the more buoyant plastic formulation of the welded-on skirt takes over. Perfectly motionless, the twenty-four tentacles still waver nervously to tempt any watching fish to strike. Arm, paddle and skirt action in a compact, heavy package. If bass don't gulp the Yamamoto Kreature out of hunger, they'll surely crush it as something out of the ordinary. It's the ultimate odd critter in the underwater food chain.
Yamamoto MegaStrike Scent. Yamamoto was so impressed with the results of the original MegaStrike that Yamamoto has now worked with MegaStrike to formulate an amino acid based fish attractant with a crawfish additive exclusively for Gary Yamamoto Custom Baits. Not only does the new Yamamoto formula have the amino acids and proteins, the trade-secret diametrically opposed molecules that propel MegaStrike through the water column, but Yamamoto also deploys crayfish additive to really entice the fish into striking a bait. After six months of working with MegaStrike's chemist, the Yamamoto formula was deemed a success and ready to debut at ICAST. Yamamoto feels there has never been such a fish catching combo as Yamamoto soft lures slathered in the new Yamamoto MegaStrike. Legendary fisherman Roland Martin calls the combination the "dynamic duo".
Gary Yamamoto Custom Beef Jerky. Not only is Gary Yamamoto a legendary lure designer, but a cattle rancher too. Overall, anglers spend more on snacks and refreshments for fishing trips than they spend on rods, reels, lures, hooks and other gear combined. So it's only natural for a guy who makes some of the finest fishing lures to also make some of the best-tasting beef jerky snacks for anglers, made from Gary Yamamoto's premier Wagyu beef.
Outdoor writer/editor and media, contact:
www.baits.com Russ Bassdozer, Advertising Director, Promotions & Media russ@bassdozer.com 928-645-9791Page, AZ
---
Hildebrandt Company, LLC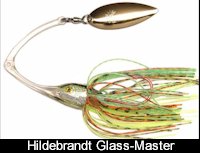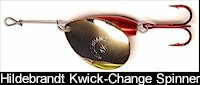 Hildebrandt has two new items of interest for 2005:
Kwick-Change Spinner. There's really no place for most spinners in bass angling. Problem is the majority are lightly-designed for small trout and panfish. Finally here's a heavy duty spinner for bass. In fact, it's intended for voracious pike, salmon and walleye too. The hook is interchangeable and the fastening's hidden beneath the solid brass body. So you can hang any hook, hackle or soft plastic dressing you like off the back of this spinner - and change it instantly.
Glass-Master. A wireless polymer-frame spinnerbait with a bright red hook to trigger reaction bites. Hildebrandt claims the Glass-Master presents a more perfect visual profile with the transparent frame and the famed Hildebrandt flash. Plus Hildebrandt says the Glass-Master sheds weeds better than a wire arm frame.
Outdoor writer/editor and media, contact:
www.hildebrandt.net Chris Clemmons, Sales Manager hildyco@hildebrandt.net 574-722-4455 Logansport, IN
---
Jackall LLC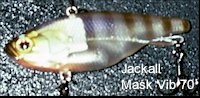 Japanese manufacturer Jackall joined the new product parade with their Mask 100 jerkbait and Mask Vib 70 lipless crankbait. Elastomer body is soft and durable but cannot be destroyed easily by gamefish. Titanium nickel alloy wire is not only durable but promotes flexure of the elastomer tail.
Outdoor writer/editor and media, contact:
www.jackall.co.jp Toshiro (Ty) Ono, President ono@jackall.co.jp 714-847-7435 Huntington Beach, CA
---
Kanji International, Inc.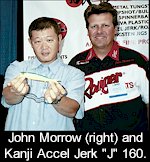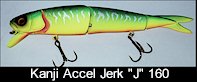 Kanji displayed their highly-acclaimed X-Metal tungsten bullet sinkers in several new diverse colors of tungsten, such as light reddish and light blue colored tungsten, for example.
Also, prototypes of a new Accel Jerk "J" 160 jointed bait were on display. The multi-jointed model floats and suspend. In motion, the Kanji gents described the action created by the joints not so much as a serpentine "S" action but more of a side-to-side sliding rolling ripple.
Outdoor writer/editor and media, contact:
Kyoko Shibata, President kanji946@earthlink.net 914-946-8867 Hartsdale, NY
---
Lamiglas, Inc.
Three new special purpose baitcasters will join the Lamiglas Certified Pro bass rod series for 2005:
The seven foot XC703 Wormin' Rod has fast action and medium/light power for 8-15 lb test and 1/4-5/8 oz worm rigs.
The powerful 7'6" XC767 Swimbait Special handles medium to large swimbaits.
What interested me most is the new XC704X Reaction X, a high modulus graphite rod designed to be very responsive for crankbaits and spinnerbaits both. It's rated for 3/8 to 3/4 oz and 10-20 lb line with a fast tip.
Outdoor writer/editor and media, contact:
www.lamiglas.com John Posey, Sales Manager fishon@lamiglas.com 360-225-9436 Woodland, WA
---
Lobina Lures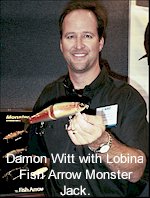 The thick-bodied 7-inch 2-oz Fish Arrow Monster Jack debuted at ICAST. One of the important features of these large hard wooden swimbaits is the jointed swimming action as well as the pronounced clack made by the jointed pieces coming together as it swims, says Northern California angler Damon Witt. Lobina is the exclusive distributor for the Japanese handcrafted Fish Arrow Lures.
Outdoor writer/editor and media, contact:
www.lobinalures.com info@lobinalures.com
---
Lucky Craft, Inc.
To start, Lucky Craft is wisely trimming down by phasing out of inventory over twenty slower-moving products. These are mostly smaller lures than the typical American angler uses, or earlier generations of models that have been replaced by new and better models.
To continue, Lucky Craft projects it has, is or will release over twenty new models in the North American market by or during 2005. Some like the Pointer 78DD, the Flashminnow 95 MR and Pointer 100DD are already available since earlier this year or last. If you haven't, try them. They excel for me. Some others on the projected release list were debuted or cited in literature at ICAST such as:
Slender Pointer 97MR and Slender Pointer 127MR medium-running suspending jerkbaits designed to suspend perfectly horizontal. These sport three trebles. Lucky Craft claims they have a more lively action intended to attract smallmouth better than less lively jerkbaits. A Slender Pointer 112MR was also cited in Lucky Craft's literature.
The new Live Pointer 95 SR, MR and DR (shallow, medium, deep) are a total redesign of the first generation Live Pointer released last year. These three baits are the next generation of Lucky Craft's Live Pointer technology. A small Live Pointer 80 MR and large Live Pointer 110MR (medium runners) were cited in literature. A Live Pointer 110 BB appeared in literature to have a hard head, soft mid-section and another hard tail section. A Live Flash Minnow 120MR appeared in literature.
A jointed hard plastic surface-oriented swimbait or wakebait, the Real California was revealed. It weighs 1 oz and floats. Unlike other large heavy wooden swimbaits of this genre which require specialized rods, the hard plastic Real California can be comfortably used with standard medium/heavy baitcasting rods, says Lucky Craft. The tail appears able to accept several types of add-ons. I don't know what Lucky Craft has in mind, but the tail appears able to add-on different attachments, a spinner blade, perhaps a prop blade, a soft tail fin or metal tail fin attachment appear possible.
A new crankbait series called Combat CB SSR, SR and MR (super shallow, shallow and medium) were also cited on Lucky Craft's literature.
Of particular importance to me on the pending release list are the LV300N Silent Type and LV200. These two lipless crankbaits helped me win or place highly in several hotly-contested team tournaments this year. The LV300N as its name implies has no rattles. The LV200 has only one single large ball that thumps as opposed to the incessant chatter of typical lipless crankbaits. When the lipless crankbait bite is on, how I use the LV300N and LV200 is to first to go down a bank and pull the initial receptive fish with high-chattering lipless crankbaits such as a TD Vibration. This noisiness "wakes up the bass" so to speak. Once fish are exposed to fan-casting with high-chatterers, it is at times counterproductive to go back down the same bank again with the same high-chattering baits. At times, the repeated noisiness (an attractant at first), only serves to alienate the fish further (or so it seems) by continuing to throw it. So what I do instead is go down the same bank again with the silent LV300N or single-thumping LV200, typically catching another few good fish with this quieter approach the second time. It's a similar profile, similar vibration type without the high-chatter rattles. The LV300N and LV200's I have obtained from overseas, and there are few other quiet-type lipless crankbaits as effective for me. So its no wonder I look forward to Lucky Craft's release of this more silent but deadly lipless duo in the USA.
Outdoor writer/editor and media, contact:
www.luckycraft.com Scott Rob, National Promotions Manager scott@luckycraft.com 714-241-8484 Costa Mesa, CA
---
Luhr Jensen & Sons, Inc.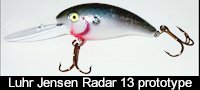 You may not have heard much about the Radar 10 crankbait yet, which was new for 2004. Dave Lefebre used it in a shad pattern (color 1155) to win first place and $100,000 at the FLW Old Hickory Lake, TN event in March 2004. Dave creeled over 57 pounds of bass on the Radar 10, beating his nearest competitor by nine pounds. The Radar 10 dives to ten feet. For 2005, Luhr Jensen showed a prototype of the upcoming Radar 13 which dives to 13 feet. Both size Radars feature a tight vibrating action.
Outdoor writer/editor and media, contact:
www.luhrjensen.com Dave Tonn, Sales & Promotions dtonn@luhrjensen.com 541-386-3811 Hood River, OR
---
Magnum Weight Systems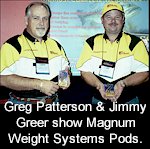 Co-founders Jimmy Greer and Greg Patterson (great smallmouth anglers) proudly introduced their new Magnum Weight System, based on the environmentally-friendly Pod Series sinkers that offers anglers the fastest and easiest way to change weight and adjust noise when Carolina rig fishing. By adding or removing compressed brass balls from the Pod's internal chamber, you can adjust your weight from 1/8 up to 1 oz, depending on which size Pod you use. There are three sizes. The Large Pod is adjustable from 1/2 to 1 oz, the Medium Pod from 1/4 to 1/2 oz, and the Finesse Pod adjusts from 1/8 to 1/4 oz. Adding or removing balls will also adjust the Pod's amount of rattle from loud to quiet, to match angling conditions. All without re-tying your line. Not only functional, these are the most beautiful and well-engineered sinkers I've seen.
Outdoor writer/editor and media, contact:
www.magnumweightsystems.com Greg Patterson, Co-Founder & President gpatterson@magnumweightsystems.com 936-396-3330 Normangee, TX
---
Mojo Lure Company
Mojo debuted its major product innovations at ICAST last year. The snagless Rockhopper, snagless Rig Saver, snagless Drop Shot Dream, and the Pineapple Down Shot joined Mojo's Carolina Slider and famed Slip Shot (Mojo Rig). This year, Mojo followed through with an exciting new look in packaging, economy pricing (less than half of last year's packaging price) and superb instructional information in every package. I happen to know the info is superb because I wrote it, says Russ Bassdozer. Each product comes with a 14-page instructional fold-out.
Armed with Bassdozer's info, an angler who leaves the store will know how best to use our snagless high performance products. They'll know how to rock hop, how to save their Carolina rig, use the Carolina Slider, how to Hawaii rig with our Pineapple sinker, dropshot like a dream, and use our world-famous slip shot - all very snagless. They will succeed beyond their expectations, says Larry Glavinich.

New kits will be made available in 2005, again at economy pricing and with superb information. Of our 2004 introductions, the Rockhopper has generated the most excitement among anglers. It's incredibly snagless, and we've responded to customer requests for lighter sizes of Rockhoppers in 2005, including new 1/8, 5/32, and 3/16 oz Rockhoppers. Although named Rockhopper (amazing in rocks), these lighter sizes will work through bottom brush like nobody's business, says Larry. And larger sizes of Pineapple Down Shots have been demanded by deepwater anglers and those who power-dropshot large baits, requiring 1/2, 5/8, 3/4 and 1 oz additions to the Pineapple Down Shot series in 2005.
More on what Mojo will innovate in 2005 was revealed by Larry Glavinich. Mojo will introduce its lead-free sinker systems, utilizing a patented tungsten composite proprietary substance. Mojo has a new type of bass jig up its sleeve too. This nifty jig will be effective on schooling fish in open water and yoyo-ing the jig off bottom utilizing a lift and drop presentation. Glavinich claims the jig will excel under tough conditions to entice reaction strikes from neutral and negative bass when all else fails. Mojo will likely file a patent on this jig since there's nothing else like it, says Larry.
Mojo will also introduce the Long Shot Wiggle Rig, again patented, since its a new way to dropshot or Carolina rig. Larry says it's a new method called "reaction rigging" since the strike trigger is Spectastic material, which presents your dropshot or Carolina bait on the end of a bungee cord to bass.
Outdoor writer/editor and media, contact:
www.mojolures.com Russ Bassdozer, Marketing & Promotions Director, russ@bassdozer.com 928-645-9791 Banning, CA
---
Nature Vision, Inc.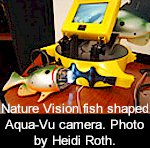 Joining in on the realism trend in the industry, Nature Vision added new non-spooking fish camera designs in realistic paint patterns to their Aqua-Vu underwater viewing systems. You can get a fish-shaped camera in bluegill, baby bass, silver or golden shiner, and emerald shiner patterns. The camera blends in naturally with the underwater world, minimizing the spooking factor, says Nature Vision.
Outdoor writer/editor and media, contact:
www.aquavu.com Trevor Supmtion, National Sales Manager aquavu@naturevision.com 218-825-0733 Brainerd, MN
---
O. Mustad & Son (USA), Inc.
Of most interest to me from Mustad was their new Ultrabite Black Bass formulation. Not a scent but a liquid containing pheromone technology intended to attract fish to your specific area and induce them to feed. Development is attributed to the scientific work of Dr. Andrew Moore. It is patented by the British government. In addition to traditional methods of applying Ultrabite to lures, Mustad suggests adding several squirts of Ultrabite directly to water. A teaspoon of Ultrabite will turn on fish in a body of water approximately the size of an Olympic swimming pool, says Mustad. Since it may take several minutes for Ultrabite to descend, dispense and stimulate a reaction from bass up to 100 feet away, it's best to stay in the treated area and repeatedly fan-cast the area with an Ultrabite-enhanced lure to maximize effectiveness.
Outdoor writer/editor and media, contact:
www.mustad.no Bob Funk, Vice president, Sales & Marketing custserv@mustad-usa.com 315-253-2793 Auburn, NY
---
Okuma Fishing Tackle Corporation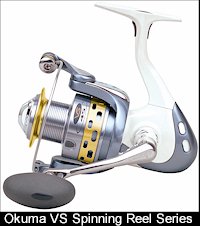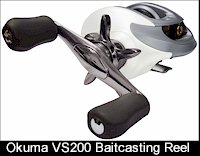 Okuma is excited about their new technologies, new patented features and new products for 2005 and beyond, says John Bretza. We've experienced a 60-70% growth each year for the last 4-5 years, says John, and over this time, we've expanded into a multi-national engineering design team in Taiwan, China and Germany, for example.
There's been a big push in the reel industry the past 1-2 years led by Shimano A-RB and Daiwa shielded CRBB super corrosion resistant bearings. These companies have raised a challenge and everyone at Okuma has responded, says John, with our new E2BB Extreme Elements Bearing. These double-shielded E2BB bearings feature corrosion free ceramic balls that create less friction and heat than traditional bearings, providing maximum, long-lasting smoothness.
In addition to three E2BB bearings, up to 12 more HPB High Performance Bearings and a roller bearing add up to 16 bearings used on Okuma's new VS spinning reel series (six reel sizes).
A second Okuma innovation on the VS reels, designed by their German R&D team, is the EOS Elliptical Oscillation System. EOS controls line lay on the spool, especially so the line will not dig into itself with superbraids.
Third, the VS series features the new Dual Force Drag system, DFD. In addition to the traditional multi-disk drag washers on top of the spool, the VS has a second large drag system mounted on the bottom of the spool. Drag pressure is exerted on both sides of the spool, especially beneficial for responsive drag using superbraids. Plus the large, bottom-mounted drag provides for a more stable rotor that won't wobble much, says John Bretza.
The Inspira spinning reel series is Okuma's number one selling spinning reel series. For 2005, the Inspira has moved up a class to include a new AlumiLite body and sideplate with an improved graphite body and rotor.
For a number of years, Okuma has been preparing to introduce a baitcasting reel arena, and now two new series of Okuma baitcasters have arrived:
The low profile VS200 baitcaster features ten bearings, including nine Okuma HPB High Performance Bearings for super smooth, long-lasting performance. Every VS comes with a large arbor wiffle spool for casting speed and control plus a second deep arbor spool for more standard applications.
The low profile Nemesis baitcaster features an eight bearing system. Okuma expects the Nemesis to be their best-selling baitcasting model for the next year or two, due to its high-end features at an affordable price.
Outdoor writer/editor and media, contact:
www.okumafishing.com Tim Baker, Brand Manager tim@okumafishing.com 909-923-2909 Ontario, CA
---
Owner American Corporation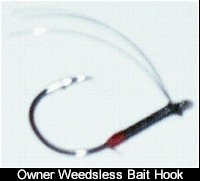 Dennis Yamamoto and Tony Shitanishi showed me their new Weedless Bait Hook built using the popular Owner Mosquito hook bedecked with a stainless wire weedless guard. The thin wire flares up over the point of the hook, but is not attached or tucked under the point. This eliminates any chance a tucked-under weedguard can compromise a hookset. It's an extremely fine wire that Owner claims will not hinder a hookset even with soft pressure bites. It's ideal for dropshotting in cover, and for nose-hooking or wacky-rigging weightless soft baits in cover.
Red Bass Hook Additions. Owner is adding red hooks for the first time in 2005. For bass anglers, Owner will be adding red to its Offset Wide-Gap (Owner's most popular worm hook) as well as short-shank Mosquito hooks in red. Red Stinger ST36 trebles too.
Outdoor writer/editor and media, contact:
www.ownerhooks.com Dennis Yamamoto sales@ownerhooks.com 714-668-9011 Costa Mesa, CA
---
Pace Products, Inc.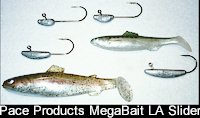 Brian Hawkins, designer of the MegaBait LA Slider swimbait was winner of Best of Show in the soft lure category. Brian named the swimbait in memory of his nephew Little Anthony (LA). It's patented due to its innovative flexible cavity that fits around any of four jig heads - 1/2, 3/4, 1, 1-1/2 oz, each with a 6/0 hook. So the weights are interchangeable and you can battle a large bass without doing major damage to the plastic body since the hook is not directly related nor pre-molded into the body. Brian's second breakthrough feature is a "loose tail" design enabling the tail to swim even with the 1/2 oz insert on a slow retrieve. This is something thicker-tailed swimbaits don't do well. Perfected so as not to roll over on its side, even at high speed. Instead it exhibits a seeking side-to-side action when used fast, yet still swims seductively as slow as you can turn the handle.
Outdoor writer/editor and media, contact:
www.megabait.net Ken Kanamoto, Media Relations megabait@earthlink.net 714-773-4132 La Habra, CA
---
Plano Molding Company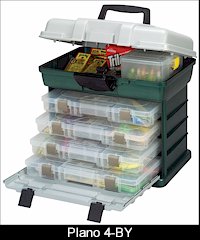 It was great running into Mike Guerra and Manny of Plano Molding Company. Plano's hard-cased 4-BY Rack Systems for tackle storage are new for 2005. There are three sizes of 4-BY systems. Each holds four Plano Pro-Latch utility boxes. My most interest for bass fishing was in the largest-sized 4-BY that holds four 3700 series Pro-Latch Stow-Away utility boxes as its main storage component. Then there's an additional spacious bulk storage bin integrated into the top of the 4-BY too. The 3700 is the size utility box I find works best for holding bass lures and bass tackle. How I best plan to use the 4-BY is as my spare box I take when I travel to tournaments or fishing destinations. This would be for all the spare line spools, tools, spare hooks, spare terminal tackle, colorants, spare scent and other spare back-up items I pack when I travel. I feel one 4-BY just may fit it all.
By the way, the Pro-Latch utility boxes are truly great on their own merits. The latches are recessed and do not shear off or bust up like protruding exposed latches do during the hard use utility boxes are subject to while bass fishing.
Outdoor writer/editor and media, contact:
www.planomolding.com Jesse Simpkins, Marketing Manager jsimpkins@planomolding.com 630-552-9737 Plano, IL
---
Pure Fishing, Inc.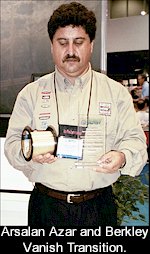 Arsalan Azar was winner of Best of Show in the line category for Berkley Vanish Transition fluorocarbon line. Similar to clear eyeglasses that transition to shaded sunglasses when you walk outside, Vanish Transition line appears golden yellow above water but transitions to clear colorless underwater. We developed this line for anglers who like to see the line and want to watch it for better bite detection, yet they still do not want the fish to see it, says Arsalan. In about four seconds, due to UV light, the line changes to a visible color above water, yet fish don't see it below where UV doesn't penetrate easily. Plus it has all the beneficial properties anglers look for in high quality fluorocarbon, especially sensitivity, better bite detection and abrasion resistance, says Arsalan.
Outdoor writer/editor and media, contact:
www.purefishing.com Claudia Garcia, Exec. Vice President, Marketing info@purefishing.com 712-336-1520 Spirit Lake, IA
---
Rapala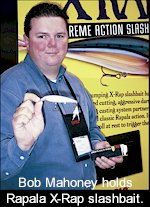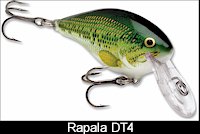 Introduced in 2004, the David Fritts DT (Dives-To) crankbait series has become quite "the bait" for Rapala, says Bob Mahoney.
Rapala welcomed the newest addition to the DT family at ICAST. The new DT4 as its name implies, dives to four feet, fairly shallow. I helped design the DT4 to have a more pronounced aggressive wobble, says David Fritts. My philosophy about shallow fish is they are aggressive, and they require a more aggressive crankbait action to trigger them. They want an action to match their mood, says David. The DT4 throws big (casts far) and winds in like a bitty bait (less wrist strain).
The DT10 and DT16 were the first ones we implemented for deep cranking down to 10 and 16 feet respectively, says David Fritts. After nailing the deep-diving DT's, we turned to development of shallow runners, completing the DT6 next, says Fritts. The DT6 introduced last year, has become very successful at the 4-7 foot range, Fritts told me. The DT6 also has the "hard" or aggressive action as on the DT4, and both sizes (DT4 and DT6) displace water big time. These two are at their best in dirty and shallow conditions, says Fritts.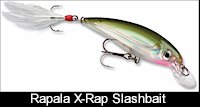 Another aggressive Rapala bait for 2005, the new X-Rap Slashbait takes jerkbait action to the extreme. The lure cuts and darts its way through the water, invoking a quiet riot of action and attention, says Bob Mahoney. When paused, it assumes a true dying bait posture, with the nose-up, still rolling and struggling as it suspends momentarily before slashing away again, says Bob. It's solidly-built and hefty at 7/16 oz.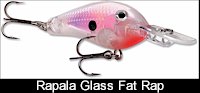 Rapala introduced the Glass Shad Rap last year, and angler enthusiasm for the Glass Shad Rap has been overwhelming, says Bob Mahoney. In 2005, we are introducing the Glass Fat Rap as well. The original Fat Rap is a classic square-lipped crankbait that crankin' legends swear by to haul in bass. Now the Glass Fat Rap has the three-dimensional prismatic glass effect that reflects ambient light in hundreds of directions at once, creating an almost iridescent glow, says Mahoney.
Outdoor writer/editor and media, contact:
www.rapala.com Mark Fisher Director of Field Promotions mfisher@rapalausa.com 612-933-7060 Minnetonka, MN
---
Shimano American Corporation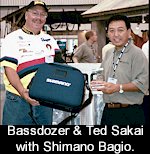 Shimano was truly the "golden child" of the industry, winning numerous awards at ICAST and throughout the year such as:
ICAST Overall Best of Show Winner
ICAST Best of Show in the reel category (third year in a row)
ICAST Best of Show in the tackle management category
Water Works Wonders Manufacturer of the Year award
Fishing Tackle Retailer magazine Manufacturer excellence award
Fishing Tackle Retailer magazine Most reliable and durable product award
Fishing Tackle Retailer magazine Best product warranty programs award
Outdoor Life magazine Great Buy award
In between accepting awards and congratulations, Shimano introduced a number of innovations. The most important to me were:
Chronarch B Series baitcasting reels. Jeremy Sweet with Shimano's development staff proudly showed me the winner of Best of Show in the reel category. New Chronarch models include the CH100B with high speed 6.2:1 gear ratio. The power version CH100BPV for cranking, slow-rolling and large swimbaits has a slower 5:1 ratio and large power grip. The Chronarch is the standard by which low profile baitcasting reels have been measured for more than 10 years. I have acquired eight Chronarchs over the seasons. They all still fish good. It's impressive to open the box on a glistening new Chronarch, but what impresses me more are my older Chronarchs, although scratched and dinged, still operate as well as when I first pulled them out of the box. Now the new Chronarch B series reels have all the proven features of Chronarchs plus seven bearings including A-RB anti-rust bearings. The palming sideplate has been made smoother and more contoured for a better fit into your hand. There is a more durable, sleek-looking ion-plated finish and innovative "scratch guards" on the frame so your new Chronarch B will continue to look as good as it fishes even years later.
Chronarch 50Mg baitcasting reel. A new smaller version of Shimano's magnesium-framed Chronarch 100Mg, with added features such as a close-to-rod sitting recessed reel foot for added comfort and maneuverability. It has five bearings including A-RB anti-rust bearings. It is one of the lightest baitcasting reels on the market. The 50Mg weighs only 5.9 oz. It's the ideal dropshot or deepwater light line finesse baitcasting reel, says Jeremy Sweet.
Crucial Series Graphite Rods. Ben Secrest was beaming over Shimano's new top-of-the-line bass rod series. The 46 new models include 14 baitcasting, 4 flipping, 3 swimbait rods cover small, medium or large swimbaits, 4 dropshot/shaking spinning rods, 2 dropshot/shaking baitcasting rods, 3 Tennessee handle spinning and 11 standard spinning rods. All with high modulus IM9 graphite blanks. Also 5 crankbait rods with high modulus TC4 construction. The rods have dual line ratings for both standard and braided line sizes. I particularly liked the dropshot spinning rods that Ben showed me. There are two 6'8" (medium light/fast for standard dropshot and medium/extra fast for truly deepwater dropshot) and two 7'2" versions (same two powers/action options as 6'8" except longer). The dropshot rods have an exposed blank rear grip for lightness and an exposed blank cut-out in the foregrip so the ball of your index finger can contact the exposed blank as you hold the rod to better sense a subtle bite. The dropshot rods have a unique dropshot keeper clip on the rear grip to keep the drop shot sinker from tangling when not in use.
Bagio Weatherproof Fishing Traveler Case. Ted Sakai took winner of Best of Show for Shimano in the tackle management category. With 25 inside pockets to keep all kinds of fishing accessories and personal travel gear close at hand, both sides unzip down for unrestricted access to contents. Constructed with heavy-duty 1200 Denier poly fabric and waterproof zippers to help keep things dry. The hard side design is puncture-resistant to provide added protection along with the soft inside dividers to cushion reels and spools.
Outdoor writer/editor and media, contact:
www.shimano.com Ben Secrest, Marketing Manager bsecrest@shimano.com 949-951-5071 Irvine, CA
---
Snag Proof Manufacturing, Inc.
Western frog expert Bobby Barrack has been modifying Snag Proof Frogs with tremendous success for over thirteen years. Now Snag Proof is manufacturing the exact frogbait that Barrack's been throwing with all his expert modifications right off the assembly line, the new Bobby's Perfect Frog. The modifications enable the frog to walk like a topwater stickbait in open water clearings, says Snag Proof.
Outdoor writer/editor and media, contact:
www.snagproof.com Connie Fuller, Vice President snagproof@fuse.net 513-489-6483 Cincinnati, OH
---
Specialty Tackle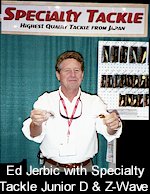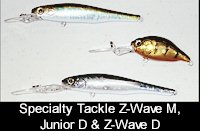 Ed Jerbic didn't really need to say much to me and he never uttered a single word to the ultimate panel of judges who scrutinized Ed's new Z-series hardbaits from Japan. The judges, a panel of forty bass in the ICAST demonstration tank, approved unanimously of Specialty Tackle's Junior D Suspending Deep Diver crankbait. Up to a half-dozen at a time eagerly rushed, nipped at and mouthed the Junior D from every angle no matter what it did. It was the most interest I saw these tank bass give a lure during the ICAST show. They hit the Junior D on a steady retrieve as well as when paused to suspend. They hit it as it bounced bottom or even floated barely below the surface. With the audience view from the side of the tank, I can only describe the action as a tight flutter and shudder that impressed me plus a beautiful suspenseful pause. The Junior D is small with a 2 inch body and weighs a tad over 5/16 oz, yet it dives over 11 feet deep, suspends and has a single thumping rattle. I favor a small crankbait of this size to pre-fish with the hooks cut off as Ed demonstrated in the tank at ICAST. Rubbed down in MegaStrike gel, such a small profile crankbait truly flushes out a lot of pre-fish, allowing me to easily uncover the most active fish-holding locations as I crank down a long stretch of bank during pre-fish. Of course, I expect the Junior D to also excel fully-hooked during a tournament.
Ed also demonstrated the Z-Wave M jerkbait, a medium diver (6-8 feet). The judges (bass) were all over that also. I was not there to see the larger size Z-Wave D (9-12 feet) demonstrated, but it works equally well according to Ed.
Due to the unbiased and eager reactions of the judges in the demo tank, Specialty Tackle's Junior D, Z-Wave M and Z-Wave D have earned a place in my bag for 2005.
Outdoor writer/editor and media, contact:
www.specialtytackleusa.com Ed Jerbic, President service@specialtytackle.com 415-884-0519 Novato, CA
---
Sphere Group Inc.
Joseph Simpson presented the rechargeable 12 volt DC Battery Zapper battery charger. It's a unit small enough to fit in your glove box that plugs into your vehicle's cigarette lighter to give your 12 volt car battery the juice it needs to jump a dead battery, says Joe. You don't need to hunt down another vehicle to jump you, need no jumper cables, and don't even have to open the car hood or get out of the vehicle. With a pair of adapter cables, you can also use the Battery Zapper on your boat, says Joe. The unit is rechargeable. It stays fully charged and ready for use for one year.
Outdoor writer/editor and media, contact:
Joseph Simpson joesimpson@spheregroupinc.com 617-889-4107 Chelsea, MA
---
Spike-It Outdoors, Inc.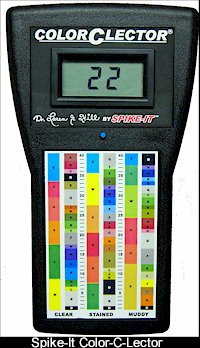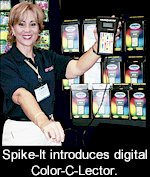 The Color-C-Lector is back and better than ever. Spike-It has teamed up with Dr. Loren Hill to introduce a re-engineered Color-C-Lector to scientifically aid anglers in deciding which lure color to use. The Color-C-Lector provides field identification of the colors fish can see best under all conditions anglers may encounter. The new unit is smaller, easier to use and more reliable than the older version. "We took the Color-C-Lector to another level," says Mike Spires. It's digital now, not analog, and every unit is consistently calibrated to provide uniform, reliable readings.
Spike-Its soft plastic offerings may be the most colorful in the industry for 2005:
First, there's the Diamond Flash series using innovative holographic sparkles for brilliant flash effect.
Second, the new Spike-A-Delic series is like the sixties tie-dye era all over again. Incredibly up to ten colors are swirl-patterned into every soft lure. This is not really a highly-random pattern either. You can see close consistency and the same proportion of color in every lure.
Spike-It has joined forces with Realtree to create a Realtree Camouflage-colored Hardwoods series of soft plastic lures featuring the exact colors of Realtree's camo clothing patterns, says Mike Spires. Two patterns, Hardwoods HD and Hardwoods Green HD swirl up to ten different camo base colors, creating a mottled outdoor pattern to blend into the fish's environment.
Spike-It also introduced the first-ever Holographic Paint that enables you to brush brilliant holographic effects right onto your favorite soft plastic lures.
Outdoor writer/editor and media, contact:
www.ispikeit.com Richard Rawlins richard@ispikeit.com 912-842-2653 Brooklet, GA
---
SPRO Corporation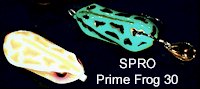 Kentaro Hara and Tim Norman introduced a new hollow rubber frogbait for 2005, the Prime Frog 30. According to Tim, it casts like a dream and never lands upside down. It's balanced to sit with only the head and the big bulging eyes above the waterline, just like real frog. It sports two supple kicking frog legs (legs not shown in photo). There's a swivel at the rear to allow you to doctor it - add a small Colorado blade for flash, gurgle, vibration, a feather streamer, silicone strands, a trailer hook or other sweetener. Kentaro Hara beamed about numerous bass, including one over seven pounds Kentaro caught while testing this new frogbait on Lake Guntersville, Alabama.
Outdoor writer/editor and media, contact:
www.spro.com Tim Norman, Sales Manager tim@spro.com 770-919-1722 Kennesaw, GA
---
St. Croix Rod
St. Croix is expanding the size of their Park Falls, Wisconsin manufacturing facility to meet the growing demand for their rods. Also, new equipment is being added to enable further technological advances and quality control on the production line. Included is a new Research and Design Center for St. Croix Rod engineers Jason Brunner and David Schluter to deploy state-of-the-art analytical equipment for enhanced rod product development.
Most interesting from St. Croix for 2005 is their complete new Legend Tournament Bass rod series, featuring no less than 15 new models. Each rod is designed and labeled to address a different one of today's most popular bass lures and techniques. The complete new Legend Tournament Bass rod series includes:
Sniper Spinnerbait
Sweeper Spinnerbait
Top Water
Jerkbait

Teaser
Slop-N-Frog
Jig-N-Worm
Carolina Rig

Big Jig
Pitchin'
Flippin'
Skippin'

Finesse
Drop Shot (casting)
Drop Shot (spinning)
Outdoor writer/editor and media, contact:
www.stcroixrods.com Jeff Schluter, Vice President, Sales & Marketing jeffs@stcroixrods.com 715-762-3226 Park Falls, WI
---
Storm Lures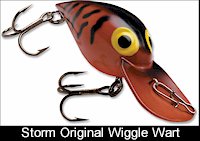 Wiggle Wart lovers will rejoice to know the Original Wiggle Wart is back by popular demand. Storm is using the original lure molds for tried-and-true action anglers favor. It's the classic original in every way - original Wiggle Wart colors, components, patterns and packaging.
The new WildEye Live Series for 2005 are ultra-realistic soft plastic baits with built-in swimming actions intended to closely duplicate seven different prey species such as perch, minnow, leech, rainbow trout, shiner and sunfish in multiple sizes, species-specific sizes, shapes and colors. Depending on prey species being patterned, the sizes vary from 1 to 6 inches with up to several sizes and weights per species pattern.
Bob Mahoney mentioned that since Storm first launched into soft plastics three years ago, the WildEye Soft Shad series has become one of Storm's most popular soft baits among bass anglers. A modification tip is to experiment by trimming down the threaded dorsal fin on top, thereby enabling a faster swimming speed than can be attained using an undoctored Soft Shad.
Outdoor writer/editor and media, contact:
www.stormlures.com Mark Fisher, Director of Field Promotions mfisher@rapalausa.com 612-933-7060 Minnetonka, MN
---
Strike King Lure Company
Daiichi Bleeding Bait hooks are being used on many of Strike King's best sellers. Two new Bleeding Bait Spinnerbait models and Bleeding Bait replacement skirts were announced. Also a new Redeye Mini-King spinnerbait will be introduced. Six new colors within Strike King's line of red-accented crankbaits and Wild Shiner jerkbaits will feature Bleeding red accent marks on the bait and sport Bleeding Bait trebles. A Bleeding Tube is new. The tubes feature a red inner lining while keeping the standard tube color on the outside. As the tentacles undulate, the red flashes underneath. The introduction of a red-accented Denny Brauer Premier Pro-Model Jig with Bleeding Bait hooks will have red eyes, red skirt strands and red fiber weed guards. To dress Strike King's jigs, there are two new sizes added to the 3X Denny Brauer Chunk line-up for 2005.
Outdoor writer/editor and media, contact:
www.strikeking.com Chris Brown, Public Relations cbrown@strikeking.com 901-853-1455 Collierville, TN
---
Thornwood Lures, Inc.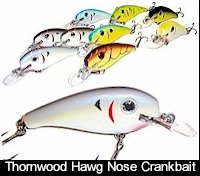 New for 2005, the Hawg Nose Crankbait series is made from wood, with a rear-weight system for casting distance. It's blunt cut-off nose looks like a pig's snout, but that's the "beauty" of this bait, says designer Ron Troyer. Water pressure raised by the diving lip hits the blunt Hawg Nose where the water resistance translates into a more accentuated side-to-side action of the crankbait.
Ron presented both round-sided and flat-sided Hawg Nose Crankbaits in both shallow and deep-running configurations. If you've seen any Thornwood lures, then you know the perfect color finishes that make every Thornwood lure a special creation.
Word from Ron is he may move from New York to Florida during 2005 so as to join forces with legendary wood lure designer, Lee Sisson. If that happens, it's reasonable to expect incredible new wooden baits resulting from the combined talents of these two craftsmen.
Outdoor writer/editor and media, contact:
www.thornwoodlures.com Ron Troyer, President ron@thornwoodlures.com 914-773-5136 Thornwood, NY
---
Top Brass Tackle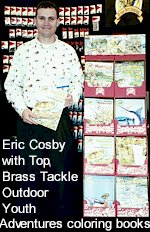 Eric Cosby has started a new Outdoor Youth Adventures coloring books division of Top Brass Tackle for 2005. The product line has outdoor-oriented coloring and activity books for youngsters. There are eight titles in the series so far, including a bass fishing, trout fishing, saltwater, waterfowl, deer and other titles, and we are currently working on another four, says Eric. The pages of each book contain beautifully illustrated pictures, challenging puzzles, and fun games crafted to entertain, educate and promote fishing, hunting and the outdoors. In the 48 page bass fishing coloring book, pages include species of bass, popular lures, fishing techniques and various fun bass fishing scenes, say Eric.
Some titles are recommended for children two years and older. Others appeal to the 5 year and up crowd. As a parent, I had been helping my own young children with their coloring and fun game books, says Eric, which gave me the idea to embark on this new initiative for Top Brass Tackle.
Outdoor writer/editor and media, contact:
www.topbrasstackle.com Eric Cosby, Sales Manager topbrass@netdoor.com 662-323-1559 Starkville, MS
---
Trader Bay Lure Company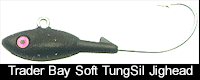 Harvey Partridge debuted TungSiL sinkers and jig heads made of soft, flexible lead-free TungSiL, a compound formed with tungsten and silicone rubber that can be injection-molded into any size, shape and weight. Harvey demonstrated egg sinkers, worm weights, weed guards, soft jigs and bullet weights. TungSil is non-toxic and environmentally safe. Jigs and sinkers are flexible which Harvey says makes them easier to pull free when snagged, and fish hold on to them longer due to the soft texture. Since it is a mixed compound, the flexibility can be varied from very hard to very soft, depending on the product application, and the weight relative to volume can be varied also.
Suitable for molding many shapes.
Outdoor writer/editor and media, contact:
www.traderbay.com Harvey Partridge, Owner traderbaylures@msn.com 941-721-6324 Terra Ceia, FL
---
TTI-Blakemore Fishing Group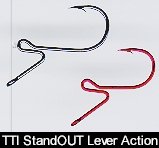 TJ at TTI debuted the special purpose StandOUT Lever Action dropshot hook. Because the two hook eyes are at contrasting angles, any line pull, however slight, creates constant lever action in the attached bait, causing it to vibrate, says TJ.
Outdoor writer/editor and media, contact:
www.truturnhooks.com T.J Stallings, Marketing tj@tticompanies.com 334-567-9788 Wetumpka, AL
---
U.S. Reel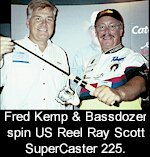 Ray Scott SuperCaster 225. This new reel and company debuted at ICAST last year. This year, Fred Kemp has raised his capacity to produce more and distribute more. It gets its SuperCaster name from the fact you can cast up to 30% farther due its unique large diameter spool. The large diameter spool tames line twist, the bane of all spinning reels except for the Supercaster. Another unique feature is it can handle from 4 to 15 lb test. It's lightweight at 8 oz with an 8 ball bearing system. The drag starts especially smooth and stays that way, says Fred. Best of all, it's endorsed by Ray Scott and if you return it for any reason, you'll get a full refund with no questions asked.
Outdoor writer/editor and media, contact:
www.usreel.com Fred Kemp, President fkemp@usreel.com 314-962-9500 St. Louis, MO
---
Uncle Josh Bait Company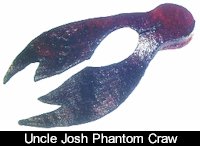 A number of new pork, jig and more products were presented by Uncle Josh. Of my most interest was the new floating Phantom Craw pork trailer. It resembles a rabbit ears shape trailer with less bulk up front on the thick pad around the hook point, and much wider surface area covering the skin-thin legs. A narrow head and wide legs are exactly the reverse of a traditional pork frog chunk. Also claims to have maximized the softness, flotation and salt content within this product. Good job, Uncle Josh!
Outdoor writer/editor and media, contact:
www.unclejosh.com Kurt Kellog, President sales@unclejosh.com 920-563-2491 Fort Atkinson, WI
---
Venom Manufacturing Company, Inc.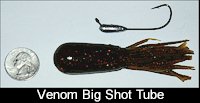 David Maurice presented the new Big Shot Tube. It's inspired by the Goby, a chunky bottom-feeding baitfish that factors into the diets of many Great Lakes bass. However this fat, stodgy profile is shared by other bottom feeders bass dote on - sculpins and small catfish. Most tubes of this kind are fattened up by dipping multiple times, making the tubes thick-walled, inflexible and unnecessarily solid which hampers action and hooksetting, says David. We avoided those drawbacks by investing in the necessary retooling, devising fatter mandrels so we dip less, producing more vibrant tube action and a thinner wall that collapses easily exposing the hook on a strike. One of the best ways to rig it according to David is to poke the insider jig eye through amidships, not at the extreme nose of the Big Shot tube.
Outdoor writer/editor and media, contact:
www.venomlures.com David Maurice, President & CEO venom1@infinet.com 740-862-9569
---
VMC, Inc.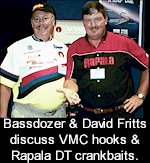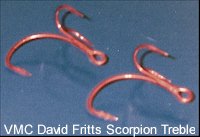 The biggest news from VMC for 2005 is David Fritts Scorpion Treble Hook, winner of Best of Show in the terminal tackle category. Vanadium cone-cut treble hook with a unique and patent pending design. A wide gap tine combined with a regular double hook and a rotated inline eye that offers a perfect alignment of the hook on any lure and drastically improves the hooking rate.
David Fritts told me the main thing is this hook is for anglers who want to quit losing fish. Using it will improve your strike-to-catch ratio. I'm not saying it is going to catch every single fish for you, says Fritts, but it will tremendously eliminate losses.
The Scorpion tine is two times bigger than usual. It's designed to catch. It sounds corny but you will be able to land more fish, says David.
In years past, I used a single upright Siwash hook on back of crankbaits, and the oversized Scorpion tine on a rear treble reminds me of that single upright posture, says Russ Bassdozer.
A single hook on a crankbait would not always catch, and it could turn away from a fish on a strike, says David Fritts. However, if it did grab, it wouldn't lose too many. Now with the Scorpion tine, if a fish misses it will still trip the Scorpion tine, like a lever or trip switch to turn the other two small tines toward the fish.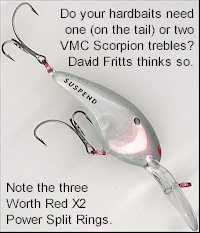 VMC also debuted a perfectly Inline Treble with three standard size tines perfectly in line with the hook eye. This is a concept we first proposed to make about seven years ago, says Fritts. As simple as it looks, its actually hard to make, and VMC had to fabricate brand new machinery to do it. With most trebles, the eye is skewed, meaning one or two points can tend to be up against the bait, where it's not effective to hook a fish. Traditional trebles put the points out of kilter come strike time.
The Inline Treble is perfectly poised for the strike. Since not skewed, all three points tend to hang away from the lure body most of the time, not rubbing up against it. This gives you the maximum full bite exposure of three points, says Fritts.
Even if a fish just slaps, you have a better chance to catch a hold with perfectly straight Inline trebles than you do with a skewed eye treble or with points-turned-in treble hooks, says David.
I asked Fritts if he felt the perfectly-balanced Inline trebles would help add better balance to hardbaits, thereby enhancing swimming action? That may be true on some of the lighter or more delicately-balanced lures, says Fritts, but for the types of large crankbaits that the pros throw, the bigger Shad Raps, Fat Raps and the DT series for example, hooks wouldn't easily throw these big baits in or out or change the balance, says Fritts. On such big baits, the Inline trebles help with better hooking, not better balance, says Fritts.
VMC also debuted their new X-Rap Tail, a feather and mylar-dressed treble. A red resin head positions the feathers in a free-floating way so they'll have a unique puffing action to trigger an attack, says Cyrille Mathieu.
Outdoor writer/editor and media, contact:
www.vmchooks.com Cyrille Mathieu, Vice President, Sales cmathieu@vmchooks.com 651-636-9649 St. Paul, MN
---
Worth Company, The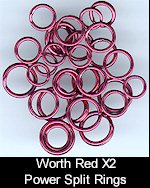 It was great to see Worth with their new Red X2 Power Split Rings. Made from a magnesium alloy 25% stronger than stainless steel, Worth claims these are the strongest conventional split rings available to anglers. They are finished in either black or red zinc plating.
Outdoor writer/editor and media, contact:
www.worthco.com Denny Rosenthal, Director of Customer Service & International Sales drosenth@worthco.com 715-344-6081 Stevens Point, WI
---
Yo-Zuri America, Inc.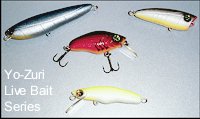 The Live Bait series will be released in 2005, says Paul Michele, including topwater walking baits, poppers, jerkbaits, lipped and lipless crankbaits for bass. Live Bait is a unique soft hardbait technology and it's the next natural progression for Yo-Zuri for 2005 and beyond, says Paul.
Yo-Zuri has taken a different tack rather than adding soft tails to hard heads. The Yo-Zuri Live Bait series has head to toe softness. Live Bait has a softer natural plop on entry, and fish hold on longer due to the softness. They may not hold on forever, but definitely long enough to help an angler with a better hooksetting connection, says Paul.
You can bend Live Bait and make both tips touch, yet due to the internal wiring, it springs right back to proper form. Live Bait's a bit firmer than soft hardbaits being developed by some other manufacturers. Some other soft hardbaits are prone to develop a bend if stored improperly, says Paul, which demolishes action. However, the Live Bait material and all wire/through construction helps keep the Live Bait straight and keeps the action true.
Outdoor writer/editor and media, contact:
www.yo-zuri.com Paul Michele, National Manager of Sales & Marketing paul@yo-zuri.com 772-336-2280 Port Lucie, FL
---