ICAST 2002: New Products for 2003
July 17-19, 2002 - 45th Annual Expo - International Convention of Allied Sportfishing Trades - Las Vegas, Nevada
What is ICAST? The annual International Convention of Allied Sportfishing Trades, or ICAST is nearly 5,000 key industry insiders who gathered in Las Vegas on July 17-19 to see 330 member exhibits of fishing tackle products, particularly new products for 2002-03.
Not open to the public, ICAST is exclusively for tackle buyers, sellers, manufacturers, manufacturers reps, the sportfishing media and industry insiders only.
Most of all, ICAST is a once-a-year chance for the industry's key players to meet, mingle, make deals, strike alliances over lunch, nervously watch what their competitors are coming out with next. ICAST is an opportunity for buyers and sellers to make new or renew acquaintances and to size each other up as potential partners for the coming business season.
Almost 1,000 booths lined the aisles at ICAST this year. Almost every fishing product in the industry was there to examine, to handle, and discuss complete product lines with special emphasis on what's new for 2003 in rods, reels, lines, lures, hooks, terminal tackle, fishing apparel, tackle bags, fishing electronics and accessories.
Excitement and expectation are always in the air at ICAST. There's no such thing as "taking a break" or walking down an aisle without business men and business opportunities tapping you on the shoulder at every turn. Even going to the parking lot or the men's room is an opportunity to unexpectedly meet with someone you definitely wanted to meet. And if you don't take that ad hoc instant to stop and talk business, then you probably will not bump into them again for the rest of the show - or the rest of the year. ICAST is like that. It is very much a political show, and it's certainly the most important and productive three days in our industry each year.
Trends in the industry for 2003 can be spotted by the astute at ICAST. Larger topwaters, the Yamamoto Senko is a trend spawning many imitations, blood red hooks, extra wide gap hooks for bulky soft plastics, hooks for wacky and dropshot fishing. Polymer fishing line formulations are a trend, and more ball bearings and tighter tolerances in reels. The trend in rods for 2003 may well be Sirrus, a new company that won the Best of Show Award in the fishing rod category. Another trend that can be spotted in many booths is the pervasive spread of private label softbaits, hardbaits, hooks, rods and reels from a small handful of manufacturing plants overseas.
Below is a photo story of my ICAST odyssey, featuring a few of the people and products I was glad to see in Vegas this year. It certainly isn't the whole story nor is it a complete list of new product announcements for 2003. It's simply a tale of three whirlwind days of non-stop fishing business in Las Vegas.
I am sure you will read much more journalistic and complete accounts of ICAST new product announcements in many major fishing publications in coming months. For now, please join me on a journey into ICAST that begins below.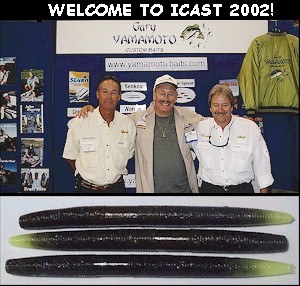 YAMAMOTO CUSTOM BAITS
www.yamamoto.baits.com
In order to bring the industry up to date with new advancements since last year's ICAST show, two new high-quality Gary Yamamoto Dropshot Spinning Rods were announced to the fishing industry. Designed for dropshot and other medium/light use with 4 to 8 lb. test line, both utilize custom-made 6-foot 6-inch one-piece 100-percent graphite rod blanks, seven high-quality Fuji Silicon Carbide Concept guides, plus matching tiptops. The 9-inch handle model is primarily for dropshotting, deep vertical fishing, and working lures that require wrist action. The longer 12-inch handle allows for two-handed distance casting accuracy. In picking a firm that would have the ability to best manufacture his new rod designs, Gary Yamamoto chose to work closely with sports product engineer Ken Whiting, president of Sirrus Rods, and winner of this year's Best of Show New Product Award in the fishing rod category.
The important area from the butt end of the Yamamoto dropshot rod up to the first guide is designed to provide power for unsurpassed fightability. Hooksetting flexure is configured within the middle area of the blank, and more guides than normal in the rod's middle area aid in an increase of hooking power. The upper rod tip area is designed primarily for unsurpassed sensitive feel. The tip area is micro-tuned to help an angler sense accurate lure motion, interpret bottom feedback, and detect even the most subtle presence of a fish. Click here for press release on two new dropshot rods.
In soft plastics, it was Yamamoto's surprise announcement of 5-inch 9-Series CoreShot Senkos for 2003 that attracted most interest among buyers. CoreShot Senkos feature one soft plastic color shot straight through the core of a second complimentary color, creating a two-tone tail tip effect.
Additionally, Yamamoto announced the new 5-inch 7L-series Cut Tail Worm in 13 colors. The 7L Cut Tail is a larger-size finesse worm ideal for dropshotting, on a darter jig head, or for shaking with a loose sinker and bead to create a clicking noise. Click here for press release on the 7L Cut Tail Worm.
The Yamamoto Senko has shrunk since last year's ICAST show with the new 9B-Series Slim Senko and new 9C-Series Fat Senko. Both hit the tape at three inches and come in 15 colors. Click here for press releases on the 9B 3-inch Slim Senko and 9C 3-inch Fat Senko.
Four new saltwater tough models of 5- and 6-inch single- and double-tail grubs for inshore gamefish drew the eye of ICAST coastal buyers. Click here for press release on Yamamoto's Saltwater Bait Series.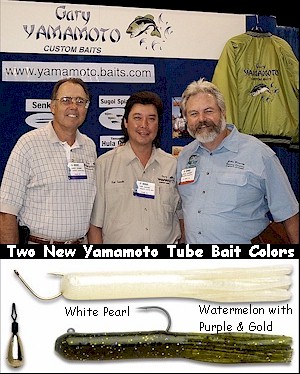 John Cassidy (right) of Western Plastics got reacquainted at the show with good friends Larry Evans (left) marketing director and Ken Sasaki (middle) president of Yamamoto.
The jacket hanging in the back is by Bass River of Schaumberg, Illinois. Part of a new line of Yamamoto fishing clothing for 2003 including flight jackets and flight pants for those cold morning runs and wet boat rides. There's a professional tournament style fishing vest, plus other stylish and practical new Yamamoto fishing clothing items. Contact Bass River at (847) 301-7350 for all your fishing clothing needs, whether an individual pro, fishing club, tournament organization, tackle or boat company.
At ICAST, Yamamoto also announced two new tube bait colors, translucent pearl white and watermelon with purple and gold.
SIRRUS RODS
www.rodsbysirrus.com
Ken Whiting of Sirrus Rods won Best of Show New Product Award in the fishing rod category for his new Co-MATRiX Filament Wound line of rods, which utilize a new and proprietary process. The new technology incorporates the use of Multi Modulus fabrication with a proprietary filament winding process The virgin graphite rod blanks are strategically fabricated from IM6, IM7& IM8 pre-pregs which affords the Multi Modulus configuration in each blank. The addition of the filament wound butt section, which extends from the butt to the first guide on all rods, may be typified as a "Power Butt", in as much as its combined modulus may exceed 83,000,000. Not only are these rods built with the latest new technology, but each Sirrus rod has fantastic eye appeal and elegance built into every rod. Sirrus is truly a new company to watch (and a hot new stick to fish with) in 2003!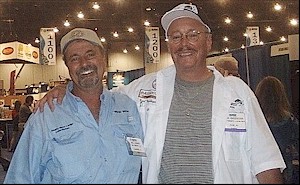 WILD BILL SKINNER
www.bassmex.com
I was honored to run into Wild Bill Skinner, the legendary Mexican bass fisherman and trip booking agent for practically every lake and lodge south of the border. For the past 34 years, Wild Bill has helped his clients haul incredible sizes and quantities of bass out of every lake Mexico has to offer, and Bill knows the weather, the seasons, the patterns and the temperaments of each location like the back of his weather-beaten hand. Co-owner of Trophy Bass Lodge on Lake Huites, Bill was proud to say they're putting up a new lodge there for 2003 with room for 18 and 9 new bass boats. Bill has probably caught (and put his clients onto) more ten pound bass than anyone on the planet.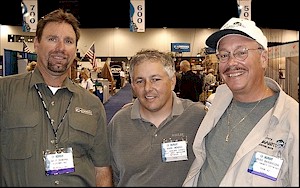 U.S. ANGLER'S CHOICE
www.anglerschoice.com
www.basswest.com
www.cefishing.com
Taking in the ICAST scene were Western tournament legend and Team Yamamoto pro Gary Dobyns (left) who has won 30 bass boats in tournament competition, and Mark Mendez (middle), owner of U.S. Angler's Choice Tournament Trail, Bass West magazine and Competitive Edge Fishing products. Partnership plans were discussed for U.S. Angler's Choice to host an exciting new "Yamamoto Tour Tournament Series" with events to be held in in Northern California, Alabama and other locations.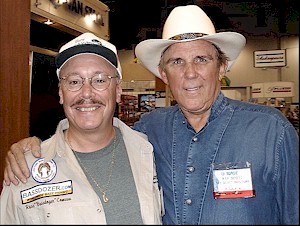 RAY SCOTT
www.rayscott.net
Two guys you should never put this close together unless you want a spontaneous combustion of fishing jokes and too tall fishing tales are Ray Scott (right) and the Dozer.
In the late sixties, Ray Scott had a dream and began to build the sport of bass fishing, establishing competitive fishing tournaments which would honor and recognize the best bass anglers in the country, attract media attention and consequently build our sport. This led to Ray's founding of the Bass Anglers Sportsman Society (B.A.S.S.). Indirectly, Ray Scott's dream led to the entire bass fishing industry as we know it today. Ray, thank you.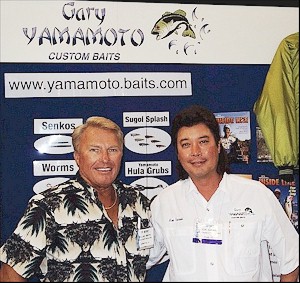 ROLAND MARTIN
www.fishingwithrolandmartin.com
Gary Yamamoto Custom Bait's president Ken Sasaki meets with good friend and Team Yamamoto pro Roland Martin, one of the most recognizable and legendary figures in the professional bass fishing sport. On the screen, Roland's TV career spans nearly three decades, and Martin holds the records for most Bassmaster tournaments won at 19 and most B.A.S.S. Angler-of-the-Year titles at nine. In addition, he will be making his 25th appearance in bass fishing's world championship event, the BASS Masters Classic along with Gary Yamamoto this week on Lay Lake, Alabama.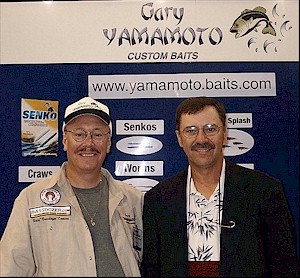 B.A.S.S./ ESPN OUTDOORS
www.bassmaster.com
B.A.S.S./ESPN Outdoors senior writers Louie Stout (right) and Ed Spencer (not shown) both stopped by to make new acquaintances and inquire as to new products.
Louie is a senior writer for Bassmaster magazine, BASS Times, and Fishing Tackle Retailer. Ed Spencer is also a senior writer for Fishing Tackle Retailer.
Gentlemen both, look forward to their in-depth coverage of the ICAST show in upcoming issues of these fine B.A.S.S./ESPN fishing publications.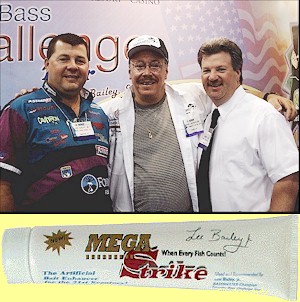 CAVITRON
www.cavitronlures.com
I enjoyed meeting Lee Bailey, Jr. (left), the founder of the Foxwoods Bass Challenge Tour, the largest and most prestigious tournament trail in the Northeast. Lee recently reacquired the Cavitron company, and has re-released the Cavitron Buzzbait in three sizes (1/8, 1/4, 3/8 oz) and five colors. Newly-improved, it sports a patented body shape and high-quality Gamakatsu hook. A special "oxbow" bend in the wire reduces missed strikes by suspending the Cavitron body deeper in the water. Holes in the gold anodized blades create tremendous bubbles and an enticingly slow retrieve.
MEGA STRIKE
www.megastrike.com
With tournaments often decided by the difference of one fish, it's a little-known fact that top pros regularly use fish attractants (although they do not always publicize it). It took a good guy like Bobby Uhrig (above right) to finally let the secret out about Megastrike Fish Attractant. Formerly available only at tournaments to pros since 1994, it is the first and only artificial bait enhancer to come with a 100% money back guarantee that states, "If you think Megastrike Fish Attractant did not help you catch more fish, we will return your purchase price. No questions asked." Based on a formula using amino acids, fatty acids, proteins and other ingredients, MegaStrike comes in a thick gel form that doesn't wash off easily.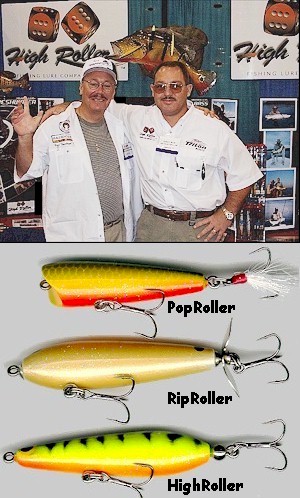 HIGH ROLLER
www.hroller.com
Las Vegas with it's gambling casinos was the perfect setting for High Rollers and long-time acquaintances Darcy Ellis (right), Skip Collins (not shown) and Terry Jertberg (not shown). Having been raised on wood plugs as we used to call them, I feel it's unfortunate that many anglers today have never used a wood lure and do not know the difference in buoyancy of wood over plastic, or the special feeling of catching big bass on wood. High Roller offers you a high-quality wood fishing experience that's an alternative to the plastic lures being mass manufactured today.
New this year are super sharp premium Gamakatsu Extra Wide Gap Trebles on all High Rollers.
Shown at right is the 2.75" PopRoller topwater popper in the new Perch color pattern, the 3.25" RipRoller propbait in the sought-after Bone pattern (middle), the 3.25" Original High Roller walking topwater in the Fire Tiger pattern. As you see, all finishes are diamond-dusted, and all metal hardware is stainless steel.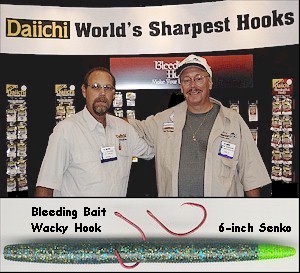 DAIICHI
www.daiichihooks.com
Crony T.J. Stallings of Daiichi rocked me with two new hook models. First, a new Daiichi Bleeding Bait Wacky Hook for fishing fat-bodied soft plastic wacky worms like 5-, 6-, and 7-inch Senkos. This hook is definitely s-t-o-u-t, and absolutely perfect for all big bass hunters using big baits and heavy line. Second, a new Daiichi Bleeding Bait FATGap Hook designed to allow anglers to "skin hook" Senkos, soft plastic jerkbaits and tubebaits for better hooksets. At first blush, the new Bleeding Bait FATGap hook seems to me it is made of medium grade hook wire that's ideal for mid-duty applications and sweepsets where a heavy wire hook would be too much. In other words, it's just swell for average-sized bass and tackle!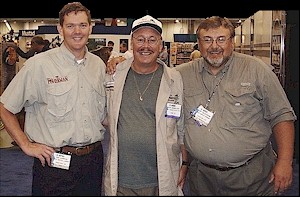 NORTH AMERICAN FISHERMAN
http://visitors.fishingclub.com
My friends tall Dan Johnson (left) senior editor and Kurt Beckstrom (right) editor of North American Fisherman magazine were really impressed and excited at all the new products at ICAST. Look for their comprehensive new product coverage of ICAST in the upcoming October/November issue of North American Fisherman. Dan Johnson says although a multi-species fishing magazine, reader surveys show bass are number one in interest to their readers.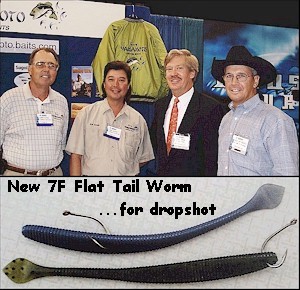 Chuck Devereaux (right), owner of the Bass Tubs of Oklahoma outdoor shows, and Steve Price (second right), one of the world's most prestigious and prolific bass fishing writers discuss Yamamoto's new 7F-Series Flat Tail Worm with Larry Evans (left) and Ken Sasaki (second left) of Yamamoto.
Most other baits used to dropshot today were originally designed for some other use before dropshotting arrived on the scene. However, the new 4-inch 7F-Series Flat Tail has been designed solely for the specialized requirements of light line dropshot fishing. The 7F will become available in fall 2002.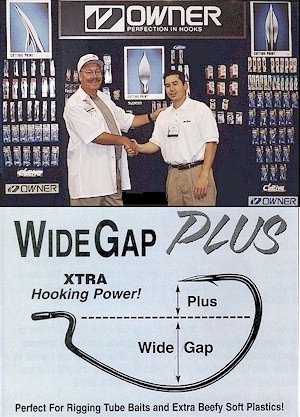 OWNER
www.ownerhooks.com
I spent time to review the new Owner Wide Gap PLUS Hook with young friend Tony Shitanishi of Owner. This new offset shank hook has a bait-holding Z-Lock shoulder bend, and one of the widest gaps I have ever seen for extra beefy oversize soft plastics and tube baits. The hook point is elevated above the eye, and the deep keel bend appears that it will rotate inside the mouth, ensuring a good hookset.
A second swell surprise was Owner Mosquito Hooks now in red. I often use Owner Mosquito Hooks to wacky rig or nose hook bigger weightless baits, or to dropshot bigger baits, and I definitely intend to use the new red Owner Mosquitos with my bigger wacky and dropshot baits as soon as possible. Thank you, Tony!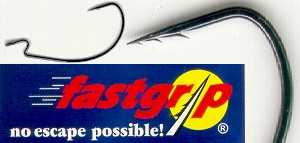 VMC
www.vmchooks.com
Cyrille Mathieu of VMC introduced me and everyone else at ICAST to the new VMC Fastgrip Point Model 7311 extra wide gap rigging hook. This hook has three barbs beginning immediately on the point tip with an auto-setting micro-barb that can barely be seen but catches fish that would normally spit hooks, followed by a second micro-barb, then a third locking barb back similar to what you would normally expect. Made of extemely strong Vanadaium steel with a sharply-bent Z-neck bend to prevent soft plastic baits from sliding off the offset neck.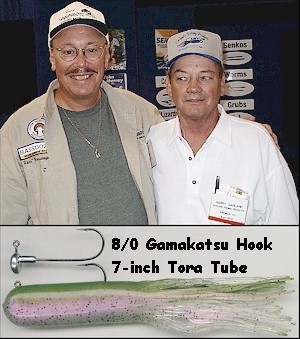 CANYON PLASTICS
www.canyon-plastics.com
My good friend Garry Garland (right) of Canyon Plastics and his brother Bobby released the first tube bait for crappie in the late sixties. In the early seventies they released the Gitzit, the first tube bait for bass. Then they invented the first spider grub in 1974. Nowadays, almost every soft bait company in the world makes versions of the Garland's original crappie tubes, bass tubes and spider grubs.
Garry Garland is still leading innovation in bass fishing almost thirty years later. He's designed a new jig head with an 8/0 Gamakatsu hook for his 7-inch Tora Tube. Long a secret killer of Western double-digit (ten pound plus) bass, the Garland Tora Tube has become increasingly popular with the younger group of Western pros in recent years, causing other lure companies to create their own versions of the oversized Garland Tora Tube.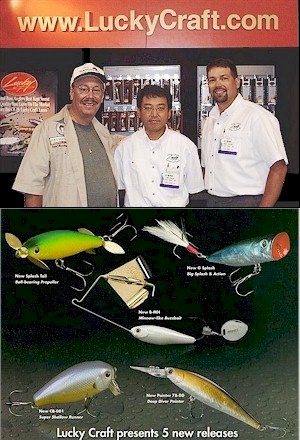 LUCKY CRAFT
www.luckycraft.com
Team Yamamoto pro and Bass Master Classic contender Ron Colby (right) helped Ted Sakai (middle) demonstrate Lucky Craft's five new product releases for 2002 and 2003.
First, the new Splash Tail topwater propbait with fore and aft ball-bearing propellers. Propbaits are relatively unused, bass don't get to see them much. That's why I use them a lot. Second, a new much larger version of G-Splash popper. There is a trend in bass fishing today towards larger poppers, and they do tend to result in larger bass. Third, the new CB-001 super shallow runner crankbait, which can leave a wake on the surface. Another deadly yet relatively unseen lure action that I use a lot. Fourth, the new Pointer 78-DD, a deep-diving version of Lucky Craft's most productive lure of all, the legendary Pointer 78 jerkbait. Fifth is the new concept hard-bodied B-MH Minnow Buzzbait.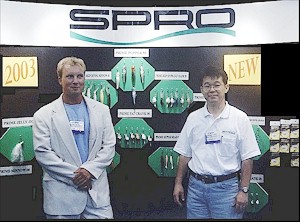 SPRO
www.spro.com
Friends Kentaro Hara (right) and Paul Michele (left) of SPRO impressed buyers with several new hard plastic baits added to SPRO's well-respected line. New introductions from SPRO include shallow-running lipped crankbaits, deep-diving lipped crankbaits, lipless crankbaits, exciting new topwater models, plus new jerkbait minnow models. Both the new shallow-running SPRO Fat Crank and new deep-diving SPRO DD Fat Crank crankbaits remind me in shape and appearance of bluegills and other deep-bodied panfish, which are staples in bass diets almost everywhere. I can't wait to add them to the other fine SPRO hard baits in my tackle bag.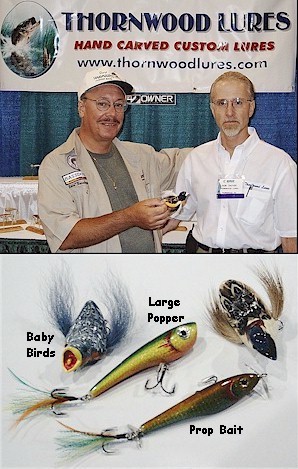 THORNWOOD LURES
www.thornwoodlures.com
My amigo Ron Troyer of Thornwood Lures took a booth at ICAST for the first time this year. He bedazzled the industry with his hand-carved Baby Bird lures. No gimmick here, these baits work wherever birds build nests in trees, brush or man-made structure above water. However, most buyers consider Ron's bird lures to be such incredible works of art that many are put on display on mantles, never seeing the water.
That's not the case with Ron's highly-productive topwater poppers, inverted (upside down) poppers, propbaits, and side-floating propbaits (for night fishing). New this year, Ron announced his 4.5-inch Large Popper (shown middle) weighing .725 oz. All Thornwood lures are hand-made and feature premium Owner hooks.
To me, fishing Ron's creations add a rich sweetness to any catch. These are special lures, and relatively inexpensive. The kind that Dad or Granddad would cherish fishing during the season, and display on the fireplace mantle in the den until next season.
That's all for now folks. I hope you have enjoyed making a trip to ICAST with me, and meeting just a few of the many key players who help make the bass fishing industry tick.