Primer on Gary Yamamoto Custom Baits
Greetings. This article will prime you on Gary Yamamoto Custom Baits ("GYCB"). It suggests you consider trying their product line. Soft plastics are the most often used lures by freshwater bass fishermen, and Gary Yamamoto's are some of the finest in the world today.

Quite simply, GYCB produces some of the highest quality and most productive soft plastic baits on the freshwater market, especially for largemouth and smallmouth bass, but equally applicable to all other species that hit soft plastic baits in freshwater. Every aspect of their products, from their leading technology production process, to their rigorous inspection procedures, assures that they produce some of the finest soft plastic baits in the world. GYCB baits have superior designs, quality, plastic formulation, production process and fishing results. This is not to say that you should not try other vendors' baits - many other baits produce good fishing results and high angler satisfaction. But to me, a few models of GYCB baits, such as their grubs, are the ideal benchmark against which all other grubs are measured by me. Click here to read a comparison of single tail grubs. Of course, this does not imply that other baits are not good - a savvy angler should ideally use GYCB and several other brands of baits in order to fully cover all possible situations out on the water.

Management Commitment. GYCB was founded by its principal, Gary Yamamoto, in the early 1980s. All GYCB products are personally designed, prototyped and tested by Gary Yamamoto himself according to his personal specifications. I have been to the GYCB factory, and I have met the company's senior managers. They are all people possessing professional management skills of the highest integrity and dedication to their staff and their company - and particularly to you - the fisherman and customer. GYCB management believes that the fisherman will always be best served by direct contact with a quality tackle shop and their well-informed staff. Therefore, GYCB selectively distributes its product through tackle shops that have close relationships with the anglers who patronize them. Click here to read more about GYCB's management philosophy.

Major Market. The company's major market is in Japan where bass fishing is a booming business. Within the US, GYCB products can be downright hard to get and therefore relatively unknown by the average bass angler across the country. But now, you can simply click here to go to Bassdozer's Hot Bass Fishing Tackle Shop and get the full line of Yamamoto baits plus al the information you need to know how to use them!

Soft Plastic Manufacturing Process. GYCB's hallmark products are it's line-up of soft plastic baits - 37 models in all (see chart at bottom). All soft plastics are manufactured from raw chemicals at the GYCB factory in Page, Arizona. This is a modern factory complex, built only five years ago. I have seen the factory in operation. The operational staff is a large crew of experienced workers. The production line equipment features leading edge technology relative to many other soft plastic manufacturers who often operate less modern production lines with less quality control than the GYCB operation. Overall, the initial superior design of the GYCB baits, the salt impregnation, the modern production process, and the high level of quality control results GYCB baits being superior to many others in these respects.

Salt Impregnation. Aside from the superior bait designs developed by Gary Yamamoto himself, most GYCB soft plastics have an advantage over other vendors' baits in that GYCB baits are heavily salt-impregnated using a patented process. As an alternative, other manufacturers may coat the outside of their baits with salt, but this is an ineffective process that quickly dissolves the surface salt off of other vendors' baits in water, and does not have any value as far as the surface salt being a fish attractant. On the other hand, GYCB baits are impregnated with salt and there is always some salt within the bait at all times. Even take a bait that you have been tossing all day - roll the plastic between two fingers and feel all the salt crystals that come out of the bait. That's exactly what a fish tastes when it crushes down on the bait. Also, for those who like to soak baits in scent overnight, the surface-most impregnated salt will dissolve overnight, leaving tiny micro-pockets on the entire bait surface that fill up with the scent. This gives you a heavily scent-saturated bait overnight.

Natural Oils. According to Jerry Puckett, editor of GYCB's Inside Line magazine, Yamamoto baits contain zero petroleum based oils, "The oils that we use (this is kind of the secret part) are both biodegradable and contribute to the taste or overall effectiveness of the bait, based on the opinions of the final judge in these matters, the fish."

Colors. Overall, there are 100 standard colors in the Yamamoto line-up, but not all models are made in all colors. The most popular sizes of grubs and skirts are available in all 100 standard colors, and the balance of the product line (worms, lizards, crawdads, Ika, Senko, and the big-sized grubs) vary ranging from 15 to 25 of the best-selling colors. There are in excess of 1300 color and style combinations. Relatively recently, GYCB has also perfected a "two-tone" coloration process for several models of the single tail and skirted grubs as well. Within the soft plastic market in general, anglers typically exhibit high interest in two-tone color patterns of soft plastics. Therefore, I believe the quality of the GYCB two-tone coloration process provides the potential for GYCB two-tone baits to prove to be big sellers.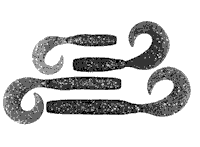 Square Heads. A major design feature of all GYCB baits is their squared off heads - not rounded or pointed. The squared off head provides a lot of meat to secure the grub firmly on a jig head collar. And for Texas rigging in heavy cover, the dense formula of the plastic and the Yamamoto's square head provides the proper tension to hold the offset portion of a rigging hook securely in place as it kicks and claws its way through nasty wood, brush, rocks, reeds, and weeds that try their darndest to unseat the hook out of your grub's head area, which results in a balled-up and rather ineffective bait on your hook. It's easier to ball up a rounded, pointy, softer plastic formulation in heavy cover. Not so with GYCB!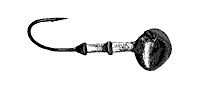 Hooks & Jigs. GYCB also offers hooks and jig heads specially-designed by Gary Yamamoto for use with his soft plastics. You should consider trying these highly desirable hooks and jig heads, as they are expertly designed for GYCB baits and other soft plastics. Gary's exclusive designs of rigging hooks and special bend jigs hooks are custom made for him by Gamakatsu (unless otherwise noted in the chart below). These exclusive designs have advantages over other hook and jighead styles. For example, a uniquue feature on all jigs is an elongated bayonet-style collar design. This will securely hold the square-faced GYCB baits better than any other collar style. Your baits will not slip down off your jig collar every time you cast or swing 'n miss on a hookset. Droopy drawer grubs are a real hassle for you, and a real turn-off for the fish in my opinion. Another unique design is the 44G football jig which sports Gary's specially-bent Gamakatsu hook, which causes it to be thrown less than usual when bass skyrocket out of the water. There are a few other design differences on the other jig head styles too. The differences may look subtle, but each feature is carefully dessigned. The end results in fishability can be quite dramatic in the hands of successful anglers' who know how and why to best use GYCB hooks and jigheads. Through the tips we offer you in Bassdozer's Hot Bass Fishing Tackle Shop, you too can get the information you need to learn how to master these hooks and jigs!
Hard Baits. GYCB also produces spinnerbaits and buzzbaits and imports for resale a hard plastic topwater popper, called the Sugoi Splash. They also offer to the market several models of rods made for grub fishing, Sugoi fluorocarbon fishing line for clear water, and fish attractant.
Hope you enjoy using the Gary Yamamoto Custom Baits. I know I have!
Regards, Bassdozer
Soft Plastic Baits
Grubs
Sixteen models of single tail and double tail with or without skirted hula tops. Standard sizes of 4 & 5 inches. Also 6, 7, 8 and 10 inch models designed for big bass.


4" Single Tail (Model 40)
5" Single Tail (Model 18)
6" Single Tail Mini (Model 02)
6" Single Tail (Model 19)
7" Single Tail (Model 20)
8" Single Tail (Model 10)
10" Single Tail (Model 100)

4" Single Tail Hula (Model 94)
5" Single Tail Hula (Model 98)

4" Double Tail (Model 15)
5" Double Tail (Model 16)
6" Double Tail (Model 12)
7" Double Tail (Model 17)

4" Double Tail Hula (Model 93)
5" Double Tail Hula (Model 97)
6" Double Tail Hula (Model 99)

Worms
Four models of curly tail and straight tail worms in 4, 6, & 8 inch sizes.

4" Worm (Model 04)
4" Worm Cut-Tail (Model 07)
6" Worm (Model 06)
8" Worm (Model 08)

Lizards
Two models of lizards available in 4 & 7 inch sizes.

4" Baby Lizard (Model 13S)
7" Lizard (Model 13)

Craws
Two models of soft plastic crayfish in 4 and 5 inch sizes.

4" Baby Craw (Model 3S)
5" Crawdad (Model 03)

Senko
Soft subsurface jerkbait. Standard sizes of 4 1/4 & 5 inches. Also 6 & 7 inch models designed for big bass.

4 1/4" Baby Senko (Model 9S)
5" Senko (Model 09)
6" Senko (Model 9L)
7" Senko (Model 9X)

Ika
Two models of solid tube style baits in 4 and 5 inch sizes.

4" Ika (Model 92)
5" Big Ika (Model 92B)

Grub Guards
(Model 70)
Grub guards are small rubbery bullet caps rigged on the line ahead of a grub to make it more weedless and snagless in cover.
Skirts
(Model 11)
Double skirts are often used on football jigs ahead of double tail grubs of the same or different colors.
Hooks & Jigs
Sugoi Hook
(Model 53)
For medium tackle- an offest shank hook for Texas rigs, Carolina rigs, and for fishing weightless soft plastic jerkbaits
Split Shot Hook
(Model 59)
Which is somewhat poorly named because it does much more than just splitshotting. It is also a superior hook for "wacky worming" and for nose-hooking trick worms, floating worms and soft plastic stickbaits.
Swimming Jig
(Model 35)
Exclusive head shape and weight distribution designed by Gary to perfectly match the size and action of his single tail grubs. Light wire Owner hooks.
Football Head
(Model 44, 44G)
Designed by Gary with a specially-bent hook eye (44G) that actually prevents fish from dislodging the bulbous football-shaped head when the fish jumps! Choice of either light wire Owner of heavy wire Gamakatsu hooks. Most commonly used on rocky and hard-bottomed mid-depth water. Often used with a double skirt and a double tail grub.
Flippin' Jig
(Model 67)
With fiberguard and with specially designed heavy wire Gamakatsu hook, and with a head shape designed by Gary for getting the biggest bass out of the heaviest wood and brush cover. Try the bigger sizes of double tail hula grubs with these heads.
Weedless Jig
(Model 66)
A premium all-purpose "Arkie" style with fiberguard for all makes/models of soft plastics, but especially the smaller sizes of double tail hula grubs tossed into wood cover.
Round Head
(Model 42)
A premium all-purpose jig head for all makes/models of soft plastic baits. Light wire Owner hooks.