Fishing Deep Summer Points with Jigs
GONE FISHING! I've only known two guys in my life who can fish all day as long and as hard I do. Vinny Spucces is one of them. Vinny made the 10 hour drive to Lake Powell from San Diego to fish with me last week. True to our nature, we fished without question; every daybreak, mid-morning, late afternoon and dusk last week.
Now, we're talking mid-August, and I'd like to tell you what we found out on the water. Being that bass are practically the same everywhere, there may be a tip or two for you to get out of my retelling the tale of Vinny and my great adventure last week.
NOT SHALLOW. We did not find bass shallow last week although we tried plenty of shallow brush and rockpiles in 6-18 feet of water. We did however, find bass off the deep sides and tips of brush points and rockpiles where they extended far out from the rest of the shoreline close to 20-30 feet of water. We did not find any bass in the shallow bays. We had most of our catching off outer points, not going into bays at all.
Many singular surface-rising bass were seen off outer points before 7 a.m. but were hard to catch by casting at their boils. Blind casting with poppers (Sugoi Splash, Chug Bug, Yellow Magic) produced a few of the better fish each day this way prior to 7 a.m.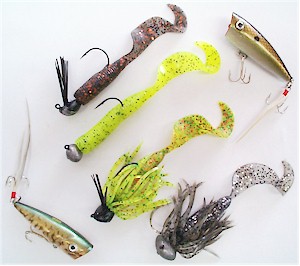 From 7.a.m. to 11 a.m., all action shifted to a minimum of 25 to 35 feet of water for the rest of the day. The magic depth was 30 feet give or take a few. Wherever there was 30 feet of water off obvious major land points (rocky, gravel, clay, etc.) at creek mouths, at bends or otherwise jutting out prominently from the shoreline, bass were there too, especially if there were offshore humps sprawled around such points. Vinny and I basically made a milk run of all obvious major points, humps and the deeper shorelines leading up to them. Pulling up to a point or hump, we located 30 foot of water on the depth finder. We then began prospecting the bottom with single tail grubs and hula grubs. First, we bounced bottom as a means to detect where irregular bottom features would be telegraphed up the line as a series of rumbles and bangs. Smooth bottoms did not telegraph any feel and did not yield any fish. All fish came when our jigs rumbled and banged through irregular bottom areas, and we concentrated repeated casts into each such small irregular area that we uncovered by feel.
For casting, we used open hook football jigs. With open hooks on football heads, cast them up ahead of the boat. Not too far out to the side, mostly up ahead. You must keep the trolling motor constantly on slow. Let the football jig sink to the bottom which can be detected when your line billows out slack. Reel the jig in just fast enough to keep it from getting snagged while occasionally tapping bottom to ensure your jig does not rise up too high off bottom. With the trolling motor on, keep retrieving until the boat pulls up perpendicular (at right angles) to where your jig is on bottom. Your jig should be practically under the boat or not too far off to the side when you pull abreast of it. Then reel in and cast up ahead again. Be alert for a fair number of hits within the first fifteen feet as you reel the jig straight up off bottom through mid-water. Keep your eye on the depthfinder for suspended fish. Ideally, reel your jig up through them when you see them on the screen.
If you get snagged, you will usually be able to unsnag your line easily as you pass by perpendicular to it with the trolling motor. The bulbous football head does not get lodged deeply in snags. You can usually jiggle it out as you troll over it. You will have a bad snagging problem with a football head, however, if you let the jig angle back behind the boat.
For dragging behind the boat, which was also very effective to cover long distances, we used fiberguard Arkie style heads. These are far more snagless for dragging behind a boat on a slow troll or wind drift. Again, the dragged jigs would rumble across irregular bottom which was easily detectable in the bouncing rod tip. This was our clue to get ready for hits which all came on the irregular areas.
Success was a factor of several ingredients:
the proper style and weight of jig head for the task

the depthfinder to keep at the depth fish favored

the trolling motor to keep moving whether casting or dragging baits
KEEP MOVING: We did not find large bait concentrations. We covered many miles of different shorelines each day. In our quest for fish, we systematically targeted progressively more distant shorelines each day. We always kept moving from one main point to another. We would take a bass or two or three immediately upon the first few casts, drifts or trolls at any good irregular spot we located on a point. Repeated casting to the same spot rarely produced bass after the first few casts. It seemed that these bass were "residents" that had pitched tents on these irregular spots. There were a few residents at every good spot. They seemed hungry enough to hit within the first few casts. We caught some, we lost some. They all went back in the water. We kept moving, covering lots of water with the trolling motor, and running the big engine from one prominent point to the next. We caught a fair number of smallmouth, plus largemouth, stripers, walleye, catfish, bluegills, crappie and warmouth. Our last day was our best. We finally found shad schools and steady action with bass whose bellies were swollen with food.
That last day made us wish for just one more, but it was not to be. Vows were made to fish together again...to pick up again where we left off that last good day. It was a week of fishing hard and earning our catch through unquestionable commitment - just the way Vinny and I like it.
It's a mid-August memory of hot mornings, hotter afternoons, long trolls, increasingly more distant runs in pursuit of bait, and all the while methodically raking big jigs across slow miles of endless bottom. It's a story of a hundred hot nameless points with Vinny and I glued to the trolling pedal and dual depthfinders up above, fingers feeling line for the desired tap-tap-tap of bottom features that would give up hits from sparsely scattered skeleton crews of summer residents camped on rubble and ridges somewhere down below.
I hope there's some info here from Vinny and I that you can find to apply to your fishing during August. Keep the faith. Bass on.