The Big Book on Spinning Rod Basics
Written by Russ Bassdozer
Gary Yamamoto's written the book on spinning rods. Not only is he a legendary lure designer, but Gary's also designed some of the best spinning rods on the planet.. Even if you don't currently use Gary's spinning rods, it's still worthwhile to read the book below. It's a definitive source of information applicable to any spinning rod you may choose to use for bass. Please enjoy.
Chapter 1
Gary Yamamoto's Winning Spinning Rods
As an avid angler, I am on a never-ending mission to find better fishing rods. How it works is I constantly question everyone I know about what rods they use and why, especially leading experts in specific techniques, and I try to borrow and fish with as many recommended rods as I possibly can. I have a name for this process. I call it "ratcheting up a rod" because I usually have to ratchet up - or try - several incrementally better rods along the way until I finally click with the best rod for me.

There's a whole lot of phone work, poring over rod manufacturers catalogs, and getting on the water to test as many recommended rods as I can. Often there's no way I can actually borrow every rod from every expert who recommends one. So trying their rods often means I must buy one. I don't do this lightly since I've found the experts' choices aren't always what suits me best, and trying (buying) rods that fall short of my expectations can get expensive quickly.

The process does work because at a certain point, I do feel confident that I've found the best rod possible for a particular application. For example, six to seven years ago when dropshot first got hot, I began a search for a better dropshot spinning rod. It took me several years during which I ratcheted up dropshot rods numerous times to finally get to the Yamamoto dropshot spinning rod I now enjoy. That was about five years ago when Yamamoto designed his dropshot rod. Although I've tried a bunch of new dropshot rods that have come onto the market since then, I still feel confident that Yamamoto's dropshot rod remains the best rod for me.

Besides dropshot, I've also ratcheted up over recent years to better topwater, crankbait, jerkbait, spinnerbait, jig and rig rods - all baitcasters. Some of my "best finds" include G. Loomis spinnerbait, crankbait and Falcon Expert Rods for jigs. These baitcasters are the best possible that do everything I expect from them. I also know which of my other rods still need to be "ratcheted up" to better ones for certain applications. It's a never-ending process, with complacent respites of rare rod finds along the way.

In terms of a spinning rods, I had been searching unsuccessfully for several years as of late. I just didn't have the spinning rods I wanted and the search to find them was becoming expensive. Fortunately, in 2007, Gary Yamamoto came out with a few new spinning rods that proved to be more than what I was looking for in terms of spinning rods.

Gary Yamamoto's new spinning rods so exceed my expectations, and the rods perform so well, that I've called off the search for now. Reason is, I don't believe any better bass spinning rods exist today. - Russ Bassdozer
Until the past few seasons, spinning rods have historically been shunned with contempt by skilled bass angers as being too easy or too simple to use, or too light. Until recently, spinning rods were often snootily pooh-poohed as entry level equipment for persons just starting to bass fish, or as a convenience for persons who only fished occasionally, spinning rods worked fine.

Now I expect that I will receive replies in the mail from highly-skilled experts among us who have tonged big bass on spinning tackle forever. So have I.

Yet the progression for anyone who wants themselves taken seriously as a bass angler has always been to shed the stigma of their beginner spinning rod by stepping up to baitcasting equipment - the symbol of a bona fide bass angler.

Then the tide turned. Starting approximately five years ago, the rising swell of dropshot fishing in North America made light spinning rods advantageous to dropshot. Seasoned anglers discovered that dropshot fishing with spinning gear could fill livewells and win tournaments, thereby making flimsy spinning gear a necessary evil.

In just the last few seasons, as shakey jigs came on strong and other finesse worm tactics have become increasingly popular and productive, spinning gear has gained new-found favor. Good spinning gear today is a force and a factor in countless tournaments wins.


Spinning gear has become a force to reckon with in tournaments today. If you're not spinning, at least some part of every trip, you're probably not catching or winning as much as you could.

As a result, spinning rods are here to stay, and three of the finest spinning rods available today are the rods below, designed by Gary Yamamoto.

Above rods designed and used by Gary Yamamoto for tournament competition. Together, these three spinning rods cover the effective range of spinning gear, which is 6, 8 and 10 pound test mono or fluoro, 4/15 and 6/20 braid.
---
1) Dropshot Model #SSC661M9H Yamamoto Spinning Rod
Today, many anglers are aware of Gary Yamamoto's legendary ability to design and build world-class soft bass baits. But most are unaware of Gary Yamamoto's unique ability to design and build world-class tournament fishing rods.

With the rising tide of dropshot fishing, Gary Yamamoto set out about five years ago to produce the definitive dropshot rod that he needed to dropshot with his soft plastic baits. That was about five years ago, took a lot of time and effort, but the end result in the first of Gary's three great spinning rods - the Yamamoto dropshot rod. There's probably nor a better one on the planet.

The Yamamoto Drop Shot rod model #SSC661M9H is a 6'6" spinning rod designed to dropshot. It's perfect for 6 lb test line and 4/15 braid. Although designed with dropshot in mind, this spinning rod can and will handle many tasks, a variety of lures and tactics best presented with 6 pound test spinning gear. So don't just think of it as a dropshot rod. Think of it as a 6 lb test spinning rod for multiple applications.

Yamamoto believes, "This is one of the best rods I have ever designed for bass anglers. So there is no need to limit this rod to just drop shot fishing."

The rod is designed for deeper water drop shot fishing, but on days when the drop shot bite is slow, Yamamoto will use this rod with other applications. "On Lake Erie and other northern waters, this rod works perfect with 1/8 to 3/8 tube jigs. Out West, the rod is great for the split shot style of fishing. Whereas drop shot targets fish hunkered down near bottom structure, split shot targets fish suspended higher above the same structure. So split shot and drop shot styles complement each other, and this rod does both," says Yamamoto.

Yamamoto configured different areas of the 100% graphite one-piece rod to accomplish certain key tasks:

Fighting Power. The rod is surprisingly powerful, thanks to this lower rod blank. The important area between the reel seat and first guide has been strategically tuned to provide the rod power for unsurpassed fightability. "I've landed some pretty big bass on this rod with a good drag," says Gary. You can too.
Hooksetting Power. The middle area of the blank is tuned with today's modern fish hook designs in mind. With many of today's premium hooks, including Yamamoto's Sugoi and Split Shot hooks, a quick jerk or snap set is not required with this rod. Yamamoto applies a sweep set, which activates the hooksetting flexure configured within the middle area of the blank. In addition, more guides than normally placed in the rod's middle area aid in an increase of hooking power.
Feel and Feedback. The rod tip area is designed primarily for unsurpassed sensitive feel. The tip area is micro-tuned to help an angler sense accurate lure motion, interpret bottom feedback, and detect even the most subtle presence of a fish.
Hypalon Grip. For comfort feel and sure grip, Yamamoto chose micro-cell rubber Hypalon for the handle. Not to be confused with EVA typically seen on less expensive rods, Hypalon is most commonly used on high quality saltwater rods for its durability and wet grip strength, which is superior to cork.
Integrated Handle Design. The graphite reel hood is integrated with the Hypalon foregrip, which screws down to secure the reel tightly. The graphite reel seat is bonded closely to the rod blank, which transmits sensitivity from the 100% graphite blank to the graphite reel seat to your rod hand. "Modern integrated graphite handle designs like this and the sensitivity of line transmission in today's modern fishing lines like Sugoi fluorocarbon surpass the old need to have a finger on the line or on an exposed section of the rod blank," says Yamamoto.

Gary Yamamoto's Dropshot rod shown above rigged with a slender Mojo dropshot sinker and wacky-rigged with Yamamoto's 3" Senko (9B-series) on 6 lb Yamamoto Sugoi fluorocarbon line. This short Senko is unique in that it wriggles when pulled down by the sinker, creating the incredible illusion it is a swimming baitfish as it's pulled down through the water column by the dropshot sinker below it. Many hits come on the initial fall. The wiggling movement looks for all the world like a fast-swimming minnow, except it isn't moving forward - sort of like a minnow on a treadmill, swimming fast but staying in place as its pulled below. Envision how to apply this tactic as if you're using a jigging spoon, except it's a falling dropshot rig. To get a super-slow fall, clip off the tip of the slender sinker, making a lighter weight. The Yamamoto Shad Shape Worm (68L-series) shown in the center also works swell rigged the same way.


Wacky rig the 9B Senko (left) in its center of balance, which is a few ribs past the smooth band on its body. Rig the Shad Shape Worm (right) in the center - of its body - not counting the inch-long thin tail filament. To rig the Shad Shape Worm, the hook point should go in the flat side first, and exit the adjacent side. The flat side should face down when it's fished, and if you've rigged it correctly, the thin tail filament will whip and squirm spastically as it falls, pulled down by the dropshot sinker on the line below it.

Gary Yamamoto's Drop Shot Rod is second to none. It's actually a shame it's named the dropshot rod because it does so much more than just dropshot. The Yamamoto "dropshot rod" can handle a myriad of 6 lb test applications, not just dropshot. Shown above with a shakey jig, Yamamoto 5" Kut Tail Worm (7L-series), and 6 lb test Sugoi fluorocarbon leader tied onto 4/15 PowerPro braid. To maximum tail movement, rig the Kut Tail Worm with the tail flat sideways pointed to either side (doesn't matter), but not pointed up or down.


FLW Tour pro Shinichi Fukae used the Yamamoto Kut Tail Worm and Shad Shape Worm on shakey jigs to win $200,000 and first place at Beaver Lake, Arkansas in April 2006. Shin used spinning rods with 6 to 8 pound test fluorocarbon line.
---
2) Medium Light Model #SM2701ML Yamamoto Spinning Rod
In 2007, Gary Yamamoto designed several additional spinning rods. The main goal was Gary's growing desire to use spinning rods with braided line. Yamamoto settled on 2/10 PowerPro for his own fishing, keeping in mind he's one of the foremost finesse experts in the world. A few braided line experts are skillful using 4/15 PowerPro, but the vast majority of top pros who use braid stick with easier-to-manage 6/20 PowerPro. And for the average angler, 6/20 PowerPro braid works best for spinning rods. The nice thing about braid is it absorbs the line twist created by a spinning reel. Line twist builds up with mono or fluoro on spinning gear, Inevitably, mono or fluoro line needs to be untwisted in order to continue to use it. On the other hand, a lot of line twist is simply absorbed by braid, and you can fish a long, long time with braided line on spinning gear before you will need to untwist it. More time fishing, less time untwisting was what Yamamoto wanted, and he designed his next two tournament rod models - medium light action model #SM2701ML and the beefier medium action #SM3701M - with braided line in mind

In this immediate section here, let's discuss the 8 lb test medium light model # #SM2701ML. In the ensuing section of this article, we will review the beefier 10 lb test model #SM3701M there.

New for 2007, Gary Yamamoto designed the medium light model #SM2701ML rod for 6/20 braided line. It works exceptionally well when spooled with 8 lb test mono or fluoro also. Shown above with 8 lb test Sugoi fluorocarbon spinning line and Yamamoto Swimbait (SB35-series).


Yamamoto's swimbait is one of the best deepwater baits ever developed by Yamamoto. Pinned on a simple jig head and tossed on the medium light action SM2701ML with 8 lb test Sugoi spinning fluoro, it rivals the Yamamoto Hula Grub in terms of effectiveness for deepwater bass. If you're not fishing the Yamamoto swimbait on a jig in deepwater, you're just not catching all the bass you could every day, all season long. Period.


Don't let the saltwater bag sidetrack you. This is one of the best deepwater freshwater bass baits ever pinned on a jig.


You could fish a long, long time without any need for other than two colors of the Yamamoto swimbait: 1) #031 pearl blue silver, and 2) #208 watermelon red pepper. For two years now, I've not felt a need for other colors. Most days, 031 and 208 swimbaits both work as good as any bass bait ought to.

In terms of jigs and rigs, think of the 8 lb test medium light model #SM2701ML above as the perfect rod for open hook, exposed point applications - or where the hook is skin-hooked barely under the surface of a soft bait. In the ensuing section of this article, we will review the 10 lb test rod model #SM3701M there, and that is a beefier rod for up to 1/2 oz weedless fiberguard jigs and Texas rigs where the hook point is kept sheathed deeper in a soft bait.
---
3) Medium Action Model #SM3701M Yamamoto Spinning Rod
In 2007, Gary Yamamoto also designed the medium action model #SM3701M spinning rod. This is the heaviest of all three Yamamoto spinning rods, and it is perfect for 10 pound mono or fluoro or 6/20 braided line. This is the rod you need for your weedless jigs and Texas-rigs, football jigs with hula grubs and other applications suited for ten pound test.

It's also the best model of Gary's three spinning rods with which to skipcast into hard-to-reach open pools that lie shaded under weeping willows, under overhanging shoreline brush, docks, boathouses and moored vessels.


Yamamoto Flappin' Hog Texas-rigged with a 1/2 oz tungsten sinker. The rubber band rattle strap threaded in between the hook and weight helps buffer the knot from the sinker constantly banging and chafing against it. If the rattle noise serves to attracts fish too, that's also good.


With 10 lb test mono or fluoro or 6/20 braid, the beefier model #SM3701M Yamamoto rod is perfect for fishing the Yamamoto Hula Grub (97-series), shown here on a 1/2 oz weedless football jig. This rod and football jigs (or any jig types) make a great pair - but only up to a point. Using more than a 1/2 or 5/8 oz jig may cause excess wear and tear on a spinning reel - and avoid heavy gauge flipping hooks. You can't set them properly using spinning gear.


Medium action #SM3701M Yamamoto rod makes a great deepwater rod for rigs and jigs that can be fished right under the trolling motor in order to precisely target fish and pick apart bottom features as they show up on the screen in the trolling motor transducer cone. It's got beef, and that's why Gary calls his rods "tournament rods" because they are designed to get bass into the livewell fast.
---
Assorted General Tips for Bass Fishing with Spinning Gear
Hopefully you may pick up a tip or two here to help you make better use of or to better understand the place for spinning gear.

Keep in mind that nothing written here is a hard and fast rule. They're just general guidelines that may or may not apply in every case.

For bass fishing, spinning gear goes great with 6, 8 or 10 pound test line and/or with 4/15 and 6/20 braid spooled on a 2000 series or 2500 series spinning reel such as the Shimano Stradic 2500FI above. It's Shimano's newest model for 2008. The Shimano Stradic FI
was winner of the American Sportfishing Association's ICAST New Product Showcase Award for Best New Freshwater Reel at ICAST tackle trade show in July, 2007. It's just hitting dealer shelves now.

To find out more about Shimano's latest and greatest new reel, click here:

New Shimano Stradic 2500FI Features and Functionality

Above the 10 pound test mark, baitcasting gear firmly gets the affirmative nod.

Above the 1/2 ounce mark with jigs, rigs or whatever lure, the pendulum swings back toward baitcasting gear as well. You will find that fishing with lures that are too big or too heavy will wreck a spinning reel in no time.

Heavy hooks, such as flipping jig type hooks, cannot easily nor always be set on 6, 8, 10 pound test spinning gear. So avoid overly heavy hooks with spinning gear.

Spinning generally thrives with small to medium weight jigs and weighted rigs, say any jig or weighted rig up to 1/2 ounce weight. Spinning gear goes good with lightweight spinnerbaits and small crankbaits too. Indeed, when the wind buffets enough to make it too tough to cast crankbaits with baitcasting gear due to excessive backlashes, that's the time when knowing pros break out spinning rods to better deliver crankbaits in a breeze.

Spinning gear goes great with weightless wacky worms, since a spinning reel doesn't rip a weightless worm off the hook as easily when cast, nor does the spinning reel backlash unbelievably when that happens. However, you do need to pay special attention when fishing weightless worms, Senkos or other weightless soft baits because they will leave a lot of slack line on the spinning reel spool - and that causes wind knots during casts.

Weightless baits also tend to spin and twist more when retrieved on spinning gear (but won't do that on baitcasting tackle).


Since you drag it sideways through the water, a weightless wacky-rigged worm or Senko (shown top) puts sufficient tension on the spooled line to avoid major wind knot trouble. However, a weightless Texas-rigged worm or Senko (shown bottom) will not put enough tension on the spooled line to prevent wind knots. Next cast, all that loose slack line will try to empty off the spinning reel spool at once, leading to wind loops in your line. So you need to learn to manage that, some days better than others. Practice makes perfect.

No matter how good you get at managing slack line, when it gets too windy to deal with a weightless wacky worm or Senko, then a wacky jig (shown below) will provide additional needed line tension to keep you in the action and to snug up loose line wraps on the spool.

Wacky-rigging is often defined as pinning a bait directly in the middle, as shown with the chartreuse-tailed Senko (9-series) above. A variation called the "cuckoo rig" pins a bait, like the Yamamoto Kut Tail Worm (7X-series) shown at bottom about an inch back. With different model baits, play around with where you place the hook- an inch back or a 1/4 to 1/3 back in the shoulder section. When you get the placement right, a cuckoo-rigged Yamamoto Kut Tail Worm pinned about an inch from its nose will wiggle its spade-shaped tail fluke as it falls, wiggling almost like a curly tail grub. This won't happen with a weightless rig, but with a weighted wacky jig or other weight to pull the worm down, the cuckoo-rigged Kut Tail will wiggle enticingly. An important point is to rig with the tail fluke flat sideways (doesn't matter pointing left or right), but not pointing up or down.

In general, any tactic that keeps steady tension or light pressure on the line at most all times - including jigs, all manner of weighted rigs, even light spinnerbaits, small buzzbaits and small crankbaits - all excel on spinning rods. Any bait that casts straight with little waffling in the wind is ideal on spinning gear.

On the other hand, any tactic that lays loose line loops on the spinning spool is going to be problematic and will cause wind knots in the line. Weightless worms or Senkos, popping plugs, walking the dog with a Sammy or Spook, working a jerkbait - these are examples of tactics that will leave loose line on the spool. This is not to say you can't learn by trial and error how to apply those tactics on spinning rods. I have and you can, but it takes extra attention and experience at managing the line. Also any baits that casts poorly, has sudden slow-downs, stalls or sporadically waffles in the wind like potato chips when cast, these aren't the most ideal prospects for spinning gear. It'll lead to wind knots.
---
Chapter 2
Spinning the Frontier of Finesse
Key milestones, mavericks and methods have hallmarked the frontiers of finesse over time:
Charlie Brewer: A Southerner started finesse first. Fishing Hall of Famer Charlie Brewer from Tennessee began light tackle Slider Worm fishing, a finesse fishing philosophy that pre-dates all other forms of finesse. Slider fishing today remains much the same and equally as effective as when Charlie Brewer first begat finesse in the sixties.

Don Iovino: A southerner of another sort - a southern Californian and Fishing Hall of Famer Don Iovino is another sire of finesse. Around 1969 or 1970, Iovino would devise "doodling" or shaking a brass sinker to constantly clink against a faceted glass bead, attracting curious bass to the gyrations and noise emanating from Iovino's slim "green weenie worm", a bait that became the embodiment of Western finesse.

Bobby Garland: The light tackle tube bait is a finesse lure second to none. Innovated by Westerner Bobby Garland in the early seventies, tubes remained exclusively light line finesse lures until the late nineties when flipping maven Denny Brauer popularized flipping tubes on heavy gear.

Garland Spider Grub: Garland also gave us the first tentacle-collared, double-tailed spider jig in 1974. Over thirty years later, the spider jig (aka hula jig) is still favored as a finesse jig for light tackle on deep, clear lakes worldwide.

George Kramer & Michael Jones: Several other finesse tactics evolved in the West in the seventies and early eighties. Split shotting, darter, pea and aspirin jigs, also small single tail grubs are just a few notables. A couple of Western outdoor journalists, in particular George Kramer and Michael Jones each wrote articles aplenty and even books covering Western finesse methods.

Guido Hibdon: Yet Westerners were not the only ones outfoxing the competition with finesse. Guido Hibdon was regarded as a professor of finesse from Missouri. Hibdon used light line and lightly-weighted tube baits to help Hibdon win the 1988 Bassmaster Classic and 1990 and 1991 BASS Angler of the Year titles.

Dion Hibdon: In 1997, Dion Hibdon followed in his father Guido's footsteps when Dion won the Bassmaster Classic world championship by finessing a light tackle spider jig of Dion's own design.

Dropshot Virtuoso Aaron Martens: During the late nineties the focus went out West again. Young bass virtuoso Aaron Martens of California almost single-handedly helped make dropshotting the new frontier of finesse across North America during the nineties.

Shakey Jigs: Probably five years back, shakey jig worms became the frontier of finesse. First shaking out of the Southeast and rolling across the rest of the continent from there. It's probably the hottest tactic today.

The Inchi Wacky in Japan: In Japan, the wacky jig worm is one of the very latest frontiers of finesse and for good reason. According to Hideyuki Nomura, editor of Japan's Lure Magazine, it was two top Japanese bass pros, Takuma Hata of Zappu Inc. and Toshiro Ono of Jackall Inc who pioneered the wacky jig worm craze. In a feature article in Japan's Lure Magazine, Hata spilled the technique to the Japanese press soon after Hata returned from a tournament in Korea. Immediately thereafter, Toshiro Ono took first place in the 2004 Basser All-Star Classic on a wacky jig worm. With the fishing press picking up on the new technique, it wasn't long before everyone in Japan was fishing with wacky jig worms too. And it won't be long before everyone in North America become big fans of the wacky jig worm as well.

Wacky Jig Hits North America: The wacky jig's big North American debut came in March 2007. Jackall's President and legendary lure designer Seiji Kato came over here from Japan. With a wacky jig worm, he won first place as a co-angler in the Bassmaster Elite event on Lake Amistad, Texas. So Seiji's proven the wacky jig works big time.

What's Next You Ask?: By this time next year (2008), mark my word that many North American anglers will have wacky jig worms tied on the end of your light tackle sticks.

Finessing the Final Frontier: But there's one final finesse frontier even more recent than that. The latest frontier of finesse began barely one year ago. Only a small handful of top BASS and FLW Tour pros like Gary Yamamoto and Shin Fukae are pioneering it. They're fishing with the thinnest possible braided line - 2 pound test diameter line.
Using braid of course is not new, and using braid on spinning tackle is not new, but using 2 pound test diameter line, now that's new. It's really not been done yet.
All other forms of finesse don't dip much below the six pound test mark, at least not in North American bass fishing. Six pound test is the lightest line used, practically speaking.
"We developed this technique (using 2 pound test diameter braid) about one year ago," says Gary Yamamoto. "The first time we began to use it was when Shin (Fukae) won $200,000 in the FLW event in April 2006 on Beaver Lake using the Shad Shape Worm with a shakey jig head from Japan."
Keep in mind, although braid has the thinness of 2 pound test, it has the strength of ten pound test.
There are other top BASS and FLW Tour pros pioneering braid on spinning rods too. The other pioneers tend to stick with the comfort margin that 6 pound test diameter braid provides. They're not quite ready or willing to master the next level yet, to finesse with 2 pound test diameter line like Gary or Shin will do.
You can't quite visually tell which pros are using braid on spinning rods on weekend TV coverage of the big events. As soon as they hook up, however, that electric-like sound of the slick taut braid sizzling through the rod guides gives it away. They're the ones who are pushing the frontier of finesse with braided line today.
"A problem or nuisance with shakey jigs (and the bane of every single finesse spinning tactic from slider fishing to dropshot and whatever) is line twist," says Yamamoto.
Due to the nature of spinning reels, line twist starts when you spool new line. The line twists (actually, untwists by twisting opposite from how it was twisted when spooled) every time it comes off the spool when you cast, and it twists (same as how it was spooled again) every time you retrieve line back. Modern spinning reels have twist-defying mechanics to better handle the above types of line twist, but they don't eliminate these kinds of twist. They just make it easier for the spinning reel to process it.
The above kinds of twist could be manageable - if that's all there was - but it's not. In addition to line twist caused from spooling up, casting and retrieval, more serious line twist problems also come from lure twist. Dropshot rigs, shakey jigs, tube jigs and weightless rigs (like a weightless Senko) are notorious for causing nasty line twist, snarls and tangles that can render a spinning reel unusable after a couple of hours, even if you never catch a fish, just from lure twist.
Problems multiply with the intense twist caused from line pulling out against the drag when a fish runs, and from turning the reel handle while the spool slips or stands still during a fight. Catch a couple of good fish, and you could be putting your twist-riddled spinning rod back in the boat rod locker prematurely before the fishing's over.
That's a bummer if you're out just having fun, if you can't continue to fish effectively due to line twist-lock. But imagine the problems that line twist could cause for the likes of Gary Yamamoto in top tournament competition.
"Any monofilament line or any fluorocarbon line has a tendency to twist, twist, twist until it finally backlashes into a big blow-up on a cast, putting that rod out of commission for the rest of the day. During the pressure of a top tournament, there's just no time or chance to stop to straighten the line or try to prevent the inevitable line snarls," sighs Yamamoto. "It's not a case of if but when twist will put a rod out of commission during a tournament day."
"As fortune had it, I originally used braided line while using a light shakey head jig about one year ago. What dawned on me while fishing this shakey jig was that braided line like PowerPro completely absorbs twist," says Gary Yamamoto.
"With fluorocarbon or mono, you can't keep the twist out of the line. With braid though, there's no such thing as line twist. The problem is eliminated by using braid like PowerPro which seems to be able to absorb twists," says Yamamoto.
"Another thing that is unique, I do not need to respool and replace PowerPro every night. After every tournament day, I would need to replace mono or fluoro line every night. But with braided line, I can fish an entire 3 or 4 day tournament without having to respool. Braid lasts a long time between respoolings, so I don't have to do line changes anywhere near as often as before. It's a major relief not to have to worry about respooling a bunch of rods every evening of every tournament day," says Gary thankfully.
"So I originally went to braid in order to keep the line twist out of my line. In solving the line twist problem, I discovered the added benefit that I do not need to respool line very often either."
---
Chapter 3
Gary Yamamoto's New Spinning Rods for Braided Line
Gary Yamamoto's new spinning rods for use with braided line include:
SM2701ML ∑ 7'0" ∑ Lure Wt 1/16-5/16 oz ∑ Line 4-10
SM3701M ∑ 7'0" ∑ Lure Wt 1/8-3/8 oz ∑ Line 6-12
Gary Yamamoto says, "I feel I made a mistake the past thirty years using heavy baitcasting gear in many situations where these new spinning rods with braided line have proven better. Knowing what I know now, I wish I'd discovered this set-up years ago."
"After thirty years, it's still a new game, still new things for me to learn like this. This is something (spinning gear with braided line) that I never thought I would be using, but I am excited to say, it rules! I am catching fish left and right on these new rods," exclaims Gary Yamamoto.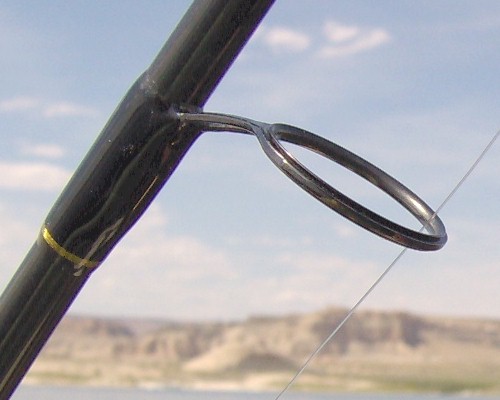 All line guides and tip top are titanium, which cannot crack, therefore unlikely to ever fray line.

Although there are two models, it is actually just one basic rod design (seven foot, one piece) and one blank design with the difference being the tip taper per inch at the top. The two tip designations are: 1) medium light, and 2) medium. These are Gary Yamamoto's own designations. The designations are not comparable to any other rods on the market that are called medium light or medium.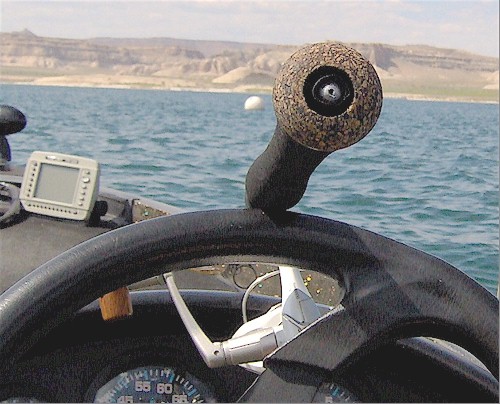 Replaceable end cap lifts off to access optional balance weight cavity, shown here weighted with 3/4 oz Carolina sinker. Weight cavity is not necessary, but it's there.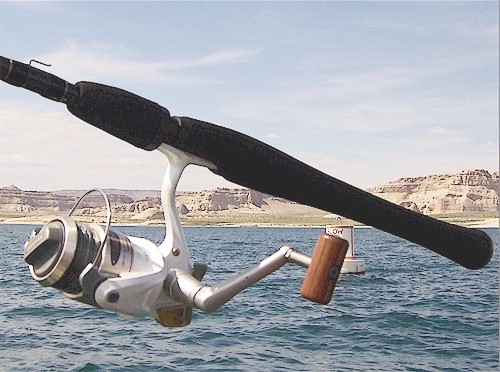 Lure clip (shown upper left above fore grip) holds hooks, drop shot sinkers, basically whatever.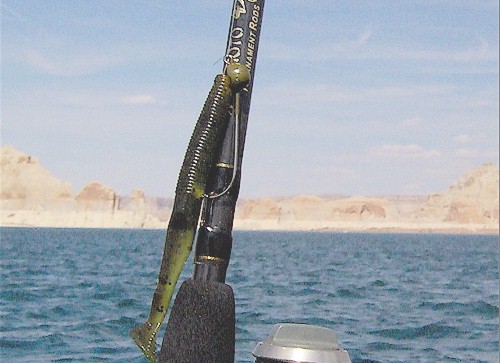 Even Texas-rigged soft baits or shakey jigs can be put on the lure clip without having to pull the hook point out of the worm (or 4-inch Swimming Senko in this case).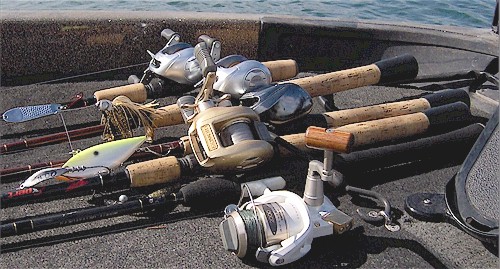 One way to describe Gary's new spinning rod for braided line (front) is that it feels more like a baitcaster.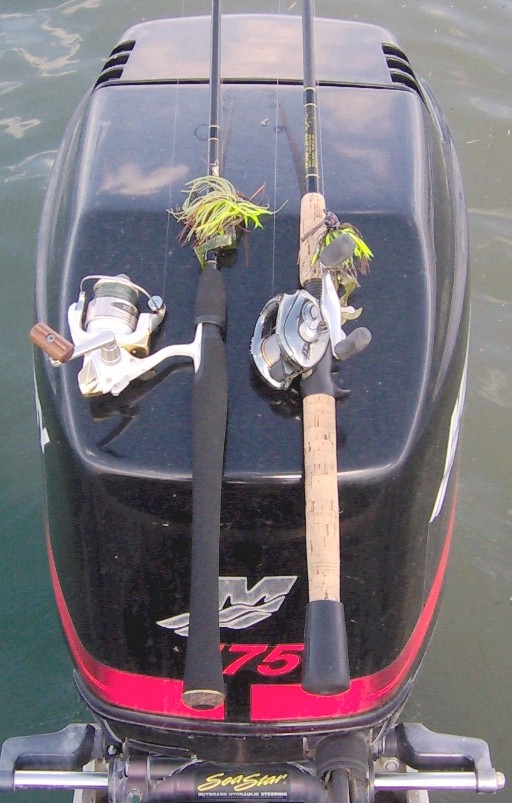 Gary's new spinning rods have more of the balance and oomph of baitcasting tackle.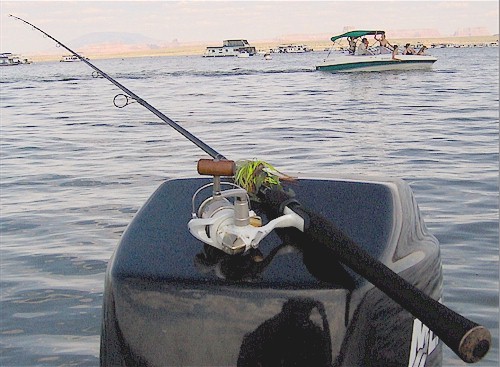 The rod blank, rod guides, thread wrapping, graphite reel seat and the hypalon rubber fore and rear grips on the rod are all black or close to it, with gold lettering and gold thread trim.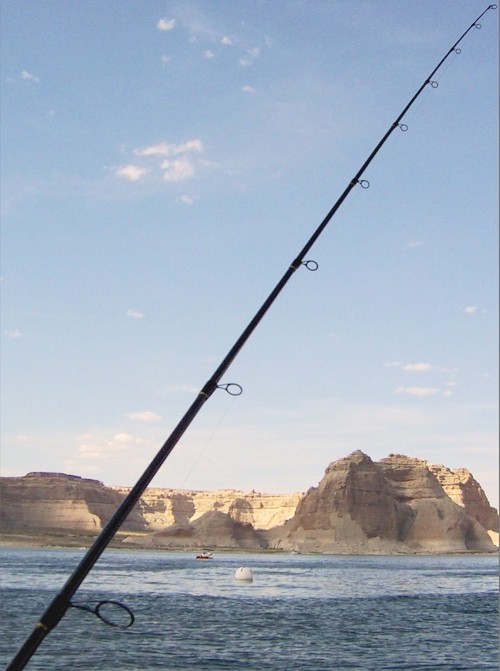 All guides and tip are super lightweight titanium, and cannot crack or fray line.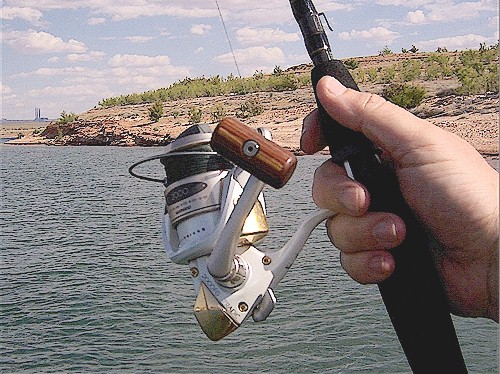 Gary Yamamoto likes to hold a spinning rod as shown - with the reel stem nestled between two fingers.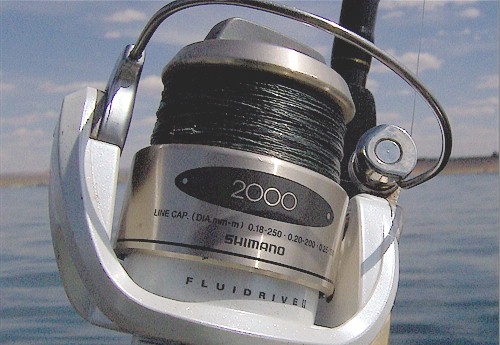 Gary likes the splice (the knot that connects his fluorocarbon leader to the braided running line) to end up on the spool while playing and landing a fish at boatside. The splice can be seen here on lower left side of spool.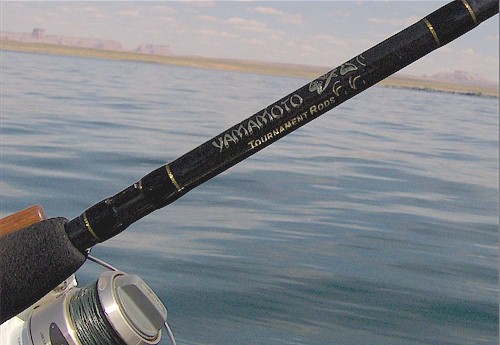 Gary Yamamoto believes his new spinning rod with braided line is "the rod" for the modern day tournament fishermen. It has become his most versatile tournament tool, and it has given Gary the advantage in tournaments of better hooksets and better sensitivity, plus better ability to get big fish into the boat with no nonsense. It's everything that Gary has always sought in the rods he's used over the years.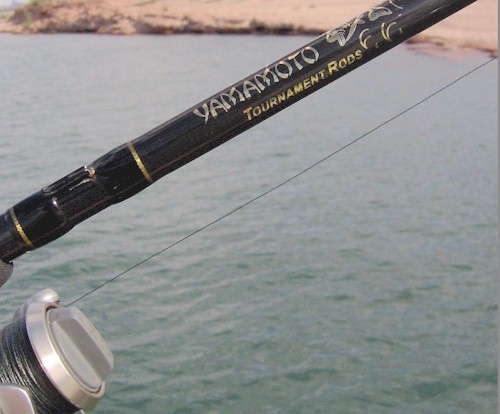 Gary's new rods for braided line are not your typical wimpy spinning rods. These are extreme "tournament rods" designed for one purpose only - to skillfully lure, solidly hook and quickly land five bass per day, the biggest you can, under the most competitive tournament conditions.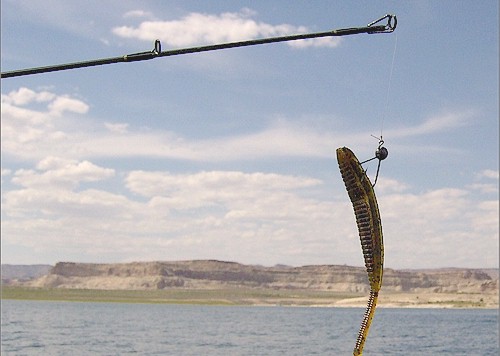 The two new rods by Gary Yamamoto are basically built on the same spinning rod blank, except one's tip taper is a little lighter than the other, and one's tip taper is a little heavier than the other. So it's the same rod, except an angler can get it with the tip taper that they prefer. Gary's designation of medium or medium light is unique and cannot be compared to any other medium or medium light rods on the market.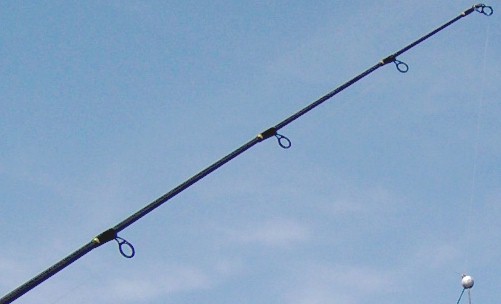 Gary Yamamoto's two new spinning rods are called "tournament rods" because they are bulked up compared to the spinning rods normally used by weekend recreational anglers. The rod handle is a longer and thicker, the rod blanks are beefier than normal for spinning rods. The blanks have more of the firm feel of a baitcasting rod rather than the typical soft and soupy spinning rod feel. Yet they are not heavy or clumsy or lack sensitivity like other heavy spinning rods on the market. If you think of them as spinning rods built to feel and act like precision baitcasting rods, you are thinking of Gary's new tournament spinning rods in the right way.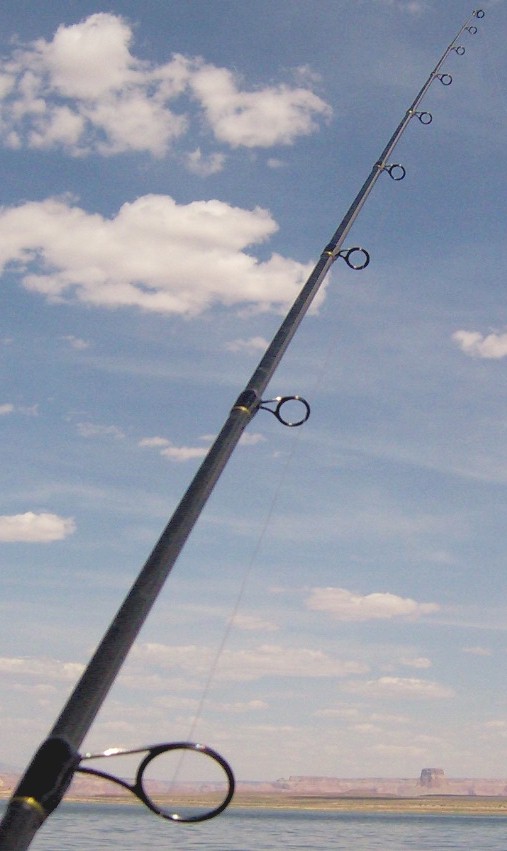 New rod features nine titanium guides plus titanium tip. Note the guides are smaller diameter rings than typical. Why? Because the supple nature and thin diameter of braided line has a unique casting ability that mono and fluoro do not. Slick braided line shoots straight through these smaller guides (more like a baitcaster) for long distance casts.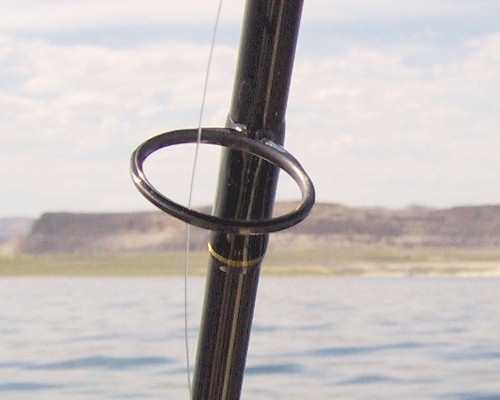 The guide frame and foot is titanium carbide. The inserted center ring is also titanium carbide and double-swaged tapered on both ends. That means no more cracked inserts, no inserts falling out, and lighter weight guides.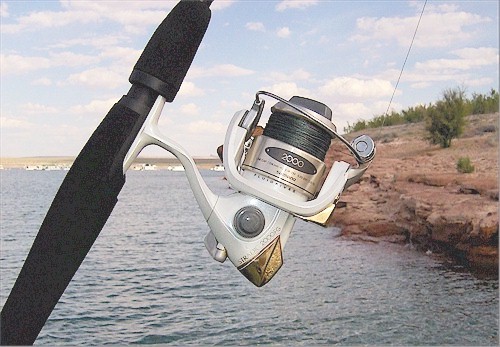 Yamamoto favors 2000 size spinning reels most of all with these new rods and braided line.
"Knowing what I know now, I wish I'd discovered this set-up years ago," says Gary.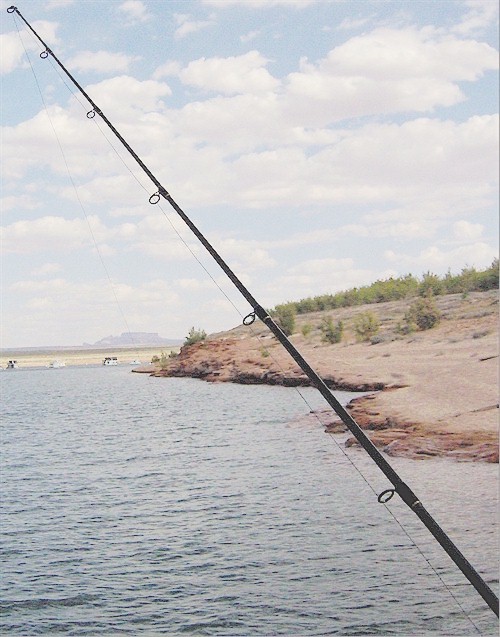 Gary made these rods to be used with braided line, not monofilament or fluorocarbon.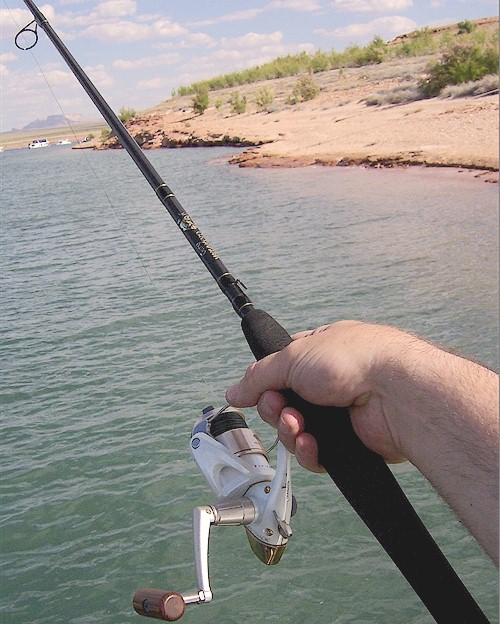 A long, hard fight is usually what a recreational angler enjoys most - but what a tournament angler dreads most. Gary's tournament rods are designed to get fish in the livewell as fast as possible, thereby reducing the length of time a fish can fight (and can escape) between hookset and landing.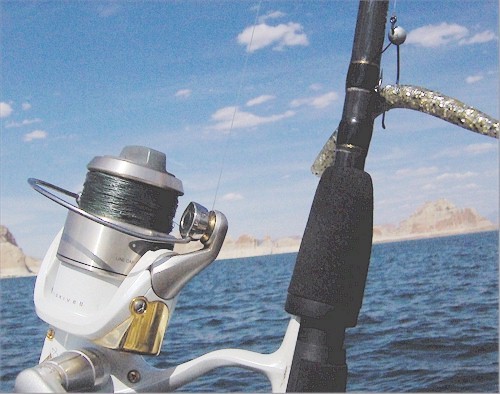 Very little (about one inch) of the reel seat remains exposed. Your hand will not be holding an exposed reel seat at all.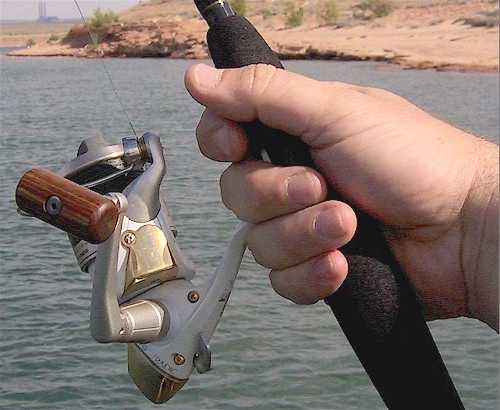 Your hand will be comfortably gripping Hypalon rubber - and very little of the reel seat.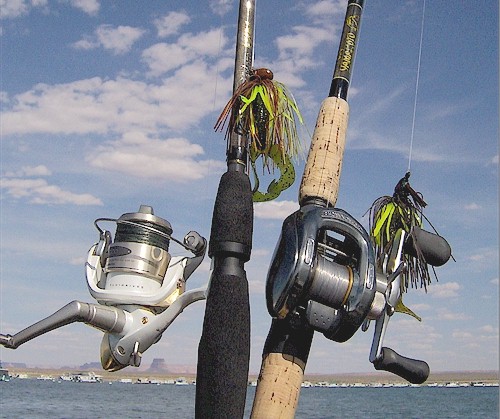 Gary Yamamoto says, "I feel I made a mistake the past thirty years using heavy baitcasting gear in many situations where these new spinning rods with braided line have proven better. Knowing what I know now, I wish I'd discovered this set-up years ago."
---
Chapter 4
Spooling a Spinning Rod for Braided Line
Spinning rods have long been the wand of choice for the garden variety weekend recreational angler, and for good reason. Spinning rods are easy to master and exciting to fish with!
Only recently have bassdom's top pros caught on to the advantages of spinning rods. A few years back, a spinning rod was rarely seen in any top tournament TV footage. Nowadays, spinning rods are widely-used by top pros in any and all TV coverage of top tournaments.
It's long been considered that baitcasters were for "power" fishing with heavy line whereas spinning rods were light tackle best suited for "finesse' or fun fishing. But braided line upsets the apple cart and renders that old notion obsolete. A spinning rod spooled with braided line blends power and finesse in one stick, and top pros like Gary Yamamoto are taking that combined power/finesse approach to a whole new level.
There are three sizes of PowerPro braid that are all as fine or finer in diameter than 6 pound test mono or fluoro. They are:
20 pound test PowerPro with the diameter of 6 pound test, which is the most popular size for spinning,

15 pound test PowerPro with the diameter of 4 pound test, which true experts favor, and

10 pound test PowerPro with the diameter of 2 pound test is the ultimate in finesse, yet still 10 pound test.
"I've settled on 10 pound test PowerPro (2 pound diameter) for just about everything," says Gary Yamamoto.
Talking about his new spinning rods for braided line, Gary says, "The medium spinning rod I use for Senko fishing for example. The medium also works swell for jigging brushpiles or ledges in deepwater. The medium light spinning rod I use with crankbaits, all with the same 10 lb test PowerPro braided line."
"For most of 2006 and the first six months of 2007, I have been using these two new spinning rods with braid. I have cut down on baitcasting gear, except to flip and pitch thick cover in shallow water. For most other tactics, I have been using spinning gear with braid on these new rods. I have found that 10 lb test PowerPro is strong enough to do almost anything," believes Gary. "Plus with the long fluorocarbon leader I like to use, it is only the leader that's in contact with the environment, the cover, the bottom, not the PowerPro. In this set-up, the braid adds power, even with 10 pound test braid."
Speaking of reels to use, Yamamoto continues, "I use mainly Daiwa reels, so I don't know about all brands of reels, mainly Daiwa. There are several size classes of Daiwa spinning reels - the 2500 size, 1500, 2000 size and so on. The 2000 spinning reel size I've found is best. The gears mesh smoother in the 2000 series reels. Although a smallish reel, the 2000 has more than enough strength and retrieve speed, plus braid infuses a lot of power and strength into the overall set-up that seems lacking with other line types. The 2000 size reel is the best fit," advises Yamamoto.
To set up one of Gary's (or any) new spinning rod for braided line requires :
Backing Line. Here we are using 10 pound test Berkley Trilene XL for backing. You may use any spare line for backing, because it will - or should not - ever come off the spool. Ideally use a backing that is thin in diameter. This is so the even thinner braided line will not wedge far down in between the spaces left by a large diameter backing line. So a backing that's not too thick in diameter is best.

Main Line. 10 pound test PowerPro braided line, which has the equivalent diameter of 2 pound test mono.

Leader Line. Here we are using 10 pound test again. This time with 10 pound Yamamoto Sugoi fluorocarbon for the leader.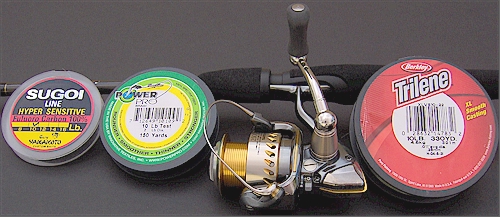 Shown above left to right, all 10 lb test: Yamamoto Sugoi fluorocarbon leader line; PowerPro Braid main line; Shimano Stella 2500 reel; Berkley Trilene XL monofilament backing line.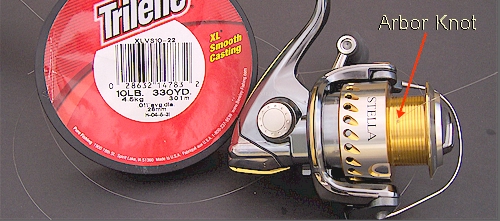 To anchor line to a reel spool, an Arbor Knot is useful. Instructions how to make an Arbor Knot are shown here:
http://www.animatedknots.com/arbor/
The illustration on the page above shows making the Arbor Knot around the spool. However, it is easier to make the Arbor Knot with your hands in the air first, then slip it over the spool only after the knot is complete, and cinch it down tightly around the bottom lip of the spool.
Also, it's easier to make the retainer knot in the tag end first, then make the bigger loop knot to slip over the spool, which is the reverse sequence of the steps shown in the illustration, but otherwise, that's the Arbor Knot.
The Arbor Knot is not necessarily a strong not, but it will tightly cinch the end of the line to the spool until additional turns of line cover and embed the Arbor Knot. It is the additional wraps of line, not the Arbor Knot itself that truly holds the line to the spool.
It is never intended that you will get to the end of your spool or get to see the Arbor Knot during actual fishing. Nevertheless, it is always good practice to put any knot as low down toward the very bottom lip of a spinning reel spool as possible. With any knot or splice always positioned toward the bottom lip of a spinning spool, there is less line that must pull past any knot.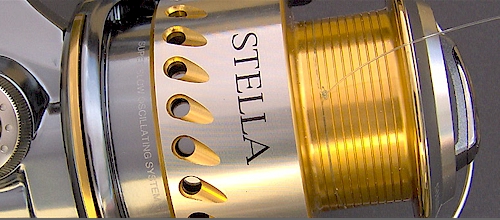 To think of it another way, if a knot or splice was positioned toward the top lip of the spool, then every coil of line that came off the spool would have to pull past the knot, meaning possibly snag or hang up on the underlying knot. Now you understand why, by positioning any knot or splice toward the bottom lip of the spool, the least line possible will ever have to pull past the knot when it's positioned at the bottom of the spool. Most times, the reel will not automatically place a knot or splice at the bottom. You must manually position it there yourself.
Illustrations copied from Shimano and Daiwa spinning reel operating instructions show correct way to spool line on many modern day spinning reels. If in doubt, check the instruction guide that came with your specific reel.

Shimano Instructions: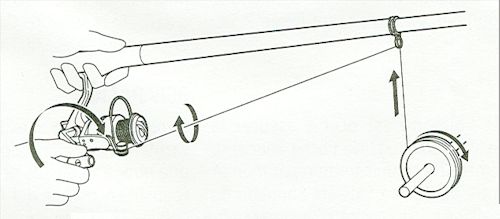 Daiwa Instructions: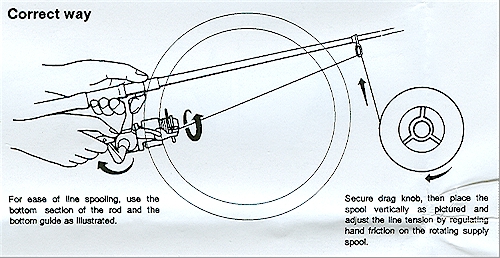 "Putting braided line on a reel, you first need to put a layer of backing line, whatever you want for backing, because the backing will never be used to fish on. The backing is needed since braid alone is too slick to grip onto a reel spool. So a backing line (any kind) provides a layer or surface to then splice the braided running line onto that backing. Whatever you want to use as backing, you don't need to splice much more than 50 yards of PowerPro braid onto the backing to use the PowerPro as the main fishing line," suggests Gary Yamamoto.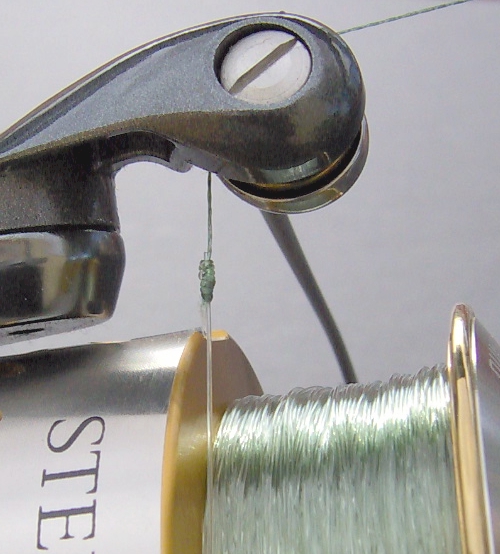 Exactly how much backing to use is a matter of individual preference. You can see how much monofilament backing was used here. Think of the backing merely as a means to increase the diameter of the spool arbor. In the case of braid also, braid is so slick and inelastic that braided line can never grip a spool surface itself. Slick, inelastic braid would simply slip and spin against the spool instead of grip it. There would be no way you could cast, set a hook or fight a fish without braided line slipping against the spool - unless you use backing. So backing is essential. Mono makes the best backing since mono stretches when spooled on, so it securely grips the spool. Backing only needs to be put on once, and never needs to be replaced. Keep in mind, backing should never come off the spool into the guides or come into play during actual fishing. If the backing or backing knot comes into play during fishing, you have too much backing on the spool. Reduce the amount of backing until the backing or backing-to-braid splice never comes into the picture while fishing.
Of course, the more backing you use (which you'll never need to replace), the less main line you'll need to layer on top of that. Then, whenever you need to replace old line, simply strip off the main line and replace it, but there's no need to ever replace the backing.
The knot you see above is actually a Uni-To-Uni splice that joins the mono backing to the PowerPro braid main line. With every spool of PowerPro, an instructional booklet is included, showing several knots. The PowerPro knot illustration you see below is the Uni-To-Uni Knot used here in the splice you see above. However, only three turns were made with the thicker diameter mono here. Only five turns were made with the thinner diameter braid. In this case, since the backing-to-main line splice will never come off the spool while fishing, less turns were used than recommended (3 instead of 5 turns for mono; 5 instead of 7 turns for braid). Less turns were used to keep the knot smaller, so the knot would not protrude into the braided line to be layered over the backing and over this splice.
As shown in the photo above, the backing-to-braid splice is being put at the very bottom lip of the spool. Using your thumbnail, press the knot down into the monofilament backing so as to bury or wedge the knot a little deeper than it would otherwise go into the underlying backing. Without pressing it in, the knot would just lay on top of the backing. So press it into the backing manually. This is so the knot will not protrude into the braided main line to be layered over it next.
Copied from PowerPro instructional booklet that comes with every spool of PowerPro: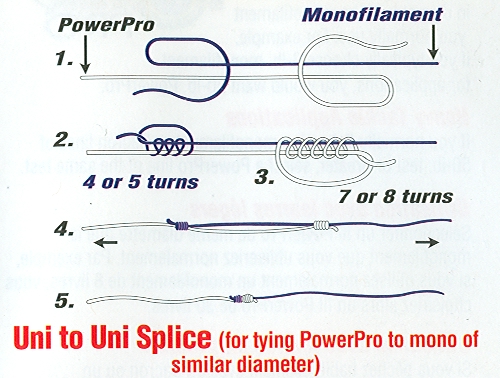 The correct way to spool line onto most any modern day spinning reel (and all baitcasters) is shown below. The line should come off the bottom of the spool whether spooling monofilament, fluorocarbon or braided line.
It's often helpful to soak line in a pan of lukewarm or room temperature tap water for a few minutes before respooling. Wet line is more manageable and less likely to heat up, cause friction or abrade itself during the spooling process. Plus you can pinch wet line between your thumb and index finger to use increased finger tension to spool new line tightly onto a reel. You cannot pinch dry line tightly between fingers without risking finger burns or line cuts. It's not possible to put much finger tension on dry line, meaning dry line would go on looser than ideal. So soak line for a while so you can apply sufficient finger tension to properly spool new line. And with any knots or splices, many anglers will also moisten a knot with saliva before cinching it tightly.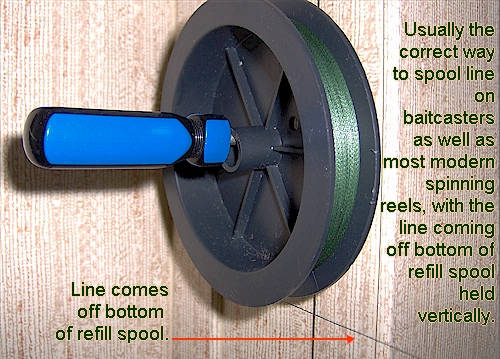 Exactly how much main line (braid in this case) to use to top off a reel spool is a matter of individual preference. In the photo below, you can see how much main line was used here. If the main line is overfilled (too much, too close to the spool lip), it will cause initial casting problems. It will snarl up in nasty wind knots and you'll need to cut back the excess line at first upon actual fishing. In fact, if you overfill a spool, cut backs may result in less line remaining than if you filled it correctly to start with. There are no advantages to overfilling a reel spool.
"Even when a reel's properly topped off, since 10 pound test (2 pound diameter) PowerPro is so fine a line, you must sometimes feather the line on a cast, especially when it's windy out," advises Gary Yamamoto. "If you get a snarl or knot formed due to wind, the line is so fine in diameter, it's almost impossible to pick out a snarl," Gary says. "So learn to use your index finger to feather a cast to prevent wind loops from happening."
"Other than that, there's no need to keep a finger crooked on the line to feel for a bite," Yamamoto explains. "You still see and hear a lot about that, but it's a throwback to fiberglass rod days. Years ago, rods were less sensitive, lines were thicker, sagged and stretched, reels had loose play or slop in them, thick chromed reel seats and glued cork ring handles robbed sensitivity and so on. Add all that up, and tackle was far less sensitive than it is today."
"But all that's passť. Modern high-modulus graphite rods, tightly-integrated graphite and hypalon handle designs, reels machined to very tight tolerances, plus super lines like braid and fluorocarbon transmit so much sensitivity that they surpass the old need to have a finger on the line to detect a bite," says Yamamoto. Besides, braided line is so thin, so strong and so slick that it could cause a serious finger cut, so don't touch the line except to feather casts gingerly and carefully with the tip of your index finger when needed to keep wind loops out of the line.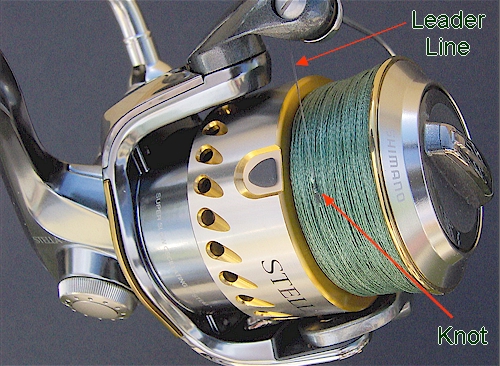 Above and below, you can see the splice that joins the main braided line to the fluorocarbon leader line. In this case, the full five turns of fluoro and the full seven turns with braid were taken as recommended in the PowerPro booklet, since this knot will be under a lot of pressure and stress on every cast, every hook set, every time you pull out a snag or fight a fish.
Of the three knots we've made so far: 1) the Arbor Knot, 2) the backing-to-braid splice and 3) the braid-to-leader splice, only the braid-to-leader splice should ever be active during actual fishing. The other two, the Arbor Knot and the backing-to-braid splice are both totally passive and inactive. Neither should ever have a presence or impact during actual fishing for freshwater bass.
The leader-to-braid splice, however, is critical.

Since the braid-to-leader splice is under continual pressure, Gary Yamamoto prefers to always have that splice wound onto the reel spool plus several additional wraps of leader on the reel spool while landing a fish. With the braid-to-leader splice and a few turns of leader on the reel, all or most of the pressure is alleviated off of the splice while landing a bass at boatside. Only the fluorocarbon leader itself is stressed, not the splice, during the final fish-landing process. So the length of fluorocarbon leader line used by Yamamoto is from 20 to 25 feet of leader line.
"With 10 pound test PowerPro, you can splice on 6, 8, 10 or as much as 12 pound test Sugoi fluorocarbon as the leader material," says Gary Y. "If you're dropshotting, you may opt for the 6 pound test leader, 8 for tube baits, 10 for crankbaits or 12 for a Senko or Texas rig. These are just examples," says Gary.
"You may wonder, why use a 12 pound test fluorocarbon leader with a 10 pound test main line? The answer is a thicker diameter leader (12 pound test in this case) is that much wider, hence takes that much more for snags and nasty cover to abrade or cut through. A thicker diameter line (12 versus 10) withstands more abrasion simply due to the thicker diameter. So it's not adding 12 pound strength, it's adding a thicker diameter leader to better withstand abrasion," explains Gary. "This concept is along the lines of what's called a shock leader. Not only does a thicker leader resist more abrasion than a thinner leader but it helps to land big fish on the stronger leader line component."
The splice shown above is a Uni-to-Uni Knot. The PowerPro instructional booklet also shows how to make an Albright Knot which is even stronger, but also more complex to tie properly. Other anglers, like Yamamoto, favor a Blood Knot, also difficult to tie but extremely strong when done properly.
"The most important thing in the entire set up is to be careful how you splice the leader to the main line," says Gary. "If you can accomplish this - splice correctly - you'll never have a problem. If you do not splice well, the knot is a potential point of failure. I've heard some anglers put a drop of superglue on the knot, but that's really only covering up for a poor splice," explains Yamamoto.
"I don't want to put anything on the knot, because I want the knot to stay supple and as thin and soft as possible passing through the guides. You can hear the knot as it sails out through the guides, but you can't actually feel anything from the knot going out on a cast," says Gary. "It's a benefit on the cast that the line starts accelerating before the knot comes off the spool. I'm not as comfortable when you cold-start a cast with the knot already out in the guides - that seems to cause more wear and tear on the knot," advises Gary.
The braided line in the proximity of a splice will get a little fuzzy and wooly looking, but it isn't really frayed or weakened. It's just the nature of PowerPro to get that scruffy look near a knot.
Speaking of why he favors a fluorocarbon leader, "I don't want fish to see the braided line," admits Yamamoto frankly. "That, plus braid's one big weakness is it cuts quite easily on rocks or other sharp edges (barnacles, shells, etc). So I like a fluorocarbon leader for low visibility and high abrasion resistance at the business end," says Gary. "With a long leader, braid never comes into contact with anything."
The final knot for today is of course to tie a productive bait to the working end of the leader line. In this case, we've added the 7C-series Kut Tail Worm (color #031 blue pearl silver) on a 1/8th ounce wacky jig head.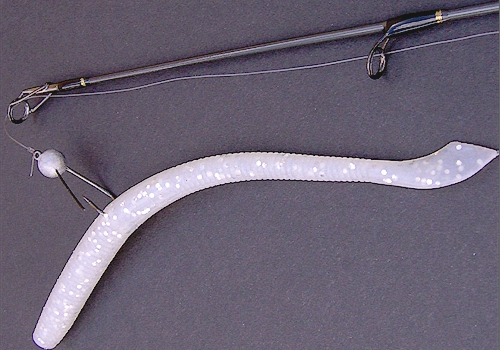 A variation of the Uni Knot is shown here, although the majority of anglers favor the Palomar Knot for this. Keep in mind, use Sugoi fluorocarbon as leader material to enjoy invisibility under water plus amazing abrasion-resistance.
Now you're ready to have fun!
---
Chapter 5
More Tips for Using Gary Yamamoto's New Spinning Rods
Today there are more bass fishing rods on the market than an ordinary angler can sample in a lifetime. But Gary Yamamoto is no ordinary angler. To get the best rods to use with his soft baits, Gary Yamamoto has designed two new rods according to his own needs and specifications. That's how these new Yamamoto spinning rods came to be, because of Gary's desire to fish his baits with the best rods made exclusively for them.
"After thirty years, it's still a new game, still new things for me to learn," says Gary Yamamoto. "This is something (spinning gear) that I never thought I would do. I am excited to say, it rules! I suppose I could have not let this information out, just kept this discovery to myself, to use it for my own advantage... but this is the kind of information that people want to read, to learn. So this is what I want to do, to share, to help good anglers become even better anglers," Gary Yamamoto explains humbly.
Gary Yamamoto Tournament Rods


Model
Type
Length
Lure Weight
Line
SM2701ML
Medium Light
7' 0"
1/16 - 5/16 oz
4 - 10
SM3701M
Medium
7' 0"
1/8 - 3/8 oz
6 - 12
In the following sections, let's review some, not all, of the different applications for these two rods.

Medium Light Rod Model #SM2701ML. Shown above. The medium light model does many things well. It makes an excellent dropshot rod as shown above with the wacky-rigged Shad Shape Worm. The line keeper clip can easily secure a dropshot sinker as shown.
Many anglers use Gary's 5, 6 or 8 pound test dropshot spinning fluorocarbon line without braid, and Gary's new medium light rod may also be used without braid, simply using Gary's dropshot spinning fluorocarbon line as shown on the reel above.
The same dropshot fluorocarbon line can be used as a leader to dropshot with braid. You can splice 5, 6 or 8 pound test onto the 10 pound test braid for the ultimate in sensitivity detecting bites and to interpret bottom composition better by feel, due to the increased feedback an angler gets with braid versus fluoro or mono.
Gary's medium light rod also makes an excellent crankbait stick for small to medium crankbaits. Especially when breezy, it can be awkward to cast small to medium crankbaits with a baitcasting rod. You are guaranteed you'll spend a lot of time unsnarling backlashes when you cast crankbaits in a breeze with baitcasting tackle. But there is a way to end your backlash misery. The solution is to switch to Gary's medium light spinning rod with braided line for crankbaits. Try an 8 to 10 pound test fluorocarbon leader line tied to the 10 pound test braided line. You'll enjoy much better line control and less tangles with crankbaits on spinning tackle versus baitcasting in windy situations.
The same applies to small topwater lures. When it is windy, small topwaters waffle in the wind when cast, causing unbelievable spool snarls with baitcasting gear. The answer again is to switch to Gary's medium light spinning rod under such conditions. If you use braid, you may want to try an 8 or 10 pound test monofilament leader, tied to the 10 pound braided line. Fluorocarbon leader material sinks beneath the surface and tends to dampen topwater lure motion whereas more buoyant monofilament enables better surface antics with topwater lures.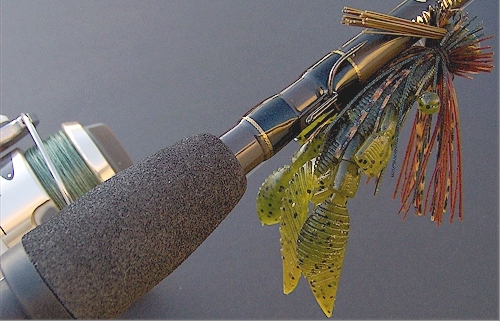 Medium Rod Model #SM3701M. Shown above with Yamamoto's Flappin' Hog II. "For deepwater jigging, I use the medium rod model," says Gary Yamamoto. "I am just catching fish left and right on this set-up. I feel I made a mistake the past thirty years using heavy baitcasting gear in these deepwater jig situations. I would normally use 16 to 20 pound test clear Sugoi fluorocarbon line and a heavy one ounce football jig on stout baitcasting gear. I doubt I will ever do that again," proclaims Gary. "With the medium spinning gear and 10 pound test braid, even a 5/8 ounce jig sinks more quickly (than a one ounce jig on baitcasting gear). I feel I get more flexibility in lure movement, more natural movement, and I can stay in better touch with a bait in deep water. Anywhere there are deep ledges and brushpiles, this new medium spinning set-up excels for me," admits Yamamoto.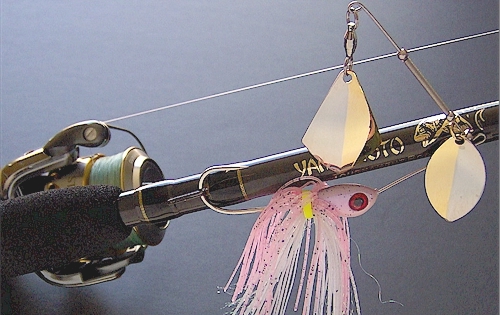 If you had to choose just one of Gary's two new rods, the medium action is the most versatile. It can do many things well, but one tactic in particular is that Gary's medium action rod (shown above) goes great with lighter 1/4 to 3/8 ounce spinnerbaits. With braided line, every throb of the blades gets telegraphed to the rod tip.
When bass are on a hot spinnerbait bite, you can often maximize the number of fish you'll land by alternating between heavy (1/2, 3/4 and 1 oz) spinnerbaits on baitcasting gear and lighter spinnerbaits (1/4 and 3/8th) on spinning gear. In many spinnerbait situations, you will get more bites by using both heavies and lights combined rather than just using heavies or only using lights. Gary's medium spinning rod with braided line is perfect for the lights. However, don't stop there. Most any application in the 1/4 to 3/8 ounce lure range works swell on this medium action rod. Also, the medium action rod is the one that Gary Yamamoto prefers for Senko fishing.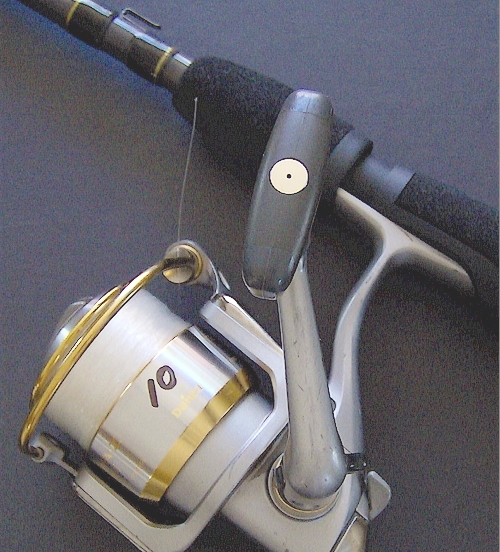 Gary's new spinning rods are designed for braid but of course you can use them solely with monofilament and fluorocarbon line, without braid. The photo above shows ten pound mono (no braid) spooled on the medium heavy rod. This rod has as much backbone as any flipping stick on the market. For many applications, the medium heavy is too stiff with braid. You can get better results in a wider spectrum of applications by using 10 pound test mono with the medium heavy stick as shown in the photo above. The mono adds some necessary elasticity back into the system so to speak. Try mono or fluoro instead of braid, especially with the medium heavy rod model. I think you'll like it!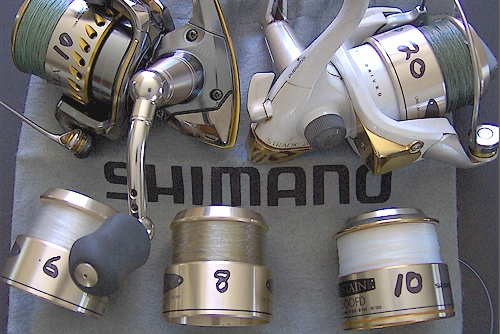 When purchasing a new spinning reel, always opt for one with a free spare spool. There's also something to be said for staying with one model of spinning reel, so the same spare spools will be interchangeable across several spinning reels. This way you can have your cake and eat it too, meaning to be able to switch between braid, fluoro and/or mono on these new rods. The photo above shows from upper left and clockwise: 1) reel spooled with 10 pound braid, 2) reel spooled with 20 pound braid, 3) spare spool with 10 pound mono, 4) spare spool with 8 pound mono, and 5) spare spool with 6 pound dropshot fluorocarbon line.
You'll note the line pound test is written on the spools with a permanent ink black magic marker. It's often wise to include the type (mono, fluoro, etc) and brand of line plus the date it was freshly-spooled. Although called permanent, the ink will gradually wear off and can be erased if you want to change to a different size/type of line. A paper towel dampened with rubbing alcohol will completely remove any remaining ink in a few swipes so you can rewrite new line specifications on the spool.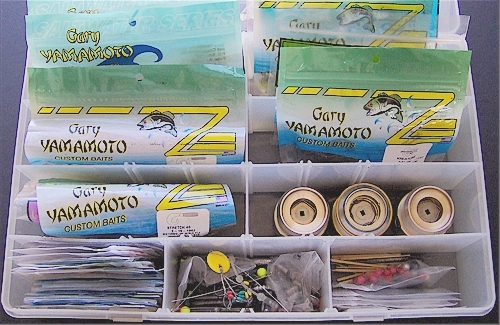 As shown above, spare reel spools fit swell inside a large 3700 series Plano box. The photo here shows the reel spools exposed, but that's not a good idea in practice. Ideally, you want to keep the spools protected from grit and grime somehow, such as in plastic bags, tin foil, or in one of the drawstring fabric pouches that are commonly sold for sunglasses.
For a tournament angler or just to help maximize your valuable fishing time on the water, there's nothing like having back-up reel spools freshly-packed with new line, ready to use. Not only can you switch between different line sizes and types for different applications, but if your reel gets twisted up, snarled up or you somehow lose a lot of line, it only takes a few seconds to switch to a spare spool topped off with fresh new untwisted line. There's no faster way to get back into the action and to keep on fishing.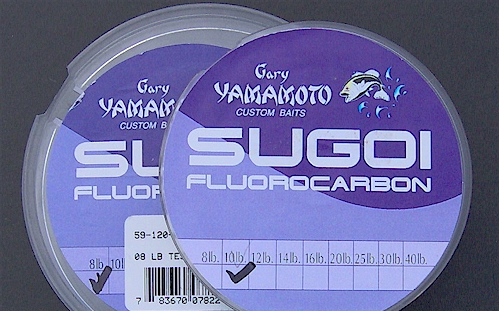 In addition to spare reel spools, you'll want to keep a few spools of leader material on hand. Sugoi fluorocarbon line in 6, 8, 10 and 12 pound test is preferred by Gary Yamamoto for leader material to splice onto braided line. For some applications, like topwater fishing, mono leaders may prove better. Anytime you end up with a small amount of line left over, too little to use to spool another reel, you may want to consider using it for leader material.

The handles of the two new spinning rods are both identical, as in the photo above.
The oversized Hypalon grips makes the handle look heavy...until you've fished with one all day. The Hypalon material is actually light weight. For comfort and sure grip, you can't beat Hypalon. Hypalon is most commonly used on high quality saltwater rods for its durability and wet grip strength, which is superior to cork.
The graphite reel seat is integrated into the Hypalon grip, including the foregrip which screws down to secure the reel tightly. So your hand will be mostly gripping Hypalon, not the reel seat. The graphite reel seat is bonded closely to the rod blank, which transmits sensitivity from the 100% graphite blank to the graphite reel seat to your rod hand.
"For balance purposes and to better fit the hand, I've made the rod handles a little longer and wider than other spinning rods. The handles are more like baitcasting rod handles," says Gary Yamamoto. "The first couple times you use these spinning rods, you are going to notice the longer, wider handles," says he. "But by the third or fourth time you use them, you'll become totally used to the handles. After a few fishing trips, you may wonder why other spinning rods are not made the same way. The longer handle gives you better distance and better casting accuracy plus better leverage to fight and land fish."
"If you look back in history at baitcasting rods, pistol grips were once in fashion. But how many pistol grip rods do you see now? Years ago, anglers said they were the best, but pistol grips are mostly obsolete now. Reason is that rod handles have had to get longer to keep the balance right," explains Gary. "Over the years, rods have evolved from 6 to 6-1/2 to 7 foot rods today. You can't get heavy in front and not have anything in the back. The longer rod handle is important to balance the longer rod tips of today. A short handle like you see on most other spinning rods has no back end to give you balance. It's fine if all you catch are one pound bass, but you need the longer handle on a spinning rod to land decent bass. You really can't fight a decent fish unless the longer rod butt is propped against your stomach muscles or firmly braced under your forearm."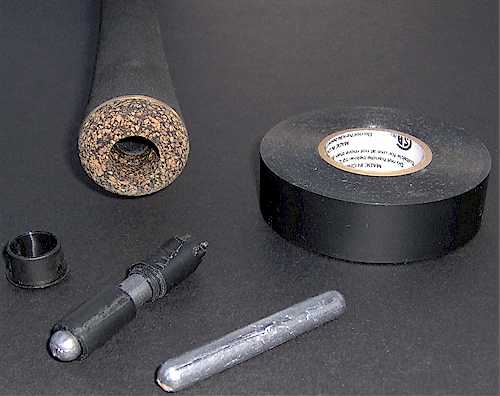 Rod Balancing Act. The photo above shows the items you may need to optionally add weight to perfectly balance Gary's new spinning rods. Gary's rods are already balanced better than most any other spinning rod you are likely to find. So you don't need to do this, and most anglers never will because the concept is unfamiliar. Most rod manufacturers simply do not provide a way to balance a rod.
However, the end caps of Gary's new rods are removable to access the weight cavity. Carolina rig sinkers can be used to add balance weight that will dramatically improve the feel and sensitivity of the rods. Electrical tape is used to pad the sinkers as shown above for a snug fit.
There's always a lot of talk about light weight rods. However, balance is far more critical than static weight. What you want to do is load the weight cavity in order to strike the perfect balance point right in front of the reel, right where a rod is supposed to be balanced, but few truly are. How much weight to add is up to you.
I add 1-3/4 ounces (a one ounce sinker plus a 3/4 ounce sinker) to the medium light stick. I add two ounces (a pair of one ounce sinkers) to the medium rod. However, even adding only one ounce will achieve a better balance with both rod models.
To get a feel for how much weight works for you, you may want to rubber band the weight(s) to the rod handle as shown above. Try a few casts that way in order to strike the balance that you like best. Then wrap the sinkers you want with tape and load inside the weight cavity to better balance the rod.
Whenever you get a spare moment, spray a little lemon Pledge or other furniture spray wax onto a paper towel, and go over your entire rod blank with it. It only takes an instant and it's a great way to keep one of Gary's new spinning rods in tip top condition for years to come.
Please enjoy!