Bassdozer's White on White Spinnerbaits

by Russ Bassdozer
This shows and tells product photos, product descriptions and information for the lure models and colors that are (or have been) available at BassdozerStore.com. Not all models and colors shown are currently available, and exact specifications are subject to change.
Note: Some of the following configurations may not all be currently in stock. Some may be sold out at this time. Please check online at www.BassdozerStore.com for current availability of specific items below. Thank you for your business.
---
Bassdozer's White on White Spinnerbaits
White on white spinnerbaits can be used any time at all and retrieved at any speed.
Many advanced anglers reserve special use for them at two key times of the season:
Burning them rapidly (or reeling faster than normal) when the water is hot in summer
Also reeling them quickly during the fall migration when both bass and shad are schooling up
However, white on whites may also excel any day, any way, at any depth level (from top to bottom) whenever bass are intercepting shad schools.

These have:
.035 super wire arms.
Worth ball bearing swivels
Premium 5/0 Mustad UltraPoint heavy duty, long shank hooks.
Both sides of both blades are painted white pearl.

My 3/4 oz Style T hidden head, shown below, with my signature cone cut collar. Other brands of spinnerbaits and jigs have also started using my double (in this case) and triple cone cut collars lately too, simply because it is the best way I have discovered to hold soft bait trailers securely.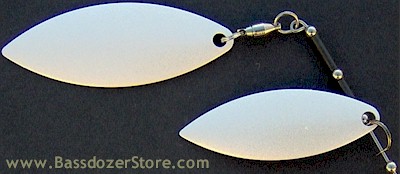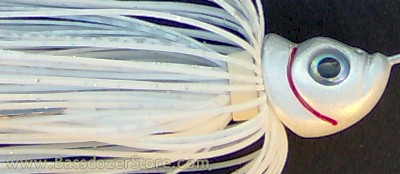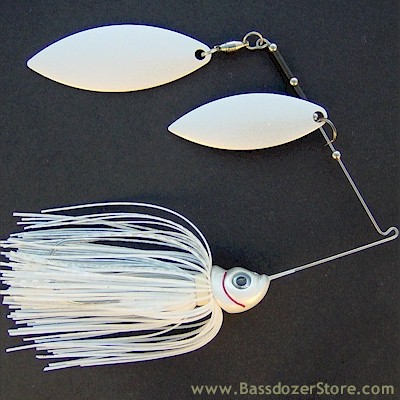 3/4 oz Spinnerbait ~ Style T ~ White Shad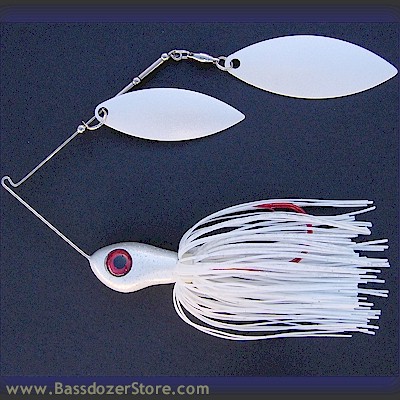 1 oz Spinnerbait ~ Style D ~ White Shad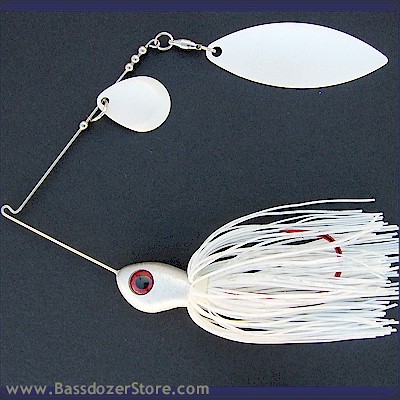 3/4 oz Spinnerbait ~ Style D ~ White Shad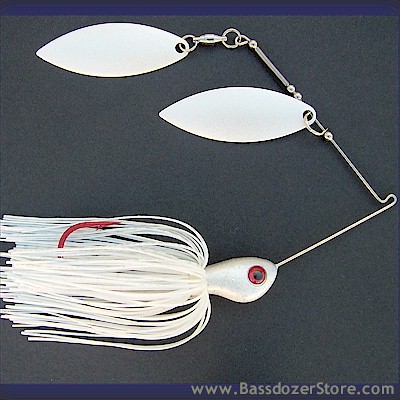 1/2 oz Spinnerbait ~ Style D #2 ~ White Shad