Bassdozer's Monster Spinnerbaits for Trophy Bass and Pike

by Russ Bassdozer
This shows and tells product photos, product descriptions and information for the lure models and colors that are (or have been) available at BassdozerStore.com. Not all models and colors shown are currently available, and exact specifications are subject to change.
Note: Some of the following configurations may not all be currently in stock. Some may be sold out at this time. Please check online at www.BassdozerStore.com for current availability of specific items below. Thank you for your business.
---
Bassdozer's Monster Spinnerbaits for Trophy Bass and Pike
Do you live in or are you going fishing in Mexico? You're very lucky! The bass there are very big. Here are some spinnerbaits currently available in Bassdozer's Store that would be good choices for your Mexican spinnerbait adventure!
Many anglers who hope to tangle with the double-digit 10 pound largemouth can put the odds a little more in their favor by throwing the biggest spinnerbaits possible - 1 ounce and even monster 1-1/2 oz spinnerbaits! The biggest bass go for the biggest spinnerbaits.
The double Willow blades are most popular in Mexico, but don't be afraid to try any other blade combos or different skirt colors. So if you see a spinnerbait you like here, give it a try! I am pretty sure it will work well for you. All these have been proven on trophy bass in Mexico and elsewhere.
They're also perfect for pike fishing in the USA, Canada, Europe and Russia.
All the spinnerbaits below have heavy duty closed wrapped loop eyes on .040 diameter wire arms. This provides better strength and security for landing any lunker largemouth that latch onto one of these spinnerbaits. Because the wire loop is wrapped closed, the line can't slide up the arm and force the swivel end loop open as can happen with an open R-bend eye. The closed wrapped eye does not wear out and break as easily as an open R-bend wire. Especially with the big bass in Mexico, you really need to be using a closed wrapped .040 wire arm for trophy bass.
Make no mistake, these are monster size spinnerbaits for the biggest trophy bass on the planet.
And they are most excellent for pike fishing anywhere worldwide.
You know, building a productive spinnerbait is like cooking an outstanding meal. Sure, everyone starts with roughly the same ingredients or components, and most of the time, the outcome is going to be good - but some meals or spinnerbaits come out remarkably better than others. These become prized recipes. In the case of the spinnerbaits here, they are some of the very best blade configurations I've ever assembled during my time in business, confirmed by independent feedback from trophy bass and avid pike anglers worldwide. These are among the best trophy bass and pike spinnerbait "secret recipes" I have to offer you! I hope you may have high confidence and good luck fishing with these spinnerbaits. Please enjoy!
These spinnerbaits are incredibly strong and solidly constructed using: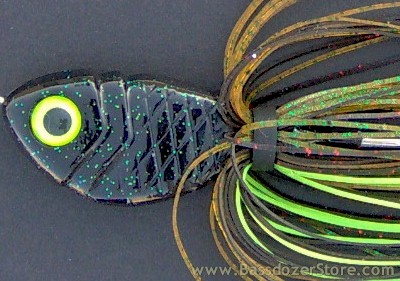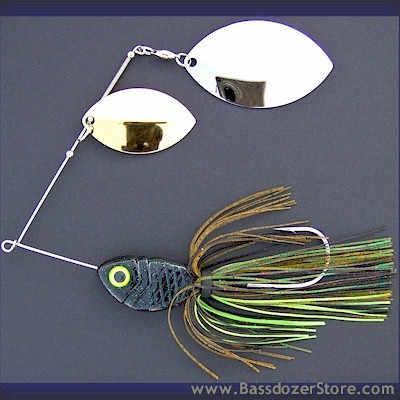 1-1/2 oz Spinnerbait ~ Style A ~ Texas Craw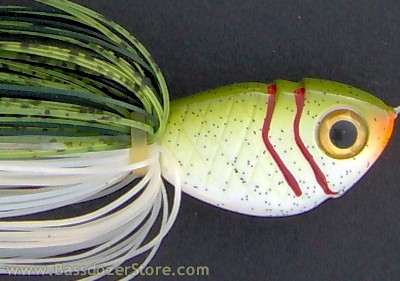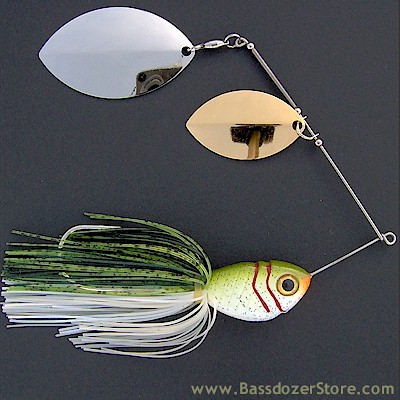 1-1/2 oz Spinnerbait ~ Style A ~ Pond Frog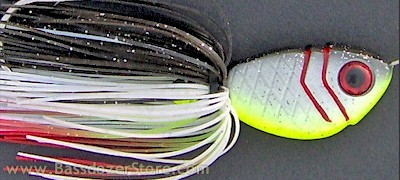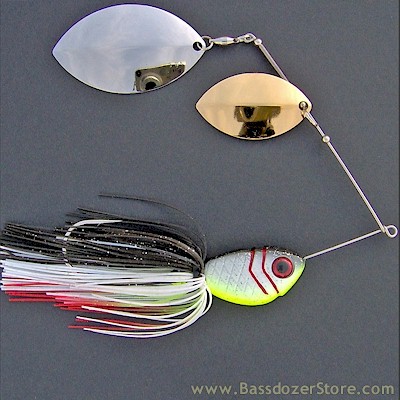 1-1/2 oz Spinnerbait ~ Style A ~ Plemmons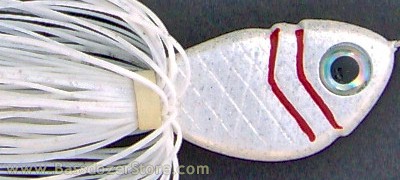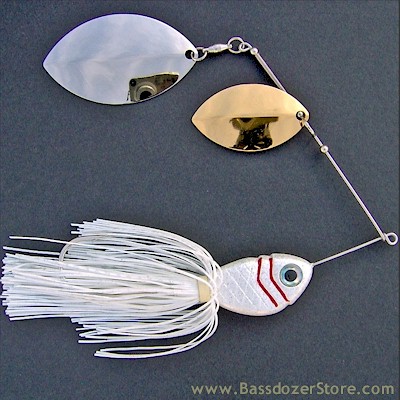 1-1/2 oz Spinnerbait ~ Style A ~ White Shad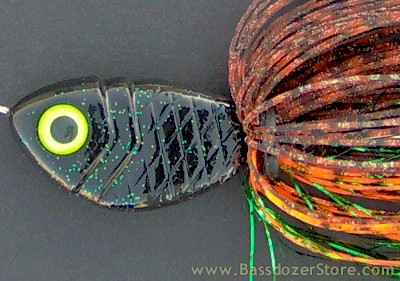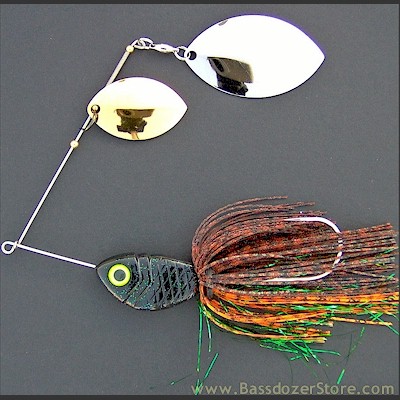 1-1/2 oz Spinnerbait ~ Style A ~ Brown Sunfish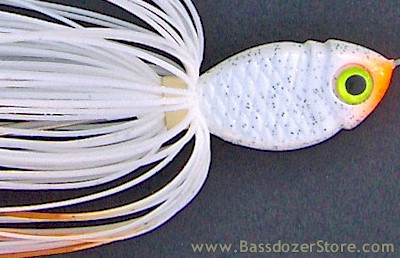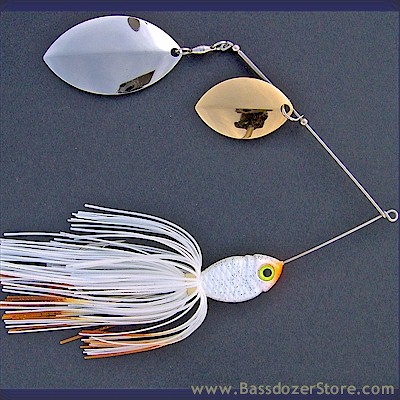 1 oz Spinnerbait ~ Style A ~ White Bone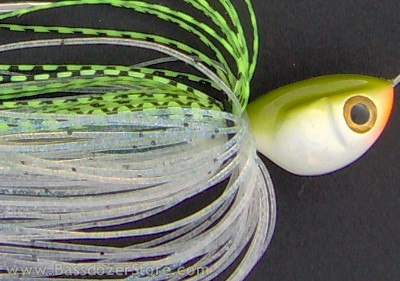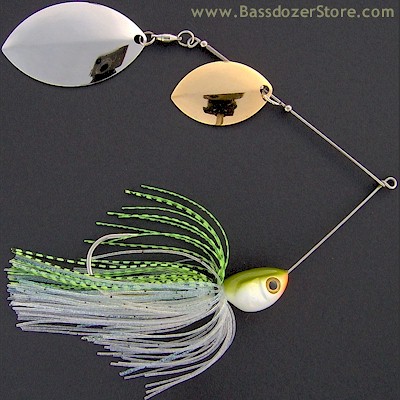 1 oz Spinnerbait ~ Style B ~ Herring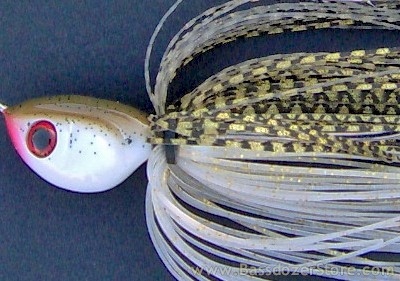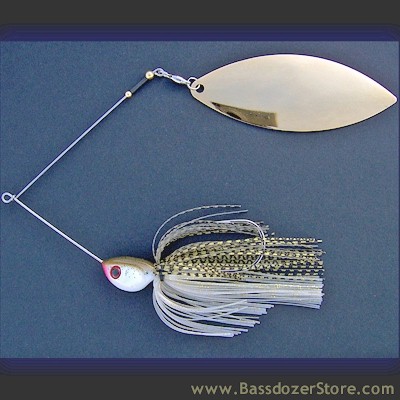 1 oz Spinnerbait ~ Style B ~ Tilapia El Salto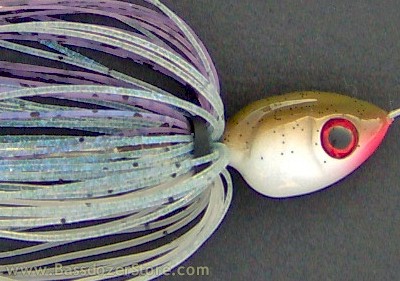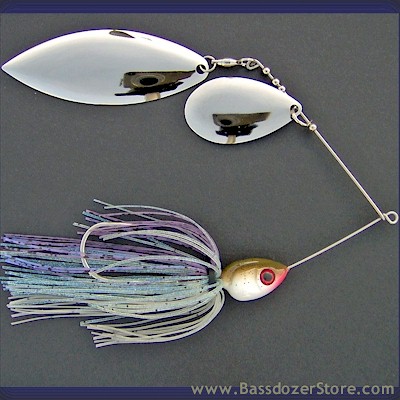 3/4 oz Spinnerbait ~ Style B ~ Hendrix (aka Tilapia Bacaruto)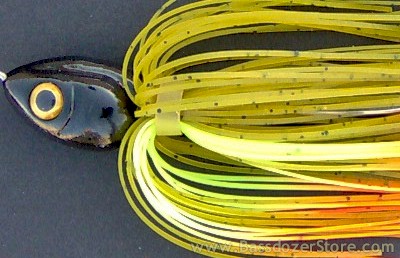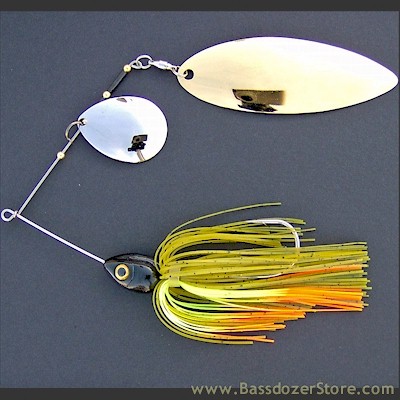 3/4 oz Spinnerbait ~ Style B ~ Green Perch Special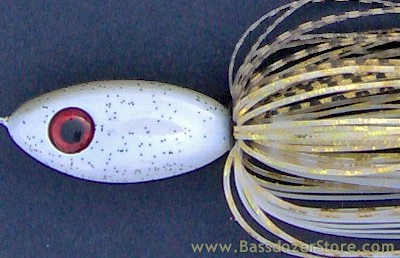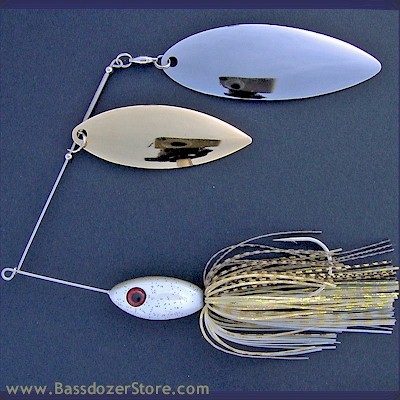 1-1/2 oz Spinnerbait ~ Style C ~ Mexican Machete Shad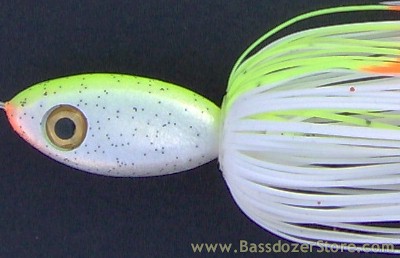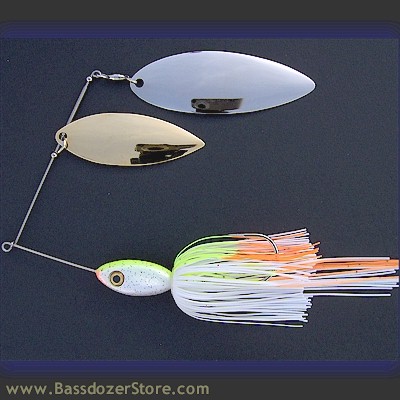 1-1/2 oz Spinnerbait ~ Style C ~ Smallie Special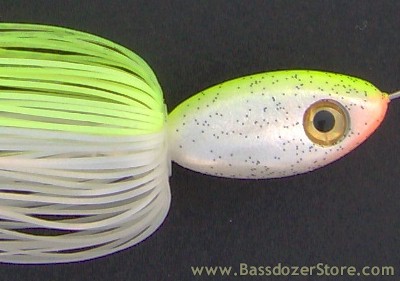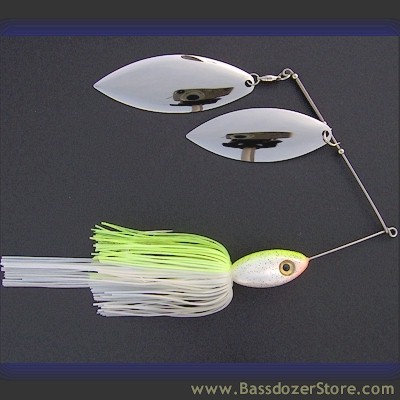 1-1/2 oz Spinnerbait ~ Style C ~ Chartreuse White Shad #2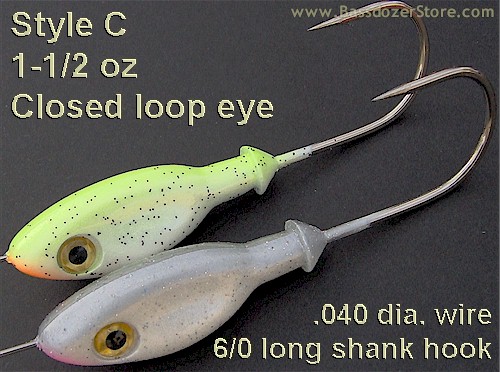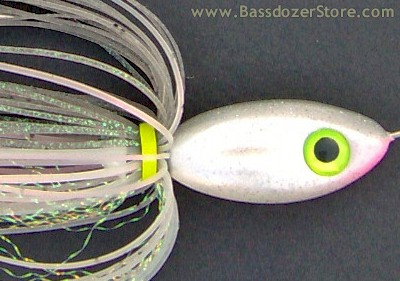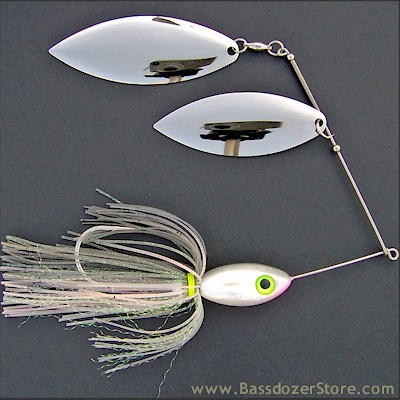 1-1/2 oz Spinnerbait ~ Style C ~ Threadfin Shad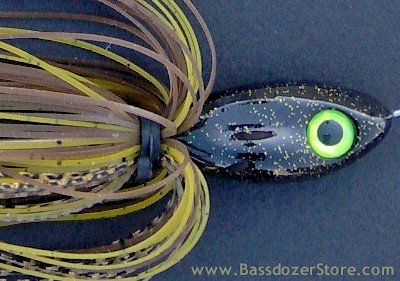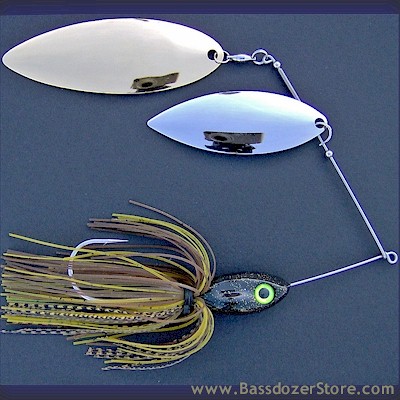 1-1/2 oz Spinnerbait ~ Style C ~ Dark Green Perch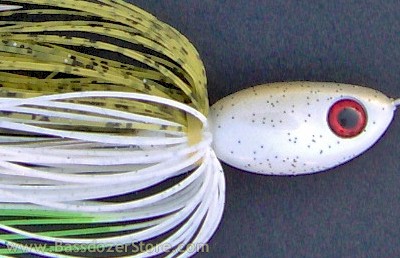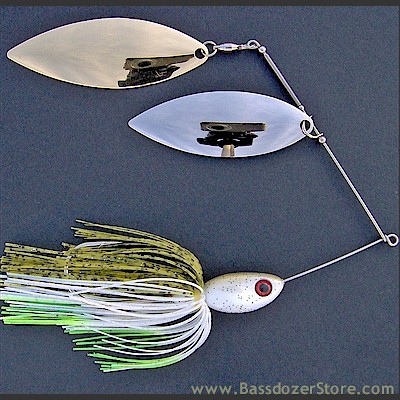 1 oz Spinnerbait ~ Style C ~ Pale Alewife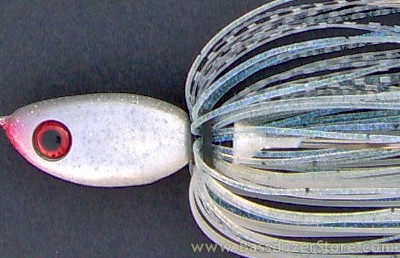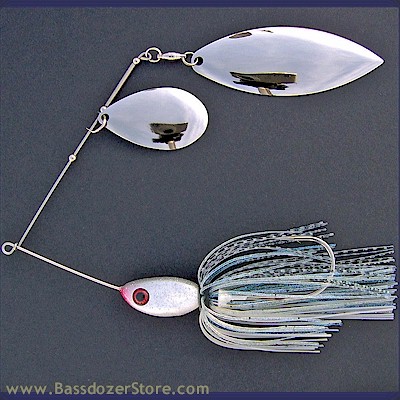 1 oz Spinnerbait ~ Style C ~ Herring Bone (aka Tilapia El Cuchillo)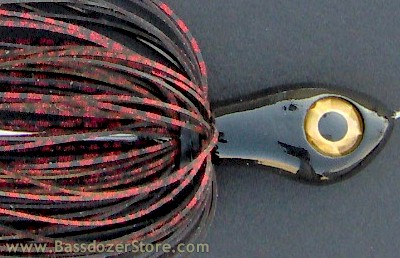 1 oz Spinnerbait ~ Style D ~ Black Neon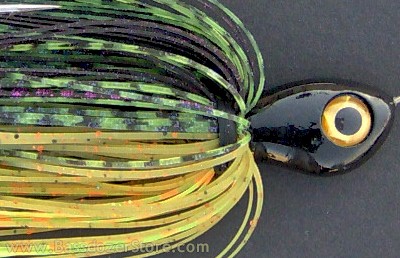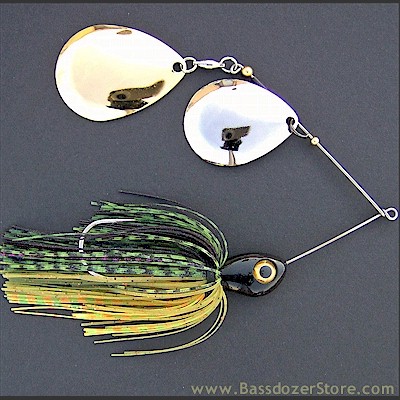 3/4 oz Spinnerbait ~ Style D ~ Yellow Belly Bluegill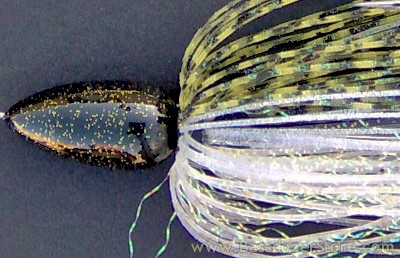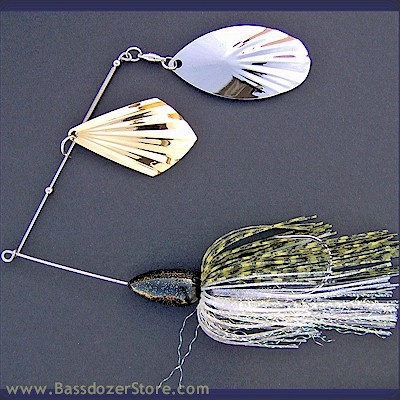 1 oz Spinnerbait ~ Style N ~ Green Shiner Flash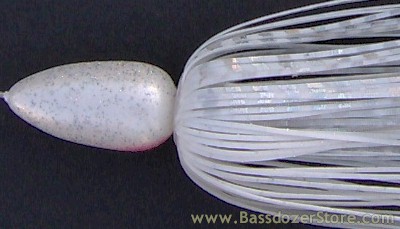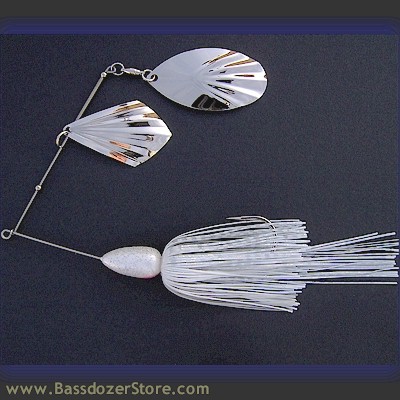 1 oz Spinnerbait ~ Style N ~ White Shad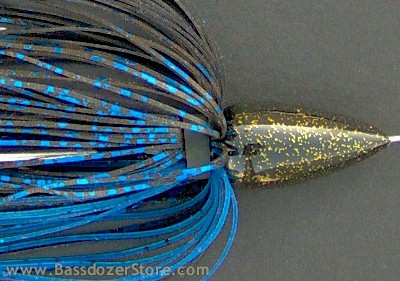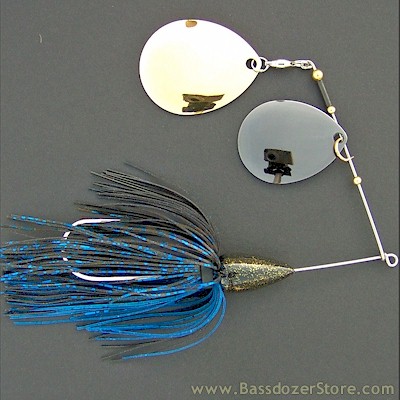 3/4 oz Spinnerbait ~ Style N ~ Black Blue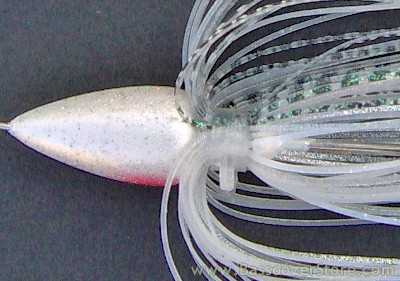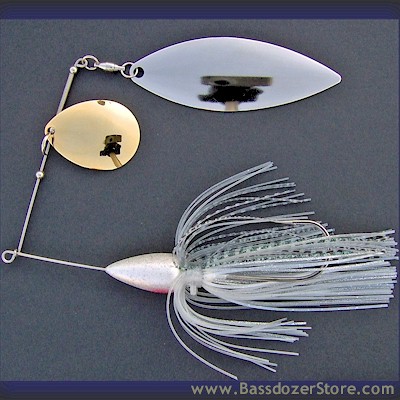 3/4 oz Spinnerbait ~ Style N ~ Shad-A-Delic
---
A Lesson on Spinnerbait Size
1-1/2 oz Size ~ Selective for Trophies
Not every angler who fishes in Mexico uses the monster 1-1/2 oz spinnerbaits. They are strenuous to use for any longer than brief periods, but you just may find that the very biggest bass in Mexico are caught on these, the very biggest spinnerbaits offered in Bassdozer's Store.

The 1-1/2 oz spinnerbaits are true trophy bass spinnerbaits. They have the very largest blades possible. These can be fished shallow or deep with equally good results, but they will wear you out quickly. So fish them selectively for short periods whenever you are casting into true trophy bass areas.
1 oz Size ~ For Serious Fishing
The 1 oz spinnerbait is the best all-around size for trophies. There's something about the bigger presence of a big 1 oz spinnerbait that appeals to bigger bass. So when it's time for you to catch that big lunker bass, break out a big 1 oz spinnerbait. The 1 ounce is also the best size for casting far back into dense brush where your boat can't get in - but a 1 oz spinnerbait will let you cast way back there!

The spinnerbaits here have extra large blades. These blade sizes are larger than normally used on other brands of one ounce spinnerbaits. The extra large blades are what makes them especially appealing to big Mexican trophy bass. The odds are you will catch fewer but larger bass on these larger spinnerbaits.
3/4 oz Size ~ Best for the Most Fun!
The 3/4 oz spinnerbaits here are also larger than other brands of spinnerbaits, and will catch many Mexican lunker bass too. The 3/4 is not as heavy or tiring to use. These 3/4 oz spinnerbaits will catch many fun-size bass all day long. Plus many grande bass too!

However, the 3/4 are too light to support the humongous blades possible with the 1 or 1-1/2 ounce models. The blades on the 3/4 are large - but not as large as the 1 to 1-1/2 oz sizes. Therefore, the 3/4 oz will catch more medium-size bass as well as trophies. So if you just want to catch the most bass, big or small, use the 3/4 oz size. The 1 oz and 1-1/2 oz will catch less but bigger bass.
---
Don't Forget the Heat Shrinkable Tubing
One other add-on I make is to put heat shrinkable tubing over the twisted wire and the loop eye. You can see how I do that in the photos below.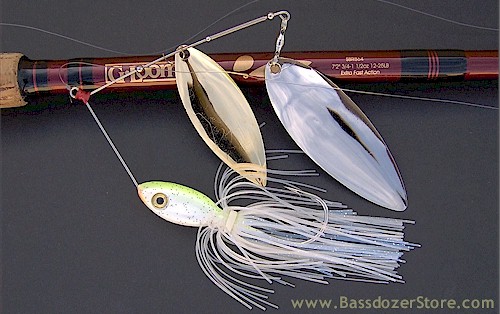 Monster Spinnerbait for Monster Bass! This is no ordinary spinnerbait. It's a monster 1-1/2 oz spinnerbait dressed with some of the biggest Willow blades on the planet.
Thin wall heat shrink tubing (not included) is a nice add-on to prevent the fishing line from fouling in the wire wraps during a cast. It's vexing to make a cast and have the line foul in the wire wraps. Worse yet, a lunker bass can snap your line more easily when the line's fouled in the exposed wrapped wire eye. Covering the wrapped wire in heat shrinkable tubing ends that potential problem. The heat shrink tubing can help to keep the line positioned properly, prevent fouling, and it only takes a few seconds to add it onto the eye.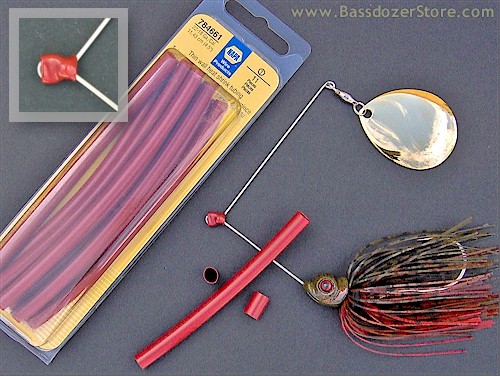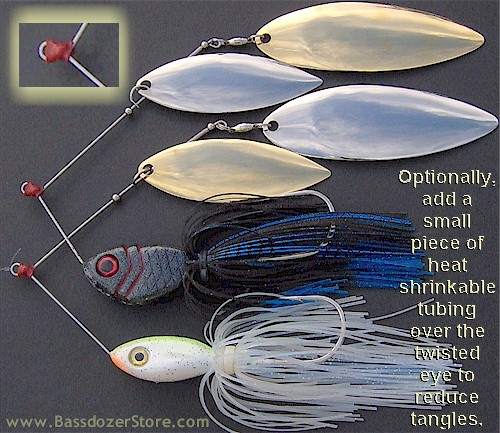 Because these blades are bigger and flop around more when cast, they tend to tangle the line more than smaller spinnerbaits. So the heat shrink tubing not only helps stop the line from wrapping in the twisted wire wraps, but by letting the heat shrink tubing extend partly over the loop eye, it helps keep the knot and line facing more forward, away from blade entanglements. Still, you need to be conscious how you cast these big blades, since they tend to tangle (and clang like cows coming home from pasture). Like a football pass, there's a knack (hard to describe in writing) how to throw these big blades to minimize in-air tangles. Practice makes perfect.