Bassdozer's Stunning Table Rock Shad Spinnerbaits

by Russ Bassdozer
This shows and tells product photos, product descriptions and information for the lure models and colors that are (or have been) available at BassdozerStore.com. Not all models and colors shown are currently available, and exact specifications are subject to change.
Note: Some of the following configurations may not all be currently in stock. Some may be sold out at this time. Please check online at www.BassdozerStore.com for current availability of specific items below. Thank you for your business.
---
Bassdozer's Stunning Table Rock Shad Spinnerbaits
These spinnerbaits have:
Premium Worth ball bearing swivels.
Premium Mustad UltraPoint heavy duty, long shank hooks.

Colors with names like Lavender Shad, Purple Haze, Purple Thunder, Sour Grape and Table Rock Shad have become popular and productive colors in jerkbaits and crankbaits in recent years.
However, it's not common to see a spinnerbait color along these lines - until now. Bassdozer's Store offers stunning Table Rock Shad spinnerbaits.
They come in two versions:
Table Rock Shad The dark version is often preferred by anglers in stained water. The top half of the skirt is a smoky blue gray brownish purple. The belly half is pearl chartreuse with a blue sheen to it.
Ghost Table Rock Shad: This version is ideal for clear to lightly-stained water. The back of this stunning pattern is a smoky blue gray brown purple. The sides are milky white tinged with purple iridescence and black pepper. The belly strands are pale chartreuse with glitter.
---
Style D spinnerbaits run truer in the water, even in lighter 1/4 to 3/8 sizes. This ideal head design has a thinner diameter on top. The sides angle outward for slightly wider bottom, plus a bulge of weight under the chin makes more of the weight at the bottom of the head. Therefore, this head is a stable and attractive true runner..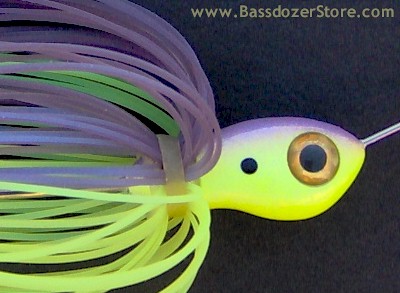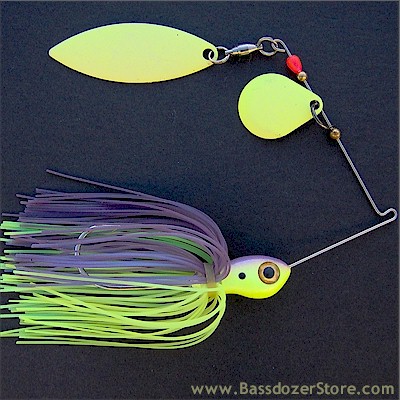 1/4 oz Spinnerbait ~ Style D ~ Table Rock Shad
Luminous blades shown above. Used under normal daylight conditions, the blades appear as an ordinary flat pastel color. But reel them out of the sunlight into the shadow of a ledge or the shady side of a rock or under a dock, and you get that sudden shimmer of luminescence. It's a great strike trigger.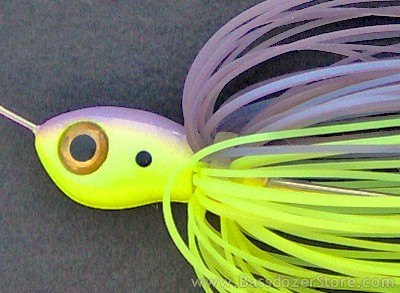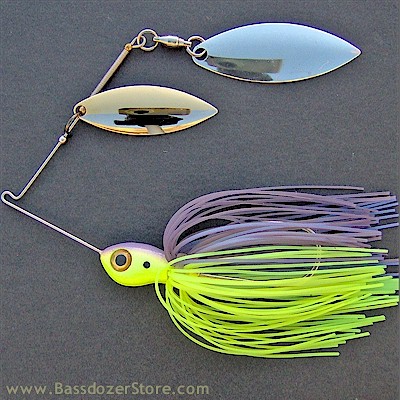 1/4 oz Spinnerbait ~ Style D #2 ~ Table Rock Shad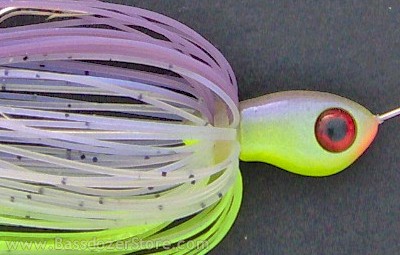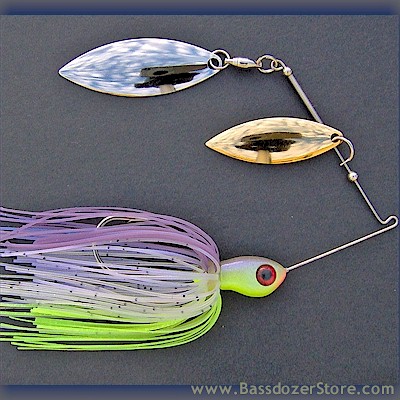 1/4 oz Spinnerbait ~ Style D ~ Ghost Table Rock Shad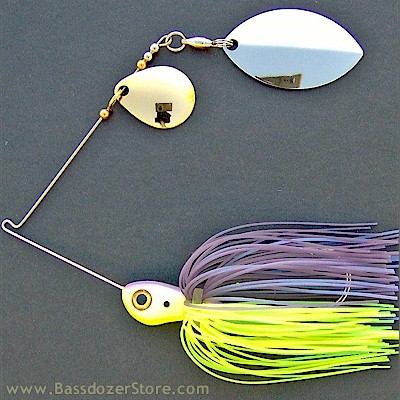 3/8 oz Spinnerbait ~ Style D ~ Table Rock Shad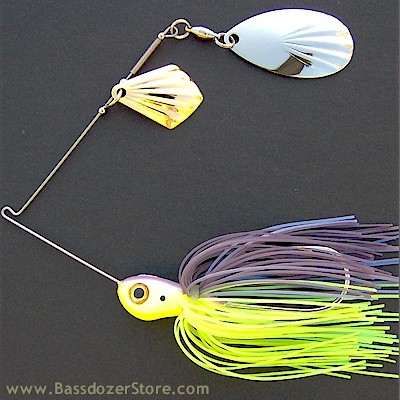 3/8 oz Spinnerbait ~ Style D #2 ~ Table Rock Shad
Style B (shown below) is one of the most perfect, popular and productive spinnerbait heads today. Many tackle companies across the country incorporate this style into their product line. Some of the larger or more brand-conscious companies will request slight variations to make it appear as their own unique brand shape. Nevertheless, the two main features that help make this style (and brand variations of it) so successful are: 1) a thin dorsal type fin ridge runs on top of the head to add stability and balance so it runs true at any retrieve speed, and 2) a wide potbelly adds ballast to prevent the spinnerbait from rolling on its side and reduces hang-ups. The protruding belly and the lure's rounded chin also make it deflect erratically when it hits rocks or wood, often triggering strikes in the process.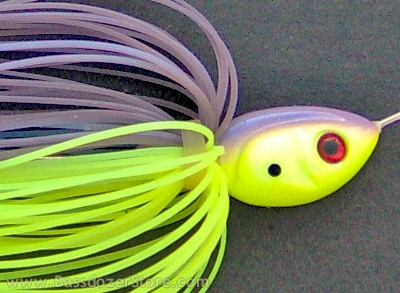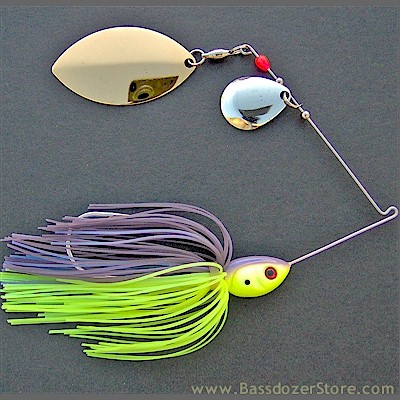 1/2 oz Spinnerbait ~ Style B ~ Table Rock Shad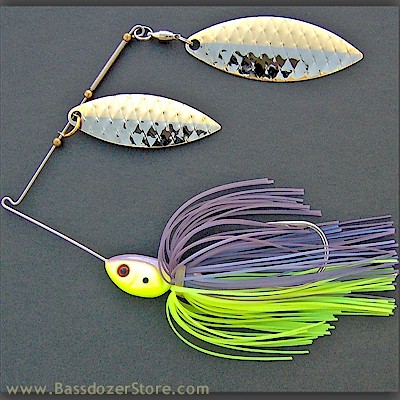 1/2 oz Spinnerbait ~ Style B #2 ~ Table Rock Shad
50/50 Nickel/Gold blades above. When you face those difficult days you can't decide whether to use gold or nickel blades, now you can confidently use both gold and nickel in the same blade! The bottom half of each side of these blades is genuine 24 karat gold plated. The top half of each side is nickel plate finish. Both the front and back of the blade have this.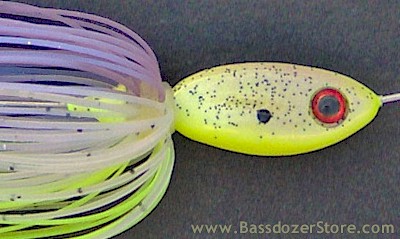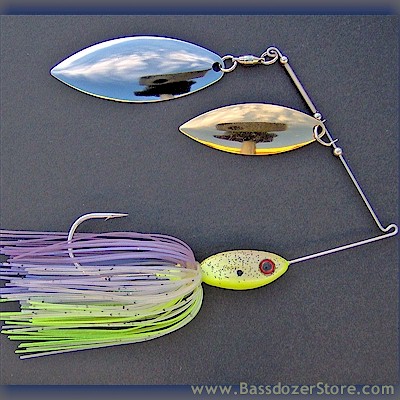 3/4 oz Spinnerbait ~ Style C ~ Ghost Table Rock Shad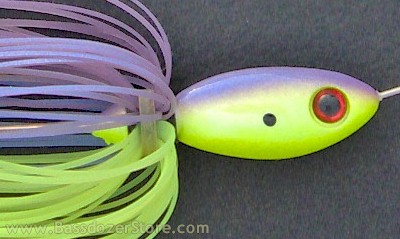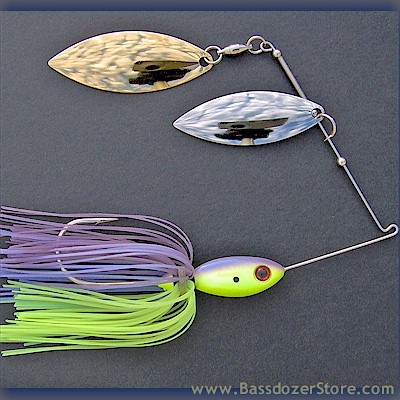 3/4 oz Spinnerbait ~ Style C ~ Table Rock Shad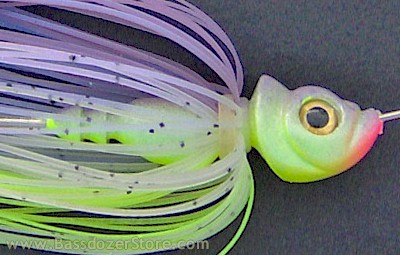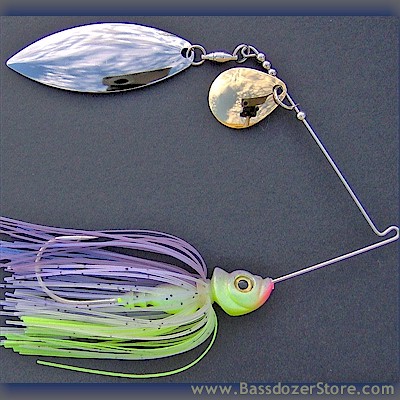 3/4 oz Spinnerbait ~ Style T ~ Ghost Table Rock Shad