Big Opportunities for Bassdozer's Big Spinnerbaits

by Russ Bassdozer
This shows and tells product photos, product descriptions and information for the lure models and colors that are (or have been) available at BassdozerStore.com. Not all models and colors shown are currently available, and exact specifications are subject to change.
Note: Some of the following configurations may not all be currently in stock. Some may be sold out at this time. Please check online at www.BassdozerStore.com for current availability of specific items below. Thank you for your business.
---
Big Opportunities for Bassdozer's Big Spinnerbaits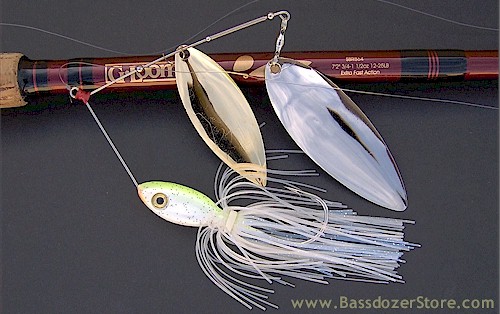 1-1/2 oz Style C spinnerbait
This may look like an ordinary spinnerbait. It's actually a monster 1-1/2 oz spinnerbait dressed with some of the biggest Willow blades available on the planet. A specialized rod is ideally required to handle heavy spinnerbaits. The G. Loomis rod model #SBR864 is one example that will handle such heavy blades. A solidly-constructed baitcasting reel with a minimum of 16 pound test Yamamoto Sugoi grey fluorocarbon line (for example) is required to handle such spinnerbaits. Any lighter rod or lighter line won't let you comfortably cast such big spinnerbaits. Any lighter reel will grind down and self-destruct.
Bottom line, if the rod or line makes you feel you could snap the rod or line; if you can only lob the spinnerbait out there in baby casts, or if the reel is buckling, you are under-equipped here.
Understandably, such big spinnerbaits are not for everybody. Indeed, very few bass anglers have ever used 1-1/2 ounce spinnerbaits. They are perhaps the most physically strenuous technique to take bass. It's really not possible or wise to try to fish these for long periods. Shorter sessions at prime locations under prime conditions (when bait and bass present) are the best approach. It's impractical and too strenuous for any angler to try to fish such big blades except for short sessions. You will however, catch some of your biggest bass of the day on such big blades during those short sessions if you time them right.
The wind is your friend when it comes to fishing these big blades. Wind or naturally choppy water. Call to mind the rough spots you routinely encounter on your lake while boating to and from spots. There natural rough water spots are some of the best spots, but also the most dangerous spots to fish. Use caution and common sense. All you need is a moderate wind or good chop to perk these kinds of spots up for fishing big blades.
The map below shows exemplary spots that are at the end of long wind "fetches". It bears repeating that these are fully-exposed rock banks and ledges that take the hardest wind and water forces on the lake every day. They can often be unfishable, but big bass haunt such locations. Even on fair weather days, these big bass are there, waiting for the wind and water currents to stir up and bring them the bait. These big blades are just too good an opportunity for bass to let them pass by.
Caution and common sense can reward you with the biggest bass of the day by slinging monster blades in these kind of locations when the wind perks up to get bass active. Every day, there are local wind rises and falls, often predictable in different seasons and regions. In many cases, you can set your watch by some of these predictable daily local wind flows. These are not winds generated by front passage or whatever. These are local "fair weather winds" that start and stop at rather the same times each day in your area, which may change from week to week and certainly from season to season. Make sure you are fishing good cover that is holding baitfish and bass, and be there when the daily wind starts. Sling big blades like these to up your odds for bigger bass, be it smallmouth, largemouth or spotted bass.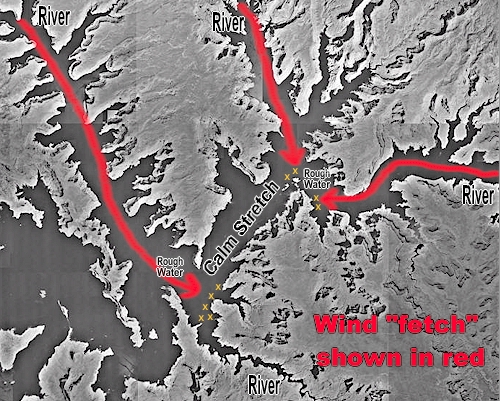 Of course, many small bass hit these big blades also. So you will catch plenty of one and two pounders too. But bigger bass are the only reason to invest time with these bigger blades, and they do work that way. Five bass caught on these bigger blades will usually outweigh five bass caught on smaller (1/4, 3/8, 1/2, 3/4, etc.) blades. It's not only the massive head weight that provides more displacement and presence, but also the humongous blades themselves. The overall mass and bulk evokes an aggressive response. There are some gentle takes, usually from timid smaller fish. But more often than not, better bass will attack these big blades more ferociously than any other kind of strike on any other lure in your bag. Hits can be the most savage bass bites you will ever encounter.
Keep in mind, there have been days (actually short sessions like I say) when I've caught several big bass on these big blades in short order. Normally, you would think this to be a good indication that smaller (1/4, 3/8, 1/2, etc.) spinnerbaits should also work swell. That is not always the case. You can often clock a few better bass on these big blades, then switch to fishing the area with smaller (ordinary size) spinnerbaits, and not get any strikes. So the 1-1/2 ounce spinnerbait with the giant blades is a totally different tool. It can work in its own right even when ordinary size spinnerbaits are not currently producing.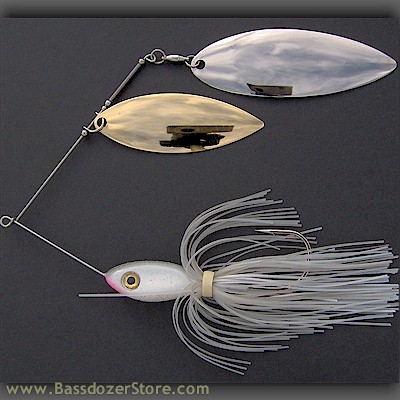 1-1/2 oz Spinnerbait ~ Style C ~ White Shad
On baits above and below, front blade is size #5-1/2. Back blade is a #7, which is one of the biggest Willow blades on the planet. It measures almost 3-1/2 inches long and 1-1/8 inches wide. This particular blade pairing, with the specific spacing and components used here, has proven to be one of the most productive big blade pairs in my experience.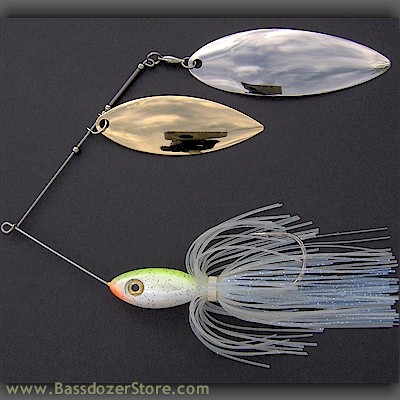 1-1/2 oz Spinnerbait ~ Style C ~ Pearl Blue Silver
The 1-1/2 oz Style C Pearl Blue Silver spinnerbait above is also shown below as it is being "burned" (reeled rapidly) barely below the water's surface.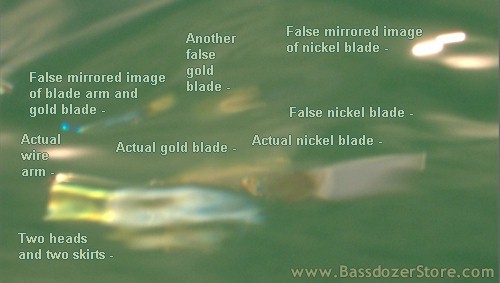 Who knows what a spinnerbait imitates to bass, but with all the false images reflected and thrown off by the spinnerbait above, it could possibly appear like a school of ten or more different baitfish. The photo above shows multiple reflections and images mirrored against the water's surface. As the spinnerbait moves through shallow cover of any kind, be it weeds, wood or rock, the light from the blade's reflection is also cast against and reflects upon all nearby items as well. The spinnerbait blades in cover act somewhat like a disco ball rotating in the center of a dance hall. As the spinnerbait blades revolve, they cast shards of light in all directions. The bright light rays hit and flicker against any form of cover within range and beam against the water's surface. With the bigger blades shown here, they make a huge flashing presence moving through cover.
You may be thinking, does this mean shallow cover? Yes! I catch as many big bass in shallow cover on these big blades as I do in deep water. I often catch bass in only a foot or two of water on these giant blades - provides bass are up and actively feeding in such areas. Any visible cover in shallow water (say anything up to eight feet deep, for example) is fair game. But it doesn't end there. These blades of course can work deeper (because they're heavier) than ordinary spinnerbaits.
Next, a little lighter at 3/4 oz with a monster #7 Willow short arm designed for skinny (shallow) water and coming over the top of grass.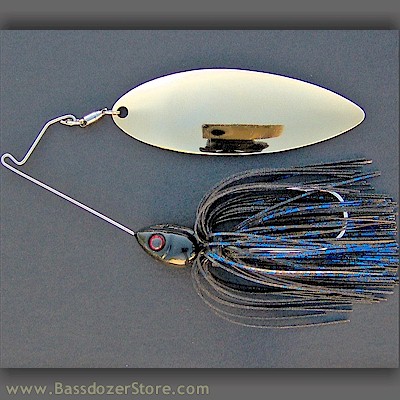 3/4 oz Spinnerbait ~ Style B ~ Black Blue Flash. Heavy .040 wire arm.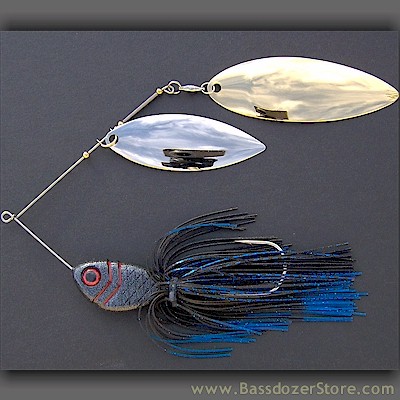 1-1/2 oz Spinnerbait ~ Style A ~ Black Blue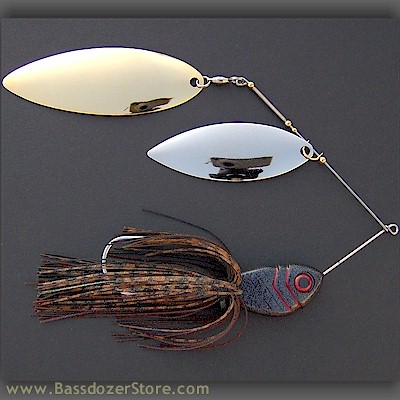 1-1/2 oz Spinnerbait ~ Style A ~ Black Brown Craw
Shown below, the 1-1/2 oz Style A Black Brown Craw spinnerbait is barely below the water's surface.



Not quite sure what it looks like, are you? But you may agree, it looks alive, and that's all the encouragement a bass needs to belt it.
This next bait has double Deep Cup Colorados. The deep cup helps take a lot of the torque and water resistance out of the blades on this otherwise massive spinnerbait.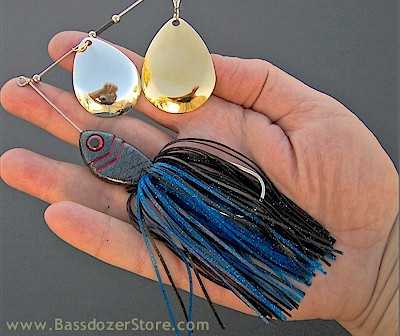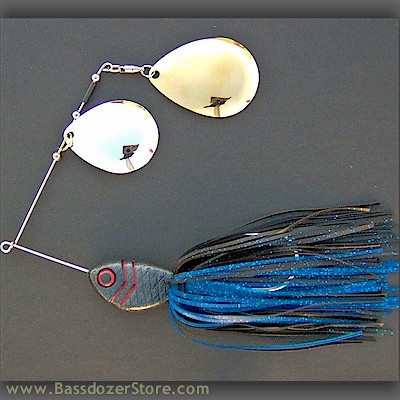 1-1/2 oz Spinnerbait ~ Style A ~ Black Blue ~ Pike Skirt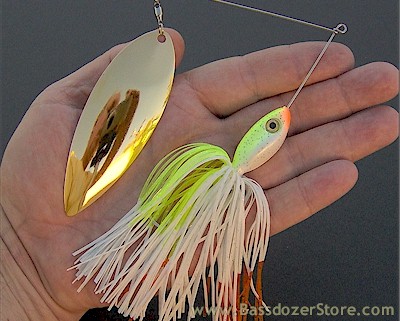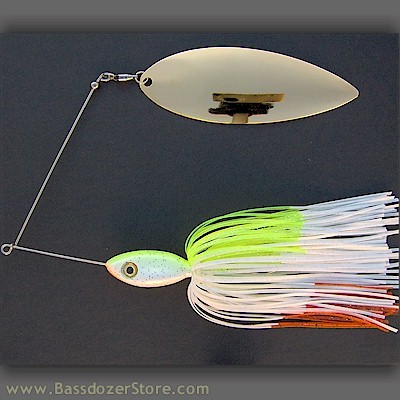 1-1/2 oz Spinnerbait ~ Style C ~ Chartreuse White Blend ~ Pike Skirt
---
Deep Running or Strolling Spinnnerbaits
The next two 1-1/2 oz spinnerbaits are deep runners. They are the back deck angler's revenge against all those boater's who callously disregard the back deck angler's chances to catch fish. You'll need the right rod, reel and line in order to use these. Another factor is to possess the physical stamina to survive using them, even if only for short, intermittent casting sessions. If you meet these prerequisites, then humongous spinnerbaits like these (used appropriately) can add big bass to the backseat boater's side of the livewell! Instead of your boater taking you out of your game, turn the tables! Your boater will not be able to turn the trolling motor on high enough for you not to score with these behemoths behind the boat. Just drag them deep behind the boat (strolling) and you'll do well.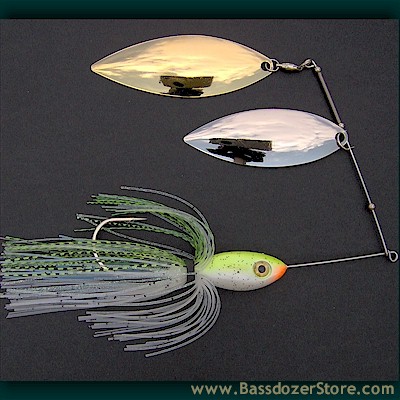 1-1/2 oz Spinnerbait ~ Style C ~ Pale Herring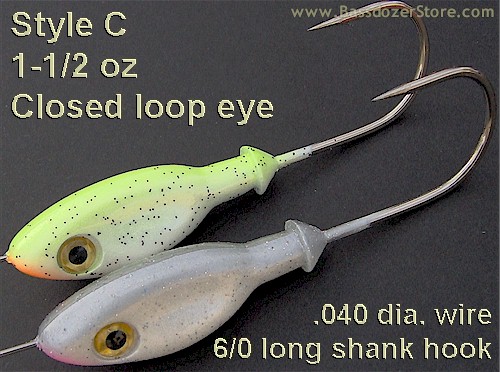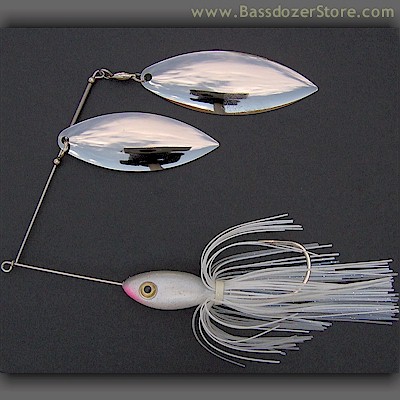 1-1/2 oz Spinnerbait ~ Style C ~ White Pearl Blue