Patrick Sebile (who many say is the world's most accomplished angler), Laurent Picq, a famous angler from France and Russ Bassdozer trolled, retrieved and jigged over 70 stripers in Warm Creek Bay on Lake Powell, Utah yesterday. The day earlier, we landed plenty of fine largemouth, smallmouth and even walleye, yellow catfish and carp succumbed to Sebile lures during our two day test trip on November 15 and 16, 2009.
The first day, we started fishing in backs of canyons called Labyrinth, Gunsight, Rock Creek and Padre, with high hopes of laying into bass and stripers in those arms. We certainly did okay, but not great. Best was Rock Creek. Patrick had some lures he wanted us to test (he is the owner/designer or Sebile lures), and bass obliged by hitting a variety of them including:
Magic Swimmer 110 Fast-Sinking jointed swimbait, with which Laurent landed our best bass of the trip - a nice smallie in Gunsight.

Flatt Shad Snagless. This a lipless vibrating crankbait that can be pulled through the thickest brush or weed cover anywhere and hardly ever snags, which is exactly how Patrick snagged a couple nice bass nestled in brush beds in Rock Creek. It has a hookless feather tail, and an upward-facing double (not treble) hook on the belly that tucks up tight to the bottom. The broad flat sides of the lipless bait serve to shield the hook from everything the lure encounters except for striking fish which get solidly hooked.

Koolie Minnow 90 LL in white proved best for bass this day. It looks like a jerkbait minnow, but I swam it steadily through the brush like a crankbait, not jerking or pausing it. The Koolie has a bowed body and a very broad, flat belly that shields the trebles from snags, so it comes through brush amazingly snagless, which is how I landed a handful of nice smallies and largemouth in the brush in Rock Creek.

Stick Shadd Hollow soft bait was what Patrick also dropshot a bass or two in the deep brush in front of the Cookie Jar in Padre Bay.
The bass fishing was decent but truly, we were hoping for a little more action and size than we had. On the way home, I pulled into Warm Creek basin at last light in order to scout for the striped bass that I know always winter-over in there. I put the boat down about 1/2 mile from the back on the eastern shoreline (which gets the late light), idled onto the 60 foot mark, and immediately found big dense walls of shad and striper schools blacking out the fishfinder. By the dense, compact and fairly featureless blobs of bait and predators, we knew they were not actively feeding right then, but we dropped a few spoons down, and pulled up a couple stripers, confirming this would be where we'd start the next morning's fishing for stripers.
The second day morning, we got to Warm Creek bay about 8 o'clock and started marking and fishing the thick black balls of fairly inactive fish on the graph. In the morning, most of the bait and stripers were in water from 80 to 60 feet deep, and there was also a significant presence hovering over depth breaks (rapid changes in bottom depth) down to 100 or more feet deep.
We started to jig a few stripers, mainly from the 60 to 70 foot schools, but it was difficult to keep the boat over the schools. Although fish were coming aboard on a steady basis, we spent as much time idling around as fishing. So I reckoned that if we couldn't easily stay on the schools, we would instead bring the schools to us by trolling, retrieving and then jigging them.
It wasn't any one technique - but the combined effect of trolling, retrieving and jigging that started scoring striper after striper for us from the late morning and lasting through 2:30 pm.
What I mean by our devastatingly effective trolling, retrieving and jigging combo is the following explanation:
First, we trolled 1 oz Koolie Minnow 118 LL plugs about 60 yards behind the boat on the thinnest braided line possible. Patrick had a wispy thin 12 lb test braid that was letting his Koolie hit bottom about 43 feet deep. So we put Patrick's line down the center behind the boat, in between Laurent's and my line. I had a thicker 20 lb braid and was only achieving 34 feet of depth due to the thicker line diameter. Laurent also had a thicker braid, and he wasn't achieving the 40+ foot depths, only Patrick. We mainly trolled the 50 to 60 foot depths since by late morning, the stripers and bait had moved shallower from 60-80 feet in early morning to 50-60 feet deep by late morning, and the dense balls of bait and predators had started to open up (were not as densely compacted) by late morning, meaning they were becoming more active.

Because Patrick's plug was reaching 40+ feet deep (due to his ultrathin line diameter), he was hooking almost all the fish as we trolled, using the big motor at idle speed (800 rpm's). I'd start marking fish on the graph, and a few seconds later, Patrick was most likely to hook up. But that didn't mean Laurent and I were shut out. It's true we did not hook many on the trolling phase, but once Patrick hooked a fish out of the school, we'd shut off the motor right away. This is where phase two - retrieving - our plugs so they followed and flanked Patrick's hooked striper resulted in multiple hook-ups for Laurent and I. We had 60 yards of line out behind the boat, and as Patrick fought the first fish, he'd pull the school up to the level where Laurent and I had our plugs as we retrieved them on both sides of Patrick's fish - and we'd also hook up.

Now, 2 or 3 of us were hooked up on plugs, and bringing the entire school to the boat along with the hooked fish. The school would come right up to the top by the time they were boatside, and you could simply cast back out and catch another one or two near the surface for a minute as we boated the hooked fish.

Next, we'd drop 1.4 oz Fast Cast 42 jigging spoons down on the school, now under the boat, and this was almost like chumming with the jigging spoons constantly being jigged up about 8 feet and then falling back down (which is when most bites occur). With three spoons, it simulates a fall-out of injured shad fluttering to the bottom thereby keeping the school under us for a few minutes more. All of the fish were super fat and their stomachs were stretched to the bursting point with shad. They looked like stomachs with tails and fins. By 1 o'clock, the feeding activity was so high, that the streaking fish on the graph looked like Fourth of July fireworks exploding beneath the boat, and most of the stripers were so stuffed by this time that they regurgitated fresh mouthfuls of both gizzard and threadfin shad - about the size of our spoons - further chumming the water to keep the schools with the boat. We also caught stripers on Sebile's 2.1 oz Vibrato wacky jigging spoons and 1-1/4 oz Spin Shad #2 tailspinners, plus, when the fish moved shallower than 40 feet and into its effective range, we caught a few by vertical jigging the 3/4 oz Flatt Shadd 66 XH (Extra Heavy) lipless crankbait - but it's fair to say that the 1.4 oz Fast Cast jigs in a variety of shad colors were the most effective vertical jigging tools for us this particular day.
By 2:30, we got into the biggest, most active school, that stayed under the boat for fifteen minutes, and we caught them on almost ever drop of the spoon as the boat drifted from 60 to 30 feet deep, with constant double and triple hook-ups. It was our finest moment! Marks on the graph were no longer dense blobs, but more like streaking, scattered markings, surely signaling that an all-out, furious striper blitz was going on below. The scent of battered shad wafted to the surface, and a sweet smell of shad oil spread over the water, filling the warm air all around us.
I am not sure if the school moved with us, or if we slowly moved over them, since as we got shallower (from 40 to 30 feet), the fish got smaller. Most of the fish all day were 3 to 5 pounders, but as we drifted over the shallowest tip of this school (about 30 feet deep), there were only 1-2 pounders. So I think that was just a solid 15 minute long school that we slowly slid over. There was no wind at this time, and we were fishing off the deep side of the boat, so as 2 or 3 of us were always hooked up, the fighting stripers were actually working like mule teams to pull our boat back toward the main melee, helping to pull and position the boat right over the heaviest action!
Also note that when the stripers were deepest and least active early in the morning, they had a pale purple blush and very dark black stripes. As they became semi-active in late morning, the blush had flushed to a brighter pale blue. At the height of the feeding frenzy after noon, the charged-up fish were flashing a pale green, a more silvery sheen and dark chocolate as opposed to black stripes.
All good thing must end, and around 2:30 pm, a slight breeze arose out of the south, which riffled the surface. The fresh breeze was just strong enough to finally blow the boat off that massive school and into shallow water. Since we were almost up on the shoreline by this time, we turned around and started casting to shore, which was how Patrick landed a nice walleye on the Koolie Minnow 118 LL, and we also had some other bites from bass - but didn't land them.
I am not sure whether it was us or the stripers who had enough, but whoever gave up the game by 2:30 pm, we didn't catch or mark many more stripers after that. I honestly think it was us, the anglers who were finished catching for the day. I feel the stripers continued feeding, but had moved to the sunniest side (the east side) of the bay, which was where we first found them the evening earlier. I find the stripers will often lay on western shorelines when the sun is in the eastern sky and on eastern shorelines after 2 pm on sunny winter days. I do think they moved over to the eastern shoreline, but we did not. We had a dinner date that we didn't want to miss that evening at the home of Jarrett and Becca Edwards who produce the "Jarrett Edwards Outdoors" TV show. They feature multi-species catch and release action on the most famous waters of the western USA. Their show is high tech, specializing in live underwater diver videography, scenic helicopter aerial shots and multi camera production. Jarrett's show airs nationally on The World Fishing Network, Dish HD Channel 394.
So we left Warm Creek around 3:30 pm with a cooler full of stripers to fillet, and a great day we won't ever forget, made even more memorable with a scrumptious home-cooked dinner by Becca with friends!
If you want to try for these stripers, it was difficult but not impossible to put it all together like we did yesterday. These stripers that always winter-over in Warm Creek won't come to lures as easy as during the summer months, but hard work will pay off all winter. Key this trip was the 60 foot depth, and out deeper than that in the morning, shallower than that in the afternoon. Simply motor straight back into Warm Creek until you are in the very back where the depth comes up to 60 feet, which will form an imaginary line from one side of the basin across to the other side, at the 60 foot depth. This is your key depth for now. Then pivot the search up along that 60 foot mark for about a 1/2 mile on either side, keying off the mouth of the deep slot creek on the east side, across the back of the basin to the western shore (up to the brushy creek mouth).
Toward the tail end of the day, or first thing in the morning, try the east side from the deep slot creek up about a 1/2 mile to where we found the original school at last light of the earlier day.
Keep this trip report in mind and hopefully you too can keep a tight line deep into a Warm Creek striper blitz.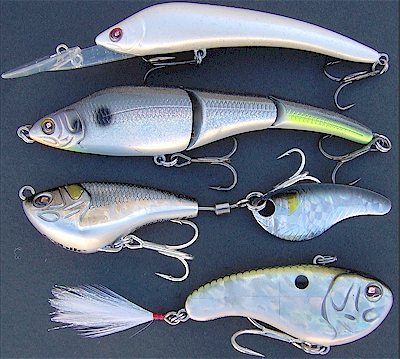 Bass lures that worked on day one, from top down: 3/8 oz Koolie Minnow 90 LL (Long Lip), 3/4 oz Magic Swimmer Fast-Sinking jointed swimbait, 1-1/4 oz Spin Shad #2 tailspinner and 1/2 oz Snagless Flatt Shad 66 SK (Sinking) lipless crankbait.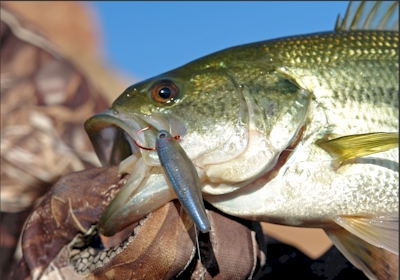 Stick Shadd Hollow soft bait on dropshot also produced a few bass in deep brush.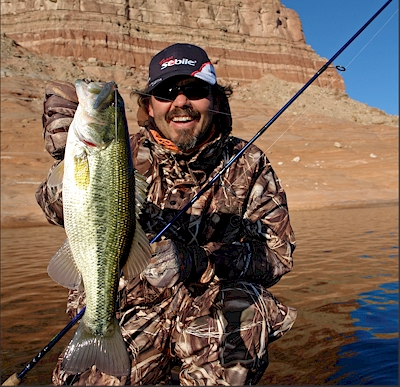 Patrick smiles over fine bass on Stick Shadd Hollow dropshot.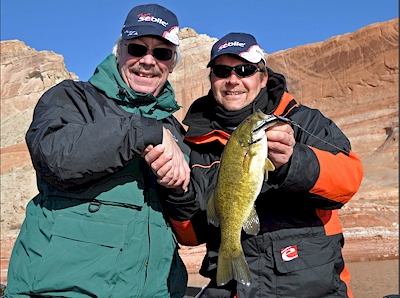 Russ and Laurent shake on smallie on Magic Swimmer 110 Fast Sinking jointed swimbait.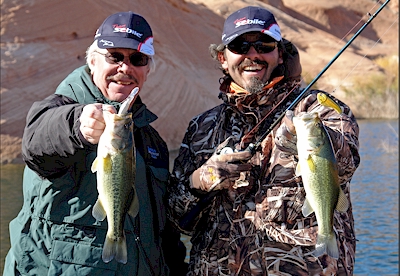 Russ with bass on Koolie Minnow 90 LL. Patrick matches with Snagless Flatt Shad 66 SK lipless.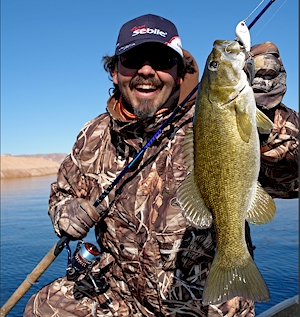 1-1/4 oz Spin Shad #2 tailspinner produces another fine smallie for Patrick.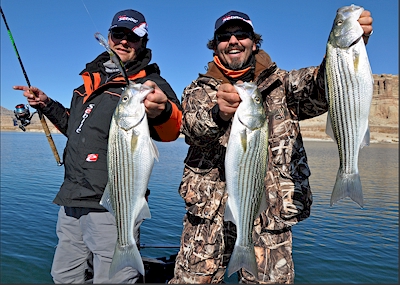 Fast action with stripers filled day two with plenty of double and triple headers.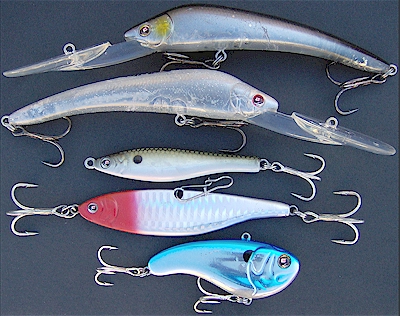 Effective striper lures from top down: pair of 1 oz Koolie Minnow 118 LL (Long Lip), 1.4 oz Fast Cast 42 jigging spoon, 2.1 oz Vibrato 60 jigging spoon and 3/4 oz Flatt Shadd 66 XH (Extra Heavy) lipless crankbait. Also, 1-1/4 oz Spin Shad #2 tailspinner (not shown).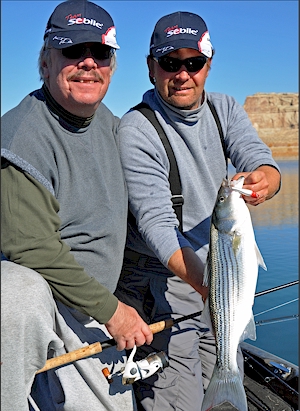 Russ and Laurent with fish on 1.4 oz Fast Cast jig.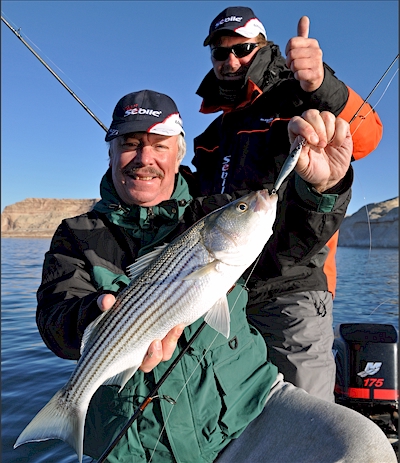 Thumbs up for another Fast Cast jig fish!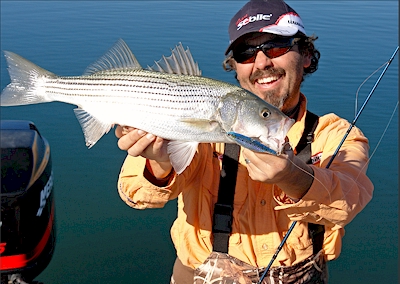 The 2.1 oz Vibrato wacky jig produces for Patrick.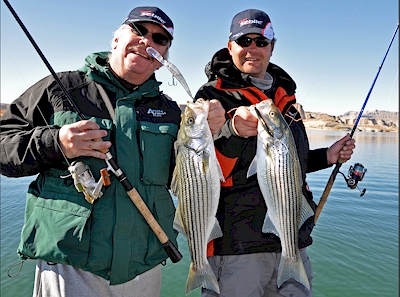 Double for Russ and Laurent trolling and retrieving 1 oz Koolie Minnow 118 Long Lips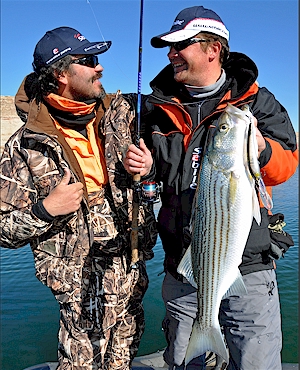 Patrick and Laurent chuckle over trolling deep (34 to 43 feet) with Koolie Minnow 118 LL.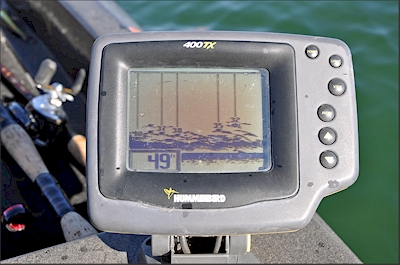 Screen fills with charging stripers from 32 to 49 feet below the boat.

1.4 oz Fast Cast 42 jigging spoon proved devastatingly effective on stripers.
---
Striped Bass Fishing Fun on Lake Powell
August 2009 with Patrick Sebile and Capt. Jay Withers
What do a trio of guys who work in the fishing business do for fun? We just can't help it. We confess. We love to go fishing more than anything else!
This time we shot forty-two miles up lake in the cool dimness of false dawn, itching to reach a hotspot nestled in the back of Rock Creek Canyon on Lake Powell in Utah. Fish had bitten well there on Thursday, when a lot (approx. 50 stripers) were deep-jigged off bottom. We were disappointed there on Friday morning, when "only" 8 to 10 stripers obliged us. On Saturday, the wind blew them off their feed. So with two "off" mornings in a row, as we sped back up there on Sunday morning, I just knew (I hoped) that they'd be ready to go wild in the windless conditions on Sunday morning - and they did!
Patrick Sebile, a Frenchman who has relocated himself and his lure company to Palmer Lake, Colorado supplied us with some new lures we were field-testing for him. Patrick's possibly the best angler in the world today.
Also joining us was Captain Jay Withers, a saltwater charter captain sharpie from Port Charlotte, Florida.
We hit stripers and smallmouth on Sebile's new lures, which will be available in late 2009 or early 2010. I'm here to tell you, you need to try them too! The hit list included:
New Fast Cast Jig. An ideal choice for distance casting, speed reeling and jigging bottom in deep water.

New Vibrato Jig. I can only describe the Vibrato as a wacky jig, with the line tied to the center of the long, slim metal jig's body, and a treble dangles off each end of the bait. On the fall, it flutters like a wacky worm, and when you lift it, it paddles hard, vibrating side-to-side with a throbbing resistance felt in the rod tip. There's really nothing else quite like it

New Spin Shad #1. We fished the smallest of the Spin Shad sizes from anywhere just below the surface to sixty feet deep, and caught stripers non-stop with it. The Spin Shad was also the most productive lure for smallmouth on this trip.

New Crankster SR (Shallow Runner). We didn't use this a lot, but when we did, stripers and smallies were all over it!

Slim Stick and Splasher Topwater Baits. These aren't new (although many anglers have yet to try them) - but it was too much fun for us not to toss them for stripers and smallies on top!

New Magic Swimmer Soft and new Stick Shadd Soft. We Carolina-rigged and dropshot these new soft lures, having success with smallmouth - but that's another story. Let's take it back to the big striper blitz right now...
So there we were - battling schoolie-sized landlocked striped bass. At times on every cast all three of us were reeling them in - reveling in the world-famous beauty of the scenic southwest desert impoundment, Lake Powell.
As the sun and temperature climbed quickly and uncomfortably, the stripers retired for the day to parts unknown. After the striper action subsided, we did try largemouth and smallmouth fishing, which was slow, but the poor cooperation from the black and brown bass didn't dampen our delight or tarnish our shared memories of catching the plentiful striped bass that were breaking the surface in an early morning feeding frenzy. At times they surrounded us in all directions for magical moments that didn't want to end. The barrages of feeding stripers everywhere were amplified and echoed off the cliff walls, seeming all the louder in contrast to the stillness of early morning.
Differences Between Freshwater and Saltwater Stripers
People often ask if there are differences in the quality of the fight, the coloration, body tone, or if stripers taste different from fresh or saltwater. No, there really is no difference I can notice.
One thing though, is that freshwater stripers fixate or predate heavily on pelagic (meaning open water baitfish) in large impoundments like Powell. They do not normally pursue bottom fish, mollusks, panfish, crayfish for example, unless pelagic baitfish (like shad) become so scarce or inaccessible that the freshwater stripers really have no other choice but to scavenge for anything else they can find, which doesn't happen that often. Fortunately, they can usually find shad, shad and more shad. It's their mainstay on Powell.
In contrast, in saltwater, it seems there is such a multitude and variety of bait available to striped bass, that they tend to feed on whatever's most plentiful at any given moment, which may vary widely. What this means to an angler, is that saltwater striped bass will often hit a wider variety of lures, especially colors that match whatever fodder's most prevalent at the moment. Sometimes that may be red-hued sand eels, golden yellow baby pollack, amber brown squid, black-striped mackerel, sheening butterfish, black eels, blue herring, not to mention shrimp, clams, crabs, worms, bottom fish (baby blackfish, porgies, flatfish) snapper blues, hordes of young-of-year weakfish and so much more. Now, it's true that day in and day out (including night fishing for stripers), odds are you can't beat a white color lure for saltwater stripers - but since the menu is so varied in saltwater, other colors seem to be of more importance in the salt to match the almost endless menu in the seas. Conversely, since the menu is so limited in freshwater impoundments like Powell, basically to shad, the importance of a white color lure is absolutely essential, such as the Sebile White Lady (Q2) color in freshwater. Certainly have fun trying other colors, but white really is the "go to" color for freshwater stripers, plus shad-imitating silver-sided colors like Sebile's Holo Greenie (D9) and Natural Shiner (O) for instance.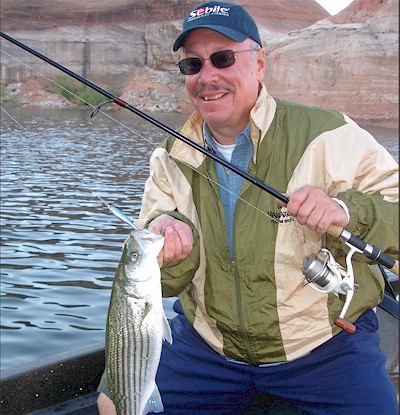 Russ lips one on Sebile's Fast Cast jig.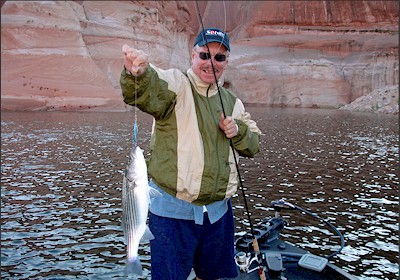 Bassdozer hoists another on flashy blue sardine color Fast Cast jig.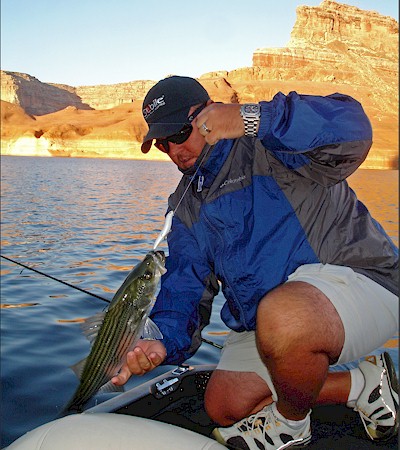 Capt. Jay had much success by "walking the dog" with Sebile's Slim Stick topwater bait in White Lady color.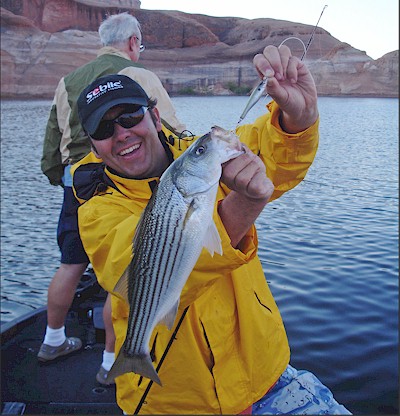 Patrick Sebile demonstrates effectiveness of his new Fast Cast long distance casting jig in Holo Greenie (D9) color.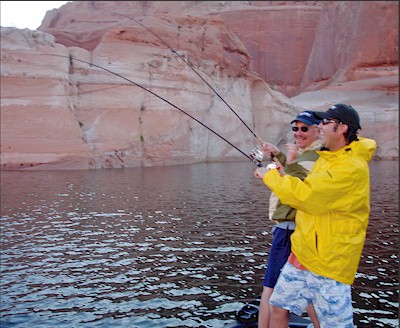 Patrick Sebile and Russ Bassdozer chuckle gleefully over a double whammy of bent rods and hard-fighting stripers!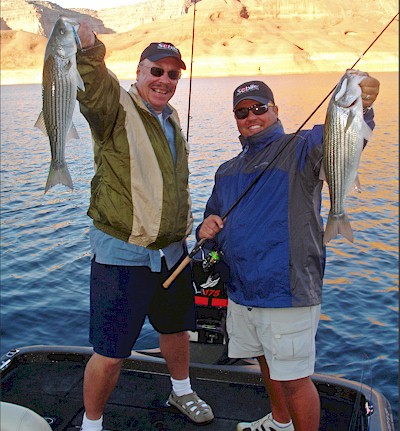 Russ and Jay wax victorious again!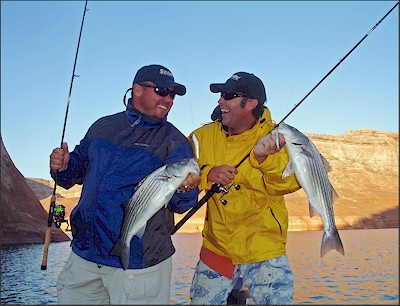 A good time was had by all!
After stripers schools had broken up the shad schools and pushed the remaining shad up against offshore reefs or deep cliff walls, then schools of smallmouth would come out to clean up on the left-over shad.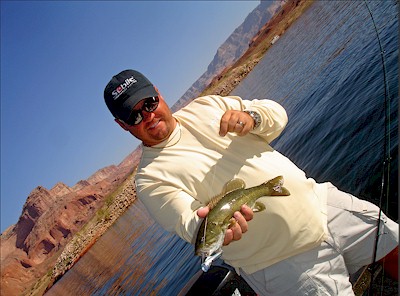 Captain Jay pops up a little smallmouth on the side with a Sebile Splasher topwater lure.
When the stripers schools took breaks (which didn't last long) to let the dispersed shad regroup back into schools before charging them again, that's when smallmouth would come out from the nearby reefs, points and walls and blast anything that moved, including a blue chrome Sebile Crankster SR (Shallow Runner) fat crankbait waddled along the surface with a stop-and-go retrieve. Swim the Crankster SR barely below the surface for several feet and then let it pop to the top during pauses in the retrieve, which is when smallies love to smash it.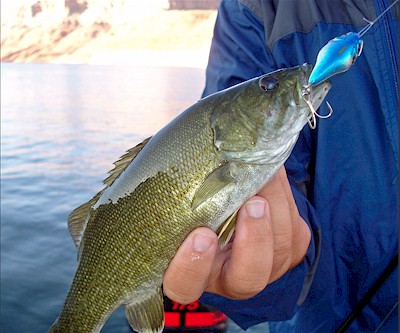 Following are examples of the new products we put to the test, producing results that exceeded our expectations. What a memorable and rewarding trip this was for Patrick, Jay and I!
New Crankster SR (Shallow Runner) has a super-loud knocking rattle inside, and casts super long distance. It waddles desperately just under the surface. Try pauses every few feet to let it pop to the top, then continue.
New Spin Shad #1 (shown top) weighs 5/8 oz. This is the size we used from just below the surface to 60 feet deep - and at any depth in between wherever striper schools showed up in mid-water on the electronics, we were able to count down and keep the Spin Shad #1 working at any level necessary in the water column. We did not get a chance to try Spin Shad #2 (bottom) which weighs 1-3/8 oz and is easy to use, according to Patrick and Jay who have fished depths to 120 feet with it - which is not uncommon for striper fishing or offshore ocean fishing.
New Vibrato Jig, which I refer to as a "wacky-rigged jig" since the line is tied mid-center, remindful of how one rigs a wacky worm, except this is a solid metal jig. It flutters on the fall and throbs with vibration when you lift or jig it. Stripers and smallies hit it on the fall as well as on a steady retrieve or when bounced on bottom. On a steady retrieve, I used it like and it felt like a tight-wobbling crankbait. It worked any way I tried to use it!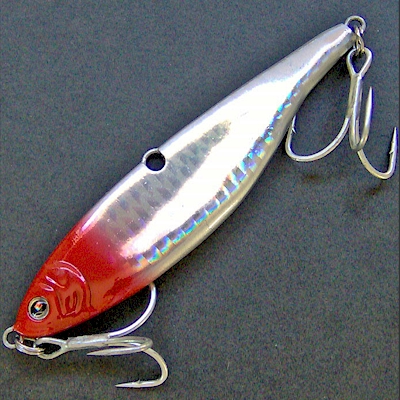 New Fast Cast Jigs. These metal-bodied beauties weigh approx. 1-3/8 oz and are 2-3/4" long, but will come in larger and smaller sizes too. They're great for long distance casting, they swim and swagger on the retrieve and excel for deep vertical jigging. The Fast Cast proved productive on stripers and smallies alike.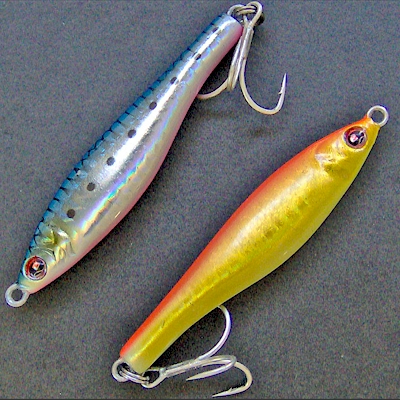 Bonus Story: Mixed Catches Don't Mean Mixed Schools

I have far more time and experience in saltwater with striped bass than I do in freshwater with largemouth or smallmouth. But fresh or salt, mixed catches of gamefish don't mean mixed schools. I haven't really known gamefish schools to mix freely. True, on the trip above, we caught a mixed bag of stripers and smallmouth, but the species were not mixed into a homogeneous multi-species school of gamefish.
They all just happened to be after the same prey in the same area. Yes, the smallies were taking advantage of the stripers' hard efforts in corralling and pushing bait toward the waiting smallmouth, but they were not mixing into a multi-species gamefish school.
Often, largemouth and smallmouth bass will uncannily anticipate where the stripers will push bait, and will line up and be waiting on strategic spots on structure or in cover for that striper bait push to happen - the bass jockey for prime positions even before the stripers start to get active. It's like waiting for a parade to come down the street. The bass somehow anticipate the striper push will come their way, and it usually does!
Also, bass will become active below, on the perimeters of or immediately before or after the stripers push through. Now keep in mind, the stripers may make multiple pushes or charges, time and again, first one direction, then the other, and the largemouth and smallmouth bass let the stripers do all the hard work. If no stripers were present? The bass would have to make the hard effort themselves, and sometimes do when no stripers are around. But they prefer to let the stripers do that. Actually, the stripers are better at it than bass - so if stripers are on the scene, the bass just can't compete in that situation. The bass will wait with anticipation on structure or cover for the stripers to push bait at them during the height of the striper activity. And the bass will come out of structure/cover to do their thing like a mop-up crew on the outskirts of, under, just before or after the stripers push through.
Yes, there is a little intimidation factor since stripers run bigger than bass on Powell, but I am not so sure bass fear being out in open water where stripers are operating. The bass sticking to structure or cover have a strategic feeding advantage there that stripers do not. And the stripers have all the open water advantage. It's a "to each their own" situation.
Even in the ocean where schools of oceanic gamefish, say stripers, bluefish and weakfish (northern sea trout) are all hitting the same bait school, they stay apart from each other. They could be very close apart, and you could catch stripers, bluefish and weakfish on consecutive casts - but they are not mixed, just charging across the battlefield in fast-moving formations of their own species. This is just so they can do their own thing efficiently.
Sometimes a surface-feeding blitz or an underwater feeding frenzy witnessed on the electronics may seem like a mixed, multi-species free-for-all to us the anglers, and you can catch stripers, largemouth, smallmouth, walleye or whatever on successive casts - but if you could really see what is going on. you would probably realize the gamefish are somewhat stratified into free-wheeling vanguards or cadres, moving with a group mainly of their own species.
They will even stratify by size within their own species (small stripers with small stripers, medium stripers with other mediums, etc.) simply because it is easier for similar-sized gamefish to maneuver on prey schools with cohorts of their own size.
True, the smaller size vanguards do get bullied and squeezed into the marginal feeding area whereas vanguards of bigger fish take the prime positions on the field. (Same as school kids lining up to get ice cream cones, left unsupervised, the bigger kids are going to naturally command the head of the ice cream line. Ditto with gamefish lining up to feed.)
Overall, when it comes to Powell, the stripers are best suited for open water. They have taken over the open water domain simply because they are more efficient there.
On Powell, the smallies have taken over deep clear water structure. Simply, they are the best of the three species (stripers, largies, smallies) in mastering that domain.
The largies, which were the first ones in Powell before smallies or stripers, still maintain the shallow cover domain as their stronghold. They are the best at that. Also, largemouth are strong in some deepwater situations, mainly cracks, cuts, crevices or other indentations in canyon walls in deep water. Also deep wood of any kind. In such niches, largemouth can perform as good or better than smallies. But on points, rock slides, sheer bluffs, deep ledges, humps for example, smallies tend to perform better, and largemouth tend not to compete too much in those domains if smallies are present.
If only largies were in Powell (as in the beginning before smallies or stripers were introduced) then they would have the run of and occupy all domains - shallow cover, deep structure, open water. But the smallies tend to outperform them on the deep structure, so it is not that common to get largemouth deep once smallies take advantage of much of the deep structure. A good comparison is a similar impoundment - big Lake Mead in Las Vegas. There, smallies have not taken on a strong hold in most sections of Mead yet. So on Lake Mead, yes, the largies are caught on deep structure there, simply because the largies can be efficient on deep structure, but not when smallies are present in niche-filling numbers.
Hypothetically, if stripers were never introduced to Powell, it is likely the large and smallmouth would more commonly pursue open water bait, but with the stripers, it is simply futile for smallmouth or largemouth bass to try to compete against stripers in the open water on Lake Powell. Stripers are better at it. The bass grudgingly cede open water to them.
So, it is not so much that bass fear being eaten by stripers in open water (although a 12-inch bass may be wise to be wary), and it is not that largemouth fear or are intimidated by smallmouth on deep structure. It is just one species can outperform the others in that species ideal domain, be it largies in shallow cover, smallies on deep structure or stripers in open water. Any one of these species would be free to use all three kinds of lake areas - until one of the better-suited species are introduced and outperform the others in one of those niches in the hard-played survival game.
---
Fall Fishing on Lake Powell, Utah
November 2008 with Patrick Sebile
It's true that Patrick is a legend. He has fished in 61 countries and caught 564 species of fish (at last count). He has written seven books and a thousand articles on fishing. His photo has appeared on 150 fishing magazine covers around the world. He has held 300 records at one time or another - over 50 IGFA world records, 100 European continental records and 150 French national records. He has been the foremost tackle designer in Europe, including rod and lure design for many companies for many years. He is possibly the best angler in the world today, maybe ever. There is no one else who comes close to his accomplishments.
But he's also just a guy - and a friend.
I have had the pleasure for Patrick Sebile to visit me and to fish with him on Lake Powell, Utah on November 10 -12, 2009.
We caught many striped bass, smallmouth and largemouth for the duration. We got into a number of surface feeding blitzes instigated by the stripers, but of course the black and brown bass nose in on that kind of surface action as well, courtesy of the stripers' efforts!
On our first day (Nov. 10th), we fished in the backs of creeks:
to the right and left of Labyrinth Canyon,

within Padre Canyon,

the western and easternmost of the three Kanes, and

Mexican Hat (behind the floating restroom at mile marker 24)
On our second day (Nov. 11th), we stayed in the westernmost of the three Rock Creeks (our best day).
The first two days, we found similar conditions in the backs of many creeks (to the sides of Labyrinth, Padre, the Kanes, Mexican Hat and the Rock creeks). Medium-sized shad were found in the brushy backs of all these creeks, wherever water was trickling into the lake. Shad were buried deep in the brush lines, and they did not come out into open water, but were entrenched deep in the brush lines. Needless to say, predators were present and buried within the brush lines also. Likewise, we the anglers had to fish within the brush where the bait and predators were thickest. If you fished outside the brushlines, it wasn't where you needed to be. Many times, we had the boat behind the brushlines or smack in the thick of them.
There were many shad schools milling aimlessly on the surface in the brush, going with or against any slight current. They were pale green backed and from the boat, could detect a fairly thick dark lateral line and the distinct dark shoulder spot was quite obvious from our viewing angle. We found the Holo Greenie (hologram green back) closely matched the pale green-backed shad, but we tried many other colors that produced fish.
Although creeks were trickling in, the current was barely perceptible or we fished far enough away from the trickles at times that there didn't seem to be current in some of the brushy areas that held shad. They seemed slow-moving or slightly lethargic. Stayed on the surface in the brush, and tight together. Really in the center of the brush lines.
We did not know why the shad were so concentrated in the brush. We can speculate they were getting a little more sun or heat from the radiator effect of the brush plus the more sun-reflective (slicker) water surface within the brush - but it is just a guess. So we do not know why, but we did recognize it was the key to our fishing trip - or you can say it became the pattern we fished for our three day trip.
We fished a different big basin each of three days, and the pattern held up for the first two days and basins.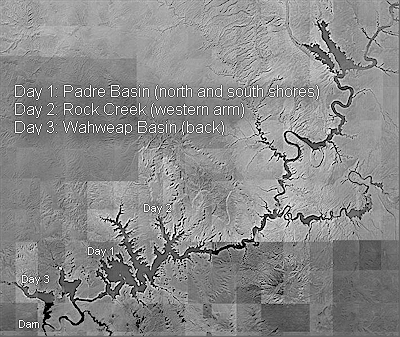 Lake Powell, Utah where we tested Sebile's hard baits.
Our third day (Nov, 12th), we could not repeat the pattern (find sufficient shad in the brush) - at least not in the spots we tried the third day. We stayed in Wahweap basin the third day, which was our least productive day. We failed to find shad in the brush in the areas we checked in Wahweap basin. However, there were fair numbers of small bass in those places anyway (just little or no shad), and we both dumped what felt like they could have been decent bass that day, so it was still fun.
Since he has his own hard bait product line, we decided to fish solely Sebile hard baits for the duration. I decided to rule out deep water fishing for this trip. With the limited time we had to put Patrick's hard bait product line through the paces, I elected to forego deeper water and instead concentrated on the backs of creeks for most of our three days together. This is because the shallower depths in the backs of the creeks enabled us have fun with a wider range of Patrick's product line which includes hard plastic topwaters, jerkbaits, minnows, stickbaits, crankbaits, lipless cranks and double-jointed swimbaits.
We did not get anything too big, but there was certainly enough action to keep us on our toes for the entire three day trip, particularly the first two days.
Several sizes and depths of Sebile's Flatt Shad lipless crankbait proved best for the duration:
At first we fished the Flatt Shads on normal retrieves, which proved productive. A few times, however, reeling in quickly at the end of the cast, we observed some followers and flashers reacting to the quick pace. So we began to burn the Flatt Shads by reeling rapidly, and fish began to react and chase instinctively. We further modified our approach to whipping the Flatt Shads by sweeping the rod tip quickly up from water level to say 11 o'clock, pausing slightly at the top of the sweep, and then reeling in the slack on the downstroke as we lowered the rods to whip again. The whipping tactic gave us the fast lure movement on the upstroke that caused the instinctive chasing - plus a falling hesitation each time we reeled down to match the sinking Flatt Shad's fall on the downstroke. This whipping tactic proved most productive of all.
Other Sebile hard baits that landed plenty of stripers, largemouth and smallmouth for us were:
Koolie Minnow and Acast Minnow in several lengths and lip sizes, worked with jerk-and-pause retrieves as well as trolling long lip models in 25-35 feet of water

Slim Stick topwater walking baits in 98 and 118 sizes

Stick Shadd 72 SK, 90 SK and 90 FT hard plastic stickbaits in floating and sinking models

Double-jointed Magic Swimmer 95 SSK, 125 SSK and 110 FSK models

Crankster 65 MR medium-running fat-bodied crankbait

Rattsler flat-sided crankbaits

Proppler Buzz buzzbaits in the very thickest of heavy brush
It was strictly a Sebile hard bait outing for us as we elected not to try other brands or styles of baits.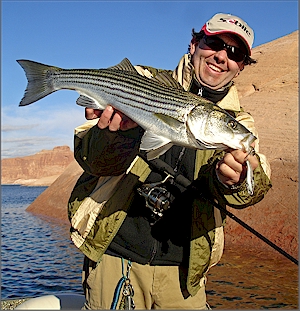 Fish caught on Flatt Shad 66 XH (extra heavy) lipless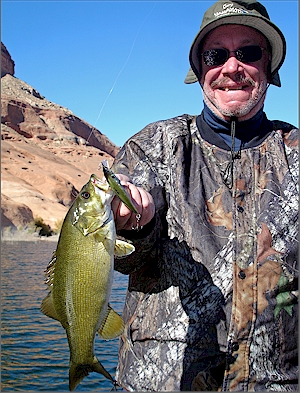 Caught on Koolie Minnow 90 SL (short lip) suspending jerkbait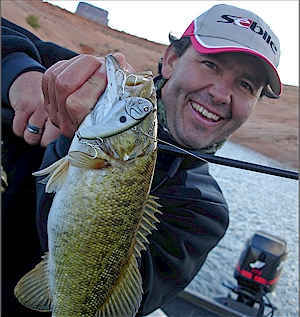 Caught on Flatt Shad 66 XH (extra heavy sinking) lipless. Holo Greenie color matched shad color.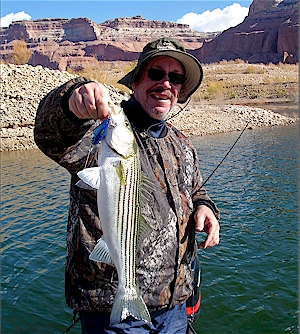 Caught on Flatt Shad 66 SK (sinking).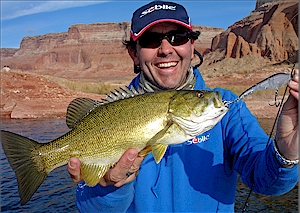 Landed on Magic Swimmer 110 FSK (fast sinking).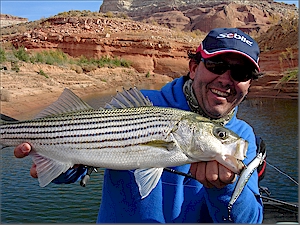 Caught on Slim Stick 118 topwater walking stickbait.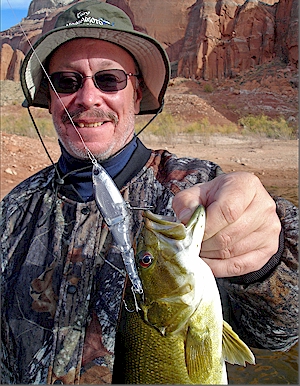 Another caught on triple-jointed Magic Swimmer 110 FSK (fast sinking).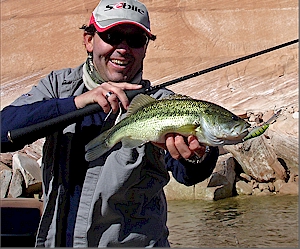 Beauty bested by Rattsler 85 VLL (very long lip) flat-sided crank.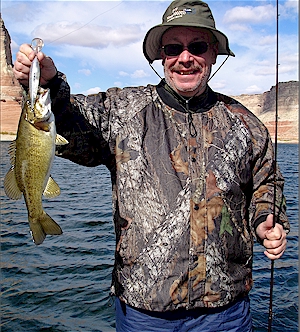 Caught trolling 35 feet deep with Koolie Minnow 118 LL (long lip).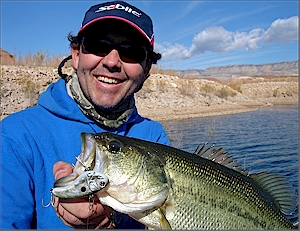 Flatt Shads in 54 SK, 66 SK, 66 XH (shown here) and 77 SU with a whipping retrieve were the best producers this trip.