Big Bass Kingdom at Quail Creek, Utah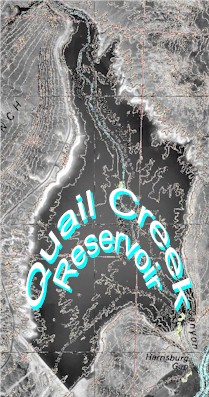 Greetings. It is Russ Bassdozer here. I hope you will enjoy my sharing with you some bass photos that my partner Jamie Cyphers and I recently caught in mid-October up to 8 lbs 7 oz at Quail Creek Reservoir, Utah. Photos may take a few moments to download.
Big bass fishing was off the hook there then. In fact, it usually is. There's hardly a time I have been here when a five pound plus did not come to the boat. A trip a few days before these photos, without a cameraman, we had a 5.3, a 5.2, a 4.7 and a 4.5 in the boat along with numerous 2 to 4 pounders - about 8 bass each. A few days after these photos, Jamie had a 6.36 and we had others in the 4 to 5 lb range and below. These may not be as impressive in certain other states, but they are large for Utah.
The better bass were consistently on brushy underwater points or ledge edges extending into 15-35 feet of water. Smaller fish were shallower or shoreline-oriented in the same areas. There's really no one section of the lake that produces better. It's all productive. All bass during these trips were caught with:
Yamamoto Senkos (colors 913, 918) rigged on Mojo Rockhopper rigs

The recently innovated Hawaii rig using Mojo Pineapple sinkers with Yamamoto Hula grubs (colors 204, 323).

All Rockhopper rigs and Hawaii rigs were smeared heavily in MegaStrike fish attractant gel, not just the soft baits but the sinkers, leader lines and other rig components were smeared in MegaStrike.
These three products, Yamamoto soft baits, Mojo sinkers, MegaStrike gel are best of breed in their respective product category. They excel singularly used by themselves but become three times as effective for me when used together.
A bit more about Quail Creek, located between Hurricane and St. George, Utah, is (as I have been told) that the Utah state catch/release largemouth record came out of Quail and the Utah state crappie record was landed there this summer, plus it is a world-known rainbow trout fishery. It's a small, deep reservoir, usually calm quiet water and the background scenery is breathtakingly beautiful. The largemouth in there were originally stocked from Lake Powell. There are relatively few bass caught over 2-3 pounds in Lake Powell. Obviously they grow bigger in Quail than they do in Powell. In fact, you could say Quail Creek is the big bass kingdom of this region. Click here to view a map of Quail Creek.
A bit more about my partner Jamie Cyphers, it is fair to say he ranks as one of the top fifty pros within the Western states of Nevada, New Mexico, Utah, Arizona. A dutiful and devoted dad and husband for his wife and son, Jamie doesn't always get to practice for or participate in every regional pro event. Yet he's reliable to for a top fifty finish in any pro event (with an approx. 125-175 boat field).
Thank you kindly for letting me share our photos with you.
Your friend,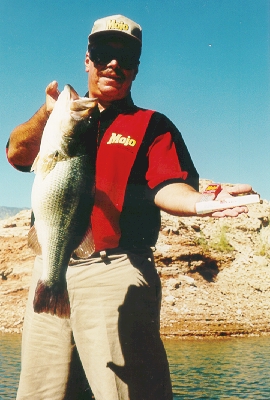 ---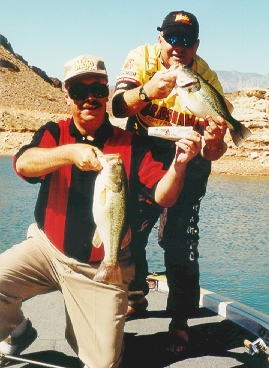 ---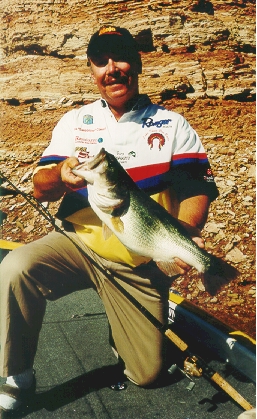 ---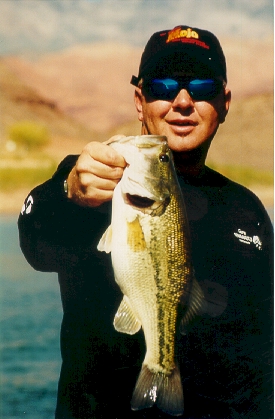 ---