Part 10: Keys to Your Lure Fishing Success
Product Reviews: Treble Hooks
By Russ Bassdozer
---
Mustad Triple Grip

The turned-in points are designed to hold fish more securely. Bass anglers today benefit from advancements in hook design, material and technology across many brands, including Mustad. Click here to read more about Mustad's history, plus great articles on Hook History and Hook Anatomy from Mustad's web site. 2 Extra Short Shank, Special Wide Bend. Model 36243N. Size: 2, 4
---
Mustad All Around Treble

Sure, many hooks today are specialized (and expensive), but this is an all around universal treble hook ... at a universal low price. Can be used on all freshwater bass lures requiring standard bronze trebles...crankbaits, jerkbaits, topwaters, spoons. Durable hook points. Model 3551. Ringed. Bronze. Size: 6, 4, 2, 1, 1/0
---
Eagle Claw Treble

2X Strong. Forged for strength. Very economical upgrade to standard hooks whenever increased hook strength is necessary. Model. 374A. Regular Shank. 2X Strong. Micro-Ground Curved Point. Size: 6, 4, 2, 1, 1/0
---
Gamakatsu Hooks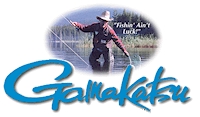 More anglers prefer Gamakatsu more often. Why? Gamakatsu's High Carbon materials and its stable electronic tempering process result in high quality, strong hooks with points that do not weaken even after repeated sharpening. Experienced anglers notice these differences. Gamakatsu can result in higher angler satisfaction with more fish hooked and landed!
---
Gamakatsu Treble Hook

More experienced bass fishermen prefer Gamakatsu more often as premium replacement hooks for their topwaters, jerkbaits, and crankbaits. Bronze, Round Eye. Series 58. Size: 2, 4, 6
---
Owner Hooks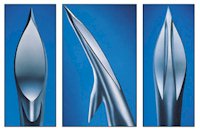 Today's bass hooks are all sharp - they all stick - but Owner's CUTTING POINT hooks are the only ones with a triple-edge blade designed to PENETRATE after they stick by slicing through bony, gristly mouth areas. Owner Cutting Points are the only ones designed to never need further sharpening by the angler. Click here to read more About Cutting Point Hooks. A Black Chrome finish is corrosion resistant in fresh, brackish and salt water. The finish is durable, dark, dull-colored and more natural than a shiny hook.
---
Owner Tournament Treble

Three individually processed hooks are merged to form an awesome treble that is perfectly sharpened and tempered. The flattened hook eye makes for easy replacement on topwaters, jerkbaits, and crankbaits. Black Chrome, Cutting Point, Round Bend, Short Shank, Flat Eye.Model 5X21. Series 59. Size: 2, 4, 6
---
Owner Feather Trailer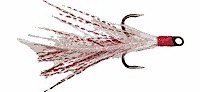 Soft, long saddle hackles and strands of reflective mylar flash make a deadly replacement hook for the back of topwaters , crankbaits and jigging spoons. The underlying Owner ST-36 hook is light but plenty strong. This lightness neutralizes the increased water drag that the feathers, thereby preserving the original action of your bait as closely as possible. Make no mistake, sweetening the tail of your hard baits and spoons with long saddle hackles will often catch more bass. Click here to read more about it in Topwater Talk and in DooDads. Black chrome. Super Needle Points, Round Bend. Model 5165 (ST-36). Series 59. Size: 2, 4, 6
---
Storm Flash Tail Trebles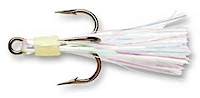 Use a scissors to shape the tip of the flashtail into a point like an artist's paintbrush. It's best for when you want a subtler tail than feathers can provide. Sometimes the bass want this, such as on clear-bodied topwaters or crankbaits in clear water. Some baits become imbalanced with long feathers, but remain stable with the Flash Tail! Add it to crankbaits, topwaters and spoons for more bass. Size: 4, 5, 6