---
Yamamoto Custom Baits

We sell the world's finest salt impregnated soft plastics by Gary Yamamoto Custom Baits. Click here to learn all about them.
Yamamoto Single Tail Grubs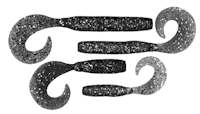 Standard sizes are 4" for more small bass, 5" for slightly fewer but better than average bass, and the 6" size for focusing on the bigger bass! Most common uses are on open hook jigs or fiberguard jig heads, or Split Shot the smaller models and Texas peg the bigger ones. Articles: Get the Lowdown on Designer Grubs, learn how they're used on their home waters of Lake Powell, plus How to Buzz a Grub by Jerry Puckett.
Yamamoto Big Grubs

Want to catch some four to eight pounders? Their mouths are much bigger than yours, so use BIG worms like the 8" and 10" series. Use the Florida Rig weight that has a thin Teflon tube for the line to slide, and a wire corkscrew to hold the weight and bait together. You rig a big, strong extra wide gap hook into the worm about 2" down from the weight. This gives you room to set the hook even if a big bass has clamped down tightly on the weight itself. The 6" Mini series is the same great bait for more small to medium-sized bass. Articles: How to Swim a Big Grub by Tom Reynolds, Delay-Set Magic by Jerry Puckett and Catch the Magic!
Yamamoto Worms

It's the most productive lure. Practically every time you go fishing you'll hear someone else telling you about yet another lure that is the world's best lure to use. But day in and day out, a worm is the best. Always has been. Probably always will be too. Articles: Worm Basics. Video: Fishing In Heavy Brush - Tex-Pose Your Cuttail Worm. Sizes: 4", 6", 8" plus 4" Cut Tail
Yamamoto Senko

The word "Senko" must mean something in Japanese. My own personal translation for it is "Hot, Hot, Hot!" You won't find that definition in an English-Japanese dictionary, but many anglers who try the new Senko find this to be its true meaning. To define it further, the Senko is a soft subsurface jerkbait. Because of its dense plastic formula, it sinks fast, stays down and therefore resembles hard plastic jerkbaits (Rogues, Husky Jerks, etc.) more than other soft surface-oriented stickbaits (Flukes, Slug-gos, etc.). Articles: Senko Soft Stickbait, Lendell Martin's First Impressions, and Wacky Worming by Pat Xiques. Videos: Wacky Rig Draws Bedding Bass plus Senko Peg Rigging Method and Fish In Cover Rarely Spit Out A Senko. Sizes: 4" Baby Senko, 5", 6", 7"
Yamamoto Ika & Big Ika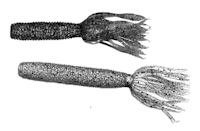 Many bait makers are coming out with new tubes this year, and Gary's no exception! But the Ika's different. Why? Most manufacturers are coming out with look-alike clones of the generic tubebait. You know, the same hollow body cavities with machine-cut tentacle tails. Gary's Ika is different. First, it's not hollow! It's a solid, salt-impregnated body cavity. Second, the tentacles are individually injection molded rather than machine-cut. The injection molding process has inherently higher production quality controls than your typical machine-cutting process (some of which don't cut all that neatly). This results in the Ika tails being better-formed and of more uniform quality than many others. Third, the Ika narrows a bit at the waist and then flares a bit at the hips. This artistic flair is that final touch of perfection which sets Gary's Ika apart from the rest! Article: Eureka! It's Ika! Video: Texas Rigging Your Ika for Heavy Brush. Sizes: 3" Ika, 5" Big Ika
Yamamoto Tube Baits

These are soft and supple, salted (not impregnated). The tentacle tails are well-split. This is sometimes a problem with some manufacturer's tentacles, which may not be so neatly split at times. Not so with Yamamoto! Use pliers to squeeze the lead collar off a Yamamoto Round Head, which makes the jig head perfectly center-balanced. Superglue the tube on, and watch the wavering action that draws bass. Articles: Go Totally Tubular. Sizes: 3 1/2" and 4 1/2"
Yamamoto Craw & Baby Craw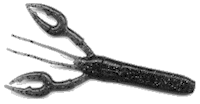 Both sizes make outstanding jig trailers that can be pinched down shorter if desired. The body is fat, wide, and almost cylindrical from end to end, like the body on a fat twister tail grub - except with claws. The claws are only slightly exaggerated and stay tucked in close, just the right posture for a backward-scooting craw effect on your silicone-skirted jigs! Article: Craw Facts. Sizes: 3 3/4" Baby Craw, 5" Craw
Yamamoto Lizard & Baby Lizard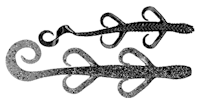 There is a strong instinct in largemouths to control an area. Many times bass attack your lures due to this territorial instinct. This territorial instinct is always strong, but particularly in pre-spawn, when bass will patrol and kill anything intruding onto the nursery grounds. Beyond spring, the instinct to nourish itself and replenish it's energy comes into play, particularly so in autumn when the speculation is that fish build up fat reserves to help themselves make it through the winter. Give 'em what they hate this spring and what they crave this fall - the 4" Baby Lizard and 7" Lizard
Yamamoto Double Tail Hula Grubs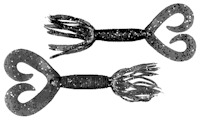 Sometimes I dangle one in front of my non-fishing friends and ask, "Quick! What does this look like to you?" A few have said it looks like a frog to them. One said it's a darning needle (dragonfly). A few teenage girls came to a group decision that it was a mosquito! Guess the hook looked like a big stinger. The bass may not be any more sure than some of my non-fishing friends as to exactly what is being dangled in front of them. It may look like something the bass would like to chow down on, or it may look like something threatening or intruding into the fish's space. Heck, what would you do if a 4", 5", or 6" mosquito was buzzing around in your living room? You would probably jump up and belt it with no hesitation, right? So would a big bass. They are one of the top aggressors in their watery worlds. Articles: The Horror of Spider Grubs and Spiders or Twisters.
Yamamoto Single Tail Hula Grubs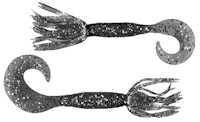 The single tail Hula grub is equally as effective as its double-tailed counterparts. The single tail Hula is often used by those who swim jigs above bottom to imitate preyfish (as opposed to crawling a double tail Hula to simulate a crawfish). Video: Hula Grub Makes Fish Dance Towards Your Bait Sizes: 4", 5"
Yamamoto Double Tail Grubs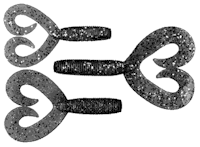 Some anglers today continue a long bassing tradition of using pork frog chunks with their jigs. I don't. Some non-traditionalists hold off on the pig chunks but substitute with copycat plastic chunks that imitate pork in every way. I don't. I fish my big bass jigs with twin tail grub trailers instead of pork or plastic chunks. I've tried many different double tails, but the best I know are the 4", 5", 6" and 7" sizes from Yamamoto. They also make great spinnerbait and buzzbait trailers. Articles: No Pork Trailer by Larry Hemphill, Jig No Pig and Trailer Hitch.