Product Reviews: Soft Sticks
By Russ Bassdozer
Yamamoto Senko

The word "Senko" must mean something in Japanese. My own personal translation for it is "Hot, Hot, Hot!" You won't find that definition in an English-Japanese dictionary, but many anglers who try the new Senko find this to be its true meaning. To define it further, the Senko is a soft subsurface jerkbait. Because of its dense plastic formula, it sinks fast, stays down and therefore resembles hard plastic jerkbaits (Rogues, Husky Jerks, etc.) more than other soft surface-oriented stickbaits (Flukes, Slug-gos, etc.). Articles: Senko Soft Stickbait, Lendell Martin's First Impressions, and Wacky Worming by Pat Xiques. Size: (3", 4", 5", 6", 7")
---
Bass Assassin Shad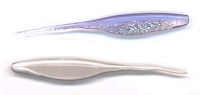 The Bass Assassin was the first shad-shaped soft jerkbait - and still one of the very best. Since then, there have been many imitations but few equals. It's five inches long, the ideal shad size and shape. Key to catching is when the bait falls on a semi-slack line - it should wobble slightly and make small body movements. Click here to learn more about Soft Jerkbaits. Size: 5"
---
Gambler Worms 5" Stud

Gambler Worms are clear favorites in Florida and the Deep South where tournaments are routinely won using them. Size: (5" Stud).
---
Gambler Worms Flapp'n Shad

Gambler Worms are clear favorites in Florida and the Deep South where tournaments are routinely won using them. Sizes: (Flapp'n Shad. 4", 6")