Product Reviews: Topwater Lures
Arbogast Jitterbug
Jitterbug. 3". 5/8 oz.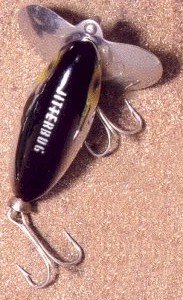 Everyone loves to Jitterbug! The Arbogast Jitterbug has been around for over fifty years, and it is still going strong. Ask any night time bass angler if they carry a Jitterbug, and chances are you will hear that they do. Ask them what color they use, and you will no doubt hear that it is black. Yes indeed! Black Jitterbugs produce plenty of night bass. A Jitterbug is so easy to use, and fun too. In short, it is a winner - for night expert or beginner!
Basic Anatomy. It is an oddball kind of lure because of the oversized metal wobbleplate screwed into its nose. Only the Heddon Crazy Crawler, another surface wobbler, exceeds the Jitterbug in the odd appearance category. However, the Crazy Crawler never developed the fish-catching reputation of the Jitterbug. The big Musky Jitterbug was the oddest and fiercest looking of all. It was festooned with treble hooks coming out its ears! Unfortunately, this legendary big bass lure is not available from the manufacturer right now.
What could be simpler? Just reel in straight and steady in order to get the best fish-enticing action out of a Jitterbug. If you are a beginning night fisherman, it's hard to go wrong here as long as you don't go too fast or too slow - and don't try to get too fancy.
That's all you need to know. There isn't much more to it. Really. Now go out and give those night bass the jitters!
Gary Yamamoto Custom Baits Sugoi Splash Popper
Sugoi Splash.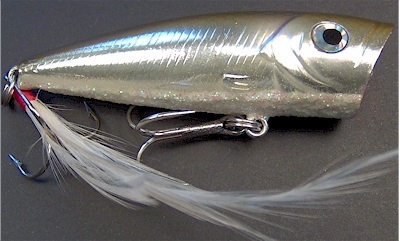 Sugoi means "perfect" which describes its quality construction. Owner trebles - needle thin and hypodermic sharp. Fish easily hook themselves. Soft feather hackles on tail. Balance & action come from two BBs: one near tail, one cross-wise behind head hook. When tied direct, rod held up with line held out of water makes a fast slashy, spitty action. Tie a loop knot, hold the rod down, allow the line to lay on or in the water makes plenty of fast blooping action. Click here for Jerry Puckett tells you how to Spit the Splash.
Heddon Super Spook and Super Spook Jr. Topwalkers
Super Spook. 5". 7/8 oz. Super Spook Jr. 3 1/2". 1/2 oz.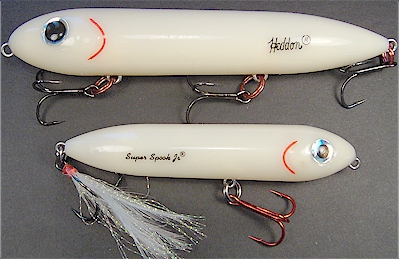 The Original Zara Spook is the most famous walk-the-dog style of surface lure. The first version of this lure originated around 1920. One of the longest-lasting lures in production, it is still one of the most exciting and popular bass lures today!. It has a built-in "walk the dog" action that must be manipulated by the angler. Done properly, this creates a spitting, side-to-side slashing commotion that irresistibly draws fish to it! The Spook is deadliest in open water over 6 to 12 foot depths wherever fish are spread across small, scattered pieces of bottom cover. Just cast far and wide, thereby covering lots of water and attracting lots of fish to all the commotion topside. Watch mad bass skyrocket to the top to smash it! Kinda Spooky, isn't it? Yeah, buddy.
HighRoller 3-1/4" HighRoller Pencil Popper
HighRoller. 3-1/4". Approx. 3/8 oz. Stainless steel hardware. VMC "X" Strong saltwater ready hooks.

These are the topwater lures you will see Roland Martin using on his TV show. Used with a walk-the-dog action, the HighRoller has a natural fleeing baitfish splash and sounds are deadly. Aerodynamic shape makes it a long-distance casting champ in a compact lure size. For best lure action, a loop knot, split ring or snap is best.
If you enjoy the thrill of explosive topwater strikes (and who doesn't), then treat yourself to a HighRoller lure. Each HighRoller lure is crafted from solid wood. Painted individually by hand for a custom lacquer paint job. All have yellow and black painted eyes. Gel-coated for durability using a brilliant 2 part epoxy coating, and have fine june-bug metal flake glitter in the gel coat. Deep rich colors, durability and tantalizing action. These solid wood lures are deadly on bass, stripers and many other species of surface-feeding freshwater or inshore saltwater gamefish.
Wood has a lively topwater action unmatched by hard plastic lures. Using a fine wooden topwater lure provides a special feeling unlike plastic lures.
HighRoller 4-1/4" HighRoller Pencil Popper
HighRoller. 4-1/4". Approx. 6/10 oz. Stainless steel hardware. VMC "X" Strong saltwater ready hooks.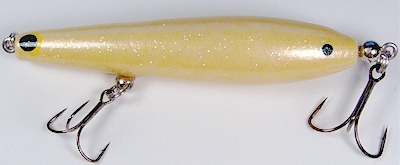 Used with a walk-the-dog action, the HighRoller has a natural fleeing baitfish splash and sounds are deadly. Aerodynamic shape makes it a long-distance casting champ in a compact lure size. For best lure action, a loop knot, split ring or snap is best.
HighRoller PopRoller Popper
PopRoller. 2-3-/4". Approx. 3/8 oz. Stainless steel hardware. VMC "X" Strong saltwater ready hooks.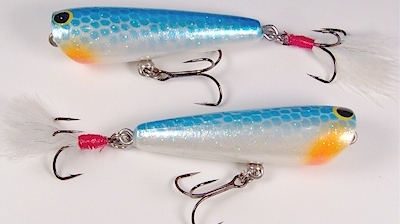 The PopRoller is a lively, high-floating solid wood popper. It has a dancing, skating action. It sits high on the water, and is remindful of a water bug sitting on the surface. Ideal for quieter, calmer fishing conditions. For best lure action, a loop knot, split ring or snap is best. An important tip is that although the PopRoller comes with a natural bucktail rear hook, the bucktail causes some drag that dampens the action of the wood. By removing the bucktail dressing, I have found the PopRoller wood body has a more life-like side-to-side movement without the drag of the bucktail on back.
HighRoller ChugRoller Popper
ChugRoller. 3". Approx. 1/2 oz. Solid wood. Stainless steel hardware. VMC "X" Strong saltwater ready hooks.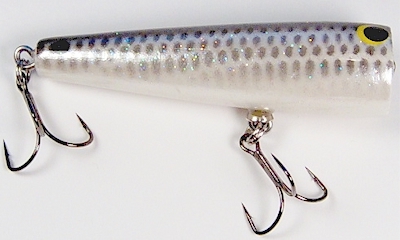 The ChugRoller is a noisier popper for those days when there is some surface chop. It casts well even in a moderate breeze and throws off an attention-getting splash. For best lure action, a loop knot, split ring or snap is best.
HighRoller RipRoller Propbait
RipRoller. 3-1/4". Approx. 4/10 oz. Solid wood. Stainless steel hardware. VMC "X" Strong saltwater ready hooks.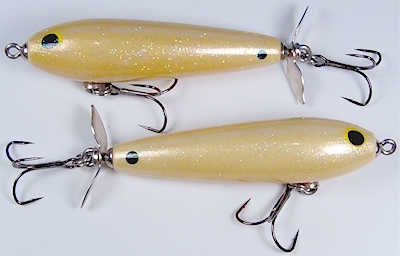 Characterized by its aggressive propeller, the RipRoller is ideal for fishing the edges of weed lines, edges of reed beds, next to brush, laydowns and stump fields. The prop calls fish out of cover. Just rip it to churn the flashing prop, then let it sit, which is when you get the hit.
Lobina Lures Rico and Rio Rico Poppers
Rico. 2-3/8". 1/4 oz.. Rio Rico. 2-7/8". 7/16 oz.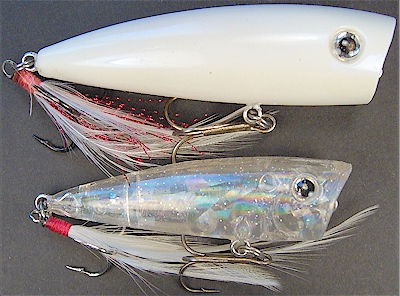 The Rico is a premium priced popper. it has one of the better popper actions you are likely to find on the market.
Lucky Craft Topwaters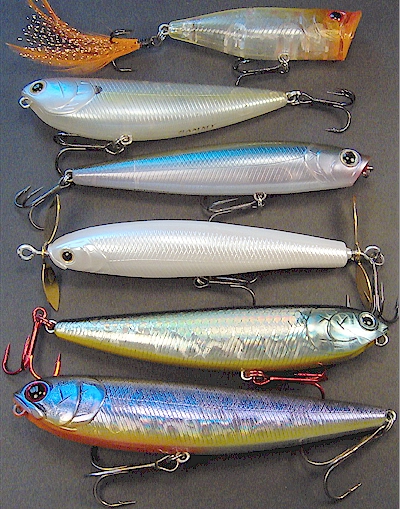 Lucky Craft offers no less than 12 topwater lures to North American anglers.

I've written an exhaustive twenty page product review on Lucky Craft lures including topwaters, jerkbaits, lipped crankbaits and lipless rattlebaits. Click here to read My Lucky-est Choices.
Norman Lures Pro Pop Popper
Pro Pop. 2-1/2". 3/8 oz. Factory-installed Gamakatsu hooks and flash tail.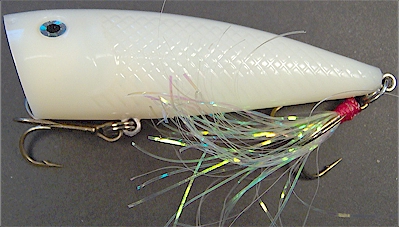 You've probably never heard of this popper despite its secret cult-like following. Few people who use it will openly speak about it. Usually, the only way to find out that someone else uses it is to fish within earshot and hear the unique and loud noise that only this lure produces. Originally, it was sold by another company, which was when a number of anglers took notice of the special nature of this popper. It went off the market, then resurfaced at Norman years later. It's so special due to the single ball inside that produces a heavy rolling, knocking sound that resonates in the internal chamber. It's loud. It has resonance. It knocks. There are few other poppers I've heard that sound like the Norman Pro Pop. The bone color is the place to be with this lure. I have no doubt the flash tail is a powerful strike enticement that few other lures possess.
SPRO ChugMinnow 35 Topwalker
ChugMinnow 35. 3-1/2". 3/8 oz. Gamakatsu EWG Trebles.

I tend to use this lure when conditions are too calm for my other more boisterous topwater lures. The action I can impart is more of a sliding, skating movement rather than a big disturbance. When used this way, it leaves more of a vee line like a baitfish leaves cruising the surface. Many fish fall for this more subtle lure. It has a more natural, more ordinary everyday movement. I see more baitfish zipping across the surface leaving a vee wake. I see relatively few baitfish spitting, splashing, popping and wildly gyrating across the surface. Of course, the SPRO Chug Minnow can be used with a more aggressive splashy action too.
Storm Rattlin' Chug Bug Popper
Rattlin' Chug Bug. 3 1/2". 3/8 oz.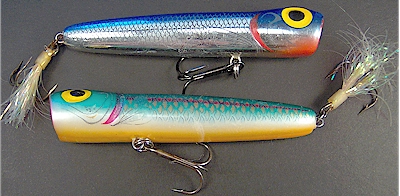 An important point for confidence is the iridescent flash tail that comes on the Chug Bug. On retrieve, the surface commotion would easily obscure the main body of the Chug Bug. You could really only ever see two parts of the Chug Bug:
The bright red mouth, which faces right at you. You really cannot rely on seeing the back or body, so use the bright red mouth like it is one of those red laser beam pointers to target all your attention to track and control the action of the Chug Bug.
The iridescent flash tail, which is creamy pale blue-green translucence and clearly visible flashing behind the Bug. Even though its hard body is obscured in the surface commotion, you can always see the sparkling tail.
A feather tail is also quite common to enhance topwater attractiveness, but would not be useful anywhere you may be constantly pulling hydrilla or other vegetation off the trebles. The feather would be plucked off in a few pulls. However the Storm Flash Tail stays put when yanking weeds off the hooks, and I do feel the iridescent alluring come-hither is a most significant attraction to bass, or at least to my confidence.
Out of the package, I noticed two different factory-installed hook configurations on my Bugs. One Bug had one size smaller hooks than the other Bug. The bigger hook set caused that Bug's tail to sit lower in the water, and was the Bug I used in wind-driven choppy conditions. The other Bug with the size smaller set of hooks sat more horizontal and skated zigzaggedly across the surface better than it dug under and chugged, so I used this Bug during the windless calm periods of the trip. Did the different size hook sets really matter? Who knows. I had confidence and felt I'd have good luck by making that different usage between the two different hook configurations.
Thornwood Lures Twin Prop-Bait
Twin Prop-Bait. 4-1/4". Approx. 6/10 oz.

Yellow Magic Lures Yellow Magic Popper
Original Yellow Magic. 2-3/4". 1/4 oz. Yellow Magic Magnum. 3". 1/2 oz.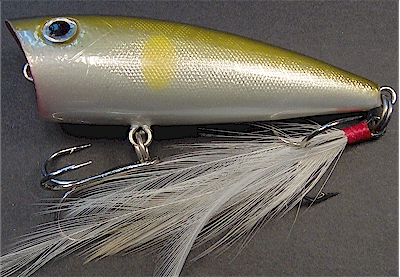 These are small, very active poppers. Work it fast when the bass are aggressive, especially at sunrise/sunset. Rod up with line held out of water makes a fast slashy, spitty action. Rod held low to the side keeping the line in the makes plenty of muddling, blooping action on a slow, tantalizing retrieve. Can single-step "walk" it after a pop or rod jerk. Use light action rod, 10 lb. test. Fish will easily hook themselves on the original hooks - needle thin and hypodermic sharp. These baits come from overseas, and have not always bee easy to find in the United States, but they are well worth the trouble to get a few. The color show, Wakasagi, is by far my favorite and the Yellow Magic color I use ninety percent of the time.
Yellow Magic Lures Yellow Magic Magnum Popper
Yellow Magic Magnum. 3". 1/2 oz.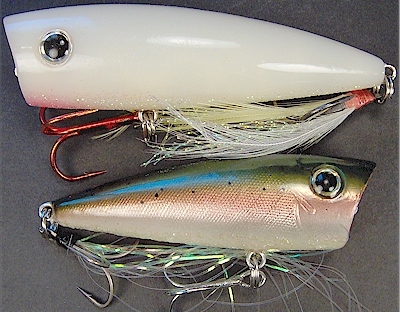 There is also a relatively newer, larger version called the Yellow Magic Magnum popper (top in photo). This is a trend in bass fishing today towards larger poppers, and they do tend to result in larger bass.
Zenith Z-Claw Topwalker
Z-Claw. 4". 3/4 oz.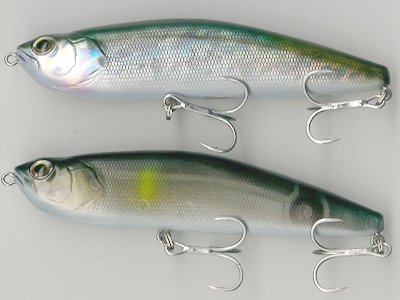 The Z-Claw is designed and manufactured by Zenith Lures in Japan. It is currently being introduced in the USA by Specialty Tackle - but still rare to find and relatively expensive.
The Zenith Z-Claw works best with a walk-the-dog topwater action. It is a heavy weight for its size, solidly-constructed and sports heavy hooks to land big fish.
Where it distinguishes itself from other topwater lures is the Z-Claw is a slower more subtle, more loping and sneaking type of slide action than some of its counterparts.
Even more unique is the Z-Claw can very easily also be made to walk-the-dog barely under the surface, That is something few of its topwater counterparts easily do. If you're an avid topwater angler, you'll want to take a look at this interesting subsurface trickster.

Other Lure Types Used on Top:
Buzzbaits. Churn and plow the surface as the prop squeaks and squeals, leaving a bubbly wake that bass can track.

Hollow rubber frogs. Designed to somewhat look like frogs with a snagless body of a grass mat frog to slide across the top of snags and grass mats without fouling.

Floating worms. Special buoyant soft plastic worms that float on the surface even with a hook in them.

Floating minnows. These look just like jerkbaits but are different in that they are designed for anglers to use in topwater presentations. The Rapala Original Floater, Bagley Bang-O-Lure and Cotton Cordell Red Fin are some examples.

Wakebaits. These are just starting to get publicity and appear on the market. They are super shallow runner versions of crankbaits which have shortened lips and bulbous bodies so they leave a wake on the surface.

Other soft plastics. The Gary Yamamoto Senko Lite, Zoom Fluke, Bass Assassin, Lunker City Slug-go and Gambler Flappin' Shad are some examples that are designed for or that anglers use in surface-oriented applications. Relatively recently, the Zoom Horny Toad and others like it.

Spinnerbaits. waking and bulging on the surface

Spoons. The Johnson Silver Minnow so it gurgles and sashays without popping through the surface.