Product Reviews: Jig 'n Pig
By Russ Bassdozer
Strike King Bitsy Bug Mini Jig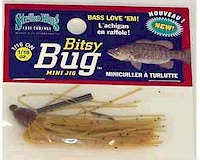 This is one of the best light tackle casting jigs on the market...and the price is low! It's good for spooky fish in clear water on the lightest line (4-8 lb. test) - on up to 12 lb. test spinning in cover. It's a small profile jig...even the silicone strands are thinner and lighter than normal. Both the skirt and the fiberguard are pre-trimmed and ready to go right out of the package! Just add a trailer. When it comes to smallmouth, Denny Brauer says that "My personal favorite smallmouth baits are first, the Strike King Bitsy Bug Jig with a Strike King Bo-Hawg Baby Frog behind it. Second, the Strike King Kevin van Dam KVD Tube." You can also use our Yamamoto Baby Craw as a trailer. Sizes: 1/16, 3/16, 1/4 oz.
Strike King Denny Brauer Pro-Model Jig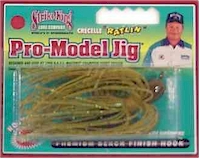 The Pro Model Jig with double rattles is the only jig that Denny Brauer claims to ever fish. As for size, it's 1/4 oz. in very shallow or very clear water, 3/8 and 1/2 oz. for Denny in most situations, and the 1 oz. gets the nod for plunging through thick matted grass beds. As for trimming the fiberguard, Denny says you have to trim it down to where you can easily hook the fish but still stay weedless and snagless. He trims just outside the hook point so the end of the weed guard is parallel with the point of the hook. Denny has stated that he relies on these jig colors in this order of favoritism: black/blue, Texas craw, electric blue, green pumpkin, chameleon craw, black/chartreuse, black/red, white shad. Sizes: Ratlin': 1/4, 3/8, 1/2, 1 oz.
Strike King Bo-Hawg Frog Sr.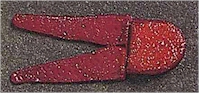 Denny Brauer states that he prefers pork over plastic trailers. Denny states that he matches the pork colors closely to the colors of the jigs. In clear water he feel like this becomes increasingly important...that matching your jig and trailer color to each other and to the native crawfish really gets you a lot more bites. He uses the black/blue trailer on the black/blue jig, and the all black trailer on the very popular Strike King Texas Craw color jig. Denny always puts the pork skin up and the fat side down.On other colors, he look for matches that make the least degree of contrast between the color of the trailer and the jig. Size: 3 1/2" x 1 1/8"
Strike King Bo-Hawg Frog Jr.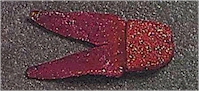 The Junior is the trailer that Denny Brauer uses most of the time over the course of an entire season. The Senior is particularly for a slower fall such as in cold water. He say he may only rarely use a plastic craw trailer instead of pork during those times when the jig bite is "off" and he's catching far better on a spinnerbait or another lure such as a flippin' tube bait. It's not that the plastic craw has any better appeal than pork, just that the plastic trailer won't dry out like pork will while his trusty jig rod is racked but ready. At such times, try our Yamamoto Craw as a jig trailer. Size: 2 3/4" x 1
Strike King Bo-Hawg Baby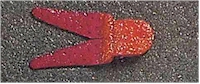 This is the perfect playmate for small profile jigs such as the Strike King Bitsy Bug. Match the color of the pork to the color of the jig. Alternative trailer choices for small jigs include our Yamamoto Baby Craw or our 4" Double Tail Grub, either of which can be pinched down shorter if desired. Size: 1 1/2" x 1/2"
Strike King Pigtail Trailer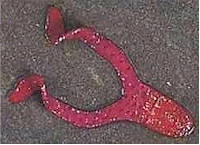 Particularly good for use in warm water, this model has double curly pigtails just like our Yamamoto Double Tail Grub which also makes a great jig trailer. Denny Brauer goes in for the increased action that the Pigtail provides to the jig in summertime. In summertime, Denny also prefers to use the heavier 1/2 oz. jig to get a faster fall which often attracts more bites than does a slow fall in hot water. Size: 3 1/4" x 9/16"
Yamamoto Gamakatsu Flippin' Head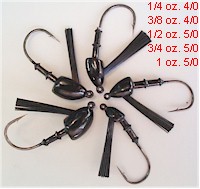 Gary's exclusive bend of heavy wire Gamakatsu hook with streamlined weedless head designed by Gary for getting the biggest bass out of the thickest wood and weed cover. Try bigger sizes of our Double Tail Hula Grubs in heavy cover with these heads - or slip on a traditional silicone skirt sweetened with a pork frog, plastic chunk, craw, or double tail grub trailer. Articles: How to Pitch and Catch and Jig No Pig. Model 67. Sizes: 1/4, 1/2, 5/8, 1 oz.
Yamamoto Gamakatsu Football Heads
Often used on rocky and hard-bottomed mid-depth water with our Yamamoto Hula Grubs. Heavy wire Gamakatsu hook designed by Gary with a special eye bend that prevents fish from dislodging the bulbous football head when they jump!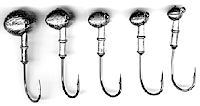 All sizes also available with a light yet strong wire Owner hook. Articles: Tight Line Sliding the One Oz. Jig plus One Ton 101 by Ted Morton. Video: One Ton Rigging Helps Anglers Land Hungry Bottom-Dwellers. Model 44G (heavy Gamakatsu hook) or Model 44 (light Owner hook). Sizes: 3/8, 1/2, 5/8, 3/4, 1 oz.
Yamamoto Round Head Jig
A premium all-purpose light weight jig head for all makes/models of soft plastic baits.

Bayonet style collar is a special Yamamoto design that holds fragile plastic bodies securely without sharp barbs to tear them up. Also perfect to insert inside our hollow KVD or Yamamoto tubes. Premium Owner hook is light but strong. Sizes: (42 Series. 1/16, 1/8, 3/16, 1/4 oz)
Bass Assassin Jig Head
Designed for use with soft plastic jerkbaits - our Assassins, Senkos, Studs, Flukes, Slug-gos, Fin-S-Fish, etc.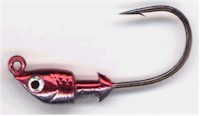 Lifelike features - profile, eyes, gills, scales - enhance the illusion of a baitfish. Heavy duty Mustad Needlepoint Wide Gap 3/0 hook. The head shape and weight distribution ensure that soft jerkbaits will produce lifelike action, convincing fish to bite this tender morsel. With the light 1/16 oz. jig, just reel in straight and let the lure develop a hesitant, gliding, lazy action. On the heavier 1/4 oz. head, flick the rod tip, inducing a darting, faltering dance, with frequent pauses. Expect to get hit when the lure pauses between jig strokes. Sizes: 1/16, 1/4 oz.
Bass Assassin Long Shank Jig Head
Owner Ultrahead Bullet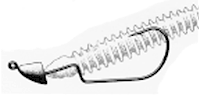 This one's all that in a slider style for Tex-posed and Texas rigging soft plastics to slide through light, medium or heavy grass cover and brush. Super-sharp, super-strong yet thin hook sets and holds even big fish on light tackle with smaller finesse baits like straight and ribbontail worms, reapers, baby lizards, baby craws, etc. Sizes: 1/8, 1/0 light wire hook, 90° offset shoulder bend, Super Needle Point, black matte finish.
Cotee Liv' Eye Action Jigs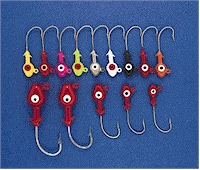 You may not have heard of Cotee Liv' Eye Action Jigs, but I've used them for decades! Ideal for swimming our Single Tail Grubs in open water and for keeping all kinds of soft plastics down near bottom in river currents or deep impoundments.
The weight distribution is engineered to fall in a wounded, spiraling motion. Injection molded and spray painted with an electrostatic process for the perfect finish and never a tie eye clogged with paint. Eyes are hand painted and recessed to prevent them from getting rubbed off. Twin retainer barbs are used to hold plastic tails. A long, saltwater strong Eagle Claw hook. Try contrasting colors - like a white head with a black or smoke tail or a yellow head with a pumpkin or watermelon bait. Sizes: 1/8, 1/4, 3/8, 1/2 oz.