SPRO Minnow 45 Jerkbait
SPRO Minnow 45. Body length: 4-1/2". Weight: 5/8 ounce. Gamakatsu EWG Trebles. Depth: 2-4 feet.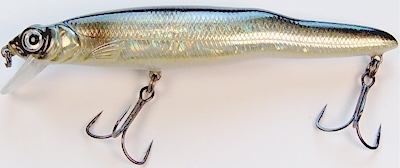 There are many great and legendary jerkbait brands on the market. As anglers, we are faced with an overwhelming choice of sizes and models, and manufacturers are constantly coming out with new jerkbaits. In fact, way too many to even think of trying them all. How's an angler to choose which jerkbaits work best? That's where independent product reviews and unsolicited testimonials like this one can help you. Trust me when I say, "Throw the SPRO Minnow."
The SPRO Minnow 45 is one jerkbait that always works for me. It is a rare gem among my favorite jerkbaits.
It is designed to be a relatively shallow swimmer, no more than 2-4 feet. At 4-1/2 inches and 5/8 ounce, it has an aerodynamic shape and it is heavy enough to cast easily and far, even in a stiff headwind. It has stout #2 trebles and can handle larger fish. Best of all, it darts and wiggles alternately left, right, left, right sharper and crisper than many other jerkbaits. This crisp darting action is a beautiful thing.
As if that was not enough, when you pause it (which is when you get bit), it has a built-in body-roll that the SPRO Minnow continues to make for a moment while it sit motionless even after you the angler have stopped it. It does this body-roll all by itself. That self-actuated body-roll just slays me - and it gets a lot of bass for me too.
That is why I say, "Throw the SPRO Minnow." Try it. I think you will agree it is one great jerkbait.