As we motored along Brazil's Rio Negro, the largest tributary of the mighty Amazon River, the keen eyes of our savvy Amazon Indian guide, somehow, detected a minute opening in the jungle foliage where none appeared to exist. Ajilson idled the 18-foot Nitro bass boat towards the dense rain forest and, after motoring through a narrow opening between two massive trees, we suddenly found ourselves swallowed up by the thick jungle foliage.

A tiny creek, barely wider than our boat, had been discovered by our guide, affectionately called "Popcorn" by American anglers since 1993. The creek snaked its way deep into the verdant green forest and we could detect by his excited demeanor that Popcorn was eager to venture ahead.

We probed deeper into the rain forest, an area that possibly only a few Indians had passed before us. My fishing partner Spence Petros and I began questioning the sanity of this angling expedition, as well our guide's sense of direction. Did Popcorn really have a clue as to where this never-ending labyrinth of branching creeks would lead?

Surely no one could possibly ever find us if we really were to get lost or break down. Would we fall victim to poison darts and arrows from a tribe of cannibalistic Indians whose secret burial grounds were desecrated by our presence? Our trepidations were further enhanced when a smiling Popcorn pulled the two-foot long sharply honed machete from its sheath that hung from his belt.

"Eat Spence first," I shouted to our guide, my voice quivering in a feigned frightened pitch, "he's got much more meat on his bones than me!" Fortunately we were not on the menu that morning, and Popcorn used the machete not to carve "filet of gringo," but rather to hack through dense overgrowth, rope-like vines and toppled trees, some as thick as 14 inches in diameter, that blocked our path on this small creek. After approximately an hour of motoring a boat through terrain where few American bass anglers would dare to travel, suddenly, Ajilson ceased his incessant hacking, wiped his machete clean and gently placed it back in its sheath. To our delight, the narrow creek had lead us to a large lagoon that must have been at least 25 acres in size and offered an average depth of four feet.

Popcorn gestured for us to pick up our rods and begin fishing. "Muito tucunare," he said. My Portuguese is decent enough to know that the guide was referring to the fact that the lagoon was loaded with tucunare (pronounced too-coo-na-ray), the Brazilian term for peacock bass, and they probably have never been tempted by an artificial lure before.

"Should have had a fish on that cast," Spence muttered to himself after accurately casting the big Wood Chopper surface plug within an inch of the main trunk of a thickly branched tree that lay toppled in the water. Although the fish failed to take his offering as he rapidly retrieved it by the fallen tree, it must have piqued its interest enough to entice him to follow the plug back to the boat.

Unfortunately, the world class angler and fishing magazine editor from Chicago wasn't aware that the fish was about to wreak havoc on his topwater lure. The resultant collision of fish and lure occurred just six feet from
the boat. The spectacular strike and subsequent drag peeling run occurred so rapidly that it was out of shear reflex that Spence kept his rod from snapping as it bent over the port-side of the boat as he tried to slow the large male down.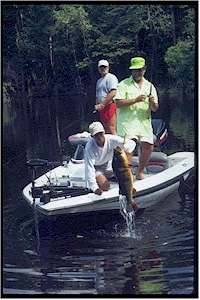 After a two minute battle, this three foot long package of emerald green fury was on the surface. But the tucunare grande (giant peacock bass) wanted no part of Popcorn's awaiting net however and he stripped off another 15 yards of drag until Spence could turn him once more. Finally, the played out fish was captured. The fish weighed 18 pounds on a certified scale. He was kept out of water a moment to snap a few photos and was released back into the tannin-stained lagoon no worse for wear.
Monstrous peacock bass are the rule rather than the exception on Brazil's Rio Negro. In fact, the world record fish (27 pounds) was landed within a mile from where Spence bagged his 18 pounder - a peacock tucunare, one of the three major subspecies residing in Brazil's Amazon Watershed.
One Tough Hombre. Although its basic shape demonstrates a close resemblance to the popular largemouth bass, the peacock bass is not actually a member of the bass family. It belongs to a family of fish known as cichlids, one that boasts numerous species worldwide and is well known to tropical fish enthusiasts. Like the largemouth bass, the peacock prefers to ambush unsuspecting prey from a stealthy vantage point and demonstrates a gluttonous appetite. The similarity ends there, however. The peacock bass is much more eye appealing than its North American counterpart, colorfully adorned in varying shades of green, blue, orange and gold. It is much more aggressive than the largemouth, often pursuing lures or fleeing prey the same size or larger than itself.
"The peacock bass routinely breaks lines, shatters rods and destroys tackle that would subdue the toughest largemouth bass," says Spence Petros, an inductee into the National Freshwater Fishing Hall of Fame. "The peacock bass is one special gamefish to have evolved and survived in a watershed that contains schools of hungry pirhanas, giant Amazon catfish the size of Volkswagens, 12-foot long pirarucu with armor-like scales, alligators and an assortment of other unsavory characters that possess fangs, teeth and stingers."
Rio Negro Lodge. The Rio Negro Lodge, the most comfortable sportfishing facility in the Amazon region of South America, opened its doors to anglers from throughout the world in October 1998. This spacious retreat, located below the jungle canopy on the shores of the Rio Negro, was created to provide anglers with the comforts and privacy they expected of a luxury resort. The 5,000 square foot air conditioned main lodge is centrally located and serves as the gathering place for dining and relaxing. Spread along winding walkways on either side of the main lodge are nine private cabins, each complete with air conditioning, Queen sized beds, private bathroom, garden tubs and stocked refrigerator.
The Rio Negro Lodge is the brainchild of Phil Marsteller, owner of the extremely popular Amazon Queen 85-foot houseboat that has hosted anglers since 1992. Marsteller, 43, a former military helicopter pilot and
international airplane broker, knows the Amazon Watershed like the back of his hand and specializes in providing anglers with hassle-free excursions for giant peacock bass.
The location for the Rio Negro Lodge was carefully selected in the heart of Brazil's finest peacock bass fishery and only a 20 minute boat ride from where one of Marsteller's clients, Gerald "Doc" Lawson set the all-tackle
world record. Ten pound fish barely raise an eyebrow; 15 pounders are commonplace and 20 pound monsters are landed with great regularity in this fertile fishery.
Our group met in Miami, where we boarded a Varig Brazilian Airlines 767 jumbo-jet at 9:00 p.m.. Our flight took us, nonstop, to Manaus, Brazil, a modern city with a population of two million, situated at the confluence of the Rio Negro and the mighty Amazon. We were greeted by Marsteller, an American now living in Manaus for nine months out of the year, and his staff and were taken for a one hour flight to the city of Barcelos. It is estimated that more tropical fish are brought to this small city from commercial fishermen for export internationally than any other location in the world. The Rio Negro lodge is located approximately 50 minutes upstream from Barcelos.
Following a brief orientation and a hearty breakfast, the group began its week long fishing adventure. There are a minimum of 20 employees (including guides) associated with the Rio Negro Lodge and all have one goal in mind - to offer visiting guest/anglers an excellent fishing vacation.

Prime Time for Tucunare. The prime time to fish for trophy tucunare on the Rio Negro north of Manaus is between the months of November and April. This coincides with the Brazilian dry season on the stretch of river north of the equator. In May, torrential rains swell the rivers, creeks and lagoons of the northern Amazon Watershed. The jungle is virtually inundated with thousands of acres of flooding. The tucunare can literally hide anywhere and an abundant food source is readily available for them in the jungle terrain. High water is the most difficult condition to fish for the tucunare. They are virtually inaccessible by boats and out of casting range of anglers when back up in the trees and vegetation of the flooded jungle.
In August or September, the rains begin to subside and the rivers, creeks and lagoons shrink each day from the receding water. This now positions the fish back into areas where they are accessible to anglers. By November, the levels are usually low enough to provide for prime fishing opportunities in the northern Amazon Watershed. Occasionally, however, the rainy season fails to abide by schedules and may add unexpected water to the system during midseason downpours.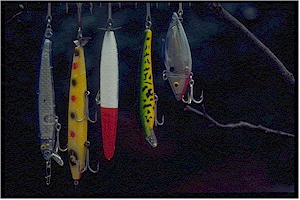 Tempting a Tucunare. By far, the most exciting aspect of peacock bass fishing is their propensity for annihilating large topwater plugs. The very best for trophy tucunare include three manufactured by Luhr-Jensen: the Big Game Woodchopper; Magnum Jerkin' Sam and new Amazon Ripper (Marsteller's personal favorite), as well as the Eatem-Up Monster Prop, HighRoller Rip Roller and Temptress Lures Detonator. These large surface propeller baits need to be worked aggressively across the surface.
Your baits should mimic the frantic escape of a fleeing baitfish. And baitfish do, indeed, flee in this cauldron of predators. In many instances, we observed foot-long silvery baitfish beach themselves on sand bars to avoid a nasty demise by a school of hungry tucunare on a feeding foray.
Cast the big topwater plugs on a stout casting rod, paired with a baitcasting reel that possesses the ability to handle 65 to 80 lb break strength braided line. That's right, 80 lb break strength braided line! With the temperament of an injured water buffalo and a propensity for ambushing prey from stumps, brush and tree root systems, these fish can make easy work of lesser diameter lines that are not abrasion resistant. Also, these braided lines possess very little stretch, affording anglers much less arm fatigue when casting and retrieving large topwater plugs a thousand times a day. The braided line is an absolute necessity when working large topwater lures.
When the topwater action slows and fish will not feed on the surface, switch to a jerk bait. Favorites of veteran peacock bass anglers include Bomber Long-A Minnows, Luhr-Jensen Javelins, Temptress Peacock Minnows and Cordell Red Fins, in chrome color patterns with blue or black backs or chartreuse firetiger patterns.
Other Exotics. In addition to prime peacock bass action, anglers will also enjoy catching other unusual jungle river predators such as the arawana, pirhana and giant Amazon catfish called the pirarara and piraiba.

The arawana, also called the water monkey, will strike lures used for peacock bass. It is a prehistoric looking critter with an eel-like tail. Pirhanas will also attack baits used for peacock bass. Two of the very best pirhana baits are the Rat-L-Trap and the 1/4-to-1/2 ounce white bucktail jig. Be sure to use wire leader, approximately 6 inches of 20 lb. test, as the ferocious dentition of these carnivores will make mincemeat out of regular monofilament. If you really want to catch a bunch of these toothy critters, I suggest bringing light spinning gear, small hooks, wire leader and fish with meat on the hook.

The giant Amazon catfish are caught on cut-bait worked on the bottom, in or near a drop-off, during the late afternoon and early evening hours. You need to bring saltwater gear for these fish, as documented catches of fish in excess of 300 pounds are not uncommon.


A Daily Schedule. A typical day begins with a hearty breakfast and then anglers are paired two to a boat with an experienced Brazilian Indian guide. Anglers fish out of 18-foot fiberglass, fully rigged American made Nitro bass boats, equipped with trolling motors, ship to shore radios, swivel seats and depth finders.

Anglers can fish through lunch if they desire, or can elect to take an hour siesta on a hammock set up in the rain forest by the guides after consuming the deli-like sandwiches packed in coolers by the Rio Negro Lodge cooking staff. An average fishing day is from 6:00 a.m. until 6:00 p.m.

A delightful dinner is served back at the lodge. A tasty array of meals are prepared, including shrimp, chicken, beef barbecue, steak and fish. Commercially purchased ice made from filtered water is always available. The vegetables and fruits are washed in filtered water and are safe to consume. After dinner, it's time to take advantage of the complimentary bar and possibly a quality cigar or two and to reminisce about the ones that got away.

There is no need to overpack, as daily laundry service is available. Clothes are washed, ironed and folded and neatly placed on your bed each day.

Travel Itinerary

Monday - Miami to Manaus
Tuesday - Early a.m. arrival in Manaus. Change for flight to Barcelos, followed by a boat ride to Rio Negro Lodge. Begin fishing!
Wednesday - Fish
Thursday - Fish
Friday - Fish
Saturday - Fish
Sunday - Fish
Monday - Flight back to Manaus. Rest of day at leisure. Spend evening in hotel.
Tuesday - Flight back to USA

Included in Trip Package

6 Days of Fishing
Lodging at Rio Negro Lodge
All Meals
Open Bar
Soft Drinks & Bottled Water
Boats & Guide
Fishing Permits
Hotel stay in Manaus
Ground Transfers

Not Included in Trip Package

Airport departure tax
Gratuities
Air Fare to Manaus
Tackle items purchased

Booking Information

QUEST! Global Angling Adventures
3595 Canton Highway
Suite C-11
Marietta, Georgia 30066

Phone (Toll Free): 1-888-891-FISH
E-mail: Questhook@AOL.COM

Trip Summary

Boats - 18-foot fiberglass American made Nitro bass boats with 75 hp Mariner outboards. Trolling motors, depthfinders, swivel seats and ship to shore radios.

Food - Tasty breakfasts and dinners (all you care to eat). Lunch consists of thick cold cut sandwiches on the water. Coolers are packed with water, beer and soft drinks and filled to the top with ice. Open bar.

Insects - Mosquitoes are not a factor in the Amazon Watershed. The blackwater river system found here is not conducive to mosquito growth.

Travel Precautions - Check with a travel medicine clinic for necessary inoculations and anti-malarial medications. We will provide you with the latest data from the Centers for Disease Control.
Without question, the Rio Negro Lodge is the most comfortable way to fish the tropical climate of the Amazon Watershed.
Weekly trips to the Rio Negro Lodge and the Amazon Queen are booked to 90% capacity one year in advance. If you would like to fish the Amazon Watershed at the Rio Negro Lodge, anglers should consider booking 8 to 12 months in advance.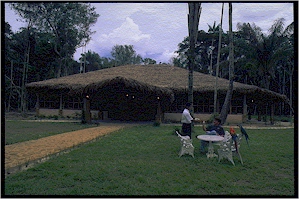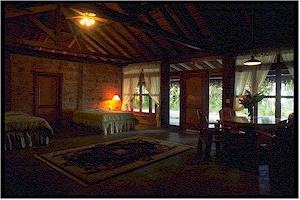 ---
* Gary Laden can be read in just about every fresh water fishing publication in America and several overseas. He is the former fishing columnist for the Atlanta Journal newspaper. He is a contributing writer to the IGFA World Record Book. Gary is the angling travel editor for America Online's Fishing Broadcast Network (FBN). If you have any specific questions about the Rio Negro Lodge, please contact Gary at Fishwriter@aol.com