Plugging the Top for Sand Bass
by Tom Lester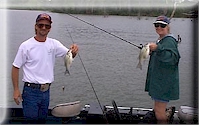 Caught any fish lately? With over 30 days of 100 degree or higher days, the bass fishing has gotten a bit slow, at least for me. There are still some nice fish being caught on humps and tank dams around the lake, but the bass fishing has slowed down considerably.

Last week, I got a call from my friend Susie Dunn. She had a guest staying at the lakehouse that was turning 16 the next day and wanted to know if I would take him fishing. Of course, who was I to turn my back on an excuse to go fishing, so I said I would take the young man. I told them I would come down to their house around 6:00p.m., after it had cooled down a little bit.

Chase and I loaded up in the boat and headed for the Highway 287 bridge to a point by Oak Cove Marina. I had seen several sandbass schooling the week before on a nightfishing trip. It wasn't long after we got there that the first fish started breaking the surface. The water seemed to boil with feeding fish all around. Needless to say, Chase was chomping at the bit.

I had a 6'6" spinning rod rigged up with 10# Trilene XL line ready to go. On the end, I had a chrome and black topwater lure called "The Tailback" tied. The Tailback is a new lure in my arsenal. It resembles several other topwater baits, but, has some unique characteristics about it.

It floats tail down in the water and has a different action when worked back to the boat than other topwaters. It spits more water and further than any topwater bait I've ever fished. It comes equipped with rattles and a #2 hook on it, which is larger than most other baits in its class. It is sure to become a standard lure for all fishermen. At least it is for Chase and I, we caught lots of fish on it.

After catching several medium to small sized sandbass, I tried a new bait in conjunction with the Tailback; the Front Runner. I used the 1" model (also comes in 11/2" and 2" sizes) in the smokey shad color and boy, did I see results. I began catching larger fish and several times I caught two fish at one time. Here's how it works.

First, tie the Front Runner onto your line. Next, tie on a piece of leader to the Front Runner about 12" to 18" long. Then tie the Tailback to the leader. What you have created is two lures working together to look like a fleeing shad, which drives fish wild. It creates a naturally occurring look, which really increases your chances of catching fish. The Front Runner and the Tailback were both invented by Doyle Hodgins, a touring BASS professional fisherman. Both are marketed through Norman Lures, Co. and are available at tackleshops, Walmart and Bass Pro Shop.

If you want to increase the fun of catching these fish, try using light tackle, such as a medium or medium light spinning rod from Castaway. The smaller fish feel bigger and the big ones, well, they really feel huge with the soft tip on these top of the line rods. As long as you play them out a little bit, 10# line should be sufficient, but don't try "hausin' em" too much.

Chase and I caught several fish, but more importantly we had a great evening together. On the boat ride back to the lakehouse, he remarked, " I don't know of a better way to spend my sixteenth birthday than on the lake catching fish." If you are looking for some fast action fishing, give the schooling sandbass a try. It's a rush.

Until next time, enjoy the Texas outdoors.

Tom Lester.

Author Information.

Tom Lester owns and operates Four Seasons Lawnscape, a landscape and lawn maintenance service, in Corsicana, Texas. He has fished for most of his 36 years to some degree or another. He fishes competitively in bass tournaments and is beginning his professional bass fishing career in the BASS invitational circuit and the Everstart Series.
Tom lives with his wife, Kelly, in Corsicana, Texas, only a few miles from Richland-Chambers reservoir, one of the hottest new bass lakes to open in Texas in the past ten years. He formerly resided in Cleburne, Texas, where he guided part-time for largemouth and smallmouth bass. Tom is currently on the field staff for Abu Garcia, Norman Lures, Inspiration Lures, and Bill Lewis Lures, and on the pro staff for Kalin's, CastAway Rods, P-Line, and Nuwave Products.
Tom enjoys fishing, hunting and writing his outdoor column for the Corsicana Daily Sun and freelance writing. He is a former high school Agricultural Science instructor and animal health pharmaceutical sales rep. He graduated from Texas A&M University with a B.S in Agricultural Education and a Master of Education degree. Tom likes being his own boss so he can take off to go fishing, whenever he likes, and leave his wife in charge of the business.
Email Tom at lester01@airmail.net
Visit Tom at his web site: Fishing Pro Staff