A Little Help from Your Friend
by Tom Lester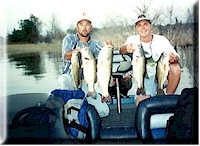 If you have had trouble catching fish lately, have not been fishing in a long while, or have never been fishing, I have some sound advice for you…..call a guide. Recently, I have been struggling in my quest to catch the ever elusive, black bass, on our local fish haven, Richland-Chambers Reservoir. Rather than sell my boat and all my gear out of frustration, I opted to call a friend of mine, Stan Lawhon, who guides on Richland-Chambers Reservoir.

Stan has been guiding for three years. He has developed a reputation as a personable guy who enjoys going out and catching fish and helping others do the same. We had a great day on the water; we caught some fish, I learned what I needed to be doing, but most importantly, we had a great day on the water. The whole experience was fun and it rejuvenated my confidence in my ability to catch fish. I simply needed a little help.

Although I am far from being an expert, I have been bass fishing for a number of years. I needed someone that could teach me a new technique or two and show me a few new places to catch fish this time of year. I accomplished both of my goals by fishing with Stan.

Guides serve a wide range of anglers. They can help you learn fishing strategies, fishing techniques or proper lure presentation, just to name a few. If you have never done much fishing, I would strongly suggest going fishing with a guide a few times to learn how to fish correctly, and whether or not you like it all. If you do like it, then is the time to go out and buy your fishing gear, not before. If you wouldn't buy a car without trying it out first, why would you spend a bundle of money for fishing gear without knowing if you like doing it or not?

For the weekend angler, such as myself, you can pick up one or two little hints that might help you catch more fish. Serious tournament anglers look at it like this, how many times have you seen a professional sports team on television without a coach on the sidelines? Everyone can benefit from a little coaching from time to time.

Most guides have reasonable rates. We are situated near one of the most popular fishing lakes in the state. If you don't believe me, just ride down to one of the popular launch sites such as: Clearview Marina, Oak Cove Marina or Midway Landing, any Saturday or Sunday afternoon around 3:00, and watch the weigh-in from one of the many tournaments held on Richland-Chambers each weekend. I am confident you will see what I am talking about. Fishermen travel from all over the country to fish in our backyard.

No matter what level of angler you are, you can enjoy and benefit from a day or half-day on the water with a guide. Whether its sandbass, crappie or bass you are after, Stan will be happy to take you fishing. He will provide you with all the gear and tackle you need or you can bring your own. He also has special family rates for those folks that want to take a youngster fishing. For more information, you can reach Stan at 903-872-1746.

Until next time, enjoy the Texas outdoors.

Tom Lester

Author Information.

Tom Lester owns and operates Four Seasons Lawnscape, a landscape and lawn maintenance service, in Corsicana, Texas. He has fished for most of his 36 years to some degree or another. He fishes competitively in bass tournaments and is beginning his professional bass fishing career in the BASS invitational circuit and the Everstart Series.
Tom lives with his wife, Kelly, in Corsicana, Texas, only a few miles from Richland-Chambers reservoir, one of the hottest new bass lakes to open in Texas in the past ten years. He formerly resided in Cleburne, Texas, where he guided part-time for largemouth and smallmouth bass. Tom is currently on the field staff for Abu Garcia, Norman Lures, Inspiration Lures, and Bill Lewis Lures, and on the pro staff for Kalin's, CastAway Rods, P-Line, and Nuwave Products.
Tom enjoys fishing, hunting and writing his outdoor column for the Corsicana Daily Sun and freelance writing. He is a former high school Agricultural Science instructor and animal health pharmaceutical sales rep. He graduated from Texas A&M University with a B.S in Agricultural Education and a Master of Education degree. Tom likes being his own boss so he can take off to go fishing, whenever he likes, and leave his wife in charge of the business.
Email Tom at lester01@airmail.net
Visit Tom at his web site: Fishing Pro Staff