The World is His Water
La légende du pêcheur Patrick Sébile
Story by Russ Bassdozer
Patrick Sébile has fished practically everywhere for everything. He's spent 200-300 days per year for 17 years as one of the world's most famous guides at some of our planet's most exotic locations. He has fished in 61 countries. He's caught over 565 species of fish and has held 300 international, European and French national records. He's written seven books on fishing, hundreds if not thousands of articles, and he's graced the covers of over 150 fishing magazines worldwide. There's no other fisherman with those kinds of credentials. Not even close. With stats like that, he's got to be the most accomplished angler alive today - or ever in history.
Patrick has recently started his own lure company, and has sold over one million lures in his first two years of business. With an escalating worldwide demand for his lures, he will sell another million or two (if he hasn't already) in no time flat. This story's not about Sébile's innovative fishing lures though. It's about Patrick. Please enjoy reading about the man and his legend.
Russ: Have you been there and done it all when it comes to fishing, Patrick? What is it that still keeps you fishing? What keeps your line in the water?
Patrick: The big thing to me is fishing is a real adventure. Many people like to watch TV and they like to read books because they can have an adventure, but also because they may think, well adventure is not a part of my life. I'm sorry but I disagree there. Adventure can be anywhere you have some water. It can be any day. I think fishing is the best sport for that, and I've always got it in my life. That thrill of a new adventure keeps exciting me on every trip. I really cannot imagine it will ever be different.
My feeling is, even in the small pond near my home, I can have a huge surprise. I can have a wonderful adventure. I can go there and try to see if there is a bass or maybe a pike. I could be hoping, maybe I can find a really big fish there. When you can go to Canada or Mexico or anywhere, you can make a trip that is very unusual. You can catch more fish or bigger fish than anyone has ever caught before. That adventure is waiting in front of me, you - in front of all of us, with every cast we take.
After a lifetime of fishing, I am not tired and I don't feel I have seen everything. There are way more fish in fresh or saltwater than I will ever be able to catch. So that's one thing I like, that I can never catch them all, but I enjoy trying anyway. It's a fun passion. The world's waters are a big, big playground, and it all starts at the waters closest to home or wherever you are, whatever water is nearby holds many adventures just waiting for you. Fishing is an adventure and adventure is everywhere from your backyard to the most remote places in the world.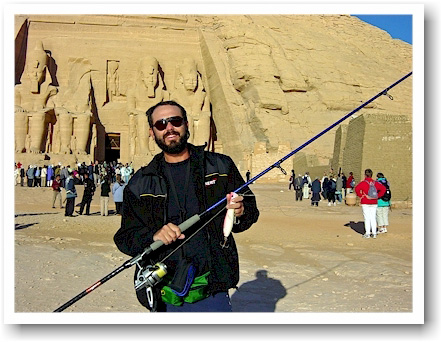 Fishing for giant Nile perch in front of an ancient Egyptian temple on the shores of Lake Nasser.
When I was first starting to be recognized in France about twenty years ago, before I really had a fishing career yet, one of the most famous fishing writers in Europe, he said to me, "I am certain in the coming years, you will be a major star in the fishing business." And you know at that time it was not my business yet. I was just passionate. I was reading articles from this man since I was a kid, and for him to say that to me, it was huge. But he also told me, "Patrick, you have to take care of your passion. You must find time to do other things besides fishing, because the fishing passion, especially when you become a professional, you will lose part of that passion, so find other interests. Don't overfish yourself."
What he told me was wonderful, but it was also strange to hear that last part. I thought long and hard about it, but I decided I would just keep fishing with passion. That was twenty years ago. You know, I never heeded that man's advice, I never slowed down. I just turned 40, and I still feel very passionate about fishing today. Last week, I flew to Hong Kong for work. After a seventeen hour flight, I took my rod and a couple of my lures and I went fishing off the harbor wall from 10PM to 2 AM. I just wanted to have fun and go fishing. They were biting good! It was fun and I was so tired at work the next day, but it was a thrilling adventure to fish that night. One I would not have missed for anything.
Russ: Has starting your own successful new lure business the past couple years, has that finally changed fishing and your passion for it?
Patrick: No. You see the thing is, there's fishing and then there's my fishing business. These are two things, which are very linked, but each one is separate.
Of course, the raising of my company, I don't want to say exactly that's what drives me, but of course I created this company thinking it could do good, and the fact is it is doing so well that we have sold way more lures than we were expecting, and actually, we were surprised by that. We did not think it would happen so quickly. Today, we are selling my lures in 34 different countries around the world. Of course, part of my job, the first part is to create and then promote lures, and I have really been doing that for the past 20 years for other companies. I am of course better known in France and Europe, and that's where I have designed lures, hooks, rods, tackle bags and all sorts of tackle for major companies in Europe for about the past twenty years. So in a sense, I am still doing that, and many readers, even in the USA, may have tackle they use that I designed, except my name is not on those items. The difference now with my new company, with my name on the lures means I must be much more active with promotional appearances and business trips, meeting journalists, distributors and important clients, performing product demonstrations on the water worldwide, and like what we are doing now, talking together for me to have a relationship with the readers and anglers who are very important to me. So today I have this kind of work to do in the 34 different countries where anglers use my products. So I am traveling today mainly for sales meetings and promotional fishing. In the past year, I have logged enough air miles to circumnavigate the globe eight times by jet.
So that is one of my two things: raising my company. What does that means to the second thing: my fishing? Well, it is easy to measure the effect in terms of fishing days. Most of my life before my company, I usually ranged between 200-300 fishing days most years. My best year was in 2003 or 2004, just before I launched my company, I fished 317 days that year. That was around the same year when IGFA awarded me as the number one saltwater angler in the world. Since then I have really slowed down my fishing so I won't be winning that IGFA award again soon. Right now, I am only fishing 60-70 days a year. So my fishing time has dropped down over the last 3-4 years as my company sales have gone up.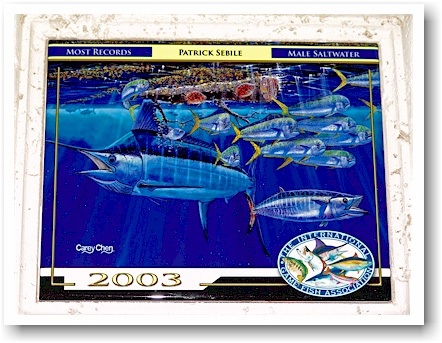 A nice plaque and certificate from the IGFA for most saltwater records in 2003.
So I would like to go fishing more, but my company demands my time now. The good side is that my company trips allow me to meet many new people in new places who share my passion. They are passionate anglers I would not have met if not for my lure company. For example, I was recently on a business trip in Russia, and fishing on the Volga. It is a very big river in Russia, and it was beautiful, really just so beautiful. The Volga River has 100 arms, and it is so wild and unspoiled. The best part, there are pike, walleye (called zander), giant catfish (called wels) that can reach 250 pounds, many unique fish species, and that was a great adventure. So yes, I am fishing less than before, but I can combine fantastic fishing with my work, and make opportunities to enjoy fishing in beautiful places, and that's a very great thing. So I really try to make a balance.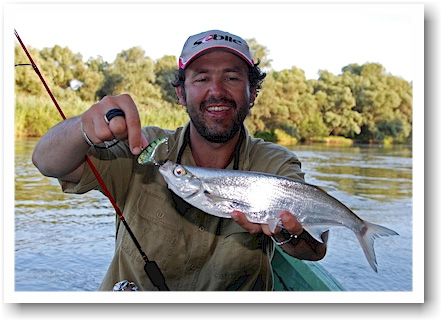 My 564th species - a dazzling Tchekoin caught in Volga River, Russia on a recent
business trip.
You may recall the famous European fishing writer twenty years ago who counseled me to find a second interest so I do not burn out my fishing passion? Well, I follow his advice but in reverse today. I use my fishing passion as my 'other interest' to counterbalance my company work, so I don't burn out from working. For example, last month I was in Sweden, a gorgeous area that has trophy pike waters amidst breathtaking natural scenery. For 2009, we have many big baits coming on the market, so I was promoting them in Sweden for the pike, because the pike is a very important fish for Europe, and I love fishing for pike. Also, in Canada and the northern US, I will be able to use the same baits for pike, and I will also use these baits in California and Mexico for trophy bass, because a good lure for pike is also a good lure for giant largemouth. So yes, all those trips may be for business, but my passion burns for fishing on those trips too! So you see, I try to manage my schedule, use my time to do business, but also to enjoy the best fishing experiences that I can.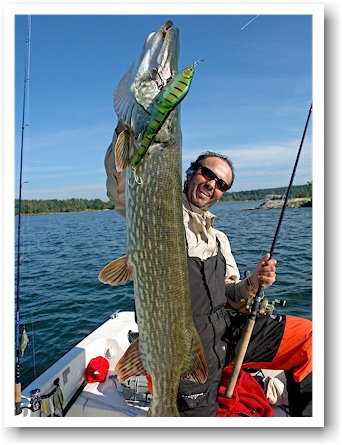 One fish I love catching across North America and Europe - the pike!
Russ: We consider you to be a 'Legend of our Sport' but tell us, Patrick, who are your legends?
Patrick: I have really one, Pierre Closterman. He is my legend. Actually, more than a legend because I knew him. Sometime you can have a legend who's just someone you read about in the book or on TV but I have had more than a chance to really know this man. He was one of my very close friends until he died four years ago.
I loved this guy because he was such a great man and more than that, a very unique kind of person. He was really in love with fishing.
His legend is, at the beginning of WWII, when he was 18-20 years old, he was in the USA. The USA was not at war yet, but when he first heard that France and Germany were at war, he got a berth on a munitions supply ship headed to England. In his suitcase, all he brought were two shirts, two pants, socks, underwear and most important of all, two fishing rods. So I think that tells a lot about this man.
He already knew how to fly planes, so he become a fighter pilot there. He became the ace of the Free French, and destroyed the most Nazi planes of anyone. He was not allowed to write about his missions, although he kept a secret diary because he was thinking if he died at least his personal diary could tell his parents about what was happening in his life. But he didn't die, and after the war, he gave the hand-written diary to an editor and it became a huge success. Winston Churchill himself said it was the most important book written about WWII, and his book was a huge success in the fifties everywhere in the free world.
After the war, he worked for Cessna. He flew around the world to show the Cessna aircraft to VIP customers, heads of governments and magnates of big companies. Everyone knew of his passion for fishing, so everywhere he was invited to fish on the best seas, the best rivers and lakes, in the best boats with the best guides. So you can imagine he had some very good fishing in his life.
He knew how to write, very beautifully, and he wrote several more books; one which is considered the most famous French fishing book. He also became an IGFA Trustee for France.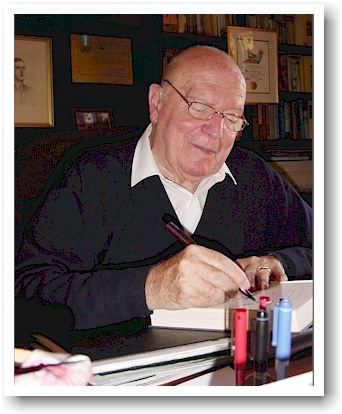 My legend and very close friend Pierre Closterman,
Free French Ace in WW2, successful book writer and IGFA Trustee Emeritus
He made a huge surprise for me when I wrote the first of my seven fishing books. He contacted my editor without my knowledge, and Pierre wrote the foreword of my first book. I didn't know he did that, so you can just imagine the surprise that makes for me when the book came back from printing, and I saw the foreword by Pierre Closterman.
In my new home in Colorado where I live now, I have very few pictures, but his picture sits beside my mother's picture. So, yeah, I have a legend I look up to every day, it is definitely him.
Russ: Who have or do you learn about fishing from, Patrick? Maybe you learned a lot from this man, your legend...
Patrick: About fishing itself, no.
Really, most of the things I know about fishing, I learned by myself. Of course some people shared with me a couple of things, but I really can say most of the things I learned were by watching the water, simply spending time and studying the fish in the water. When I was a kid, my father died when I was just nine, and my only great thing as a kid was to go on the lake close to my mother's home and spend the whole day and evenings if possible, just watching what the fish were doing. I still do that.
You know sometimes you learn more by not fishing. Stay on the water and leave your rod alone and just watch, and resist the temptation you have to take your rod and hook the fish you see. Just wait, and watch the way the fish are doing things, the way they hit the baitfish, the way they attack, the way they hide themselves in the grass. When you see all that, you learn many things, little by little, and that's how I learned most of the things that made me a better fisherman.
Russ: With all the contacts you have made around the world, among all the fishermen you have met, do you have any mentors or master anglers you consult for information or who teach you now? Are there any people who you can go to in order learn new things about fishing, such as a mentor?
Patrick: No mentor, no I really cannot say there is one. But I am in contact with many others who are all world class fishermen, and always if I need to have information, yeah, I know lots of anglers who are specialists for some kind of species or experts for some local areas. So if I have not fished there yet, or have not fished for that species before, a friend can be good to share with me some information, some ideas, some tips, some techniques for a new location or species I plan to target.
I do the same. I share information. I do not like the secrets. That is something that makes me disappointed with some anglers, when they find something working good, they just hide it, do not tell anyone. My thinking is the more people know about fishing, the more fishing is enjoyable. The more sharing and commingling of ideas among anglers across the globe, even to unite together as stewards of our world fishing legacy, can be effective to promote angler-beneficial conservation measures. In the USA, angler conservation efforts are way, way stronger than in France or across Europe. I admire what I see has been accomplished in Florida for example, with the management of snook, the ban of the nets and like that. But even something as simple as catch-and-release that many American anglers take for granted, they may not even realize what a huge benefit catch-and-release can be for your fisheries. For us in Europe, it was just the accepted thing if you catch fish you keep it and you bring it back home to eat it. Of course, that was since humans appeared on earth millions of years ago, fish were always eaten. But only recently in Europe, we have learned that catch-and-release works, thanks to the American anglers for opening our eyes. Of course, if you would like to eat a fish from time to time, why not? But if you kill 15 bass a day, you won't be anybody's friend in France I can tell you! In Europe today, there is a great personal pleasure now when you release the fish. That release ethic that benefits the fisheries has comes from America and spread across Europe like wild. So you see why I am all for sharing fishing information that benefits all anglers.
Russ: You are a certain high level of angler, Patrick, and we all are at certain levels as anglers, each with different degrees of experience, skills, time on the water. You hold vast experience catching many species at many locations and having been on the water most days for decades. Where do you see yourself fitting into the hierarchy of anglers across the fishing world? Have you met any other anglers who are on your level? Are there any anglers better than you?
Patrick: I am pretty sure there are!
Russ: You may feel a little embarrassed or self-conscious to answer this. I feel you are being humble or polite now, and that is appreciated by all of us, but the fact is, Patrick, when all your angling accomplishments are added together, you alone may be the only one who has fished in 61 countries, caught over 565 species of fish, held 300 records, and you have your very unique lure concepts that no other manufacturer has these lure concepts. Your lures are a reflection of your fishing mind. We'd like to know, who else is out there who you know on the same level as you? The question is not to ask you to brag or boast, but for us readers, we may not know another angler like you, so we wonder who do you consider to be at your level? The world is your water, but who else do you run into like yourself out there? Are there other anglers out there better than you or who you consider your equals?
Patrick: Okay, I would like to make two points before answering this question.
The first point is: of course there are many very well-known anglers who I have never fished with. Of course, there's no better way to compare who you are as an angler - but I don't say compete - than to go on the same boat with someone. But if he just wants to try to catch more or bigger fish than me, if that's his goal, I just couldn't get passionate. If you do that, fine. I will simply try to catch the fish I can, and that's it. We will have lost the fact that fishing must first of all, be fun.
On the other hand, if we have a good feeling together and we are having fun and fishing together, that's truly fishing, That's not to say you can't have a look and say "Whoa, this guy is a better angler than me," maybe for a certain species, for use of a particular lure or technique. Maybe he has mastered fishing a difficult kind of ocean current or water condition. So some anglers can be good, the best, in some things, but not others.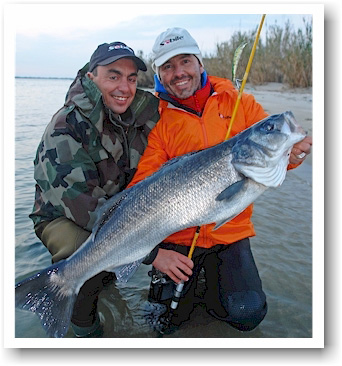 A fish which I (on right) grew up with - the European sea bass, here a very nice specimen.
Now I come to the second point I would like to make: I think the very best fisherman I ever was, for about 7-8 years in my early 20's, I was really target fishing for two species, the European sea bass, which is very close to the striped bass (without any stripes) and the second fish, I am very in love with, the gilded sea bream. You almost cannot catch it with a lure. Gilded sea bream like to eat crabs and such, and it is very difficult to catch even with bait. In the USA, bait fishing may be considered very easy, but in Europe, bait fishing is considered an art worthy of mastery, and wherever the gilded sea bream is found, it is almost revered as one of the most difficult fish to catch on bait. Almost everything about your set-up must be perfect in every detail, otherwise, you will not succeed. It is a sign of the very best angler to be able to catch the gilded sea bream at all - but I was doing that 5 days a week all year round and those two species helped me achieve much of my original fame in France. My accomplishments at that time are still talked about today. I don't think anyone has equaled it. In the spots I was fishing, I knew everything around every single rock, every single current. In comparison, today, I fish one week in one country and the next week in another country. I am always on the move, so I don't have the local knowledge. So obviously I cannot compare to the guy who knows the spots and the species, because knowing fishing is one thing, and knowing the spots and species is another thing.
Okay, so those two points so far, they are a lead-in for my answer here now. Honestly, I find that while fishing for the gilded sea bream that was the only time in my life when I was fishing with a man who was intriguing. It was in Morocco in North Africa. I met there a guy who was fishing from a cliff, and he was fishing for a living. That means he was a Moroccan guy. They go from father to son, they just go to their one spot. Their only fortune is one rod, one reel, maybe you could buy for $20. At that time, for eight months, I was fishing and living on the cliffs with the local fishermen there and this guy, who was then in his fifties, his fishing nickname was Moustache because he had a big thick moustache, and he had the knowledge and it was just so beautiful to watch him, the way he was fishing, how he was keeping his rod, and sometimes he could wait ten minutes without casting his line, just to wait because we were mainly fishing in a very, very rocky area, and the rocks are totally covered by mussels. So if you put your line in the wrong spot, it would be immediately snagged and then you cannot fish. You have to break the line and retie your rig. This guy, I remember him, he was just watching the waves until he had exactly the perfect wave, and he knows every single little rock, he knows every little hole in between two rocks, and when the perfect wave was there for his spot, then he would cast the line with a mussel or a crab, hold his rod just so, and in the following second, catching a gilded sea bream or another kind of fish every time. He would do this all day, every day no matter what weather, I imagine, for all his life. To tell you the truth, I have been fishing with and watching people fish all my life, but this guy with a simple $20 buck rod, a very poor guy, he is up until today, the only angler that has really intrigued me. I have not seen anyone his equal as an angler.
Russ: Clearly the difficult fishing environment molded this man you speak of into an expert angler. Along those lines, are there any other areas of the world, any fishing environments, types of angling, or particular species that turn out the best anglers?
Patrick: First, let me say, I have a couple of fish that I love very much but also catch very few because they are not so common. In terms of the best fighting and strongest fish of all, it is the Talang queenfish. For its size, you cannot believe the fight this fish can give you. It averages about 6-8 pounds and when you hook this fish, it jumps out of the water up to 4 meters (12 feet). Yes! The first 2 or 3 jumps are just amazing, after that, they are not as high. Perhaps some readers are thinking I exaggerate but one Talang, I caught it from a pier, and on the side of this pier were measurements, markings to gauge the water level. The fish jumped at my eye level. So I know for sure it was 12 feet. I have not caught many, only 6 to 8 at most of this species. There are not a lot of them, but you find it especially in the channel of Mozambique which is between Madagascar and Africa. A related species, the double spotted queenfish is equally strong and it can be a little plentiful at times off Cairns and the northern part of Australia where it can be possible sometimes to catch 10 or more a day. However, the double-spotted queenfish does not jump quite as high as the talang.
I just wanted to share that story because, although the talang is way stronger for its size than most any other fish, you cannot catch too many of them. Not enough to really even target them. So this is an example of a great species I love, but its not possible to become a good angler or expert fishing for it since it is such an uncommon catch.
On the other hand, there are several species and several places I really love for the challenges they offer, and they can sharpen an angler's skills by simply fishing there or for them.
One of the favorite fish of many worldwide, is the largemouth bass. It can be one of the most difficult species, requiring great skill at times. They can be one of the most finicky to catch but also they have those crazy times when almost anything that hits the water will be attacked. So the bass has two sides, it can be very shy, and when it is very shy, that is the vexing challenge to find out what you can do to make it bite. The other side is when it really wants to bite, the way it attacks, it can be so ferocious. I think that is one of the reasons why many people fall in love with the bass.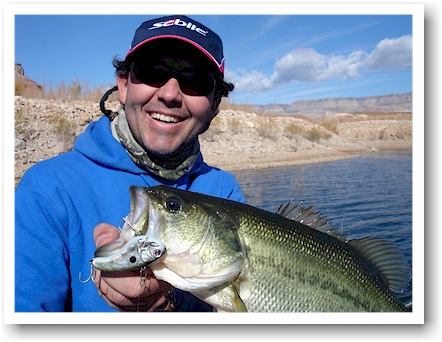 The largemouth is one of my top ten favorite fish to catch in the world.
There are days or even, there are hours, for example when you arrive at the lake very early in the summer, the first one or two hours you can have a bite every 2-3 casts on almost any bait you are using. But then, things can quickly change in ten minutes time, and the action turns off; the situation goes from very easy to where you have to use the best knowledge you have to try to get even one more bite.
So okay now, since the fish have stopped biting, they don't want to hit, you have to use a bait for a different meaning - to try to get a reaction strike, not a feeding strike. You must try different baits or even sometimes the same bait but used a different way, to generate a reaction strike. You often need to be more 'insistent' with the bait, jig it or jerk it a couple of times and rip it forward and cast it a couple of times. Reaction potential is there and sometimes linked to what the fish considers its comfort space. It may not attack during the first seconds, but after 30-40 seconds, I don't want to say the bass thinks like a human, but there's finally something like, "Hey, you're in front of me, in my space. I want you to go away. If you are not going to go away, I will bite you." - and then you get a fish. That is one of the challenges where you can really see the difference between the average angler versus the very, very good angler, because the very good angler will find this kind of solution and also they find the baitfish, they find the spots, they find the conditions and many different things, and they choose this or that bait to do that job well. So the largemouth, due to the challenge, makes anglers who excel.
In terms of location that can produce better anglers, really, I love Florida. In Florida, it is possible to have very, very good fishing for largemouth and also snook - two of my very favorite fish. I have enjoyed thousands of hours in my life fishing for them. These two can both be challenging, each have their own environment, and require skill - but that's not all. Many, many other challenging species are found in Florida. It is a hospitable location and an overlapping range for many species in freshwater, inshore and offshore saltwater on both the Atlantic and Gulf sides. So an angler there can experience many species and dimensions of fishing. There are many, many fishing opportunities all in this one place, and an angler can really grow into an expert in Florida more than most other places.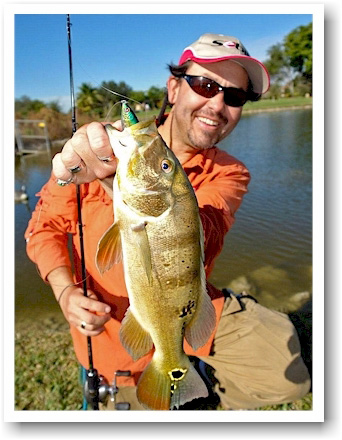 Peacock bass fishing in Fort Lauderdale back yards!
Speaking of another species that can heighten one's skills as an angler, I love the zander and its North American cousin, the walleye. They are not strong fighters, but the challenge, if you cast for them, it is the highest level of lure casting techniques you need to do truly well catching walleye. Of course, it is a very wonderful fish to catch trolling too. But in casting for them, it is a species where a very good fisherman can make a huge difference compared to the average angler, especially when you need to fish deep for them. In comparison, when there are bass in shallow grass, yes, a skilled fisherman can make a difference compared to the average angler, but the bass in that situation is not such a difficult fish as the zander and walleye when you need to go down deep for them. So to learn to fish for walleye (and I speak especially if you are casting), can make a huge difference between the very good angler versus the average angler. The difference can be on a scale from 1 to 10 really.
I also love the Upper Michigan region for the smallmouth bass which is just amazing with beautiful fish, plenty of 6 to 7 pounders. The quality of the fishery there is not so usual to find anywhere else, and that's really a species and a place that can challenge, indeed inspire, an angler to become the best he can be.
Possessing passion for all those challenging species, the largemouth and the snook, the smallmouth and the walleye (or zander) can result in the best anglers.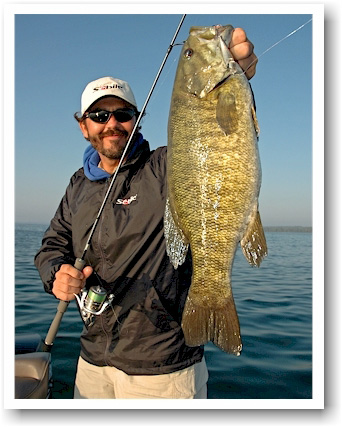 A fishery abundant in big smallmouth can challenge and inspire anglers to become their best.
Russ: So those are some of your most challenging species that can produce the best anglers worldwide. Please tell us about your absolute best fishing spots now. Tell us, where is the best fishing in the world today, for any kind of fish?
Patrick: Okay, as a long time fishing guide, the 'best place' to me means lots of fish, big fish, and easy ways for anyone, even novice anglers to catch them. So these would not be the most challenging places, but the best places for anyone to have fun. Well, I have several possibilities, so I will give you two or three. The Mississippi Delta is really amazing for the redfish and sometimes the tarpon, but really for the redfish that's so hot. And then I would like to say the Great Slave Lake in Canada if you want to fish for lots of pike plus lots of walleye. Oh yeah, that's really very good.
Russ: Okay, now where do you say is the very best largemouth bass fishing in the world?
Patrick: Now for the bass, I may surprise you because the best place I have every fished for huge bass and lots of them is Youssef-ben-Tachfine. It's a huge lake, made by a dam in Morocco. It's about 80 kilometers south of one of the biggest cities, Agadir. It is very remote. It required a long, difficult drive for me to get there, including three torturous hours in four wheel drive through the Sahara Desert. What kept me coming back to try it, is because of a picture I have seen of a villager there with a monster bass. They say it was scale-weighed and went 14 kilos (over 30 pounds). I don't think that photo ever made it to a magazine or even beyond the village. Of course, I can't say yes it was or no it wasn't 14 kilos, but certainly it was a monster in the picture. Many people in the village work in the agricultural fields which are right on the banks of the water. As they work, they can look down from the fields into the water. They keep just the handline in their pockets, and when they see a big bass, they try to find a lizard or whatever they can find, they hook it and they throw it in the water, and if they catch a fish that way, it's for food. That's how this guy caught this monster bass in the picture. It was 5-6 years since I was last there, but at that time, Youssef-ben-Tachfine was just amazing. There were a lot of bass and they were all huge. Most had never seen a lure. It was the best place I've ever seen for big bass. However, it is in an arid part of the world where you can have no rain for 3-4 years and devastating droughts. Huge lakes like Yousseff-ben-Tachine can almost dry up or be used up for agruculture during those dry years, so you can have dramatic fluctuations in fisheries there. So I don't know how bass fishing has been there recently.
Russ: There's a saying that an angler learns something new on every fishing trip. Does that still apply to you? Has the learning process slowed down at your level? How do you learn, and where do your new insights come from? Can you keep an open mind, or do you settle into a routine of what you do? How do you expand on what you do?
Patrick: I would like to say, I receive less new information today, because I already have a lot, but what I receive now, what I can see the fish do, I find richer details and deeper information, things which need years of experience to see, things which I am very sure that 20 years ago, I would not be able to see or understand as well as today. There are still many things to be aware of to increase my knowledge. I am always a student.
And also, confidence is a big part of what you are doing. A good way to explain this is when I try new lure designs, believe me, I make many tests which are not good. When I design a new lure, I have many ideas and I make many samples and I make prototypes and try them all. Not every idea works. Sometimes it seems none of them. So the start may be to clear out of my mind what cannot work. Simply, I have confidence that if I keep on testing, I will find the solution, and little by little, I begin to understand the different ways that I may be able to reach my design goal. That's a good way to design a lure, but it is also a good way to fish, to constantly test everything to see if it is working. So yes, I and you can keep an open mind for fishing. It's important to know what isn't working. Clear your mind of what is not working for the moment, for the day. Keep testing as you're fishing, Then, little by little, refine what does work. Have confidence and optimism that if you keep doing that, then you will succeed. Sometimes even beyond your wildest dreams.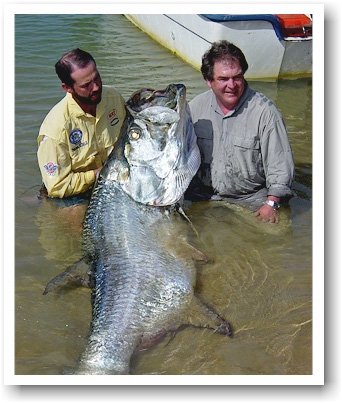 Go fishing my friends, and your wildest dreams can come true.
Angler Max Domecq (right) and guide Patrick Sébile with 286lb 9oz IGFA All Tackle World Record tarpon.
Russ: We have talked about many species today, fresh and saltwater, but our readers are mainly freshwater bass fishing aficionados, so we'd like to hear where you feel that pro bass anglers fit into the overall hierarchy of skilled anglers worldwide? To put our question another way, anglers here in the USA see the US bass pros on TV, in magazines and all over every bass fishing site on the web. We're really talking of approximately 200 individuals who try hard to hang their hats on the top pro circuits here (BASS and FLW). Actually, it's a much smaller group than that, it really comes down to 4-5 dozen personalities who the average angler sees often on TV and other media, in magazines and promotions. Most USA anglers regard these individuals as being the best anglers in the world. The average US angler tend to feel, or has been told that these top bass pros can come fish any lake anywhere, and that the pros will do better than the local hometown anglers who may have fished there all their lives. We have the notion that even the best hometown anglers won't do that good on their home lakes - compared to the top national bass pros who maybe never even fished those lakes before. What do you think about that, Patrick? In comparison to all the anglers you have seen and met worldwide, where do you see the best bass pros fit into the overall hierarchy of anglers worldwide, and how do you think the pros are able to outfish local anglers even on lakes they've never fished before?
Patrick: When it comes to the top bass pro, yes, he is one of the best in the world, but he constantly seeks just one species, the bass. He is traveling a lot, but not to different countries, and not to catch different species. So he can use the same subset of tackle and lures everywhere and keep the same bass-centric mindset everywhere. He's not doing different fishing every week. He's not doing hundreds of species, not trolling nor deep-sea fishing, flyfishing, bait fishing and so on. When you are doing all that stuff, of course you can not be very, very good for all fish because you are doing hundreds of species everywhere, many different ways in drastically different environments, the high seas, the roaring surf, icy mountain streams you can almost leap over, and everything else.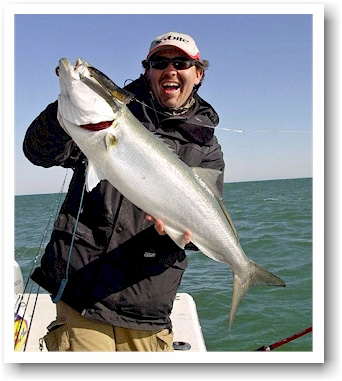 Bluefish in Mediterranean Sea off Valencia, Spain on Splasher 120
But when you are just touring as a US bass pro, who is making a living at that, first of all, it means you are already very, very good; you cannot make a living at this if you are not good enough, you could not compete. But the truth is, you are fishing exclusively for bass. He really is a super-specialist, one of the best in the country. As a pro, you are meeting many other pro anglers everywhere, studying the sport and how it is done differently in different places, and you are spreading those local applications across other regions you visit too - but it is totally bass. You are part of a touring group of one to two hundred who you compete against, all the best from all over the country, and you need to beat them at their game, whatever their tactics or approaches may be, you need to do better. So you need to be aware of what lures and tactics the other 100-200 top pros are using against you, all over the country, and most of all, you need to be aware of the latest and greatest new lures and tackle. Embracing innovation in equipment is a very big advantage in any discipline, including pro fishing. The pros, they pay attention to what's new, what is the new bait, the new action, what are the new possibilities. You can see just how quickly (almost overnight), the entire top pro field (especially the very best pros) adopt new fishing technology, which could be advanced electronics or simply a new hook model. Whether it was a swimming jig, the shakey jig, swimbaits or anything else, including boat equipment, the pros are ahead of the bass fishing public on new products and applications, whatever those new things are.
Now, when it comes to the local hometown anglers, the big difference is, they do not always open their eyes or their minds enough to other things, to new things, to different things. In fact, there may be no easy way for them to even find out what's the latest and greatest for bass from other parts of the country. And when you have been told (and have proven to yourself trip after trip) that on this lake here for example, you need to use a crankbait with a green back, that's the killer bait to be fishing here, then a lot of local anglers will only do that. So the local angler can do that, and get good with that, but only as good as he needs to be to win against other local anglers who are also using the green-backed crankbait or other local favorite lures and local tactics which have been popular there for a long, long time. The fish will still hit those locally popular baits, yes, but they become conditioned to seeing them and wary toward them.
Then, when the touring pros comes to town to fish the new (to them) local place, the local anglers, many of them, they rarely try different baits and lures, so that's something that really gives the pros a huge advantage over the local anglers - an equipment advantage - in additional to his formidable skills, knowledge and experience.
Now let me tell you this story, it's about Japan, and it makes this very clear. About two years ago, my tackle distributor in Japan prepared a 12 day promotional marketing tour for me, fishing fresh as well as saltwater all over Japan with fishing writers and recognized fishing celebrities in Japan. Every day I would fish with a different celebrity angler (such as a pro) and journalist in a different place. It was for different species each day, or with a different guide or VIP angler, just to meet them and to show them my baits' effectiveness on the water. One day, I was paired with a Japanese bass pro who was ranked I think seventh at that time on the pro tour in Japan. He was very good and he was trying several different approaches, very good ways to fish. Well, he was quite familiar with this lake, and had been winning or doing well in tournaments on that lake, so he was a top pro, but also, a local who'd become used to fishing this lake in accustomed ways. Of course it was my first time fishing in Japan, but what I saw by having fished bass in the USA and in Europe under tough conditions, and what I knew about Japan, is that there's not a lot of freshwater with bass, and therefore, high fishing pressure. So I just had a feeling from my experience that maybe my Stick Shadd 90 floating model would be the key bait. I cannot say I was sure about that, but it was a kind of a logical assumption I made upon assessing the situation, and sure enough, it worked. Since I sensed the bass were pressured, I was just using my bait slowly, just twitch a little bit and make a pause for about 5-8 seconds, twitch a little bit, then just one jerk and pause again, and by 4 o'clock in the afternoon, I was at 17 fish and he was at zero, sticking to his lures and methods known to be best for that lake. Starting on fish number 10, the pro started to applaud me, and the journalist who was there writing a story, he stood up and applauded me too. That was very unusual for me to be applauded, but I do understand the meaning of this, and that was very nice of them. So there are some very good local anglers who can win many local tournaments with their accustomed ways, but the fish become accustomed to those ways as well. So when a capable outsider comes along, with new ways of fishing, the fish have not built up resistance or wariness toward that, and they're really going to bite!
So you local guys, become aware of what's new, what are the new approaches, new things to do, then you really can have something your competitors lack. Keep an open mind to anything that's new, and that openness can prove very useful to you. It may not even matter what new lure it is - just that it's something innovative, not seen by local fish before.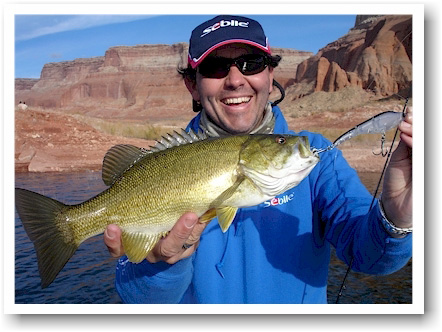 A glistening smallmouth, a big smile and a Magic Swimmer 110 F-SK (new for 2009.)
Russ: You have fished with some of the best bass pros from the USA and Japan and all across Europe. In your guide service, you have guided many of the world's best non-pro anglers who are dedicated trophy hunters. With all your experience being around good anglers worldwide, would you say that US bass pros, and the Japanese bass pros, are the best anglers in the world? Or is there another group of anglers somewhere that are better than or as good as them?
Patrick: The answer to this is that the fishing business in the USA and Japan, the bass fishing and boating business is big enough to make possible the tournaments with big money prizes and big sponsors. So if you are really skilled and you believe in yourself, you can dedicate yourself to that (to become a bass pro) and you can just be a tournament angler, you can make a living at fishing, and for some of them, much more than a living. Look at KVD, he has made more than 3 million dollars, and it is not just the winnings but the sponsorships too. So that makes many people dream, and I am pretty sure for many of the readers, it's just human to dream about that. When you dream of something that can make your life better, when there is a path there that some people can follow, you can improve yourself and go higher, whether that dream is tournament bass fishing or whatever. So whatever you dream, when you see something that can be better for your life, and there's something to work toward and to excel at, that can pay off handsomely in the end, that makes you go that way. So yes, you can become a bass pro in the USA or Japan and through the media and promotional interests, become nationally or globally famous and make a very good living. It certainly can be done. But in Europe or countries in other parts of the world, we don't have that. That means when you have a very good angler in Europe, what can your dream be? Your best dream is maybe to have an opportunity to write for a fishing magazine but that's not such a high-paying job. It's not like making a living as a bass pro. For people like me, especially in Europe, we are very few because there's little money to be made from fishing. Especially when first starting out as a young person in fishing, the money side is just a disaster. So, I would like to say that, yes, in the USA and Japan, there are great, great, really great tournament anglers. They are great because of their fishing skills and abilities, but they also become great because of the financial incentives, the media and the fishing business that gives them the opportunity. So this kind of fishing dream, it can pay off in the USA or Japan. But I can tell you, in Europe or other parts of the world, okay, there are tournaments and very good anglers, but the income is not there in order to make a living at it. The business side of fishing is not there. So you can be a very good fisherman in Europe or other parts of the world, who pays attention to what's going on, who wins tournaments, but you can not make a living at that. So I'd say it is the business possibilities that enable anglers in the USA and Japan to dedicate themselves fully to fishing, and thereby become the best there is at it.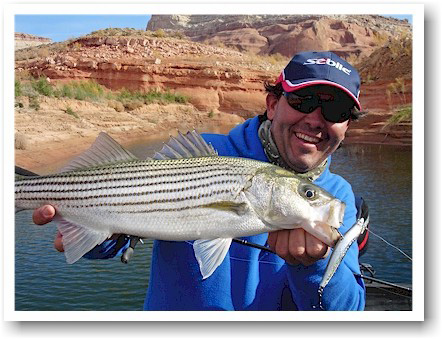 Sleek freshwater striper on Slim Stick 118
---
Pat Sébile's Tournament Winning Tips
Try Something New. When I started fishing for bass, I was young and I could spend the whole day just to catch one bass of 1 or 2 pounds. If I was lucky enough to get a three-pounder, that was a great day, and when I got home, I'd rush to call my ten best friends to tell them that's what I've got. It's not just me. That's the way bass fishing goes in France. It's just to explain to you that there are a lot less fish in France or Europe than in the USA. And when you have less fish, and every angler is trying for a limited catch, then the more shy and difficult the fish becomes, and this is what happens in tournaments too. The more you have pressure on the fish, the more people target them, catch them, the more you have to understand the fish and also, to understand the lures, the way they swim, and then you must understand by coming at the fish with different actions, completely new actions, new colors, things like that can really can help you catch difficult fish. In France, that 'something new' could help you catch one or two bass all day, but in the USA, it could help you win one or more of the local tournaments held here.

So try something new in your next tournament - maybe a new Sébile lure that no one in your area is using yet - except you!

Have a Goal. When I was younger, for five years, I qualified from my region of the country to compete in the national tournament in France for sea bass. Most of the people who have ever won this national championship, I would say it was always won with many small fish. My goal was, okay, if I am to win this great event, I do not want to go on stage and say, "Look, I've got a lot of small fish." I wanted everyone to know, if I was to win, that I won with the real big fish. I wanted it to be something sensational that had never happened before. For five years, I did not win the national championship, but I was not disappointed either. I enjoyed trying to accomplish my own personal goal that if I were to win, it would be with big fish - it wasn't just to win for winning's sake.

So what are the tournament fishing tips in that little anecdote? First, have a tournament goal that doesn't just depend on winning. Only one person or team will win. Everyone else will be disappointed if their goal was simply to win. That's not fun. So have a goal that depends on you, yourself. What do you want? What is important to you? Make it a personal or team goal, just for you. It could be anything - to finish in the top half of the field or the top 25% depending on your experience. So you can win, maybe not the tournament, but win at your goal, and be happy. The goal could be anything, and if you can accomplish it, you'll feel great.

Second thing you can learn form my anecdote is that achieving tournament goals may not happen right away, and can even take some years to achieve. Like me, I didn't make my goal in five years, but still, I was satisfied with that. So keep working at it as long as you are making progress on it, you should succeed in the end.

Stick to a Plan. I think it can really help if you ask yourself before you start your tournament what it is you want to do? How do you want to fish? Make and then stick to that plan. I think something that really makes people not able to win or not finish where they want is if they do not stick to their idea. They're thinking before the tournament, okay we'll do this, and after a 1/2 hour, thinking maybe it is not the right way, maybe I need to change. If you're not sure and you try many different things in many different ways, most of the time, you will miss your mark. I don't say just pick one lure and fish the same lure the whole tournament. It's not what I mean, but what I mean is to try to stick to a logical plan for the day. Of course you must also master a certain ability to adapt. So you also need an open mind to help you adapt your plan to any situation

If you do not really know what you want to do, if you are unsure, you still should have a plan to focus yourself, and of course, adapt to what it means to accomplish it. In French, we have a saying that if you put your butt between two chairs, then you will fall to the floor You will not be seated properly, you know. To sit on either chair is fine, just don't be undecided between them. I hope that translates well!

Possess the Passion. I have talked about the word passion a lot today. Fishing is my passion and it is my life. Doing a tournament (as well as fun fishing with friends), there must be pleasure, and that's the biggest thing I find in all the people I have met who are winners of tournaments. In fact, I don't really think anyone can win a tournament without that. For some, this passion or pleasure may last a long time, even a lifetime. Such people may win many tournaments for many seasons while they remain in this passionate spirit. For others, well, they may win some tournaments for one or two seasons, or maybe only win one time a year, or once every couple years, but for those moments when they do win, they had this passion for fishing running high within them. It's a prerequisite to winning. Think about it, and you'll see this is very true.

Organize. One of the keys of the winners is organization. Organization helps you in so many ways. You know sometimes, you can be power fishing, covering water going down the bank, and you just arrive on a spot and immediately because of the knowledge you have of the place itself or maybe it suddenly reminds you of something from your experience, you may instinctively know, I must try the particular lure right now. At this time, that lure may not already be tied on a rod, but you must react. Organization is one of the key things. You know sometimes the window to have a bite or not to have a bite, the difference changes in maybe one second. So you must have good reflexes to react of course, but you must also be well-organized. If you have good reflexes, but your rod is a mess, if you don't know, the way you leave your rods on the deck, or don't know what order your tacklebox is in and you have to untangle different lures and things like that, that really makes a difference, believe me.

Many tournament wins come down to just one fish. You can emerge the winner because you catch just one more fish - and that one more fish can be because you were well-organized and you were able to find the right solution without losing any seconds.

Another example is, when fish are not biting because for example, the water temperature has dropped overnight and you arrive at your spot to find that the fish, their mouths are closed, but maybe at a certain unpredictable moment, the fish may eat for only five or ten minutes, and you will do your winning in these five or ten minutes. Again, every second counts, and organization is really linked to that. So make logical organization of many things, a logical way you prepare your tackle box, a logical way you leave your rods. Pay attention to every single detail that can help you save time. Putting jigs and trailers together ahead of time, pre-tie leaders you plan to use and so on. Saved time means fish, and fish mean winning. You can win a tournament thanks to organization. I think it really is a key point.

Stay Sharp my Friends. Another point that many fail to pay attention to is our hooks. You can have 20 tackleboxes, 100 lures, really great lures, the best, but if you do not pay attention to the hooks... Maybe the last time you had been fishing, you had one lure which hit a rock, and maybe you lost a little bit of the sharpness of your hook. If you are not paying attention to that and replace that, then in your next tournament, you may have a strike which is not really very hard, the fish just touches the lure a little bit, and because your hook was a little bit damaged, then you don't hook the fish. So pay attention. Check your hooks. Change them, don't try to save there. Definitely choose the very best hooks on the market. It costs more money, but really for you pleasure and to help your chances of winning, don't be shy on hooks.
These are little things, small ways that can win big tournaments.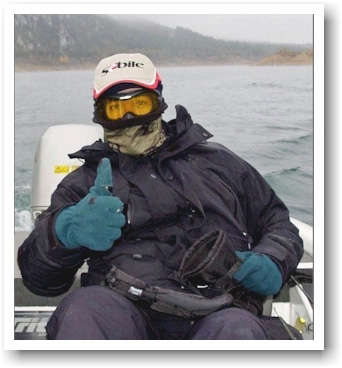 Hope you have enjoyed my story, and good luck fishing from Patrick Sébile!