A Legend Makes It Out West
June 28, 2004

This weekend, I enjoyed the privilege to help break in a brand new Legend boat that's making its way out West. I'm glad to say we got some of the first fish smell into its ample livewell.
Dean Smith, owner of Legend Boats and factory pro-staffer Andy Scott stopped to visit on their excursion out west. They're trekking a full circle from Legend Boats mountain home in Mountain Home, Arkansas. They're making business stops to show and tell about Legend Boats in Texas, Arizona, Utah, Nevada and California. Then they're turning the boat back around to set sail for Mountain Home.
New to the business, Legend Boats makes bass boats. Not bay boats or walleye boats. Not saltwater flats boats. Neither offshore nor inshore coastal boats. Not fish-n-skis or run-abouts. Not duck boats, not skiffs, not pirogues. No aluminum hulls or river-running jet-drives. Legend builds only fiberglass bass boats.
"Always fear the man with one gun" was some sort of line in a Western movie maybe. I forget where I heard it, but the gunslinger who muttered it meant that a white-hatted hero who has only one gun has learned to use it exceedingly well.
Legend Boats has learned to build only bass boats exceedingly well. They make three sizes, the LE-186 (18' 6"), the LE-195 (19' 5") and the LE-21 (20' 11"). Yamamoto pro Jamie Cyphers, a veteran big water driver, put the LE-21 through the paces on Lake Powell. Running thirty miles up lake and back, handling wide open wind-swept basins, turning tightly at high speed in three-foot wind-blown chop, necking through narrows churning like a treacherous washing machine from non-stop houseboat and tourist traffic jams, the ride was smooth and dry. Navigating miles of torturous twisting, turning narrow canyons, the responsiveness and driver's feeling of control never faltered. The Legend LE-21 is a big bass boat that offers a superior ride in big water.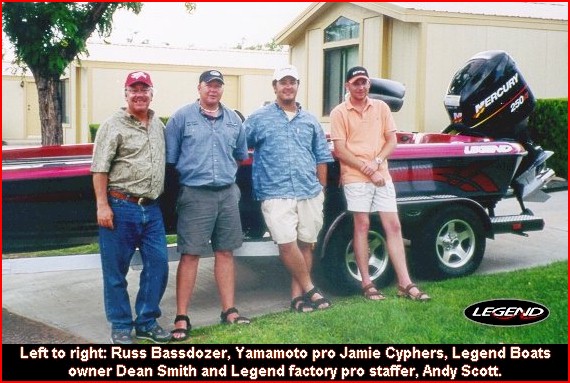 Listening to owner Dean Smith speak about Legend Boat features, they go well beyond what I've seen on most bass boats. The LE-21 we ran had recessed cleats all around. Have you ever draped a backlash over a cleat or gotten the net mesh snagged at the worst moment? Not gonna happen on a Legend. Have you ever been late getting back to a weigh-in because that last cast took too long? That shouldn't happen either on a Legend since a waterproof clock is built right into the bow instrument panel right at your feet while you cast. Ever watch the runway lights guide a plane safely into the airport at night? Your Legend trailer has a string of guiding runway lights to let you recovery your boat safely after dark. Fish getting stressed and losing weight in the livewell? The Legend has red lights designed to calm fish in the livewell. The Legend has red backlights on every instrument and switch on the driver's console and side panels, designed for protecting your eyesight when its most needed under lowlight conditions. Every locker and hatch I opened had ample illumination inside. Even back deck hatches had gas shock arm levers to help hold them open hands-free. Now that I am thinking, most storage lockers had padding inside, even under the lids. Dean mentioned there's a lifetime warranty on the hull, transom, and stringers plus unlimited horsepower to hang off the LE-21.
Hey, there's so much more you might want to know about Legend Boats - speed, strength, stability and style - but Dean and Andy didn't come over to give me a commercial and I'm not here to give you one either. Fishing was the reason for this visit and the reason for this article, so let's go. But I will say, if a new bass boat is in your future, the Legend should be on your short list for sure.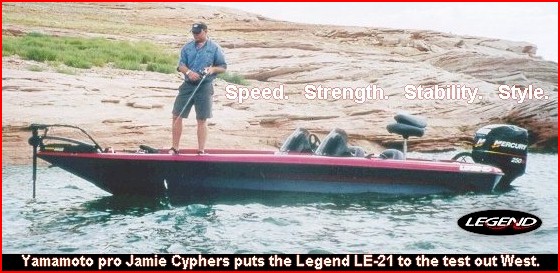 Crisscrossing Points and Bowls at Daybreak
"We crisscrossed two tactics together for our first pattern early in the day," says Bassdozer.
Most essential was to identify gamefish and baitfish in an area. We motored around trying to find surface action signs. When that failed, we motored around trying to find subsurface action signs, which we did on the electronics. Then it became a two-pronged early morning plan of attack, coursing through the area with the trolling motor wide open:
Points: We'd coast down an irregular shoreline quickly, raking any points we crossed over with deep-diving Norman DD14's for smallmouth.


Bowls: As we trolled past any indented bowls and washes in between points, we'd hurl heavy Super Spooks way, way far back into any tumbleweeds for largemouth. The Super Spook is a long distance champ. Not much can outdistance a Spook. Using it saves time having to take the boat in and out of the cuts and coves. We just traversed from point to point, and if we could empty our spools back far enough into the coves to get a Spook nearby tumbleweeds, it'd get slapped by a largemouth.
In summer, it is important to work the early morning pattern quickly and efficiently since it only lasts the first two hours most days. It's usually the best bite of the day by far, and you may as well put the boat back on the trailer after that until evening.
Mid-Morning Dropshot
By mid-morning, it was turning into one of those tough summer days. So the agenda turned to deepwater dropshot with 5-inch wacky-rigged Senkos.
The bite was subtle - almost imperceptible but it was there. Every fish I caught, I was never sure I had one until I set the hook on a hunch. The fish wanted more MegaStrike than soft plastic. The key to getting bit was smothering not only the soft bait, but the line and Mojo dropshot sinker in MegaStrike gel. I put eight or ten in the boat this way in two mid-morning hours. The first hour, there was some hazy overcast so we laced our lines with dark colors like 922 (black/red flash laminate). By the second hour, the clouds burned off, we were fit to faint from the sun and heat, and light colors like smoke w/purple and white w/silver worked well.
Fishing with Legend factory pro staffer, Andy Scott, he hadn't dropshot much back home in Arkansas. To Andy's credit, he gave the new-fangled dropshot a chance, but after two fruitless hours, wisely went to his Arkansas jigging stick and began picking up bass on the jig just like back home. "The dropshot rig is often written and therefore read about in recent years. Yet even out West where it first appeared, most Western anglers I have met don't dropshot well, often or at all," says Russ Bassdozer.

Bluffs After Noon
After sharing halves of a sandwich, some agua frķa fresca and carrot sticks, we retired under the cool shade of deep main channel bluffs. Andy had done well before lunch with a dark brown skirted jig and orangey-pumpkin twin tail grub trailer. So I too cinched on something similar - a brown and orange rubber flipping jig with a burnt-orange Super Pork Senior.
"Fishing sheer bluffs over 400 feet deep was so unusual to me, but we jigged smallmouth out of every nook and shady cranny on some of those bluffs," says Legend factory pro, Andy Scott of Mountain Home, Arkansas. "On lakes back home, 100 feet may be the maximum depth you might ever get down by the dam. But fishing with Bassdozer, I think that old boy considers 100 feet too shallow, let me tell you."

No Depth Required
You don't need anywhere near these depths for you to reproduce what we did here on a hot summer day:
Begin the early morning hours on irregular shallow shoreline points and bowls with bait and cover.
Move by mid-morning to deeper primary points ending off these areas.
By mid-day, move to steep main channel banks nearby.
Had we fished the rest of this summer day, we simply would have reversed our moves back to the primary points by mid-afternoon and back to the irregular shoreline points and bowls with bait and cover by early evening. "It's a simple, successful and reproducible script for a hot summer day," says Russ Bassdozer. You don't need anywhere near the depth of Lake Powell to do it. Just customize this script to the depth of your lake, whatever its depth may be, and it will work for you some day this summer.
Visit Legend Boats website at www.legendmarine.com or ask to see Legend Boats at your local boat dealer.