October 19th, 2002
Howdy Russ,
I just got back from Huites at my new lodge, "Trophy Bass Lodge" and this place is really lookin' good. I'm going back down again in a few days. About my claim: You tell me, I caught over 80 bass over ten pounds just last year alone. I've been doing that for over 30 years! I've got hundreds of photo's of me and 10 pound plus bass. I know of a few guys who have caught some big bass in their careers, but I know of no one who has caught as many as I have, in fact it would be impossible for anyone to have caught more than me. You see, I'm on the best bass lakes in the world over 150 days a year and that gives me the opportunity to be number one when it comes to numbers of 10 pounders. No one else has had that opportunity.
I remember one occasion last year when I caught 28 bass over 10 pounds in one afternoon! Now who can say that? And I can prove it.


I had a 66 lb 3 oz stringer of five bass averaging over 13 pounds in one day, and a 124 pound 10 bass stringer I caught in May of 2000.


Last May (2001) with Cajun Phil, we caught 36 bass over 10 pounds and they are all on film. When I wasn't filming with Phil I caught 7 more over 10 pounds while they were staying at my place, Trophy Bass Lodge on Lake Huites, and have the photos to prove it.
I'm not blowin' smoke. It's all true and there are plenty of guys who will back up what I say. Think about it....If I only caught one bass over ten pounds per day and I fish 150-200 days a year.... On my last trip to Huites (October 2002), on what was just an ordinary working trip, I fished two afternoons and landed 4 bass over 10 pounds. See what I mean? Who else has even the slightest chance of doing that?
Number one, no one could afford to do that or have the time to do it. Of all the top pros out there, they have great talent, but how many of them catch a ten pounder every day at all the tournaments? And even if they did or could, then I still would catch hundreds of ten pounders a year more than they do. It's simple math. I'm on the water more than anyone and I'm on the best water in the world for giant bass.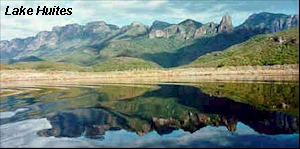 If you use this letter for a story...'Dozer, I know you will never get any flack from it because almost everyone in the industry knows by now how many monsters I catch. Lots of people call me the Guru of Big Bass and they are right. Not because I'm the best stick out there, because I'm not. I just have the opportunity to do it. I'm just fortunate enough to be at the right place at the right time with lots of knowledge about Mexico bass fishing...more than anyone I know. Like I said, I'm not the best stick out there, I'm just poundin' them non-stop more than anyone right where the big ones live...Mexico.
Now I'll challenge you a little. Try to find anyone who has caught as many bass over ten pounds as I have. You can research this forever and you'll never find anyone who has caught so many. I'm not bragging. I'm just stating the facts. I have over a thousand days on the lakes in Mexico in just the past 5 years, so that should say plenty. I don't know what else to say except that I would have run across someone by now who could claim more ten pounders than me. But I have never found anyone....not even close. I am all alone on this level.
There is no way to estimate how many I've caught in the past 35 years, but I remember my first one over 10 pounds. I was living for two years on Lake Dominguez (just below Lake Huites), where I was guiding 220 days a year in 1968. I caught my first, a 14-3 when I was 19 years old. I still remember it and love it. I'm sure I must have caught at least 100 bass a year over 10 pounds way back then AND ALL THE REST IS HISTORY. I've been fishin' Mexico ever since. It's been my life.
My 4 biggest bass go 15-11, 15-9, 15-4 and 15-3. I have one on film that I lost that I know would go over 20 pounds and I lost one at Huites last May that would go over 18 pounds. I've got quite a few in the 14 pound class, but only 2 bass in the 13 pound range which I caught back to back at El Salto last year with Tom Wynn. I couldn't count all the ones in the 12 pound range as well as all the 11's and 10's which are the most numerous. What's even more incredible is that 95% of these hawgs were caught from the back of the boat because there is always some one else I am guiding on the front platform when I'm fishin'.
Let me know what you need to verify this. I can give you names, places and numbers, lots has already been said in this letter. I can give you photos.... hundreds of them, and not just me... lots of clients.
Well, maybe I've said enough now, Russ. You be the judge, my friend. I say I'm all alone on top of the Big Bass World and I intend to stay on top as long as the good Lord is willing for me to be here. That's the real story! See you in Mexico.