.An Online Journey to the Big Tackle Shows in Japan
Story by Russ Bassdozer, Matt Paino and Hideyuki Nomura, editor of Lure Magazine
Right now as you read this (early spring 2007) is the crunch time in the US tackle manufacturing industry. All manufacturers are backlogged on orders. Factories run full shift in catch-up mode. They're all awash in a downpour of orders that will take weeks or months to fill. Most US manufacturers don't mind the backlog. You see, they tend to sell more in these brief few months than the rest of the year combined.
Halfway around the world in Japan, the tackle industry is heating up there right now also. Two major tackle shows (one in Osaka, another in Yokohama) are the perennial season-openers that kick-start Japan's tackle season.
Not able to get the time off; can't afford the high price of international airfare, hotel rooms or sushi dinners to get to Japan's tackle shows yourself? This article's the next best thing. First, a precursor about bass fishing in Japan to get you in the mood, followed by a long list of almost 200 exhibitors you may come across if you were able to visit the big tackle shows in Japan. Please enjoy!
---
Largemouth, smallmouth or spotted bass purportedly live in at least 81 countries. It makes sense that there's likely to be some enterprising local or regional brand marketing of parochial bass lures in many of these countries. Overall however, there are only two main countries - the United States and Japan - that heavily design and develop brands of bass lures.
Of course, the US brands are well known in the states, but many of Japan's best bass lures are virtually unknown and unfished in America. One young American, Matt Paino, 29 years old and CEO of Optimum Baits Company in California, is helping change that.
One theory of human evolution or migration states that way back when, there was a land bridge from the Far East, across what is now the Bering Sea between Alaska and Russia, and early humans from the Far East walked across that land bridge, populating North America. Today the bridge for Far East tackle companies from Japan to cross into the USA is Matt Paino.
Leading tackle companies, ones that have proven to be major successes in Japan, they have tried on their own to establish their products in the USA - and more often than not, they fail here. It may be a matter of cultural or marketing differences compounded by the language barrier, or whatever. The fact is that many good tackle companies in Japan have tried and failed, unable to establish their products on their own in the USA. With his dual understanding and involvement in the tackle industry in both countries however, Matt Paino has ushered several of Japan's premier tackle companies into the USA with success in 2006, including deps, Ima, Zappu, Active and Vagabond, with more surely to follow.
Including attending college in Japan, Matt lived, worked and fished in Japan for almost seven years overall, four of which Matt ran Optimum Baits Company in Japan. "It's been a wonderful experience," exclaims Matt who married his sweetheart, Chinami, last year in Japan.
Matt first went to live in Japan at the age of 21, as an exchange student at Waseda University in Tokyo, Japan. On Saturdays, Matt worked part-time during college at one of Tokyo's premier tackle shops, named Tokyo Sunrise.
"Tokyo Sunrise was one of the first tackle stores in Japan to import bass tackle from the United States. A family-owned store, it had only sold traditional Japanese fishing tackle until the nineteen-seventies, which is when the son (the current owner) started to import U.S. bass tackle. That period marks the origin of bass lure fishing in Japan," says Matt.
"Although the Japanese bass fishing industry was originally 100% imported from the states, it was not long before exclusively Japanese research and development began to create new lures and especially - new TECHNIQUES. As I became involved in bass fishing in Japan, I quickly found not only lures but techniques they use in Japan that are not yet known in the USA," explains Paino.
Says Shunji Tanaka of Gary International, which is Gary Yamamoto Custom Baits subsidiary in Japan:
Same as in the northern states of the USA, the best season for bass fishing in Japan is May and June. In this period, many anglers in Japan go bass fishing on their days off.

In winter when it's too cold for effective lure fishing, Japanese anglers enjoy bait fishing, not lure fishing, in the salt water, rivers and lakes.

The major bass tournaments in Japan are run by JB http://www.jbnbc.jp/. The JB (Japan Basspro Organization) in Japan is equivalent to BASS or FLW in the USA.

In Japan, bass is considered a harmful fish by some people. There are some lakes in which they don't allow "catch and release" but promote catch and kill. The general public are sometimes told that bass eat every native Japanese fish in the lake and because of that, they're called devil fish by some.
"What I've learned living in Japan and being a part of the Japanese bass fishing industry is that the Japanese anglers are a very studious bunch. They are always working on new and creative techniques. The dropshot technique that the Japanese introduced to America several years back has by now become a household term to US bass anglers. But the Japanese have created other new techniques and lures. One is called Inchi Wacky or Jig Head Wacky," reveals Paino. "This technique had taken Japan by storm starting in 2004 when two top Japanese bass pros, Takuma Hata of Zappu Inc. and Toshiro Ono of Jackall Inc had pioneered the craze. Hata introduced the Inchi Wacky technique to the Japanese press soon after he returned from a tournament in Korea in a feature article with Lure Magazine. Soon thereafter, Toshiro Ono took first place in the 2004 Basser All-Star Classic on the Jig Head Wacky Rig. With the press picking up on the technique, it wasn't long before everyone in Japan wanted to find out what was behind their success, and the technique is no longer entirely new there now, yet Inchi Wacky tactics and jigs are still unknown in the USA."
"S Ji Kei" embodies another new lure concept from Japan. They are a new genre of lipless lures that swim with an action that traces the letter S through the water throughout the retrieve. Translated into English, "S Ji Kei Lures" could be called "S Action Lures" if they were on the market in the USA, but they are not here yet.
"So there are lots of lures that haven't made it out of Japan, but more importantly I would say the techniques are still unknown in the states. Now in the USA, you see Lucky Craft, Megabass and some Lake Police today. Deps is a leading Japanese lure producer that just started being seen in the USA in 2006. Another company, Evergreen, is actually number one product-wise in Japan right now. Some of Evergreen's sponsored pro anglers such as Morizo Shimizu have come to fish the top tournament trails in the states, and they've done well. All Japanese anglers are well aware of Morizo Shimizu's success in the USA. Nevertheless Evergreen's products are not yet known in the USA," Paino explains.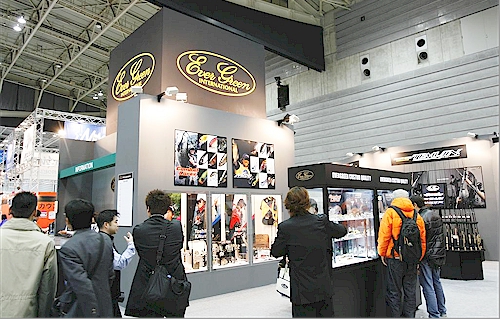 Evergreen International is said to be the leading bass tackle manufacturer in Japan today. Photo by Lure Magazine.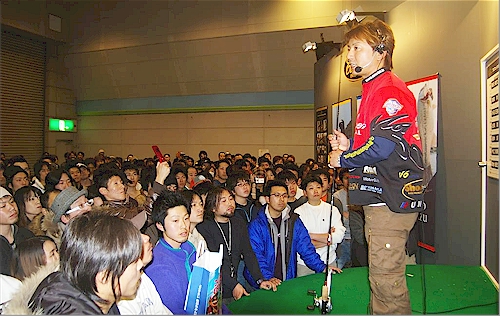 Japanese anglers crowd the exhibition hall, quite eager to learn from Morizo Shimizu, an Evergreen pro-staffer who is very well-respected for being a successful angler in the United States. Photo by Lure Magazine.
"The Japanese people in general are a very meticulous culture, paying huge amounts of attention to detail. Hence, the amount of research and detail they put into their lures. The average angler here is much more in tune with what each manufacturer is producing and all of their new tackle. There is a strong awareness of precisely how each and every manufacturer and model of Japanese bait measures up against all others."
"Working at the tackle store during college, I soon realized how studious the everyday Japanese angler is toward the angling magazines. Guys would come in and buy lures by the basketful if they heard that it was working or if it was a trend written about in a Japanese bass magazine."
Matt explains, "A country the size of California, Japan's population is 125 million. Yet the bass anglers support five national monthly bass magazines in Japan. A few are several hundred pages long per issue, a magazine size unheard of in the USA. Yet it's the monthly norm of bass and lure fishing detail that's digested by the studious following of Japanese anglers. The five national magazines will get in-depth on the manufacturers' new products and that instantly creates the trends for new tackle and techniques. It's not a preoccupation with lures they have, but their waters are so small and overfished, they feel a need to constantly evolve techniques and products the fish have not seen there yet."
In Japan, each retail fishing tackle shop has a small "reserved room" behind the counter, with special items not put out on the floor. In some cases, this is a small but special merchandise show room, or it could simply be an area or shelf sequestered behind a curtain. For a special customer, the shop owner may decide to bring out a tray of some special and hard-to-get lures (or it could even be special rods, reels or other tackle of extraordinary quality), and the privileged customer may be able to admire but only buy one of the items at that time. It is something of an honor and a sign of appreciation for the store proprietor to extend this courtesy to a customer.

At home, it is not uncommon for a devout Japanese bass angler to have a sacred kind of fishing corner in his house. It is just a small space where his rods, reels, lures, tackle bag, fishing vest or jacket, hat and other accessories are prepared and laid out in this special corner in a befitting manner when he is not using them. A sort of a shrine to fishing? Yes, I think so. His corner may contain photos, a lucky lure or other special object like that. In this way, no matter what else goes on in his life, his fishing corner remains tranquil and always ready. One look at it brings back the many memories his fishing corner holds of fish and friends past...and it holds his wishes of fishes yet to come in his future.

Lures, of course, are an important part of this. After all, it is the lure that the fish dreams to bite. The fish hasn't any interest whatsoever in the rod, reel, line, fishing vest, patches, hat, tackle bag, boat, motor, trailer, electronics or tow rig. All necessary? Surely. Yet the fish dreams of the lure alone, and the fish honors the manufacturer who made it and honors the angler who presents this lure to the fish in the manner that is befitting for the fish to bite it.

The moment when the fish is lured and played...when the hook's hold is removed from his lip...when the man grasps an astonishingly fine fish in his hand. He respects it, thanks it for making the dream his reality, and returns it carefully back to its life. The man and the fish have both been set free. Time and life's troubles do not exist at that moment. It is the moment that fishing means. It is the moment that lives forever - never to be forgotten, never to be excused, confused or compromised by anything else - in the angler's sacred fishing corner of his mind.

Actually, some US anglers do something quite similar. Indeed, it is common for American anglers to also fondly display their favorite tackle, memorable photos or killer lures in a special area or arrangement in the family den, on the mantelpiece or wherever. Although we don't quite think of it in terms of a shrine, it's a respectful display of fishing gear put up in the special spot each fisherman reserves for his stuff. No one else in the family dares touch it. It's all perfectly ready and waiting for the next trip. We may take out one or two killer lures to honor, displaying them in clear sight to remind us of what each one has caught us and what each one is yet to catch. We dream. It is the same dream as all anglers worldwide.
With his dual country bass fishing experiences, his industry involvement with Optimum Baits in Japan and the USA, Matt is qualified to share what he feels are the differences in bass fishing between the two countries. "The biggest difference I see between Japanese anglers and U.S. anglers is that in Japan, the lakes and bodies of water are so small that an angler doesn't have to find the fish. The fish are in the lake, and the lake is only so big, and there's certain to be other anglers staked out in many spots. So you may only have a small stretch of water within which one can operate. This creates intense fishing pressure, and because of such constant pressure, the Japanese angler's mind-set has to be focused on how am I going to catch the fish? What methods and with what lure? With U.S. anglers, the mind-set is where are the fish at? How am I going to find the fish first, and lures and tactics are secondary, almost unimportant in relation to finding the fish. You hear American anglers describe this mind-set all the time. US anglers feel that if you do a good job at finding the fish first, the mind-set is they'll strike many lures. They say the best lure is simply no good until you've found the fish. Japanese anglers, their mind-set is, when you arrive at the lake, you've found the fish, you've got a little stretch of bank to fish, that's all. So their first and only focus is what tactics and lures to get the fish in that given spot to cooperate."
"Many say that the reasons why the Japanese are constantly developing new lures and techniques are because the lakes and ponds are so pressured that the bass in Japan see the same lures and techniques over and over and if the anglers donít change things up they end up getting blanked. Creating something the bass have never seen before improves the odds of catching fish. No matter where you fish, this will hold true," espouses Matt Paino.
KATSUTAKA IMAE, JAPAN'S MOST FAMOUS BASS ANGLER
There are legendary pro anglers in Japan, national stars who have climbed to the top of bass mountain in their own country. So they embark to the United States with the mind-set and ability to achieve top tournament status in the states. Bassmaster Classic winner Takahiro Omori, Toshi Namiki, Shinichi Fukae, Yusuke Muyazaki, Norio Tanabe and Morizo Shimizu are a few of Japan's luminary figures who rank high on the top tours here today. In Japan, these hometown heroes are closely followed. Their stateside fishing techniques are emulated. They tend to be movers and shakers, designers and promoters of some of the most highly successful bass tackle on the Japanese market.
The Japanese pros who have come here to fish the BASS and FLW tours have become part of the fabric of our American sport as well. A top Japanese pro is in close contention to win any major tournament in the USA, and their successes are followed here too, in practically every major bass TV show or fishing magazine in the USA.
Yet you may not have heard of Japan's greatest bass angler. Hands down that title belongs to Katsutaka Imae, age 41, from Osaka, Japan, and you may not have heard of the hottest soft plastic bait in Japan in recent times either, the Javallon made by his company, Imakatsu. There's really only one place we know to get it in the USA - on eBay from sellers in Japan.
With 2 JB World Classic Championships and being honored as JB Bass Angler of the year 3 times, Katsutaka Imae's popularity amongst Japanese fishing enthusiasts is ranked number one and his companyís homepage averages 15,000 fans viewing daily.
KATSUTAKA IMAE'S AWARDS AND CREDENTIALS IN JAPAN:
1989,1991 & 1992 JB BASS ANGLER OF THE YEAR
1990 & 1992 BASSER ALLSTAR CLASSIC CHAMPION
1996 & 1998 JB SUPER BASS CLASSIC CHAMPION
2001 & 2004 JB WORLD SERIES CHAMPION
2004 JB CHAMPION OF CHAMPIONS WINNER
2005 JB ELITE 5 CHAMPION
HIS SPONSORS INCLUDE:
Imakatsu, Inc. (He's the company president)
Evergreen International (Temujin, Inspire Custom lures)
Pure Fishing (Abu Garcia, Berkley)
Popeye Company (Ranger Boats Japan)
Motor Guide Japan (trolling motor)
Toray Fishing (fishing line)
Meiho Chemical (tackle box)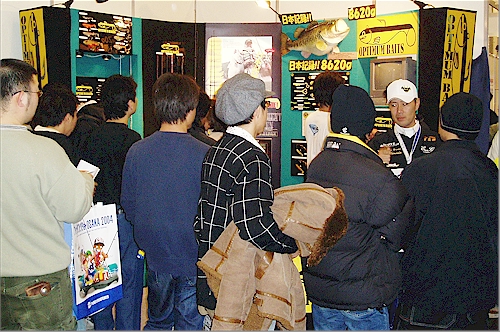 Shimada (far right, wearing white cap) is a famous angler in Japan, an equivalent to America's Mike Long. In Japan, Shimada is known as the #1 MONSTER FISH HUNTER! He fishes for BIG fish only. He holds the Japanese record at 19.15 lbs. He has caught the 4 largest bass on record in Japan. Overall, he has caught over 40 fish in Japan that weigh over 10 lbs. Shimada is coming for 12 days to fish at Lake Dixon in California from March 27 to April 9, 2007. This will be Shimada's quest to catch the World Record Bass at Lake Dixon.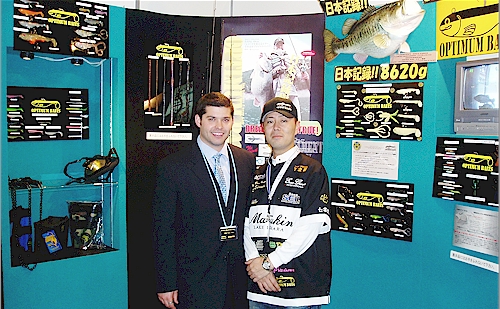 Matt Paino, CEO of Optimum Bait Company (shown on left) poses for a picture with Shimada who landed Japan's national record 19.15 lb. largemouth on an Optimum swimbait. Matt has been involved in the bass fishing industry since the age of twelve. "That's when my father, Tony Paino, bought AA Worms Inc, and he started Optimum Baits Company in 1996 in Southern California." Today, son Matt is CEO of Optimum Baits. He and dad Tony still produce Optimum's legendary swimbaits in California.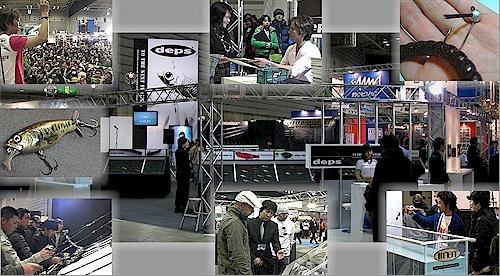 In 2006, Paino helped deps successfully introduce it's unique Buzzjet and Basirisky frog to the USA.
"It's true that several companies such as Lucky Craft and Megabass have established themselves and their products in the USA on their own accord. It's also true that other worthy Japanese companies have tried and failed to do that. Any one of these company's products are good enough to succeed but it takes a lot more than just good products to launch a company in the USA," says Matt Paino.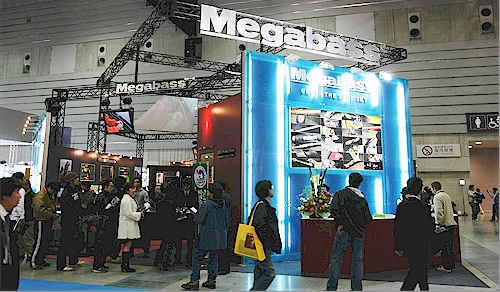 Megabass has established itself in the USA based mainly on the ongoing legendary status of several of its lure products, including most recently, the Ito Vision 110 jerkbait. It is not a new jerkbait in Japan, although it's rise to stature in the USA is recent. Photo by Lure Magazine.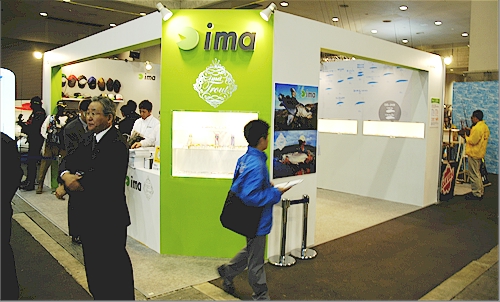 IMA dominates the saltwater lure market in Japan due to its innovative lure body shapes and colors. IMA gets its name from the first three letters of the word, imagination. With Matt Paino's help in recent months, IMA is well on its way to becoming established in US saltwater markets. "With the amount of promotion they are doing, IMA will be successful here. We are starting to sell quite a bit in Florida's saltwater market and now in California saltwater. IMA's freshwater debut for US bass anglers will be coming soon, and will be dynamite," says Matt Paino.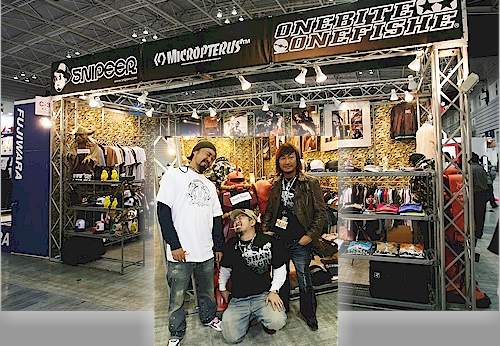 It's not enough to fish good in Japan. You have to look cool doing it. A popular bass fishing "look" in Japan is to dress like a rock star. Shown here is the booth of micropterus, onebite onefishe, and snipeer - successful clothing companies for bass fishing, and these famous clothing company owners. Photo by Lure Magazine.
"In Japan there is a lot more bass fishing done from shore. People say that over 80% of anglers fish from shore rather than from boats in Japan. One of the reasons that Gary Yamamoto was so successful here was his hefty salt-laden baits are so easy for the shore fisherman to use weightless (which the Japanese call a "No-Sinker Rig") and just cast it out and slowly drag it without snagging bottom.

That's also the reason why you see so many excellent top water lures coming out of Japan - because of the shore fishing and the need for something that doesn't run too deep, so it won't snag underwater cover where a shore angler can't get it back.

Besides the fact that the majority of Japanese bass anglers are fishing from shore, the Japanese love to watch their lures get blown up on. The Japanese mindset is not just how many fish but they like to see just how creative they can be to catch fish and how can they make their experience more incredible. That's great excitement and thrilling fishing." - Matt Paino