ICAST 2006:
New Bass Tackle for 2007
It's not really fair to you, the angler, to read the report below, and it isn't really fair to the vendors, distributors, wholesalers or retailers either. Maybe next year they really should not let the media in (just kidding) to ICAST. In a sense, it really is an insider show for tackle vendors and tackle buyers, not the general public nor the media.

Among other things, ICAST assists the new product introduction cycle for next spring. Many of the new products you will read about below do not exist yet, not in production. Many are the final development versions, but a few are in the late prototype phases still. It's important for vendors to show these products and prototypes now to large distributors and their biggest buyers especially. Those distributors and wholesalers can then give lucky vendors a feel or commitment for how many units they would need allocated for their 2007 mail-order catalogs or distributor's dealer-only shows late this fall and early next spring, so production can ramp up and the new products can be on local dealers shelves, available online or in mail-order catalogs for you by the time bass fishing season opens next spring.

With traditional media, meaning fishing magazines, you wouldn't normally hear of most new products below until the December issue, which traditionally has been earmarked on magazines' editorial calendars as the "new product" issue.

Then, the top tournament trails start in earnest in January. Top pros, sponsored by tackle vendors, start whacking winning bags on the latest and greatest tackle the industry has to offer (see below). Based on the pros' demonstrated successes, you can then readily buy the new tackle they're winning with at many of your favorite local tackle shops by next spring.

That's an overview of the industry's annual new product introduction, distribution and sales cycle in a nutshell.

The Internet has short-circuited that traditional product and information dissemination cycle. Now, you are going to hear of the new products below even before many big players within the industry do. There are new products I had to pull from this report since the vendors had not yet shown those new products to their biggest customer buyers yet. They didn't want the customers (multi-million dollar accounts) to read this report first before the vendors met and presented their new products to their biggest customers. It's nobody's fault, just the Internet's.

So you're privileged now to be on the inside track, the fast track, to be able to read this... but keep in mind, most all of the new products below are not yet available, and will not be available for many months. Look for them to be at your favorite fishing shop by the time the honeysuckle and lilacs waft over the water next spring, and bass fishing starts anew in 2007.

One other foreword you need to know not every vendor attends ICAST. It's hard to estimate what percentage of bass tackle vendors go there, but I'd say less than half of the major bass tackle vendors attend ICAST. So, we just don't know what that other half are coming out with yet? We'll have to wait for the fishing magazines' traditional new product issues in December for that information.

One final caveat before I let you enjoy reading the report is that ICAST is all about business. Las Vegas, the gambling, betting against the odds, the hopes and dreams, hitting the jackpot or going home with your hat in your hand, wondering how you're going to pay your bills with all the money you dropped attending ICAST, it's all part of the ambiance at ICAST. It fits right in, especially for the little vendors hoping to make it big. ICAST. It's business. Money's at stake. In three intense days, fortunes can be won or lost at the tables at ICAST. It's about vendors who sell tackle and distributors, wholesalers, middlemen and retailers who buy it in bulk, for you to enjoy fishing with it by next spring and beyond. Point I want to say is not every tackle vendor has the time to meet with the media or me at ICAST. This year, more than prior years, big business was being done on the ICAST show floor. More than a few vendors appeared too busy with big buyers in order to speak with me when I stopped by their booth this year. So I haven't any information to pass along to you this year about those busy vendors' new products. Fortunately, I did speak with about sixty or so bass tackle vendors (listed alphabetically below) who gave me a moment of their time to help produce this report for you. Thank you all in the tackle industry who spent time with me at ICAST.

Dear reader, thank you for letting me speak that foreword. Now, on to the report!

Abu Garcia
Revo, a tough new low profile reel, appears heavy duty. Solid and quite rugged is the way to describe it. It has a low profile for easy palming yet does not compromise on an incredibly powerful main gear system. The main gear housing is underslung, extending (on the side) beneath the reel seat. The no-compromise oversized gear system should put the new Revo among the toughest bass reels you've ever used. Need something to winch log-sized lunkers out of the worst junk? Need to bump-and-grind big-billed deep-diving crankbaits in 15 feet of water day after day? Stuff like that can make mincemeat out of reels. You may want to look at the Revo. There are several models, all about the same size, weight and line capacity, but varying in features and gear ratio, starting from $99 to $199 for the feature-rich STX model.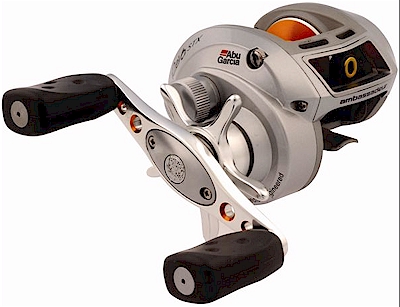 AiRRUS Rods
AiRRUS continues to maintain its leadership role in the rod building industry.
This year, Ken Whiting earned the Best Freshwater Rod award at ICAST again. And again. And again. And again. Whiting's won four of the last five years to be exact. That's quite an accomplishment considering all the stiff competition. In only 4-1/2 years that Ken's company, AiRRUS, has been part of the tackle industry, it has quickly developed a reputation as a leader, not a follower, in innovation and technology. Continuing in that tradition, Airrus introduced its second generation Carbon Nanotube Composites by way of its totally new Pulsar GL series. Typically the weakest areas in carbon fibers are the tiny spaces between the fibers which contain only resin. To radically improve strength and toughness, Airrus has replaced the weakest link in a rod with an innovative enhanced resin system containing nanotubes which are 200 times stronger than titanium and 450 times stronger than steel. So Ken has turned the weakest part of a rod into its strongest part. Lighter, stronger and more sensitive than any rod even Airrus has developed in the past.
Whereas some companies just put rods together, Ken is more of a perfectionist in overall form and function. With Ken, it is a pride and a passion he has, that you can see in his product. Based on all the awards he has won, not just at ICAST, but awards throughout the industry, it's obvious that Ken's passion and perfection has not gone unnoticed and is most appreciated.
The award-winning Pulsar GL rods combine multiple modulus sections of graphite in the tip and midsection plus the butt and grip sections contain a blend of new S2 fiberglass, all effectively unitized from tip to butt with the nanotube resin epoxy.
Ken's the industry leader in radical new handle - or shall we say, handleless (as in less handle) design. There's very little reel seat. It's a split reelseat, with barely nothing but the reel chocks. There's no cork or foam grip, the rod blank itself is the handle. Where cork or foam would otherwise be, the blank flares out in those sections to fit the hand in lieu of a grip. Due to the fact that the rod blank and grip are fused together, with the same epoxy used in their construction, the grip is a part of the blank and affords the same related degree of sensitivity you would expect if you were gripping the blank. (You really need to see this.)
You also need to see the new hook keeper wrapped onto the rod. It's just about the best hook keeper ever. With a Texas-rigged worm with the hook buried in the worm, you can clip it right onto the bend of the hook without pulling the hook point out of the worm to stow your rod. This new hook keeper will handle all set-ups, including dropshot sinker rigs. I've not seen better.
Another feature, new this year, that is incorporated in the PULSAR GL is locking wraps on all of the guides. The wrap goes around the blank and guide foot, then up around the guide stem and then back around the blank, so these guides will never come out. You read that right. The thread wraps the foot of the guide, and then up around the top of the guide too, so it can never loosen and pull out from the top, says Ken. The guides themselves are TiCH frames and inserts which are extremely light and the TiCH inserts will never crack or fall out and are well suited to braided lines of all kinds.
To say these rods (and Ken) are great is an understatement. Thank you, Mr. Whiting.
The new Pulsar GL series will be available in four baitcasting and three or four spinning rod models.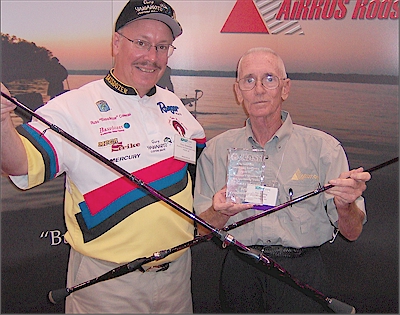 Bassdozer and Ken Whiting heft award-winning Pulsar GL rods
Contact: Ken Whiting, Airrus Rods, Las Vegas, NV 702-395-2173 www.rodsbyairrus.com
Bagley
Mike Rogan unveiled Bagley's new injection-molded hard plastic bait series.
"Bagley's roots are in the balsa market and tell me what other company has lasted nearly four decades in balsa," says Mike Rogan, "but there's not a lot of growth. There's a limit as to how many top quality balsa lures an angler owns. Good quality balsa is expensive to make, and even top pros, they already have an arsenal of Bagley balsa baits amassed over the years."
"So I needed to get Bagley back into the weekend angler's arsenal," says Mike, adding these new baits will be around the $5.99 to $6.99 range.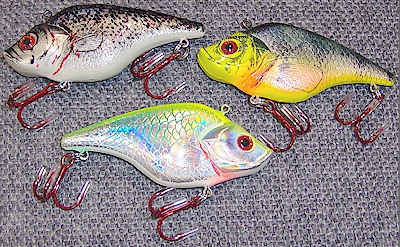 Bagley's new injection-molded Top Gun Baitfish Series
"Working with Woo Daves and Tommy Martin, we came up with a distinctly Bagley design. It has a very lifelike baitfish appearance, throws great distance, is 5/8 ounce 3 inches. This is a sinking lipless crankbait. A sink rate of one foot per second is a standard sink rate for other lures. The new Bagley Top Gun Baitfish sinks twice as fast - 2 feet per second. So it saves a lot of time in a tournament. It sinks nose down so as soon as line pressure is applied, the bait is already in position to vibrate," says Mike.
"We've developed our own plastic injection plant, which has been three years in the making. Fifteen years ago, Bagley started to carve balsa baits on CNC machines. So we developed advanced machinery skills internally long ago, and we have been building in-house competencies with the plastic injecting machines for two years now," says Rogan adding that more new injection-molded plastic baits are forthcoming. "The Top Gun Baitfish is just the first of a whole series of injected baits not just for bass, but walleye stickbaits, saltwater lures and more," says Mike.
In terms of paint and finish, it appears to me that Bagley has taken a similar approach to painting the new plastic baits as with their legacy balsa wood. The new plastic baits almost looks like wood, due to the paint finish, and it's hard to tell at first whether they are plastic or wood.
Bagley also introduced their new Shakey Jig Head in 1/16, 1/8, 3/16, 1/4, and 3/8 oz sizes, all with Gamakatsu flat eye Sproat style hooks.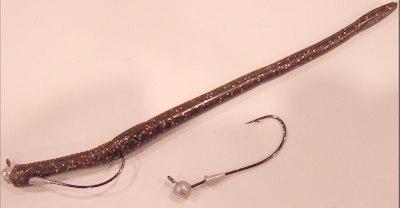 Bagley's new shakey jig head
"The first feature is the flat spot on bottom gives a balance point to support bait, combined with the 60 degree bend hook, the flat spot provides the adept shakey head angler with the best control available to effect their shaking style," says Mike Rogan. "There's more individual style possible than with any other soft plastic. The shaking tactic allows an angler to demonstrate more of his or her personality to the fish since the worm stands up, and the movement can be controlled better, thanks to the flat spot (actually a balance point) on the bottom of the jig," claims Rogan.
"The second new feature is the separate worm stopper cone molded on the hook shank. Simply pierce a worm straight in the bottom and straight out the top about 3 or 4 ribs back from the nose (about 1/4 inch back from the tip). Go in one side and right out the other. (Note: worm in photo is rigged differently.) Since the rubber worm is elastic, and already pierced through, the stopper cone momentarily expands but does not increase the hole size in the worm. Once pushed over the stopper, the pierced hole in the worm slams shut. So there is minimal damage done to the worm, and the stopper is like a one way baffle. The worm goes on easily, not getting torn, but cannot be backed off easily," says Rogan.
"It's also important when you bury the barb in the worm to Texas rig it, leave next to no concave or convex play in the worm as this robs freedom of motion from the back end of the bait," claims Mike. "Mount the bait properly, and you'll get the maximum freedom of movement in the tail."
"Although not new, Bagley's DB3 Mag is enjoying a renaissance in Japan. Last summer, a high profile pro won a prestigious tournament in Japan with the DB3 Mag. By September, two cargo container loads of them were on the way to Japan to fulfill renewed demand for the bait. When it comes to crankbaits, a little known fact is Bagley outsell most all USA lure companies in Japan," says Mike Rogan. "Bagley even outsells seventy-five percent of the Japanese crankbait companies," says he.
"It's a little known story that Jim Bagley helped stock bass and start bass fishing in Japan. There were no bass boats, no fishing from boats for bass in Japan then. The DB3 Mag was developed by Jim Bagley for shore fishing in Japan. That was around the late seventies. For shore fishing in Japan, it was essential to have a crankbait that could cast farther and dive deeper," relates Mike. Even to this day in Japan, many bass tournaments still have a shore fishing contingent, a separate competition and awards for shore fishermen.
"The DB3 Mag is Bagley's finest deep diver. It's bigger and heavier than the standard DB3 with a different action, and you can whack one out of the park like Babe Ruth swinging for the fences. Yet is the USA, no one is buying them. You get increased distance without moving the boat, without starting the trolling motor, you can cover more area with less boat maneuvering, with less alarming the fish, and there's a lot to be said for that."
Bass Assassin
Husband Robin and wife Teresa Shiver operate Bass Assassin. Teresa says, "Our son was born and raised around the shop, and he's been creating all kinds of baits forever with his Dad." With the creature and frog bait craze lately, their son combined both these bait types into one. His Dad, Robin, said "You may be on to something here, son. This new bait won't roll. It comes in straight as straight can be."
"Our son's nickname is Logger. He got that when he was born because he would stretch his neck and he looked like a turtle, so we called him Loggerhead or Logger for short. So we're going to be call this new creature/frog bait the Logger Toad," says Teresa proudly. The prototype was nice and soft and floppy, and it is designed to be fished across the surface like a soft plastic frog/toad bait, yet with more action legs.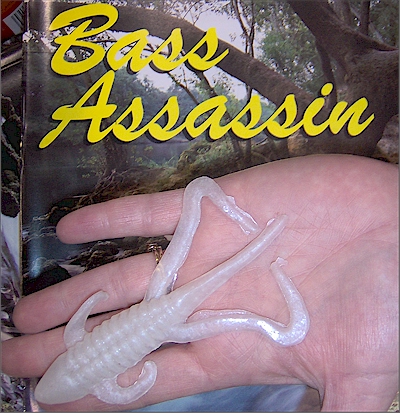 Prototype of Bass Assassin Logger Toad
"Bass Assassin is also the new source for BANG Fish Attractants," says Teresa. There is still (and always has been) a strong contingent of anglers who prefer to use BANG, but it has not been so easy to get it in recent years. So it's good news now that Bass Assassin has become the new source for BANG.
Bass Assassin also has teamed up with Will Thompson to market the new Odor Assassin. "It does not cover up odors but eliminates them," says Will Thompson who is known for his Blue Wonder gun care products. "The product was originally invented to solve a stinky problem with bullet proof vests and body armor being used by our soldiers in Iraq. Problem is that you cannot wash these items, so you could imagine in the heat and all. The product worked so well, our soldiers were using it in their boots, in the military vehicles they drove, everywhere. It's a great product for anglers to use in live wells, rod lockers, and yes, you can apply it on your hands to eliminate odors," says Will.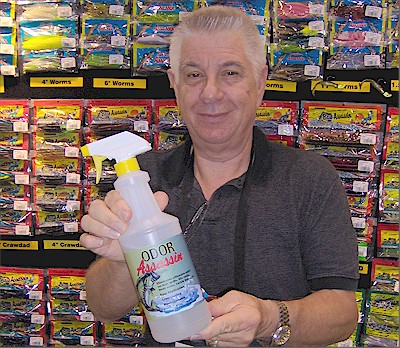 Will Thompson presents new Odor Assassin to eliminate odors.
Berkley
Tim Rizzi, a representative of Pure Fishing, walked me through the new products of interest to me, starting with new fishing lines such as:
Berkley Vanish Transition Crimson Red is 100% fluorocarbon that's hi-vis above water. This enables an angler to control his or her presentation by sight and to see unfeelable strikes via line movement. The company claims its not lo-vis but "no-vis" underwater.
Berkley FireLine Crystal is the world's first semi-translucent braided superline, and improves braid with low visibility. Persons who have tried it report the line is not entirely clear but tends to appear a muted white color. Ads show a dark background being visible behind the line, so I presume FireLine Crystal may allow it to blend in somewhat more naturally with any water conditions or background versus more solid opaque braids.
Berkley Trilene Maxx has the castability and good spool manners of Trilene XL plus the durability and abrasion resistance of Trilene XT, says the company about its new MAXX copolymer line.
The new Spiderwire G-String, although not a Berkley product, is an affiliated brand. So please don't mind if I include it here. This is a new monofilament. The company claims it is specially designed for extreme shock strength (when setting the hook), abrasion resistance and pure strength. That makes it ideal for power fishing such as flipping and pitching in gnarly cover for big bass. Since it is a monofilament, it has the good handling characteristics and spool manners that mono is known for.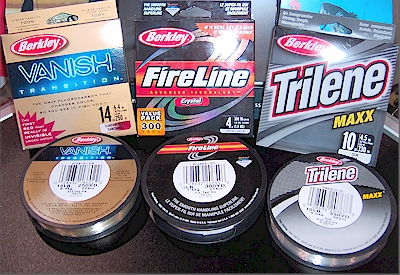 Berkley Vanish Transition Crimson Red, Fireline Crystal braid and Trilene MAXX copolymer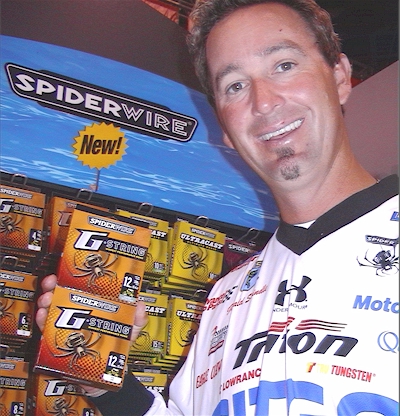 G-Man Gerald Swindle strums his new Spiderwire G-String monofilament.
Next, Tim Rizzi showed me Berkley's new marker buoy. If you're not fishing with marker buoys, you're not maximizing your catch. With two fishfinders on my boat, one on the dash, the other up front, I always have marker buoys handy to drop anytime I see points of interest on the graph - or get a hit in the proverbial "middle of nowhere." There's just no way you can recover the exact spot again. No matter how much you think you do, you don't. Boat drift, using the trolling motor puts you off a spot quickly. With a market buoy, you have a better chance to pinpoint a spot, and to dissect the area radiating out from it. There are many spots you can idle over with the big motor, then turn around and just never find again - unless you toss a marker buoy. One small problem is, most marker buoys are too small and lay flat on the water. Being bright orange doesn't seem to help once you let them out of your sight. I recall being in a big bay late last fall. I had dropped a typical flat and orange marker buoy on a nice hump, whacked a lot of fish there, and left the buoy so I could return to the spot later. There were no other shore ranges or landmarks to let me return exactly to the spot. Try as I might, I never could relocate that marker buoy when I came back to try the spot again. Many months later this spring, in a tournament, I ran past the area, saw a flash of orange and sure enough, my marker buoy had stayed on the spot about six months. Unfortunately, I was on plane as I ran past it and did not want to stop to retrieve it at that time. On the way out, I could not relocate it again. So it is probably still there, and hopefully, some lucky anglers have found it and pulled fish off it. Point is, typical marker buoys are hard to see. I'm certain you've lost a few of them same as I. The new Berkley Premium Marker Buoy has a bullet design that is easier to see and floats high above the water line for greater visibility. This seems to be a marker buoy you will be able to return to after a while, and still find it - and find the fish under it!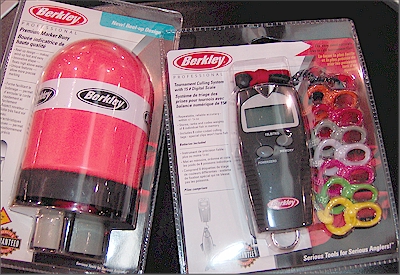 With an industry-wide movement toward affordable, high quality entry level tackle, I was pleased to see the new Berkley Culling Scale System priced from $29.99 (without culling clips) or $39.99 with clips. The company claims it is accurate to 1/4 of an ounce, thereby the most accurate digital scale on the market, claims the company. It is commendable since it puts a sophisticated culling system within the reach of entry level tournament anglers who are on a budget. So novice tournament anglers can enjoy the advantages of a low-priced culling system with features that would otherwise cost hundreds of dollars.
Pure Fishing representative Tim Rizzi's presentation on Berkley's soft baits - PowerBait and Gulp - was deep and quite insightful. "We talk to our pros and key opinion leaders in the industry. We invite them to partake in lure design and development focus groups at our facilities. Some of the findings from these sessions are fundamental but so important," explains Tim. "When it comes to tackle, bait is always the first consideration an angler makes. What bait you plan to use defines what rod, reel and line you will use. Through these focus group sessions, we've delineated Berkley's two soft bait product lines - PowerBait and Gulp - according to the two styles of bass fishing which are power fishing (PowerBait) and finesse (Gulp)."
"In each product line, there are baits that are 100% power (PowerBait), 100% finesse (Gulp) or some that we call crossover baits that may be used as either power or finesse."
"The reason we designate PowerBait for power fishing is because PowerBait doesn't dry out, it can be used for fishing fast, leaving it on a rod on the deck, in run and gun type fishing."
"PowerBait is all about fast-moving, search baits. PowerBait can be quickly used to find an area or location that's holding fish. Once you accomplish that with Powerbait, then you can pull out the Gulp to slow down, finesse and really maximize your time (with Gulp) in the fish-holding area you found (with PowerBait)."
Berkley PowerBait comes in 13 new shapes and sizes for 2007. PowerBait is favored by anglers worldwide for its potent scent and powerful flavor formula molded right into the plastic. Crack open a fresh bag of PowerBait in a room full of anglers, and they'll know what you've done just by the powerful, permeating PowerBait scent. Anglers often debate endlessly whether scent and attractant matters to fish. Obviously the folks at Berkley feel it does, since both their soft bait product lines are so heavily infused with scent and flavor.
New PowerBaits for 2007 are the Sabertail Bug, Sabertail Grub, Sabertail Worm, two sizes of the gliding, slow-falling Powerbait Beast designed by Mike Iaconelli, plus the Bat Wing and Floating Bat Wing Frogs, two sizes of Power Shakey Worms, the weighted Sinking Minnow stickbait, and Chunky Trailer.
Click here to watch videos of: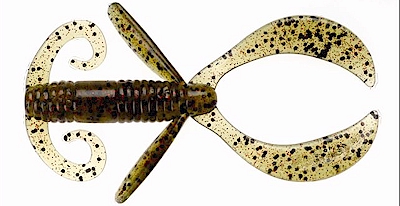 PowerBait Sabertail Bug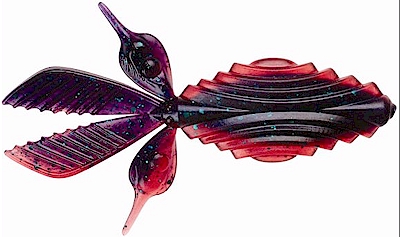 Gliding PowerBait Beast designed by Mike Iaconelli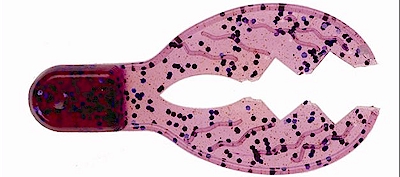 PowerBait Chunky Jig Trailer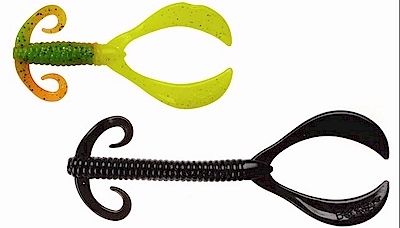 PowerBait Sabertail Grub and Sabertail Worm
Also, for the first time ever, Berkley introduced two sizes of triple color-layered PowerBait Hand Pour Finesse Worms in 4" and 6" sizes. The photo below really doesn't capture the rich "triple pour." These baits are supersoft, with all the backbone (or lack thereof) of overcooked linguine. They seem as soft or softer than some other hand pours I use. The softness of hand pours tends to let them gyrate and flex in ways harder soft baits will not flex. So this is a PowerBait, but a finesse one.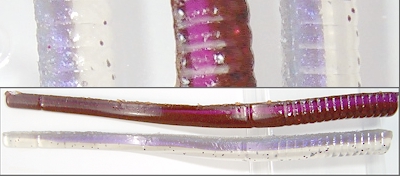 Triple color-layered PowerBait Hand Pour Finesse Worms
Now let's shift the discussion to new Gulp models for 2007. Berkley debuted 8 new sizes and shapes of soft baits made of Gulp. Gulp is 100% biodegradable, made of all natural ingredients with no plastic ingredients. Gulp disperses 400 times more scent than traditional scented plastic baits, leaving its scent like a blood trail in the water, claims the company.
There was a new Gulp Punch Craw which is a stubby, sleek craw for punching through thick grass mats with a heavy sinker. Plus the Gulp Wicked Wing Jig Trailer, two sizes of Gulp Shakey Worms, which Mike Iaconelli uses often. The Gulp Float Worm, Gulp Floating Nigthcrawler, Gulp Jerk Shad and Gulp Shakey Shad round out the 8 new Gulp freshwater models for 2007.
"Once you speed fish or find fish with PowerBait, then you can focus more on finesse, more on the shakey worm tactics, the slow floating worms, the floating crawler, the Gulp products. Slow down once you get in front of the fish and use Gulp," says Tim Rizzi. "Gulp for bass is getting stronger and stronger. Overall, the industry grew 16%. In comparison, PowerBait is up 18%, above industry average, and Freshwater Gulp is up 58% in sales - and getting stronger. Berkley Gulp is the fastest-growing soft bait in both freshwater and in saltwater Gulp sales are up 1,500%. Gulp has a natural attraction, is made of scent and flavor and has 400 times more scent dispersion. Anglers, and most importantly, fish, want Gulp."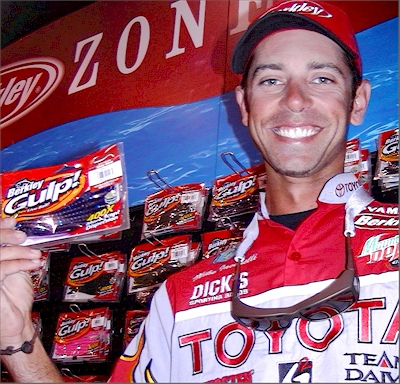 Ike likes Gulp at ICAST


Gulp Shakey Worm (in two sizes) is favored by Mike Iaconelli


Gulp Float Worm


Gulp Jerk Shad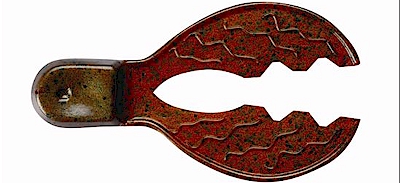 Gulp Wicked Wing Jig Trailer
Berkley's third bait platform is called "speed and convenience," says Rizzi. Most bass anglers aren't tournament anglers, they may not know who the hottest pros are, but clearly enjoy getting out once in a while as much as anyone. This is where "speed and convenience" is so important, meaning Berkley's prerigged baits, soft baits prerigged on jigs, with packaging designed in order to preserve perfect shape and proper action without any kinks or bends caused in the package, ready to fish. New in the speed and convenience category for 2007 from Berkley is the Weedless Power Rig Worm. This "new but old" 3 weedless hook design has a spiral swimming action that bass can't resist and rarely see," says Tim.
In hardbaits, Berkley has a new 3/4 oz Rattl'r, a lipless crankbait with a very big profile. Ripping large lipless baits in grass has been productive on the pro tour in recent seasons, therefore this new and bigger rattlebait is very timely.
In terms of rods, Berkley's new Tactix series of rods are commendable. They're good examples of a trend in the industry toward high quality, affordable entry level tackle. The Tactix series has tactic-specific rods (wacky rigging, dropshot/finesse, flipping, spinnerbait, etc.) for the entry level angler looking to fit specific techniques into his or her budget. These are good-looking rods, made of IM7 graphite with carbon fiber orientation, according to the company. The rods have many of the features of high-end, high-priced rods, but at an entry level price in the $49 to $59 range. Now, even novice anglers can better afford to have a tactic-specific rod or two!
Bomber Lures
The new Balsa Model B features the buoyancy and action of balsa, without balsa's shortcomings. The lip and hook hangers are integrated into a one-piece "Tru-Track" Polycarbonate Frame. that runs through the bait from line tie to tail, integrating the belly hanger and lip into the frame too. It's kind of like a solid polycarbonate skeleton with all the vital aspects on it. The lip can never be put in crooked nor loosen. The hook hangers can't get loose or tear out like screw eyes do. The hook eyes can never be put in crooked or out of place. The baits are very consistent in action from one to another. They're not as irregular from one bait to another in terms of action. As any good balsa angler knows you need to go through many balsa baits due to the individual actions of each, in order to find the "good ones." The frame on the new Balsa Model B makes them more consistent and reliable from one to another.
Company spokesman Jeff Samsel says these will not be as expensive as other balsa baits either. "The shape and buoyancy of balsa causes this shallow runner to swing widely with hard tail kicks that let it roll off of cover and deflect off timber," says Samsel.
The Bomber Balsa Model B is 2-1/2 inches long and weighs 1/2 ounce.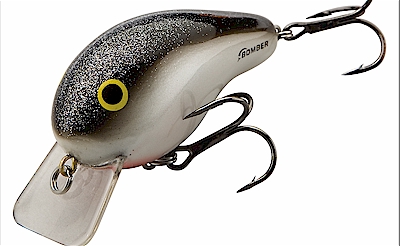 New Bomber Balsa Model B
BOOYAH Bait Company
The new BOOYAH Counter Strike Buzz is designed with a triangular head to plane to the surface. It's made with a similar flat-bottomed arrowhead design as BOOYAH's Swim'n Jig so it cuts through the thickest cover. The multi-step painting process results in a booyah-tiful bait, including scale finishes, multi-colored painted-on eyes (will never pop off). Two counter-rotating blades create straight-ahead stability and neutralize blade torque to either side.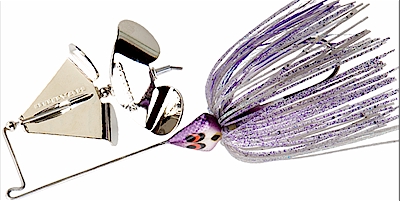 Booyah Counter Strike Buzzbait
The BOOYAH Boogee Bait is also new and representative of the new style of hard-vibrating blade jigs that became tremendously popular since earlier this year. A unique feature is it deploys a Leverage flexible hook system, meaning the hook is not fixed or rigid, but connected by a solid yet flexible steel cable. It weighs 3/8 ounce (one size only).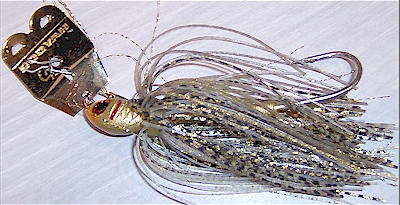 Booyah Boogee Bait
Brother
PT-1120 Outdoor Labeler: Brother launched its newest P-Touch labeling system - model PT-1120 - designed for organizing outdoor gear and fishing tackle. It is a compact labeler that's easy to use. I got it right, printed a label the first time I tried it, and nobody explained to me what to do. It's simple. You just type in the text, see what you typed in the digital display area, and press print to get an adhesive label cut to the perfect size every time. It's that easy.
Spokesperson Mike DelVisco says, "It helps to have all your gear organized, especially in tournament fishing where every second counts. But whether I am fishing for fun or competition, time on the water is precious. Having all my tackle neat and organized helps me focus on fishing and saves me time locating the things I need. I can color code all my boxes with labels, allowing me to find exactly what I need in an instant. I have a color label system - different color labels for different lure types - so I can recognize different boxes by color of the label tape.And the labels have an extra strength adhesive, so I don't have to worry about the labels getting wet or falling off. It's a great tool every angler should have to organize their equipment to get the most out of their time on the water. The labeler is under $50 and comes with a starter roll of extra strength tape that's better for outdoors. $16 per additional color or replacement tape."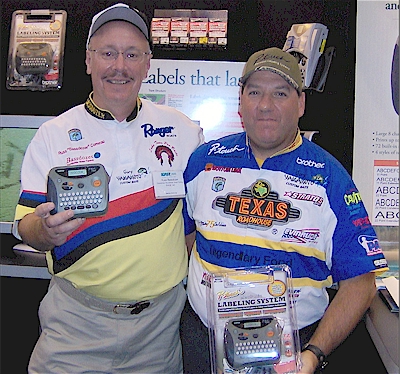 Bassdozer and Mike DelVisco love Brother's Outdoor Labeling System
Bullet Weights
Tungsten weights are becoming mainstream now. It wasn't too many years back when tungsten sinkers were new to the industry, and new start-up companies were among the first to introduce them. Today, tungsten sinkers are mainstream. Joe Crumrine of Bullet Weights summed it up best when I asked him why an angler should use his new tungsten sinkers rather than the other brands? "Because of our name, Bullet Weights," answered Joe. "We're simply recognized as the fishing sinker company, and we expect our tungsten sinkers will sell better than others due to our name recognition."
To me, it signals that tungsten is no longer a specialty or innovative sinker material, but mainstream.
The new tungsten sinkers are available in regular "worm weight" models and tungsten screw-in models, unpainted and in lustrous baked-on PermaColors that last a long time and won't chip easily - blood red, black, purple, brown, watermelon pepper, transparent metallic red and transparent metallic purple.
"The Teflon tube inside our Screw-In sinker is important but no one else may use it since Bullet Weights holds the patent for it," says Joe. "Without the tube, the line can get twisted in the wire coil." Plus the tube cushions the line from the hard metal sinker surface, and helps it slide up the line out of the way on a hookset and during the battle. Plus the tube is like a center pin that helps you screw a worm on straight.
"Our Screw-in sinker in Ultra Steel is also new for 2007. Ultra Steel is an inexpensive environmentally-friendly material that sells at the same price as lead," says Crumrine.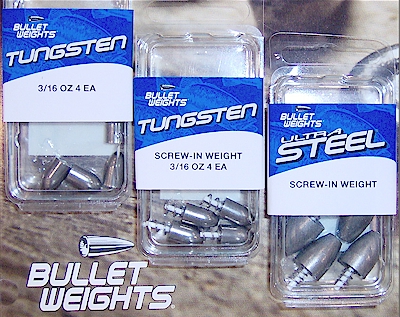 Tungsten bullet, tungsten screw-in and Ultra Steel screw-in sinkers
Cast Industries
You may not know it but Cast Industries designs, molds and paints many of the best spinnerbait, buzzbait, jig, jigging spoon, specialty sinker and cast metal bass lures in your tackle bag. Cast Industries had not a booth at ICAST but their products appeared down every aisle in dozens of booths. The company's lengthy client list reads like a who's who of many of the most popular fishing lure brands in the USA. Reason why is that everyone at Cast Industries are extremely talented at prototyping and producing premium lures for the industry. The best in the business.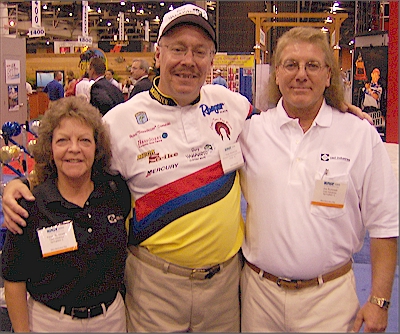 Group hug! Bassdozer with Karen Rummelt and Joe Rummelt, master lure modeler.
Castaic
Jason Scott proudly showed me the new Platinum Series Real Baits for 2007. Engineered for realistic action to swim like a real baitfish.
Overall, there are three sizes in the series (6", 8", 10") and there are six new 6" lures for 2007 in baitfish-imitating models such as Threadfin Shad, Gizzard Shad, Rainbow Trout, Hitch (a California baitfish), Sunfish and Baby Bass.


6" Threadfin Shad


6" Gizzard Shad


6" Rainbow Trout


6" California Hitch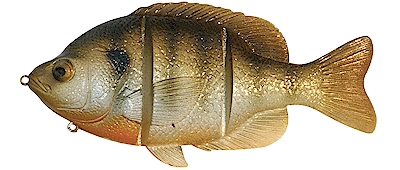 6" Sunfish


6" Baby Bass
The belly has a magnetic hook holder and a newly-designed Platinum Treble Claw to not tear up the bait.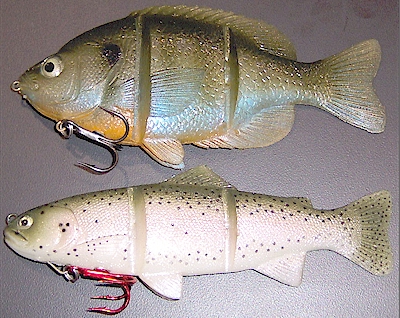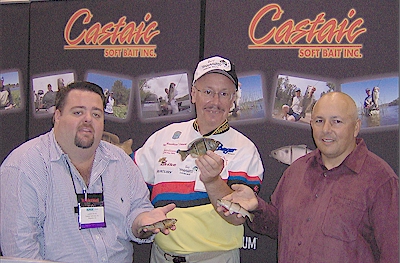 Jason Scott, Bassdozer and Mark Mendez, owner of SwimbaitNation.com
Jason says, "An important consideration in creating these lures was the action as seen from behind and what the fish will see." Jason showed me a video of the lure actions as seen from behind, the tail view going away from a fish, and the action looked awesome from that angle.
"Every tine on our newly-designed Platinum Treble Claw is on the bottom plane," says Jason. On a normal hook, at least one tine rides up and that's often embedded in or rides up against the bait's body where it can't help hook a fish and it tears the bait up. With our new hook, all barbs are down and we haven't lost any fish yet with it We're finding a high frequency of two barbs sunk in the mouth and a fish is not able to get leverage by playing a barb on one side versus a barb on the other side, as in a normal hook."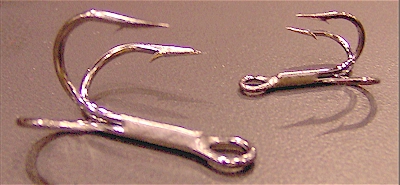 Newly-designed Platinum Treble Claw
Castaic also debuted their new Swimbait / Big Bait Rods. This is a new line of swimbait rods in 3 styles. Who would you rather buy a swimbait rod from? Someone who makes rods or makes swimbaits? The three styles correspond to Castaic's three series of Platinum Series Swimbaits in 10", 8" and 6" sizes. There's one rod specific to each size swimbait.
"Okuma did them and did a good job," says Jason. "Most rods that guys use are just too stiff to throw swimbaits. The force of most rods causes swimbaits to tear apart on a cast. These new Castaic rods have the right action for our swimbaits."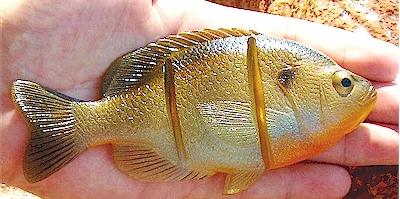 Is it live? Or is it Castaic?
Creme
"The original 6" Creme Scoundrel worm and the company's Lit'l Fishie type swimbaits are our two top sellers," says Leslie Thompson. The number one color in the Scoundrel is the original earthworm tone, now available in Creme's Whacky Stick. This earthworm color is pretty unique to Creme. With the recent move that many top pros are making toward larger worms, the 8' Creme Scoundrel in earthworm looks to be a natural (pun intended).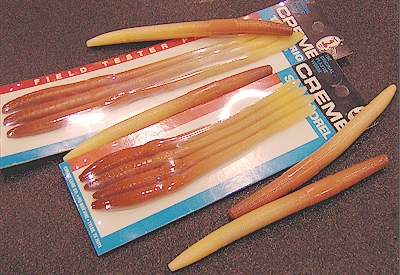 8" Creme Scoundrel, 6" Creme Scoundrel and Whacky Stick in original Earthworm color
Daiichi
Daiichi offered several new convenience hook kits. One with multiple sizes and styles of their most popular red worm hooks. Another kit had 40 of Daiichi's top-selling trebles for crankbaits, spoons, topwaters and all bass lures that use treble hooks. In one convenient kit, an angler can get most all the hooks he or she may need to refurbish all their lures - or to replenish all the worm hooks they may need for the season.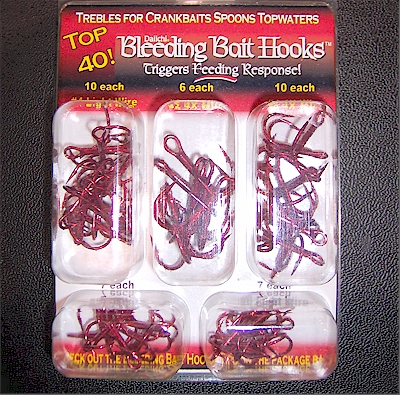 Daiwa
Bill Liston had two new reels to talk about at ICAST. First, the new TD Zillion model, including Daiwa's first ever reel with a 7:1 speed ratio that eats up 28 inches of line with each handle revolution. It's priced in the $259 range. Daiwa also introduced accessorizing kits and components to upgrade and stylize the Zillion, including add-on reel handle grips, oversized drag star and more parts upgrade options.
Much of the focus at Daiwa's booth centered around Daiwa's new top-of-the-line Steez reel, rod and line for 2007. Weighing only 5.5 ounces, the Steez baitcasting reel is the lightest in the business. "As far as we know, nothing else comes close in lightness, no other reel," claims Bill Liston proudly. "We also feel the Steez may be the lightest spinning reel on the market in its size range." Both make maximum use of magnesium frames, rotors and spools wherever possible plus titanium parts and other lightweight components. The Steez baitcaster is in the $459 range and $499 for the spinning Steez.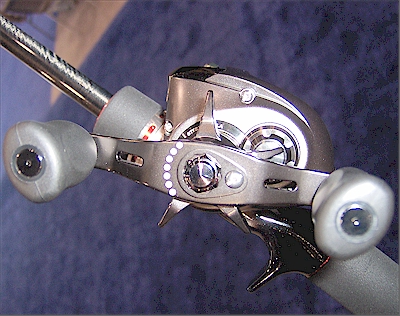 Daiwa's Steez Baitcasting Reel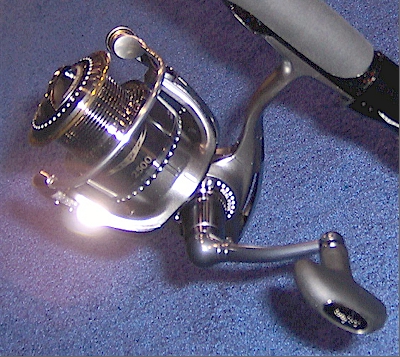 Daiwa's Steez Spinning Reel
"Steez" is a hip hop term meaning "Style with ease" says Bill Liston. The reels have matching Steez Rods to go with them. They are extremely light weight rods. The blanks have an extremely low resin content. "There's a unique way only we have to dispense maximum adhesion of the graphite fibers with minimum resin and therefore, minimum weight. It's hard to get data on other brands of rods, yet we believe the Steez rods are some of the lightest around," says Bill. "All the rod fittings are lightweight aluminum, and the trigger grip and reel seat are hollowed out except in areas where structural strength is needed. Even the foam used feels very dense to feel it, yet the foam grip is lighter in weight than even Hypalon," reveals Liston. Daiwa plans for about 5-6 Steez rod models for spinning, and as many for baitcasting.
Bryan Yamane showed me Daiwa's matching new Steez fluorocarbon line, which is weed green colored. This tone is the favorite color line of many anglers, myself included. It's just a very natural color, unobtrusive, and belongs there. Noteworthy, as far as I know, is the Steez line may be one of the first of (the only way to describe it) a kind of co-fluorocarbon in that it has a soft outer fluorocarbon layer for ease of casting and spool control, plus it is more abrasion resistant outside, and an inner core of fluorocarbon that gives tensile strength. The Steez fluorocarbon will be available in 5 to 20 lb test sizes.
Bryan also showed me a new style of Daiwa braided line that the company plans to market for saltwater surf fishing first. However, the line will be made available for freshwater bass fishing at some time in 2007 too. This is a new style of braid that is silky soft, super flexible and incredible smooth. The line almost floats in the air. Have you ever seen spiders "flying" by using a piece of spider silk to get across a lake or from one place to another. That is the only way I know to describe the softness and smoothness of this new braid. It's not like any other braided line you have ever seen before. It's radically different, and if it works, will almost be a new kind of superline. Comparing it to "traditional" braids seems to be the proverbial "apples and oranges" comparison, although the abrasion resistance is about the same and knot strength about the same, says Bryan Yamane.
Daiwa has recently lowered it's retail price on its premium TD series of hard baits such as the TD Vibration, TD Minnow and others. The TD line of hard baits are great, but also hard to afford, until now. Recently, prices have been reduced from the $19 range to the $14.99 range, making the fine TD lure series more comparable with price levels of other premium hard baits on the market
New lures that Bryan showed me in the TD series include the TD Double Clutch which was developed 5-6 years ago and a hot-seller in Japan. This suspending jerkbait is called the Double Clutch because if you give it a slight jerk, it will work down to 3 feet. If you give it a harder jerk, it will work down to 6 feet and suspend at either level. This one lure does the work of two - a shallow and a mid-depth jerkbait.
A second new TD jerkbait is called the Stop and Go. It appears fairly similar to a Pointer, but the main difference is the thinner lip and internally, fixed weights that cause a slight wobble to materialize on its own before it stops so it wobbles on its own even after an angler has paused it, claims Bryan.
Another new feature in the TD line-up are new finishes, some of which have internal painting, or the color patterns painted on the inside, not on the outside. So the paint or finish can never weather or get scraped up by hooks, fish teeth, etc.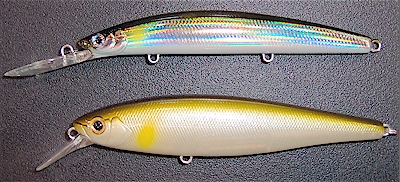 New TD Double Clutch (top) and new Stop and Go jerkbait.
The Mouthwash Popper is already on the market since earlier this season, says Bryan. The body style is very artistic and in a sense, it is a Japanese art style lure. It has a big lip and makes a big, big sound as it really moves - and churns - water, says Bryan. It has a through-hole in the lower lip, that jets water out its gills. The Mouthwasher is a little bigger and better casting than a standard size popper.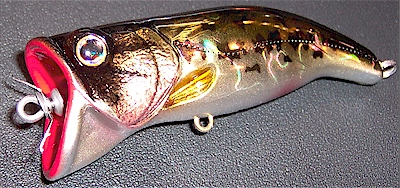 Mouthwasher
As if that wasn't enough, Daiwa has introduced a new series of six affordable hardbaits that will sell in the $4.95 price range. One, the "Peanut" crankbait is already famous in Japan where it has been producing many fish for happy anglers for 15-20 years now. The Peanut rattles and has a tight wobble. There's a shallow-diving Peanut that gets 3 feet deep and a longer-billed Peanut model gets 5 feet deep. The new series includes the Shad Master deep diving crank, the Dr. Minnow floating rip bait, and more. These baits are customized all around, have premium finishes, VMC hooks, and it will be hard for the average angler to really see the difference between these new baits and our TD line, says Bryan Yamane. "What lets us offer these baits at a much lower price level is they are not as heavily optimized with the sophisticated internal weight transfer systems and such that puts the premium TD series in a class by itself. Otherwise, it's hard to look at them and see a difference," explains Bryan.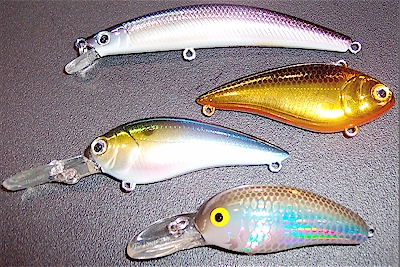 Dr. Minnow (top), Game Vibe (second), Shad Master (third) and venerable Peanut (bottom)
Last but not least, Daiwa's new Dead or Alive swimbait swims like a dying trout. Inspired by following the hatchery truck. If you watch when they dump fresh stocker trout in, there are always some that do not make it, that appear in bad shape, not very happy, swimming on their sides on the surface. They can't even maintain their equilibrium. These are always the first to go, the easiest pickings, and what the new Dead Or Alive is designed to look like. Will retail in the $34.99 to $39.99 price range.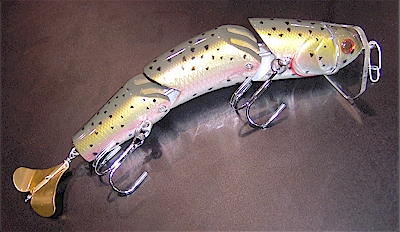 Dead Or Alive swimbait acts like it just fell off the hatchery truck
Deps
Deps, from Japan, presented several of their new products for 2007 in the booth of their US distributor, Optimum Baits.
These are beautiful lure designs with unique actions. Two of the lures, the Basirisky hollow rubber frog and the bigger Buzzjet 96 debuted at ICAST last year. However, all Deps lures have only recently become available in the USA. Brand new product introductions this year at ICAST include the smaller Buzzjet Jr and the multi-talented Radscale which can be fished either as a popper or a walk-the-dog type bait. The Radscale is two baits in one!
First shown at ICAST last year, the Basirisky hollow rubber frog has just entered the USA. It's two curved legs look like flukes on a pirate ship anchor - and they cause the Basirisky to crawl across the surface in a manner remindful of a Heddon Krazy Krawler or an Arbogast Jitterbug.
The Basirisky comes in two sizes. Both have a molded-in belly weight. The larger Basirisky 70 is 3" long and weighs 3/4 ounce. I guess you can consider the 70 to be your standard size grass mat frog.
The smaller Basirisky 60 is 2-1/2" long and weighs 1/2 ounce. This is the size that many anglers are favoring for clear water, open weedless water, and calm water. More of a finesse frog shall we say.
What I appreciate most about the Basirisky is that its design is so fresh and new and different - and solves a serious problem with frogs. Most anglers cannot easily work a frog to make it "walk" but all one needs to do is reel the Basirisky, and it does the walking for you!
A typical frog bait require skilled rod action to make them move in an enticing lifelike manner. On the other hand, the Basirisky will crawl across the surface in an active paddling type motion just by reeling in line slowly. No rod action is required. All the action is built in to the Basirisky. Just reel slowly, and the Basirisky provides all the action.
This is a new style of grass frog bait, and the difference in action has not been seen by bass in the USA before. In the short time that they have been in the hands of anglers here, a growing number of local tournaments have been won on the Basirisky... and won with the Buzzjet.
Click here to see the Basirisky catch fish on video.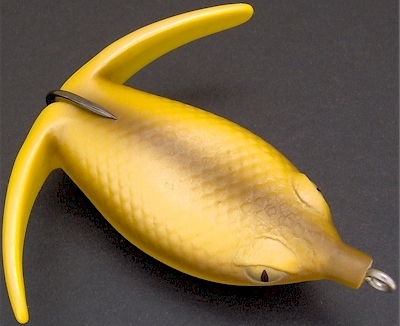 Basirisky debuted at ICAST last year, but has only recently become available in USA
Next new Deps lure style is the bigger Buzzjet 96 (first shown at ICAST last year) and the debut this year of the smaller Buzzjet Junior (shown below) both of which have recently become available in the USA. The Buzzjet is a brand new and unique style of topwater lure. It has been voted Japan's number one wake bait by Japan's Lure Magazine readers. The Buzzjet waddles desperately on the surface, like a wounded, exhausted, flopping and gasping baitfish that can't recover and can't swim back under the surface to get away. The Buzzjet mimics a big baitfish pinned helplessly on the surface. It's such an easy meal for big bass.
It has a crankbait type lip... most unusual for a topwater, and the pork chop-shaped body is quite different. Throw in the tail prop, and it becomes a lure in a class by itself. The fact the Buzzjet can be classified a topwater, a big swimbait, a wakebait, a propbait and has a crankbait lip indicates just how unique this bait is. There's no easy way to describe it, except to say it looks like a ham hock with hooks. Fish in the USA have never seen anything quite like it!
Whereas the bigger Buzzjet 96 has been available in the USA for several months now, the smaller Buzzjet Jr. hasn't been available here even that long. The Buzzjet Jr. works equally as well and has the same action as the bigger Buzzjet 96. The Jr. attracts more and smaller fish - not only trophy bass, but average size bass. It is not overly long - about 3 inches - but very thick across, deep-bodied and weighs 1/2 ounce. It is a compact, stubby bait that casts well, has incredible action, and is the perfect size to appeal to good-sized, chunky largemouth, smallmouth and spotted bass.
Out of the package, the Buzzjet Jr. arrives with one size smaller hooks than most US anglers like. This is not an issue for Japanese anglers who tend to use lighter tackle than their US counterparts, and the bass in Japan have no objection to securely holding onto the smaller hooks either. However, US anglers have been switching out the hooks for larger ones, with no depreciable effect on the bass-attracting action of the Buzzjet Jr.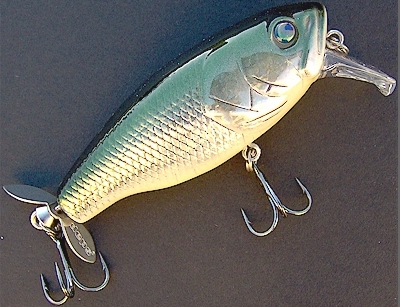 Deps Buzzjet Jr is new this year
Next new lure from Deps is the multi-functional Radscale. Like the Basirisky and the Buzzjet, the Radscale also is quite a marvel. It too demonstrates thinking outside the box. Several other brands of walking baits have cupped or scooped or flattened faces to push water or make a head splash as they walk. Really however, the Radscale appears in a class by itself because it alone (among "walking" baits) can truly be used as a popper or splasher or spitter. Other walking baits used in the USA cannot really act strictly as poppers (although a few do have faces to make splashes). The Radscale seems unique in that it can be used in either a popping retrieve or a walking retrieve, depending on what the angler wants to do with it.
At 4-1/2 inches long, weighing 3/4 oz, the Radscale is a fairly big, heavy, distance-casting topwater lure.
As you'll see if you click on the film clips below, the Radscale walks-the-dog about as good as many other high end Japanese walking baits. It has a more sinuous, snake-like or S-shaped surface walk than most others. It's not a mechanical, stiff, side-to-side metronome.
And that's not all the Radscale does. The Radscale sits tail down in the water with it's broad flat face poised right on the water line. This makes it splash and spit like a popper. This means you can walk it along the surface, and when a fish rises behind it, stop the Radscale and pause it and pop it to finesse the following fish. That's tough to do with most other walking baits.
Or, you can strictly use it like a popper, not walking it at all, just popping it along. The Radscale will splash and spit. That's almost impossible to do with other walking baits.
Click below to see videos of:
Enter the Radscale! It's two lures in one. You can walk it or pop it. Or you can combine walking and popping. Try that with any other topwater lure! It's a new design, a new twist.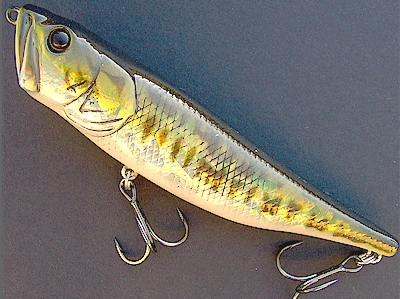 The latest import from Deps - the multi-talented Radscale is two lures in one
Falcon Lures
Falcon Lures did not get to go to ICAST this year but Bill Sattler sent word of a new size jig added to Falcon's jig line-up for 2007.
It's no less than a 2 oz jig they've added because of requests from fishermen in need of a heavier weighted jig to penetrate heavy cover and hydrilla mats. Nicknamed the "Brick," this heavy jig is designed to penetrate the heaviest matted vegetation or cover and to fish deep grass. It features a weedless head design, heavy duty weed guard and two magnum rattles, armed with a Mustad Ultra Point extra strong 7/0 hook.
Freedom Hawk Kayaks
Make a wish list of everything you would ever want in a kayak, any feature, accessory, convenience, plus the ability to stand up in it. You've got it. The stern section of the Freedom Hawk Kayak has opening sponsons that stabilize the kayak, and a football field goal-shaped metal tube that you insert upright into the hull on both sides (ahead of the seat) to brace against to stand up to cast. When you're paddling or not standing up, the sponsons can be closed up, effectively like a standard kayak. The sponsons are detachable for cartopping or stowing the kayak in between outings.
But that's not all. It comes with a two-piece joinable push pole (12' when joined) that clips out of the way into a recessed slot in the deck when not needed. Side-mounted paddle clips keep the paddle out of the way when not needed. Two flush-mounted rod holders are within reach behind the seat to troll or prop a rod up while changing lures. Two watertight storage compartments (one in each sponson) for all those things you don't want to get wet. A front anchor boom that allows you to put down or pull up the anchor while seated. The anchor boom folds in when not needed. Heavy-duty adjustable foot braces on both sides you can position exactly where you want them. It's a good 'yak.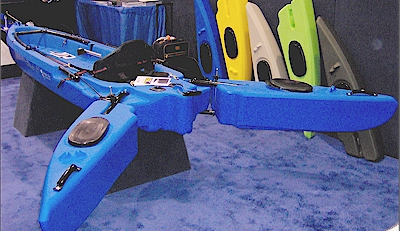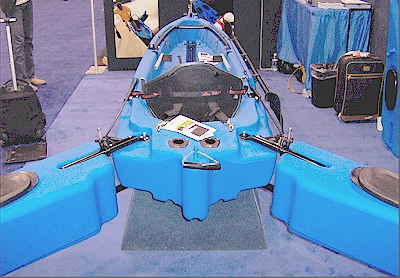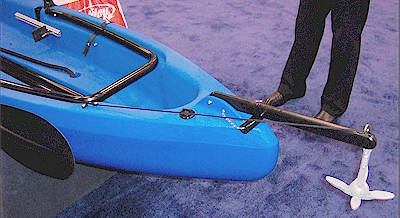 G. Loomis
Reacting quickly to the growing popularity of shakey jig worms, G. Loomis introduced two new Shakey Head Spinning Rods - the SHR821 (6-10 lb test) and SHR822 (8-12 lb test). As popular as shakey jig fishing has become (it's very popular), there aren't many tactic-specific rods for shakey jigs yet. After reviewing these two new Loomis Shakey Head Spinning Rods at ICAST, I certainly would like to get one of my own!
Ripping lipless crankbaits in grass is also a hot tactic for top pros in recent years. Always on top of the changing trends in fishing, Bruce Holt showed me the new CBR906 medium/heavy crankbait series rod. "This rod is almost an oxymoron (opposite) to the normally soft action graphite we put into our crankbait rods," confessed Bruce. "We were thinking we still had more work to do, but our pro anglers who were ripping Rat-L-Traps and lipless crankbaits in the grass to get a reaction bite told us, 'No, you nailed it. Don't change a thing.' This is the perfect Rat-L-Trap ripping rod," admits Bruce.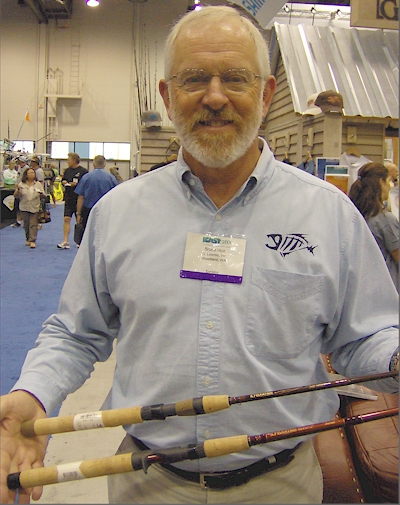 Bruce Holt holds new Shakey Head Spinning Rod (top) and new crankbait rod for ripping lipless baits
On other news, Loomis' entire new Mossy Back Series mirrors the higher quality series of 19-20 higher-priced rods, yet at a mid-price range, about a $100 lower price point. "We've identified a new manufacturing process that permits blending of IMX sensitivity and GL3 strength at an economical cost," says Holt. That enables Loomis to offer a more affordable series of rods that mirror the actions and many features of their higher quality, higher-priced rod series at about $100 less per rod.
Gamakatsu
It's tough enough to skip a soft bait under docks and overhanging trees even if the bait stays in place, even if it never did ball up in a wad on the hook... but that's often what happens when skipping. So it was great to find out about Gamakatsu's new Skip Gap Hook. The company claims you can throw it hard, slam it off the water when skipping, bounce it off stuff on the way under. It's almost impossible for soft baits to come over the offset and down the shank of the hook, boasts the company. It has a unique offset shape, called a V Bend, that holds soft baits firmly in place so they do not come off when skipping them under docks and bouncing them through thick cover. Baits last longer and work better, and the hook even keeps those super soft baits from sliding down, says Gamakatsu.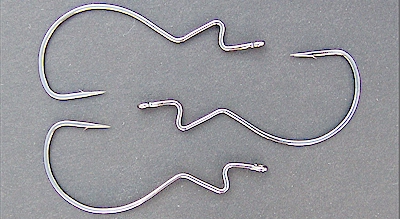 Gamakatsu's new Skip Gap hook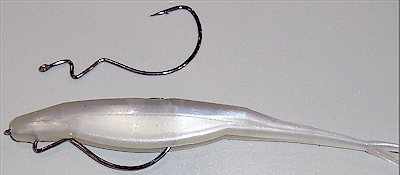 Another great new concept is Gamakatsu's Ringed Superline EWG. It's the company's famous Superline EWG with a solid one-piece ring attached that gives soft baits a lot more action when rigged on heavy line. Yet it gives the angler a solid connection to the bait. What a great idea!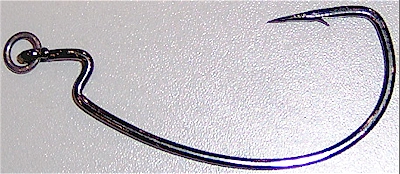 Gamakatsu's Ringed Superline EWG hook
Gambler Lures
I caught up with Byron Childers, Gambler's Sales Manager at the new product showcase. "The Swim Blade and Cane Toad have been on sale since earlier in 2006. In fact they are currently our two top sellers," says Byron.
The Swim Blade is a skirted jig coupled with a split ring to a swimming blade. The Brush Blade is the Swim Blade with the addition of a brush guard to let one fish it in very snaggy places.
Cane Toad: "Chris Lane has had fantastic success with the Cane Toad, finishing highly in top events this season. Chris has really helped us propel sales of the Cane Toad. Plus once people try it, they keep on using it. It's that good. The best-selling colors of the Cane Toad are the green pumpkin/pearl swirl, black/white swirl and bullfrog colors," says Byron.
New also is Gambler's Loco Lizard. It's not your typical slender, slinky lizard. The Loco Lizard has a heavily-ridged body and legs remindful of the Cane Toad, except in a compact lizard shape. "Overall it's a smaller package, but still a bulky, very active bait," says Byron. The Loco Lizard comes in some of the same swirl colors as the Cane Toad.
Gambler also introduced a longer 8" size of the company's popular 5" Flapp'n Tail Worm.
"The new, larger 8" Flapp'n Tail Worm is more of a swimming worm when used with say a 3/16 oz Florida Rig sinker. It's an excellent big fish bait" says Childers.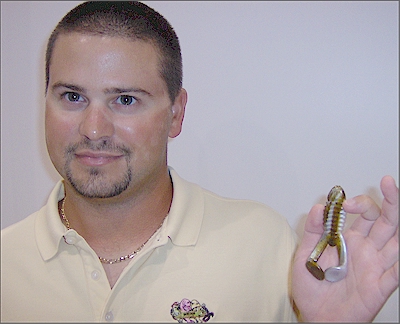 Byron Childers smiles over Gambler's Cane Toad's market success
Gary Yamamoto Custom Baits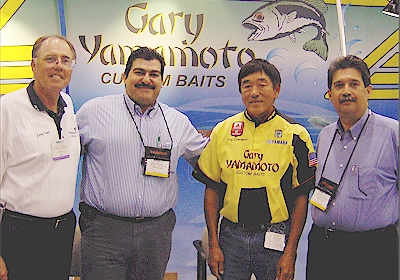 GYCB's Larry Evans (left). Gary Yamamoto (third). Eliud Garcia (second) and Jose Garcia (fourth) operate Best For Bass, GYCB's distributor in Mexico.
The new Swimming Senko is the Yamamoto bait that everyone wanted to know more about at ICAST. Gary Yamamoto has designed and tested the Swimming Senko with high-scoring results on the FLW Pro Tour in recent months during which Gary has uncovered and refined several hot rigging methods that he finds work best with the new Swimming Senko. He uses it differently than the standard Senko. In-depth information from Gary about how best to rig and fish the Swimming Senko (plus the lure itself) will be made available to customers later this year, says the company.


Sensational Swimming Senko
Although designed for saltwater, Yamamoto's 5 inch Swimbait will be a boon to anglers seeking big bronzeback and oversized spotted bass everywhere. There's a lot of plastic put into this bait. It's one of Yamamoto's largest offerings to date in terms of plastic injected into it. I feel it will hold a special appeal to big smallmouth and large spotted bass everywhere, especially in clear to stained water. Oh yes, largemouth will love it too! If you want some good-sized spots and smallies (largemouth too), toss this baby. It's everything a Yamamoto bait is, but even better because it is bigger.
The section connecting the tail to the body is so thin as to be a hinge, causing tremendous flopping, even corkscrew twisting and untwisting action of the tail. The innovative tail is sharply chiseled into stairsteps. So there's half the plastic chiseled out of the tail yet twice the surface area of traditional swimbait tails. Less tail weight. More surface. A thin hinge. More wobble, even on super-slow falls.


5 inch Swimbait ~ not just for saltwater
The new Shad Shaped Worm is a finesse bait for dropshot, shaking or any form of finesse. It's not big at all, except on results. Shin Fukae used it to win $200,000 first place prize in the FLW Tour event on Beaver Lake, Arkansas in April.


Shad Shaped Worm
Here's an excerpt from an article by Ned Kedhe, a well-respected outdoors freelance writer. It's about Shin Fukae prefishing on Beaver Lake, Arkansas while practicing to win the FLW event there. Kedhe's article appeared in The Topeka Capital-Journal newspaper.
"The most amazing sights were watching him catch bass, including a 3-pound smallmouth bass, inside a labyrinth of flooded cedar and oak trees with light-line methods.

When Fukae probed the flooded timber, he used 3/32-ounce shaky-head jig adorned with a four-inch green pumpkin Yamamoto 68L [Shad Shaped] worm on a ES50MLF St. Croix spinning rod and STL300FB Shimano Stella reel spooled with eight-pound test Duel monofilament. When he worked terrains devoid of timber, he switched to an ES66ML St. Croix rod and six-pound test Duel fluorocarbon line, and the other components were identical to the ones he used in the timber.

Fukae has a unique approach to retrieving his shaky-head jig and worm, which is implemented by not allowing it to touch the bottom. Throughout the retrieve, he attempts to keep it slowly swimming or gliding a foot or two above the bottom. As it swims, he occasionally lifts and drops the rod about a foot, causing the jig and worm to rise and fall. During the entire retrieve, he shakes it about 70 percent of the time by twitching his wrist, and the bulk of the bass are beguiled when the jig and worm is falling."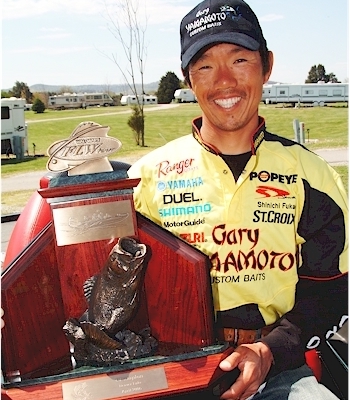 Shin Fukae propelled the new Shad Shape Worm to the winners circle before the product is even released!
Hart
Rich Lillard showed me Hart's new X2 Spinnerbait. It incorporates an additional wire arm instead of the traditional single arm, allowing for multiple blade combinations and presenting the appearance of a school of baitfish. I like the looks of it. It certainly appears to stack up to four blades in a better presentation that stringing them all on a single long arm. Nice concept, Rich!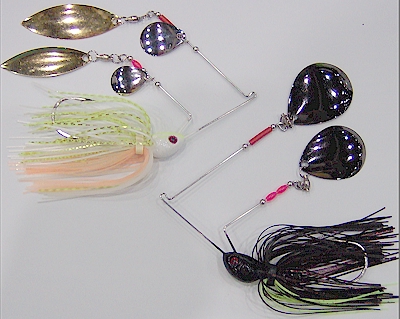 Heddon
The photo of the new Wooden Magnum and Super Magnum Zara Spook simply doesn't do it justice. Designed for musky and peacock bass, but I can't envision any other lure I'd rather see a huge bass smash. This is a big bait. You'll need a heavy rod to jerk it all day you'll be tired. Actually, I don't see how you can work it for too long without collapsing in an exhausted heap on the casting deck! There are two enormous sizes, 7" and 8" long. Hand-painted and equipped with multiple loud rattles, heavy hooks and through-wired.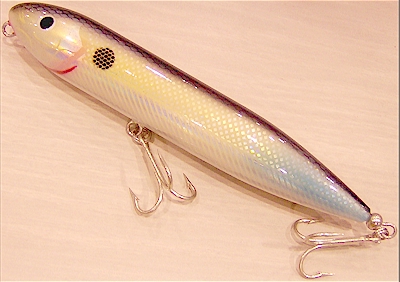 Kanji
I've admired Kanji's lures the past few years at ICAST yet it seems to me the company has a low key presence in the USA. Of most interest to me this year was to see Kanji's new Accel 70 Jerkbait. It's the first high-end jerkbait I've noticed with a circuit board lip. Internally, it has a weight transfer system for action and casting distance.


Kanji's new Accel 70 Jerkbait has a circuit board lip.
The Kanji Frog also appeared to be a good one, and had an angled-down line tie eye and concave cup type shape underneath its chin to make it walk. Most other frogs are not optimized to walk like that.
Keel Shield
Scott Smith was excited over rolling out the company's new carbon steel tube covering that slides right over the top of an existing boat seat pedestal base. It comes with a black insert sleeve for highlighting and inner bushings for a snug fit. It's called the XPC or Xtreme Pedestal Cover.
It has a company name (or can have any name) cut into it, and is layered in lustrous triple chrome. "Originally, we marketed the product to boat companies, to have the boat company name displayed. In the future, we are figuring out how to offer custom lettering cut-out at the customer's request," suggests Scott. "the possibility hit us when we demonstrated the product on TV on Bass Center. Top pro Gerald Swindle, one of the Bass Center hosts, asked if we could make a pair saying "G-Man" (his nickname) that he could put on his boat seats."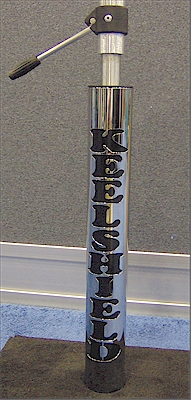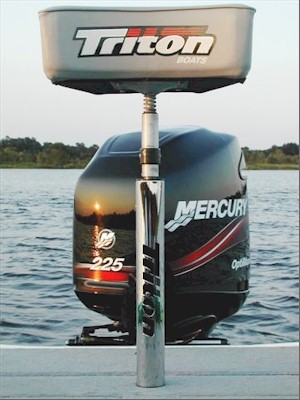 Lake Fork Tackle Repair
Kits were a new theme in the industry at ICAST this year, and Connie and Tommy Kilpatrick kicked off their company's first ICAST appearance with Lake Fork Tackle Repair's Reel Maintenance Kit including all the lubricants, tools and materials to perform anything from between-trip grooming to major overhauls on your reels. Included with every kit is Lake Fork Tackle Repair's industry award-winning video on how to maintain and service your reels like the professionals do.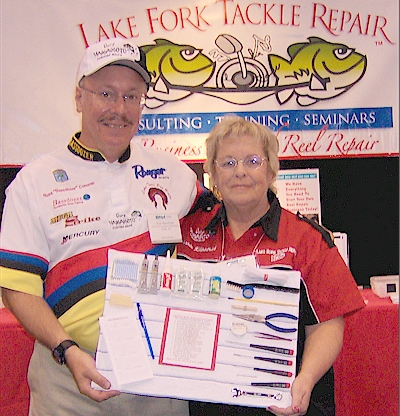 Bassdozer and Connie Kilpatrick
Lee Sisson
For over thirty years, Lee Sisson has lead the way in wooden lures. One of his latest creations is the P-20 balsa crankbait which weighs one ounce and dives an honest 20 feet, says Lee.
"I created a way to be certain how deep a crankbait dives under actual fishing conditions," claims Lee. "I strung a metal pole between two ropes, suspended by buoys on the ropes on each end to hold the pole up. The pole suspended horizontally underwater between the two buoys. The ropes were marked so I was able to lower each side into the water foot by foot, lowering the suspended metal pole deeper each time. You may think of it as kind of like a football field goal post, except underwater and the lowering lines were marked off in one foot increments," explains Lee. "I cast the crankbait between the buoys. Each time I felt the crankbait hit the metal pole, I lowered the pole another foot."
"After 17 feet, there was so much bow in the line that you would lose touch with it. After 17 feet I never felt the thump of this big crankbait coming over the iron bar," says Lee "I was about to give up since I just couldn't feel it. Then the crankbait got hung up as it was actually going deeper than 17 feet, deep enough to loop around the bar, wrap around it and get stuck. That gave me the idea to take a monofilament line and string it across above the metal pole, so as to intentionally catch the crankbait with the mono line. That worked. All you feel is a little added pressure, almost none. But what you can see are the buoys on top start to jump and move like a bobber cork when the crankbait grabbed and flipped over the strung mono line," says Lee.
"I couldn't believe the P-20 crankbait! It was hitting an honest, measured 20 feet! I had to make sure it was really true. There are a couple of reasons that allow the P-20to go so deep. First, the lip goes into the body on a pretty straight plane. The straighter you can get it, the deeper it will go. I figured out how to make the lip join the body, make it all work to maximize depth. Second, the bill itself is longer, deeper, thinner, and has less drag so it doesn't pull too hard. It cuts the water."
"Another benefit of the long square lip is it protects the lure, deflects off wood, especially when fishing deep timber. When the lip hits wood, it flexes and bounces the crankbait back off like a springboard."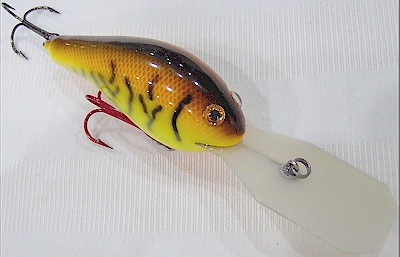 P-20 Deep Diver
Lee's best tips to get crankbaits deep:
A long cast gives more opportunity to get deeper.
Use as light a line as you can. The difference between 10 and 14 lb test was 2-1/2 to 3 feet with the P-20. Lee assumes you may get deeper with a thinner diameter line, but line surface and drag also factor into the equation. All tests were done with mono. Lee didn't try any depth tests with braid or fluoro.
Hold rod tip just under the surface. Having the rod tip an inch below the surface, you can gain 8 inches to a foot of depth because of the surface drag where the line cuts through the surface tension of the water throughout the entire retrieve.
The truer (straighter) you get your crankbait to swim, the deeper it will dive since it is not putting all that force into fighting to go sideways.
Next, Lee's Drop Shot Crankbait was also designed for fishing deep water, by weighting it with a dropshot type sinker affixed to the belly hook. "Thirty years ago, crankbaits only went six feet deep. There was no such thing as a deep-diving crankbait that had been invented yet. So we would take a big bell sinker, loop it on the line up front of a crankbait, so the line ran freely through the sinker eye. That way we let the crankbait float up and then work it back down to the sinker, which was when you would use the crankbait to move the sinker forward a few feet, let it float up again and crank it back down until a fish hit. So that gave me the idea to use a sinker again to sink a crankbait," says Lee.
By the time I got the Drop Shot Crankbait built, the Florida spawning season was done. Fellows up north took some of the first Drop Shot Crankbaits, and went bed fishing in 2 feet of water with them. So that blew my whole idea. My bait that I designed for 30 feet of water may now become better known for catching fish in 2 feet of water," laughs Lee. "On a bed, it just kind of bobs there like a duck hunter's decoy. The way it works is it almost wants to float just up off the bottom, and it will raise up the front of the weight, which almost causes a pivot point for the crankbait to bob in place."
"Getting back to it's intended use in deep water, I like to sweep the rod, feel it working, scuttling along. Then I like to let it stop which is when it often gets hit." Lee thinks vibration patterns are real important to catch fish. Whereas a jig just kind of hops or a dropshot worm just waves, the Drop Shot Crankbait gives off vibrations that fish haven't felt coming from a lure down that deep.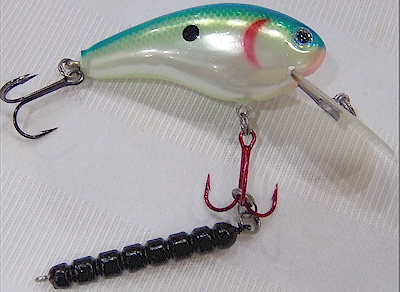 Sisson's Drop Shot Crankbait
WP2 Weedless Premium Shallow. "This is the old PB2 (old BB2), a crankbait that is already known for coming through grass and brush better than most. Still, weeds would get on the lip and hooks. I've developed light wire weedguards to protect the lip and hooks from collecting weeds," says Lee. Especially the lip just sheds weeds off it by the shovel-load. There have been some wireguard hooks like this on the market in the past, but those were way too stiff (the wire). The light wire I use, it doesn't take much pressure to collapse it. 90% of the time it just comes through weeds with no build-up on the hooks. In wood, there's nothing to get hung up on, except if you get it squeezed into a notch in a V limb or the line gets buried under the peeling bark and splintered end of a stump, it will get stuck. Otherwise, there's no real loss in hook-setting ability due to the very light wire," says Lee.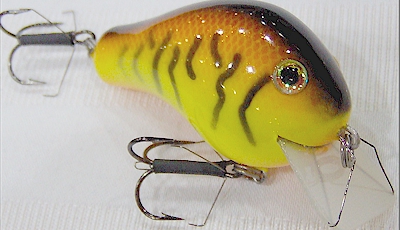 WP2 Weedless Crankbait
Three more new wood baits by Lee Sisson include:
Twitchin' Balsa Stick Bait. "Somebody will win a tournament at the right time, write a great story and this will be the next new thing, although twitching lipped minnows on top is over thirty years old," says Lee. "This is one of my personal favorite ways to fish, twitchin' minnows on top, and I just wanted to share that joy with everyone, hence this new bait," says Lee.
Balsa Walking Stick. "Casts like a bullet. Made of balsa. Really good action. It casts so far it is really mushy and hard to work the bait properly from such a far distance at first. It casts so far out there, it's like the rod tip's too soft, just too much bow and drag in the line to work it right until it gets closer at a normal distance" says Lee. "Then it walks great."

Turbo Frog. "Everybody has a frog these days. This one kicks up a commotion like a buzzbait but when it gets to holes in the grass and pockets, you can work it more slowly like a regular frog," smiles Lee.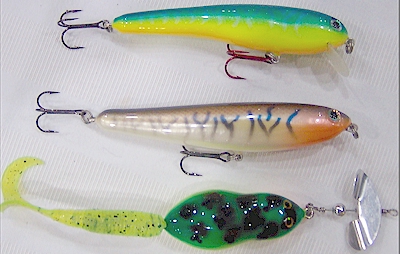 Twitchin' Balsa Stick Bait (top), Balsa Walking Stick (center) and Turbo Frog (bottom)
There are not many who know as much about wood lures as Lee Sisson.
Lucky Craft
Lucky Craft continues to pile on the premium hard plastics with new signature series hard baits signed off by Gerald Swindle, Skeet Reese and Marty Stone. At this time, Lucky Craft has something like 12 topwater hard baits, 20 hard jerkbaits, 22 lipped and 9 lipless crankbaits, 2 jointed swimbait models for bass, plus a couple of wood models. That's somewhere around 67 premium hard baits for bass fishing from Lucky Craft.
New for 2007 are Skeet Reese's "Skeet Trap" tight-wobbling square-billed crankbait. Marty Stone's new crankbait is remindful of a smaller (1/4 oz) BDS series crankbait. Gerald Swindle's wide-wobbling crankbait comes in a shallow diver and a deep runner. Also, a new Fat CB BDS 0 wakebait style lure is new.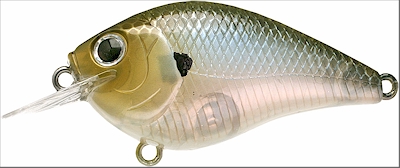 New Skeet Reese Signature Crankbait


New Marty Stone Signature Crankbait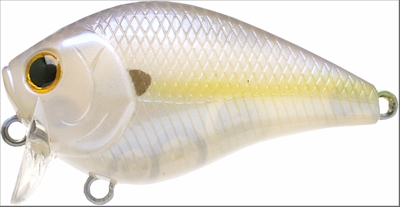 New Gerald Swindle Shallow Runner


New Gerald Swindle Deep Diver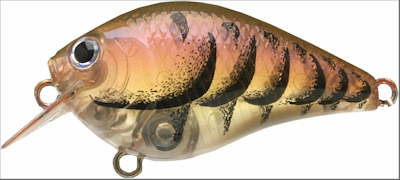 New Fat CB BDS 0 Super Shallow Model
In it's Ultimate Real Bait series of jointed swimbaits, Lucky Craft offers two models for 2007. The very latest, the 1 oz Real 130 has a realistic face, open mouth, makes big use of balancer fins all the way around and a triple-jointed body.


Real 130


Real 128
MacDaddy's
And you thought those high-end crankbaits cost big bucks? Have you ever seen a million dollar fishing lure? That's just one of the many stunning fishing lure jewelry creations that Macdaddy's had on display at ICAST this year.
MacDaddy's precious metal and stunning gemstone lures are not only magnificent works-of-art jewelry, but are also designed to catch fish - even the million dollar lure can be fished with! How good is your knot? MacDaddy's willput the bling on your string. Precious metal lures (platinum, gold, silver) are inlaid and set with diamonds, rubies, sapphires, emeralds and cubic zirconia (for budget-minded anglers).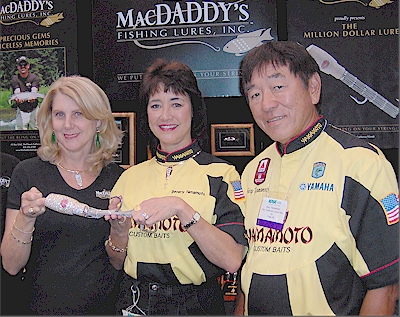 Teri Conrad, Beverly and Gary Yamamoto pose with MacDaddy's million dollar lure, over 2 pounds of gold and encrusted with 4,000 diamonds and rubies. This lure will actually be fished with in an offshore tournament in October 2006!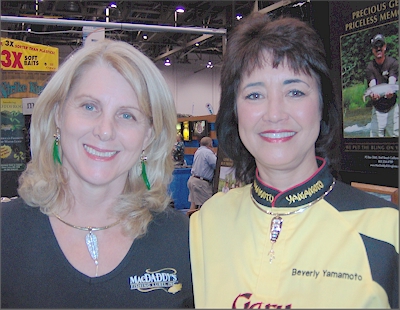 Teri and Beverly sparkle in beautiful gold and gemstone fishing lure necklaces. Mac McBurney of MacDaddy's presented Beverly Yamamoto with the necklace she's wearing as a special tribute to honor the many fine contributions her husband Gary Yamamoto has made to promote sportfishing.
MegaStrike
One of my favorite fish attractants (MegaStrike Fish Attractant gel) was Bobby Uhrig's initial foray and success in the bass tackle market, when Bobby launched the product a few years back. A year or two ago, Bobby acquired the Cavitron Buzzbait company from his friend, pro angler Lee Bailey Jr, in order that Lee could leave his company in Bobby's good hands while Lee focused on pro fishing.
However, the new Evolution Jig really is Uhrig's first shot at creating a brand new lure concept, and what a shot it was! The Evolution Jig won the award for the Best New Hard Lure this year.
"It's hard to break into the jig market because it's so easy for almost anyone to get started, there is so much competition and essentially similar jigs from many companies. I knew in order to be successful that I needed to differentiate myself with something new and evolutionary, a quantum leap in form and function" says Bobby.
The award-winning Evolution Jig falls horizontally and when it hits bottom, the "skid plate" underneath acts like a fulcrum. "Every time you lift it or crawl it, the head lifts up, and when you relax the line, the head drops but the tail raises slowly, like a flag going up," says innovator Bobby Uhrig. "All you have to do is move it 1/4 of an inch, and it stands up again. The weedguard, being fluorocarbon, disappears underwater, and the skirt is put on over the front of the jig head, where the skirt sits ahead of the weedguard."
"In testing all my products, MegaStrike attractant, Cavitron buzzbaits, and in developing the new Evolution Jig, I spend an awful lot of time underwater in scuba gear swimming with the fishes, and with underwater fish photographer, Tim Simos, my best friend since boyhood," reminisces Bobby.
"What we witnessed when testing the Evolution Jig is that, in dense cover, when a fish is holed up in there, and you drop a jig on it, the strike is an instant reaction strike. Think of this, someone suddenly tossing a softball to you when you do not expect it. Without thinking, you're going to catch it. It's an instinctive reaction, and that's just what Simos and I see bass do when a jig suddenly is tossed at an unsuspecting bass holed up in heavy cover. The bass instinctively reacts to stop it, catch it in it's big baseball mitt of a mouth. We feel the fish primarily wants to stop it from being able to dart away into a nook or cranny in the thick cover where the bass is too big to follow it. It has not yet had any time to validate whether it is edible prey or not. Remember when the softballs tossed to you out of the blue. There's no time to think. You just catch it. So we feel bass holed up in heavy cover react like that. They just catch the jig," suggests Uhrig.
"In open water however, Tim and I don't always witness that same thing. In open water, a bass can follow a jig for a long time, circle around it to see it from several angles, turn away from it, turn around and come back to it and so on. It's for these jig fishing situations especially that we've refined the profile, fall and action of the Evolution Jig. In studying fish and jigs, I felt the profile is always important, even in thick cover for a reaction strike, and especially in open water. I felt the traditional fiberguard was a negative on most all other jigs. Not part of the profile the bass wanted at all. To eliminate that negative, we came up with the concept of an invisible fluorocarbon fiberguard, moved it underneath the skirt to make it an even more hidden aspect of the profile, yet its still weedless and snagless. Next, we moved the skirt far forward. Most traditional jig heads disrupt the profile also. So we hid most of the jig head under the skirt where the fiberguard is also hidden, and the hook is hidden too. Now, the profile is mainly the skirt and choice of trailer. We eliminated the unnatural, negative aspects of the head, hook and fiberguard from the profile. They effectively don't appear there to the fish."
Uhrig continues, "Now we had the profile perfect, but that only gets you to first base with a fish, maybe second, which is very important. You do have to get the profile accepted first. Once you get that, the clincher with a fish becomes action or movement, ideally enhanced with scent that validates, yes, this is alive, and it commits to eat it at that point. The action we developed to get the fish to validate and commit to the Evolution Jig is that every time you move the jig and let it rest again, it seesaws from head up with line tension to tail up with line looseness. You can do it with rod movement, or you can just drag it, and it will do it on its own. You can say it looks like a craw raising its pincers in a defensive stance, or you can say it mimics a baitfish or critter "tailing" to root something out of the bottom. Bass hate to see anything feeding in front of them. It peeves them. Most other jigs just kind of lay there like logs," winks Bobby.
There are two styles, three sizes of lighter finesse heads and three sizes of heavy cover heads (3/8, 1/2, 3/4). All made of environmentally-safe and non-toxic tin, not lead.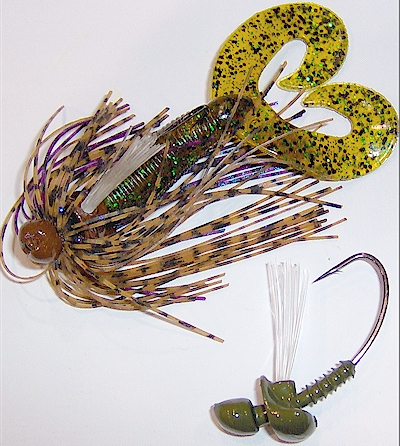 The Evolution Jig comes 2 per pack, both dressed with skirts (trailers not included).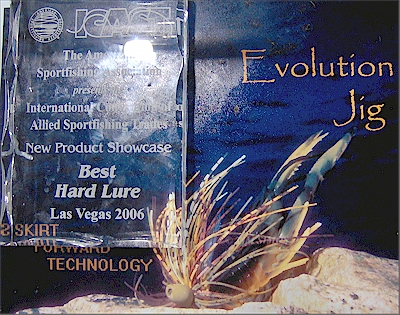 The Evolution Jig won the Best New Hard Lure award at ICAST 2006
Mustad
New hook designs from every hook manufacturer get better every year, but it's my impression (or opinion) that no hook company has improved as much or as quickly as Mustad in recent years. The major success Mustad has had in the bass fishing market revolves around its UltraPoint series of hooks. Mustad began it's Ultra Point launch in the USA in 1997, and UltraPoint's reputation and success is still growing strong. In 2006 so far this year, UltraPoint sales are up 25% over the prior year - a sizable growth rate.
One of Mustad's best-selling bass hooks so far this year (shown below) is for fishing soft plastic frogs. The black bayonet style gripper holds frogs securely, as good or better than any other attachment method. The weight on the shank (either 1/16 or 1/8) has a silicone insert, making it movable, yet grips it in place after it's moved. For frogs, the best position for the weight is shown below. This acts as a counterbalance to keep the frog from spinning, a common problem with frogs which this hook helps correct.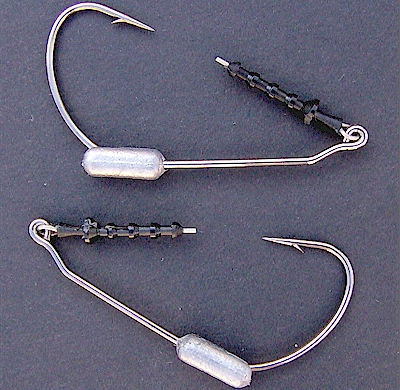 Mustad's best-selling bass hook in 2006, for frogs. Model #91768UB
New bass hook models from Mustad for 2007 include a new red weedless wacky hook, a thing of beauty.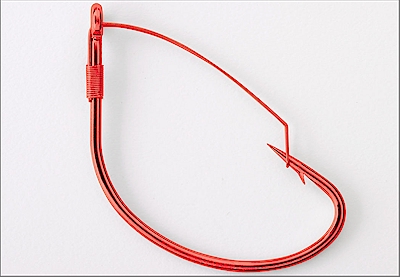 New red weedless wacky Ultra Point hook model #W37754R
Also new for 2007 is a red version of Mustad's Ultra Lock Light Wire Wide Gap rigging hook. "The first time I used this new red hook was around thick lily pads," says Harry Simmons. "On the third cast, I found out how well it can hold up. I will admit I was a little leery of the light wire, but I pulled a seven pounder out of thick lily pads with no problem," boasts Harry. Hooks like these leapfrog past hooks from only a few years back in that the length of the shank between the eye and the offset bend is longer than before, meaning it "freezes" more of the head of the bait, helping prevent the bait from pulling back down the hook. The "Z" bend is more extreme, also making it more difficult for the plastic to pull past it, and the angle of the hook point is canted a few degrees higher than the angle of the pull point (line tie), making for better hook-ups. All these and other new concepts were not found or not designed or not expressed as well in hooks just a few years ago. New models of all hooks from all manufacturers improve every year.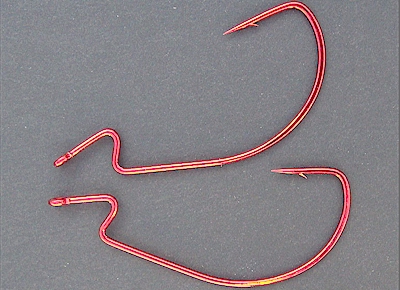 New red version of Ultra Lock Light Wire hook for soft bait rigging (#38106R)
Another new hook from Mustad for 2007 is this super heavy duty Ultra Point treble shown below. I'm not so sure this monster hook for the biggest bass and bass baits even has a hook model number yet. New hooks like these have a habit of rendering prior hook models obsolete. Just look at it!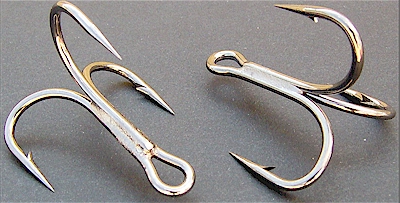 New super heavy duty Ultra point treble for the biggest bass and bass baits
The "jig hook with no name" shown below is... "so new we do not have a name or model number for it. We plan to produce it in standard wire sizes like 3/0 and 4/0 for instance. Also in 4/0, 5/0, 6/0 heavy wire for them old boys in Texas, for getting under grass mats," winks Harry Simmons. "We feel one of the hot baits for this type jig hook is going to be the football jig in 2007," says Harry. "We expect the third generation of shakey jigs heads will evolve in 2007 too, with much better shakey jig head designs - and shakey jig hooks - than we've seen so far," adds Harry knowingly.


Jig hook so new it hasn't a name or model number yet.
Steve Tagami also told me much about Mustad's new Activate. This is Mustad's third generation of pheromone-based product development. Mustad has a pheromone-specific formula for walleye, trout, catfish and so on, but the one we are interested in is the bass stuff.
"Kevin Van Dam and Denny Brauer, the two all-time money winners on BASS have both done pretty well with Activate during its developmental stages. They have absolutely played a huge role in development of Activate," reveals Steve. KVD loves it when sight fishing. "I believe in it 100%. If I see a fish and have Activate spray on the boat, I'll catch that fish every time," states VanDam.
In his recent BASS win on Lake Champlain just the weekend before ICAST, Denny Brauer used Activate, feeling it helped him get dialed in, and Brauer was even seen spraying it on his jig on TV coverage of his $102,000 win.
Both environmentally and ecologically safe, Steve says Activate is a scientific blend of pheromones, fish oils and attractants proven to trigger a feeding or strike response.
"Activate is not available yet, but product formulations are finalized and should be available on retail shelves by January 2007," explains Steve Tagami.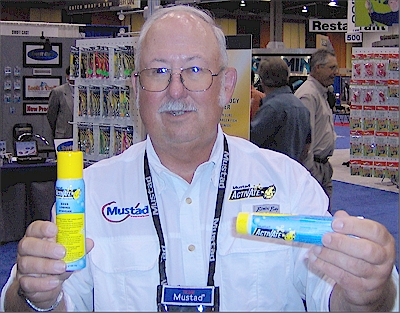 Harry Simmons smiles over Activate bass pheromone formula in aerosol spray and gel tube.
Northland
Northland is well known in the north central region of the USA, yet not as well known in other parts of the country
Nevertheless, John Crane showed me two neat new items that are simple pleasures to me, probably two of the nicest things I saw at ICAST this year, since both items are for fishing methods I enjoy much.

John Crane wows the Dozer with two nifty new items!
First was the new Sling Shot sinker. The Sling Shot system has a barbell-shaped hollow rubber core. You thread your line through the rubber core, tie on your hook and bait up with a soft bait of your choice. Next there are five weights - 1/8, 3/16, 1/4, 3/8 and 1/2 ounce slotted bullet sinkers that all fit onto the same one size of barbell-shaped rubber core. So the sinker weights are quickly and easily adjustable, even from cast to cast. The position of the sinker on the line is also instantly adjustable - and locks in place by twisting the two ends of the rubber barbell. What this does is twist the rubber. it never twists the line, and the line never comes in contact with the metal of the sinker. I can't think of a problem with it, nor can I think of a more perfect method to put a bullet sinker on your line. Can you? You don't have to cut and retie to change to any size sinker from 1/8 to 1/2. All take the same insert. No line nick. No toothpick. No threader tool. Instantly adjustable. Just the rubber twists, not the line. Thank you for showing me that, John Crane.


The Dozer's never seen a better sinker-rigging method than this!
Next, John Crane wowed me with a new style of silicone skirt that Crane claims has all the good properties of living rubber - but it's silicone. It has the lively action of living rubber but won't fade, it won't get old and brittle, says John. The skirt blends two sizes of a new and different durometer (softness) of silicone material. Two different size and style strands are used, same as the old time rubber skirts. First, the underlying strands are wide and flat spears with pointed ends, just like the old time rubber. Next, the outside strands are thin cut silicone. Both the outside and underlying strands are of this new and different durometer softer silicone, called "Super Silicone" for short. To feel them, they are lighter, more airy, more quiver, stretchier, softer, more rubbery than standard silicone skirts. Great going, John!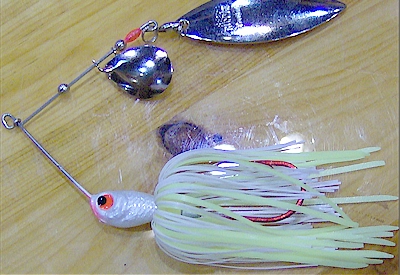 The look and feel of "old time rubber" is back again - as Super Silicone
Optimum Baits
Matt Paino and Chinami, Matt's lovely new bride of several months and father Tony Paino journeyed to ICAST to introduce the industry to "Furbit the Frog," Optimum Bait Company's furry new amphibian.
New product competition was intense, not just among frogs but all soft lures. When the dust settled, Optimum Baits and Furbit won Best New Soft Lure of 2006!
Matt Paino is perhaps the most worldly, experienced and savvy young man I know in the tackle industry today. Having grown up in his Dad's shop, innovating the original and subsequent waves of swim baits and soft baits for Southern California's big bass, Matt spent the last 5 or 6 years in Japan, gaining a deep comprehension of the Japanese fishing tackle market, securing a lasting place for Optimum Baits in that market, and cementing genuine relationships with many tackle industry leaders and company owners within Japan. Matt's destined to go far in the tackle industry. Bringing home the Best New Soft Lure at ICAST in 2006 is just the beginning.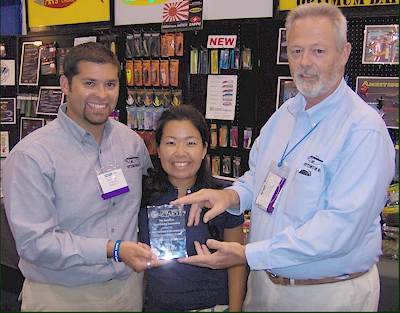 Matt, Chinami and Tony Paino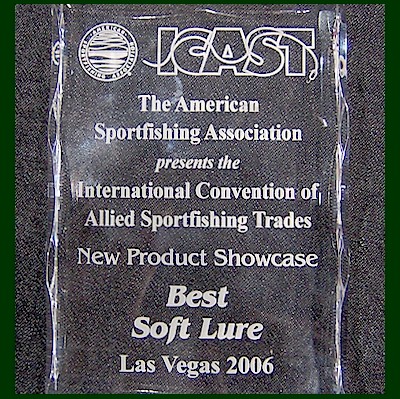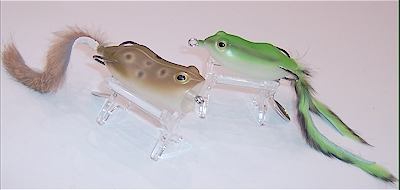 Winners! Poppin Furbit (left) and Furbit the Frog
In a watery world of look-alike hollow rubber frogs, "Furbit the Frog" (what a name!) is a refreshingly individual amphibian. Many other hollow rubber frogs you see out there today look a lot like each other, and perhaps Furbit does too.... until you get to its legs! It's two legs are soft supple strips of rabbit fur. Furbit's legs ripple and flutter in a manner that synthetic rubber or plastic legs never will.
The long soft thin rabbit fur legs flutter and shudder, wriggling in an S-like movement of the two tails. When you move Furbit in short stops and starts, the many individual hair fibers puff out separately and then pull in tight again, like a breathing action. Nothing artificial even comes close.
Furbit has a molded-in belly weight and weighs 5/8 ounce. As if its rabbit fur legs weren't unique enough, Furbit also comes with a ball bearing swivel and Colorado spinner blade attached beneath it. The Colorado blade adds flash, vibration and best of all, the small blade causes Furbit the Frog's entire body to tremble uncontrollably due to the blade's vibration.
Furbit sits high on the water. When you twitch it, Furbit has a nervous, nose-twitching action that is most lifelike. Even when paused, any slight ripple or chop on the water causes Furbit to bob back and forth. That causes the spinner blade to flash and wobble which is a natural attraction. You'll attract a lot of panfish that like to take pecks at the spinner blade and at the legs. Not only do you have Furbit as the main course for a hungry bass, but the dangling, flashing spinner blade helps gather panfish schools around the frog.
Do you see small panfish swirls underneath or around your frog? Do you see the bait tick or shift sideways from panfish tugging at it? All this is good! It means a big bass may be under your bait, under the panfish, tensed up and ready to pounce when next you move Furbit. Just twitch it slightly - and expect an explosion as Furbit gets plowed by a big bass.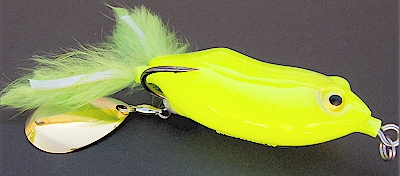 "Furbit the Frog" tricked out with trimmed legs and an oversized Deep Cup Colorado blade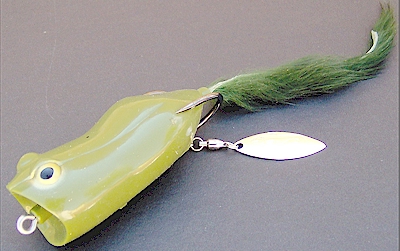 "Poppin' Furbit" wins top prize among new soft lures at ICAST
Next new lure, the Optimum Poppin' Furbit is a weedless popper that can be thrown into the densest cover and thickest grass where it will remain snagless. With any other popper, you'll be sorry if you even come close to a blade of grass or a twig. That's because most popping lures have exposed treble hooks and they catch instantly on any little thing. That's no fun. Most poppers cannot be thrown in or around heavy cover or grass. But not the Poppin' Furbit! It's designed to get into the nastiest snags and thickest slop possible and to pop its way out of there... if it can make it back before a hungry bass hammers it!
Weighing 5/8 oz, the aerodynamic Poppin' Furbit casts like a dream, splats down loudly and thanks to the belly weight molded onto the hook shank, it never lands upside down. It's balanced to float high on the surface. It sits practically level with its big bowl-shaped mouth always poised to scoop up and splatter a ton of water in an attention-getting explosion.
Snagless, yes, but the new Poppin' Furbit is heavily armed with an Owner super sharp 6/0 double hook. A bulge molded in the body shape protects the hook from snags, but the hollow body collapses easily out of the way when a big bass chomps down on the Poppin' Furbit.
Poppers are not only exciting for an angler to use, but the noise and commotion of a popper can be highly excitable to bass as well!
An angler can use the splashing sound of the Poppin' Furbit to excite and call bass in, much like a hunter can use a turkey call or scrape old antlers together to make sounds that excite and call in birds or bucks.
In thick cover with limited visibility, the Poppin' Furbit sends out the right signals. The sound and splash of the Poppin' Furbit brings fish up from their hidden lairs deep in the grass and dense cover, and when they see the whipping action of the rabbit fur tail, they bite.
How this works is simple. You pop the Furbit to make an attractive sound. The dished face sprays water out to the sides. The Poppin' Furbit moves forward into the sprayed area, which helps obscure it from view. The Furbit also pushes a wake off its sides as it moves forward, further obscuring it. Then there's the pause after the splash. Perhaps only for a split-second, but sometimes longer. In the pause as the commotion settles down, that slinky rabbit hair tail works its magic, fluttering and twisting, hairs pulsing open and closed, and practically breathing. Any bass that had been called over by the splash now sees that rippling rabbit hair tail coiling and uncoiling, and blasts it!
As if that wasn't enough, the Poppin' Furbit comes with a ball bearing swivel and spinner blade to add flash, vibration and action. These are all good things to have in a bass lure. Whether it's the loud splash of the Poppin' Furbit or the rippling, breathing action of the trailing rabbit fur tail or the flash and wobble of the attached blade, the Poppin' Furbit is perfect right out of the package. Just add water... and pop loudly in the densest cover or thickest grass where the big ones lounge.
They say a picture is worth a thousand words, so a video must be worth a bazillion. Click below to watch:
Note: Set the video screen size to a smaller size to see a sharper picture - and keep your eye on the whipping rabbit hair legs in the videos. They're deadly!
Contact: Matt Paino, Optimum Baits, Temecula, CA 951-676-6384 www.optimumbaits.com
Owner
Tony Shitanishi explained Owner's three new hooks for 2007 to me. "Although hooks are constantly getting better, the biggest problem with soft baits and hooks remains in that soft baits have a tendency to slide down while casting, if a fish even sniffs at it or if the bait bumps off weeds or obstructions, the head slips down the shank ruining the presentation. Owner decided to assist anglers in solving this problem entirely with our three new wire coil style hooks that permit perfect, practically permanent rigging."
The three new hooks are:
TwistLOCK Open Gap 5136. This worm hook is extra strong for rigging bigger baits. It features an XXX-strong, forged shank, Cutting Point, and Owner's unique TwistLOCK "Spring-On-Shank" soldered to the hook eye for incredible "non-slip" bait-holding power when fished in cover for hard-hitting bass. The nose of the worm is "permanently" secured by screwing it onto the coil spring before the final positioning of the hook point.
TwistLOCK Open Gap 5135. This is Owner's standard, all-purpose forged hook with a Super Needle Point. It too features Owner's unique TwistLOCK "Spring-On-Shank" attached to the hook's eye.
TwistLOCK Open Gap 5132. This hook is unique with its TwistLOCK "Centering-Pin Spring" flexibly attached to the hook eye. Baits can be "permanently" secured by inserting the pin in the center of the nose of a soft plastic, which can then be twisted (screwed) onto the coil spring so that any bait will rig perfectly every time. The self-centering pin is new. Without it, baits can get skewed, go in crooked, and end up going on sideways, which ruins the presentation before you even get started. However, Owner's new self-centering pin helps to rig baits straight, which is so important. Ideal for big tube baits and beefy soft plastics. Features a 30 degree eye, extra strong forged shank and Super Needle Point.
"All three of these new hooks feature Owner's new concept of an 'open gap' which allows for more positive and effective hook sets. What this means is we made a conscious effort to put the hook point above the eye. This acts more like a straight shank worm hook and lets you set the hook a lot better. When the point is above the hook eye, you get leverage. Very effective once they strike. Yet unlike a straight shank hook, which holds bait poorly, the TwistLOCK holds bait on like crazy. We're pretty excited. We think it is going to do good," exclaims Tony.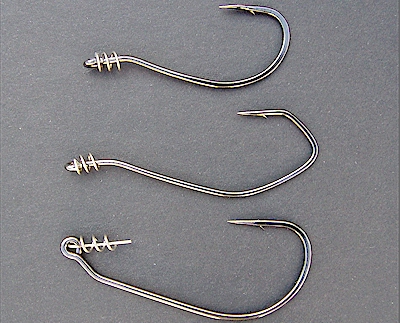 Heavy wire TwistLOCK (top), standard wire TwistLOCK (center) and TwistLOCK with "Centering-Pin Spring"
Oxy/Gen Products
The Oxygenator was a new product, at least to me, at ICAST. The Oxygenator Flush Mount Livewell system has been installed in the Triton Boats supplied for the Bassmaster Classic for the past two years, and it is now available for do-it-yourselfers to install in their own boat livewells.
The product photo below shows another small, portable version that has less oxygen-producing capacity and runs off four AA batteries for 2-3 days of continuous operation if need be. The company suggests one use may be for oxygenating tournament weigh bags during weigh-ins.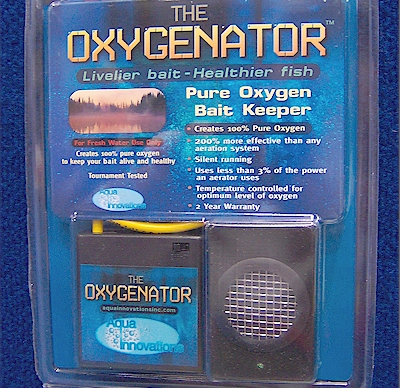 Compact, portable, battery-operated model
Penn
Penn debuted a new Rod and Reel Cleaner that means longer casting, smoother retrieval and superior protection against the elements. The Rod and Reel Cleaner has corrosion inhibitors for use with all fishing tackle. It removes any build-up on all internal and external parts. Spray on all types of rods, reels and line then lightly wipe down after every trip to help prevent moisture and salt or mineral deposits. No adverse effect on any line or composite material used in rods or reels, claims Penn. Use on anything around your boat, your trailer or your tow rig that might rust, claims the manufacturer.
Penn also introduced a new Anglers Combo Pack of Synthetic Reel Oil and Precision Reel Grease, in small portions perfect for simple on-the-spot or at-home maintenance.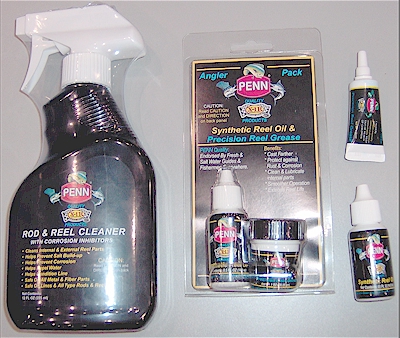 Persuader
If ICAST gave an award for Cutest New Lure, Persuader's new Baby Duck would win feathers down. Cliff Liddy showed me a video of the Baby Duck rolling side-to-side, and an angler is able to make it dash across the surface like ducklings do as well as bob its head like a feeding duck pecking at underwater vegetation. Yes, the video included bass "quacking" it on the surface and being caught on it. Real feathers (pheasant) are layered underneath the top coat on the ducks back.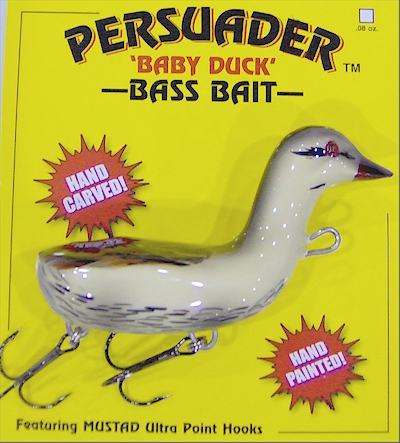 Quantum
Quantum updated its Tour Edition PT Signature Rod Series with one Gerald Swindle, two Tommy Biffle and one Greg Hackney signature rods.
The new Gerald Swindle baitcaster rod is a 6' 6" short-handled popping rod designed specifically for lightweight poppers. There was a limber tip but enough backbone to set the hook effectively.
The two Tommy Biffle baitcasters were both fairly heavy actions. His new heavy action 7' 6" felt more powerful than many other models of flipping sticks I've used. Biffle also has a new 6' 10" deepwater heavy action rod for fishing jigs and soft baits at greater depths. It too was pretty powerful.
Greg Hackney's new all-purpose 7'11" jig rod is ideal for use with braid for jigs from 1/4 to 3/4 ounce. Unlike other jig rods, this one features a parabolic bend and slow action to make it more forgiving when fishing lighter jigs on braided lines.

Swindle's short-handled popping rod (left) and Tommy Biffle's two heavy action rods.
Rapala
The new Minnow Rap 09 is kind of a cross between a Shad Rap's tight wobbling action plus the Original Floater's slender minnow shape. There's something about a long, slender minnow profile that fish love in a lure. You just can't beat the shape. The Minnow Rap is constructed of balsa wood for the best action of any hardbait material. It has the same action and depth (gets down about 7 feet) as the Shad Rap but the look of a floating minnow lure. Several new color patterns have transparent red diving bills. This was something only a few sharpies would do, using transparent red nail polish to paint the clear diving bills on crankbaits and jerkbaits. Now, Rapala offers transparent red bills right out of the box.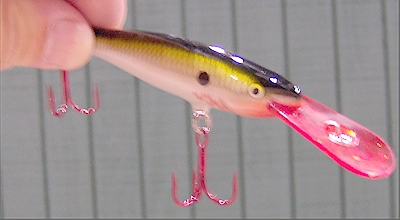 Transparent red-lipped Minnow Rap
Rapala also added two new models of X-Rap Slashbait to this highly successful bait series. The two new models are the bigger profile X-Rap 12 which is a shallow swimmer 4-3/4 inches long and a hefty 3/4 ounce in weight. Also added the X-Rap Deep 10 which gets down at least 6 feet or more and weighs 7/16 oz.

New X-Rap 12 (top), X-Rap Deep 10 (center) and Minnow Rap (bottom)
Rebel Lures
The Original Jumpin' Minnow is back. This old time topwater is a real high-running, gliding, easy to walk, almost a finesse walking bait. "The baits have not been made in so long that they were just about gone," says Jeff Samsel. "They had quite a following in sections of the country such as the Southeast. Anglers in those regions were hiding the last few in existence in their sock drawers. The Jumpin' Minnow was regarded as a special lure for smallmouth and spotted bass in deep clear impoundments."
The Rebel T10 Jumpin' Minnow is 2 1/4 inches long. Despite its small size, the Jumpin' Minnow casts like a bullet, and it ranks among the easiest to work of all walking baits. It weighs 3/8 ounce.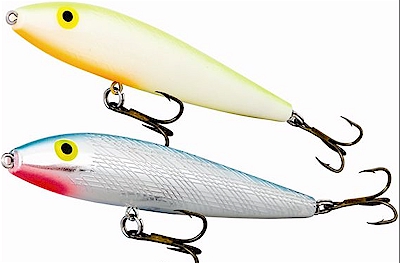 River2Sea
K.K. Chan spoke very highly of the new Croaker, a hollow rubber frog available in 3 versions. What makes the Croaker so special is it walks from side to side very easily due to its keel-shaped chin. Several independent anglers (friends of mine) who have tried the Croaker backed up K.K.'s claim as to its easy walking ability.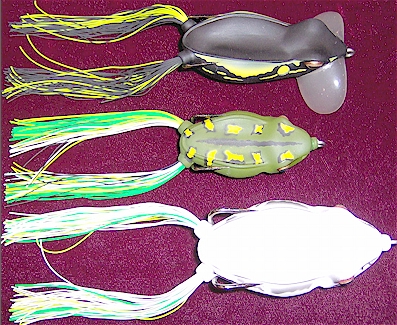 The new Croaker series: Crawlin' Croaker (top), junior Croaker (center) and standard Croaker (bottom)

"With the Crawlin Croaker, we use high end technology to mold the jitter lip onto the front of the Crawlin Croaker body, effectively making it one-piece so the lip can never detach" says K.K. The jitter lip lets it walk, pop and jitter across the surface simply on a slow, steady retrieve.


The ridged chin makes the Croaker walk easily.
River2Sea's new Hula Shad spinnerbait has a crankbait-like body encased in polycarbonate, and a double-layered skirt tied on in two separate sections. Originally "hidden head" spinnerbaits were conceived as a way to hide the mass of weight under the skirt, making it less visible and smaller in profile. However, hidden head spinnerbaits are also evolving to become more visible nowadays, to present a bigger body size, to make the elongated body more visible, like a billboard for creating true crankbait color patterns on spinnerbaits.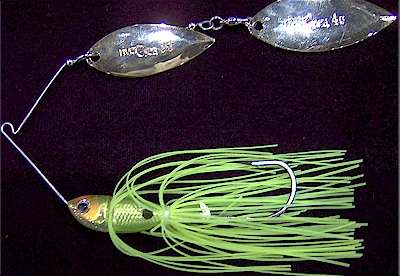 Hula Shad's bigger body is a billboard for true crankbait color schemes
River2Sea has gotten big into wake baits with three new styles of wakebaits for 2007," says Daniel O'Sullivan. The three new wakebaits are:
First, the small yet chunky 2-3/4 inch long V-Crank Wake weighs 1/2 oz and is jointed behind the head. "This waker only gets under the surface at most 6 inches. Because of the way it really roils the water and the jointed pieces clack, it works incredibly well, it's at its best in dirty water," says Danny O.
"The S-Waver is another new wake type bait from River2Sea that swims across the surface in a serpentine S-motion with no rod action required to be made by the angler," says O'Sullivan. the rod. This is representative of an entire category of big surface baits with S-action that is all the rage in Japan. Yet anglers in the USA hardly know anything about them yet.

Yet another new surface wakebait for 2007,the V-Joint Wake Minnow comes in 3" (3/8 oz) and 3-3/4" (3/4 oz) sizes. This three-piece jointed bait has a bulging underbelly (hard to see in the photo) that makes it quite a bulky mouthful for any bass.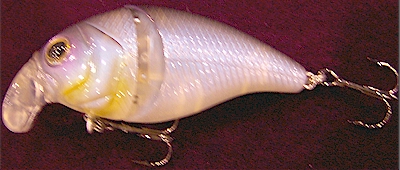 New V-Crank Wake


S-Waver is 6-3/4" long and weighs 1-5/8 oz


New V-Joint Wake Minnow
Two smaller sizes of the Tungsten Vibe are new, and again representative of a lipless rattle bait concept conceived in Japan whereby an external tungsten chin keeps the bait in a nose-down posture, which better prevents the treble hooks from getting snagged in cover.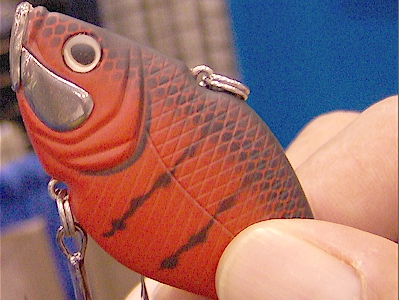 Two new junior sizes of the Tungsten Vibe have arrived.
Rogers
You may have seen some of Roger Briles products around. You may even have them on your boat. This was the first time in fifteen years that Rogers has had a booth at ICAST, so some of the products were new to me, and worth sharing with you.
Roger's Marker Buoys can be locked and stacked together. There's a buoy bracket that uses double-sided adhesive tabs (no screws or other fixtures) to attach to any flat surface on your boat. The buoys simply slide in or out of the bracket when you need them, yet otherwise are held securely. Two buoys can lock onto each other securely, yet snap apart easily when you need one. It is the most space-efficient, out-of-the-way yet handy marker buoy set-up I have ever seen. For lowlight or night fishing, Roger's boys have a pocket to insert a light stick. The weight is non-toxic.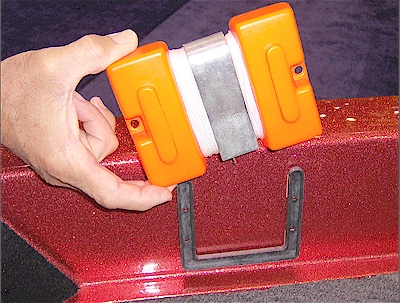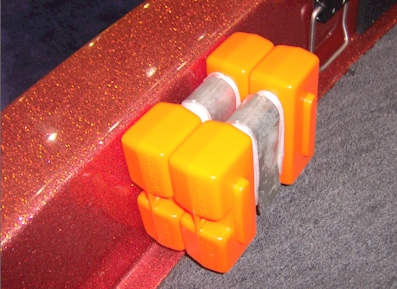 Roger's Plug Rug was nifty too, to install under the hatches of rod lockers or on any flat surface. Roger recommends using 3M weather stripping adhesive to attach the plug rug. "It's made of reclaimed rubber, and you can trim it to whatever size you need. It will not flake or tear even with years of use. Some customers have had Plug Rugs on their boats for fifteen years, and the Plug Rug's still as good as new, says Roger.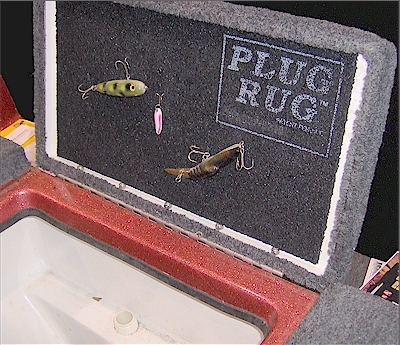 Another item that was inexpensive and at times I wished I had one is the Wheel Loc, a doughnut-shaped holder to help keep your front trailer wheel from rolling (Note: not for use on steep grades).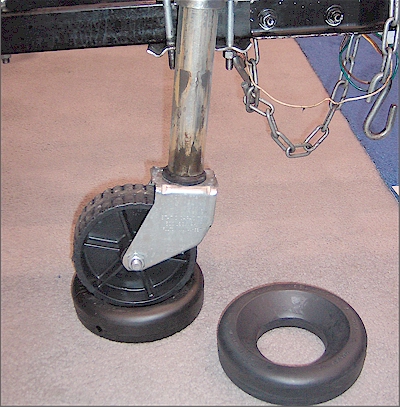 Sebile
Patrick Sebile and Dave Maynard introduced a whole new concept in hard baits that contain a unique glitter-filled fluid that resembles scales coming off a wounded baitfish, they say.
The fluid movements inside also create ultra-low frequency sound waves, and the movement of the fluid gives the illusion of muscle movement, a baitfish on the run, says the company. The oil and glitter within moves and flows almost constantly.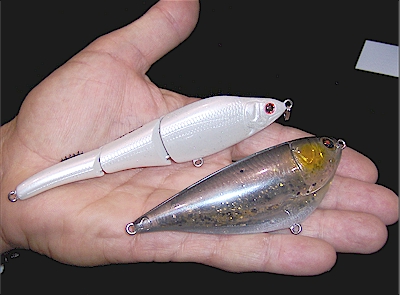 Triple-jointed Magic Swimmer (top) and glitter and fluid-filled Bonga Minnow (bottom). Sharp keel on bottom causes Bonga Minnow to slice into the water, and causes a huge swirl when jerked, says Dave.
"The three-piece Magic Swimmer has caught almost every fish that swims for me," says Dave Maynard. The Bonga Minnow also is one of Dave's favorites, but that's not all. The entire new product line includes over 12 new shapes and actions of topwater, lipped minnow and lipless crankbait lures.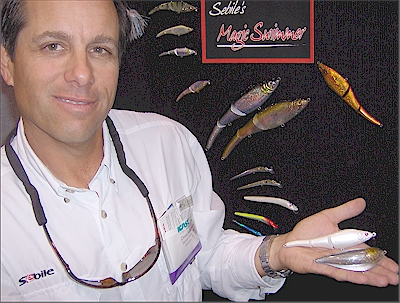 Dave Maynard

Glitter and fluid-filled Splasher (top), Koolie Minnow (center) and Stick Flat (bottom)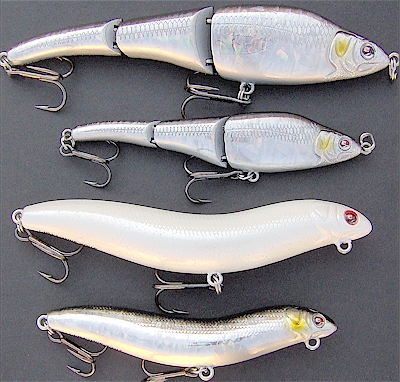 Magic Swimmer (first two). Stick Slim (bottom two). With a very exaggerated but tight walking action, the Stick Slim pivots so easily it can even be made to walk backward, claims Maynard.
Shimano
Shimano won Best New Freshwater Reel award for the new Calais 200 DC. Casting is digitally-controlled by a waterproof circuit board inside the reel. The initial moment of each cast generates the power needed to charge the circuit board for the rest of cast, and from there, the pre-programmed digital control helps manage and control spool revolution for longer, better casts. The system lets the spool accelerate to reach maximum RPM's before the smart system engages the brake. It can apply the ideal level of braking at intervals of up to 1/1000th of a second, almost instantly adjusting the amount of braking required.
"In developing the Calais DC, we analyzed the casting mechanics for various conditions to come up with four different braking profiles, with 8 settings in each, or 32 different brake settings in all," says Jeremy Sweet. He's the Product Manger for Shimano reels. Sounds complex, but trust me, the braking system is just too easy to use. It will take about 2 seconds to learn how to use it.
The four different braking profiles are:
Extreme distance (the "X" setting inside the side plate) sounds like its for showing off in the parking lot to your girl or your buddies, but also useful for professional distance casting competitions, not really for fishing.
Long distance (the "L" setting inside the sideplate) is for those aerodynamic or ballistic baits with low air resistance that just seem to cast the furthest or when there are calm conditions and maximum length casts are needed to not spook fish. Just click open the sideplate, put the dial on "L" and you're good to go the distance. It's that easy.
Accuracy mode (the big "A" on the dial) is ideal for close-in accuracy with flipping, pitching, skipping lures and for parabolic rods that have a slow action such as fiberglass, Shimano's TC4 construction rods or other graphite composite rods typically used for crankbaits, buzzbaits and the like.
Wind mode (the big "W"). The wind is your friend when you have the big "W" dialed in. As you watch other anglers suffer to cast, you'll be casting long and smooth into gusts or heavy headwind conditions - something that has never been possible before with a baitcasting reel.
It's just too easy. Simply dial to L, A or W, click the sideplate shut, and then you have a dial on the outside of the spool, to click to any one of eight finer degrees of the same setting. Suggested retail price: $649
Oh yes, tell me if this next trick isn't slick. A unique feature in Wind "W" mode is when you see a fish jump or want to hit a spot downwind, just set the outside dial (there are settings numbered 1 to 8) to "1". This puts the reel into Long Distance ("L") mode without having to click open the sideplate. So you can instantly fire a cast downwind in Long Distance mode!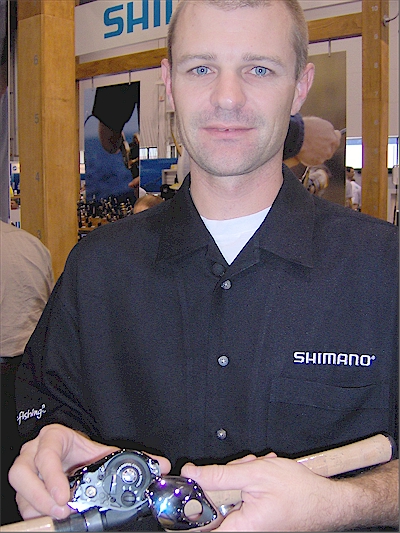 Jeremy Sweet, Product Manger for Shimano reels demonstrates Calais DC. It's...(what else?)...Sweet!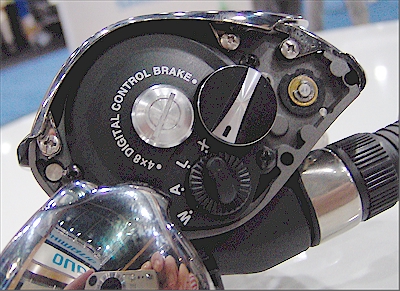 It has digital control, 32 distinct brake settings and other highly advanced features, yet the biggest breakthrough is ease of use and effortless casting for long distance, close-in accuracy, or when faced with a stiff breeze. It's the Calais DC.
Like many other rod manufacturers seem to be doing for 2007, Shimano filled in just a few tactics rods that may have been missing or that became hot tactics used by top pros so far this season. Shimano expanded its top-of-the-line Crucial Bass Rod series with four new spinning rods as follows:
Two new rods for smallmouth anglers, especially those in the Great Lakes region where dragging tube baits reigns. Shimano added the 7' 2" CRS-X72M and 7' 6" CRS-76M. Both deploy highly-sensitive IM9 graphite blanks designed for dragging tubes and grubs.


Two new rods for crankbait and jerkbait anglers. Shimano added the 7' CRS-CX70ML and 7' 4" CRS-C74M spinning rods constructed of Shimano's TC4 slow-action blank material. Bass anglers rarely use spinning rods for crankbaits or jerkbaits, but walleye anglers sure do. So take a tip from the walleye guys. Try a spinning rod to toss your lighter and smaller cranks and jerkbaits longer with less line tangles, especially when windy. You'll be glad you did!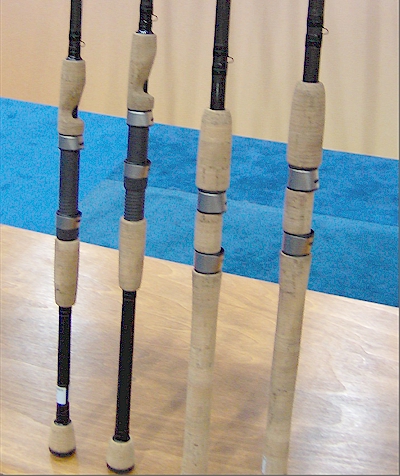 Shimano's 2 new IM9 split-grip spinning rods to drag tubes and grubs (left) and two new cork-handled TC4 composite spinning rods (right) to easily toss light crankbaits and jerkbaits, even into the wind.
"Totally waterproof and will never leak," is what designer Ted Sakei had to say about his new Shimano Bristol Bay Dry Bag. "The big, roomy inside pocket is not stitched, there are no holes. The inside is a durable heat-pressed soft pocket."
There is also an extremely tough outer layer to the bag, which is stitched, but has a grommet with a drain hole on bottom to drain out in between the outside bag and the inner stitchless pocket which is totally waterproof.
In between the inner and outer layers are 3" thick styrofoam in the bottom, sides ands top for flotation. The top flap seals the inner pocket, making it completely waterproof. So if it goes overboard, it will float with up to 40 pounds of gear inside, and if the flap was closed properly, everything inside will remain dry, even when the bag gets submersed temporarily, or rained on, or splashed in sloppy water conditions. This makes it ideal for kayak fishing, canoe portage trips especially. There's no sticker shock here either. It's affordable. The three Bristol Bay Dry Bag sizes run $39, $49 and $59 respectively from small to large size. Great bag, Ted!
Oh yes, the thick insulation lets you use the Bristol Bay Dry Bag as a cooler if you wish, for keeping beverages and food on ice inside the waterproof inner pocket.
But that's not all. Over the top, there is an optional route to insert a pump hose, and an outside pocket to hold a battery-operated aerator. So it can be used as a livewell (say in a kayak or small boat fishing competition), or as a live baitwell or - the ultimate aerated weigh-in bag! What a great bag.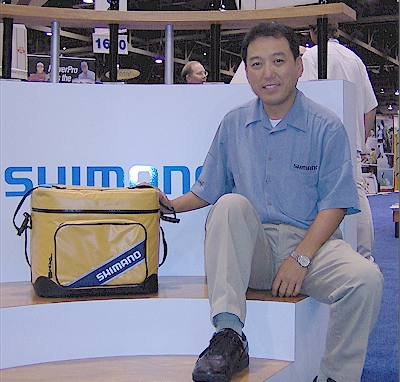 Shimano Bristol Bay Dry Bag designed by Ted Sakei
Ted Sakei also won the Best New Clothing award at ICAST for Shimano's Evair fishing boots. "I designed these boots to be a big hit for the bass guys who stand on their trolling motor all day. Big thing is you always have to hold your toe up to control the foot pedestal, so most important was to make the Evair boots extremely light weight, especially in the front. The boots weigh less than 10 ounces (size 8). They're 100% waterproof, won't slip. Molded as one piece. No stitches. No way for water to get in. They clean easily with soapy water, inside and out, and dry fast. There's a long-lasting, removable inner foot pad made of the same material. On the bottom inside, underneath the removable pad, Ted made a deep air channel system underneath the insole to prevent overheating. Boots usually get hot, that's normal. The deep air channels helps to reduce overheating and sweaty feet on hot days, and also creates an insulating air layer that helps keeps feet warm in cool spring and chilly autumn weather when you don't want wet feet.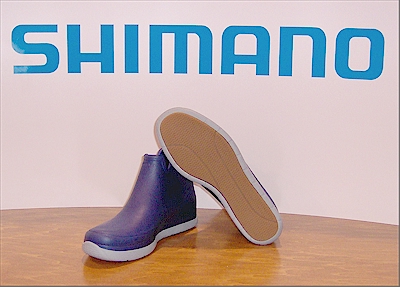 Shimano Evair Fishing Boots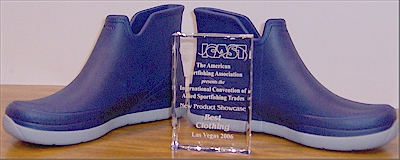 Best New Clothing award at ICAST 2006
Snag Proof
Snag Proof bloodied up their new Bleeding Frog series with red blood spots in some of the new color patterns, plus neat-looking custom red Owner double-tined hooks. Nifty!
Snag Proof also presented the new Frog Works Kit, a do it yourself customizing kit to modify any soft hollow plastic frog or lure. Pro doctoring tips included! Everything you need to make your own secret weapon, says the company.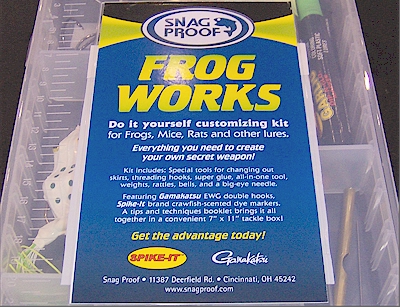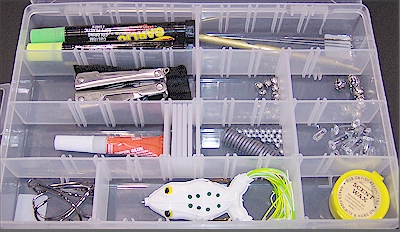 Spike-It
Spike-It's new Dippin' Kit has a stable, absorbent dipping platform built right into the kit. So if there are any dipping mishaps or spills, the sponge platform should absorb it, not your boat carpet of your wife's lovely new living room shag rug!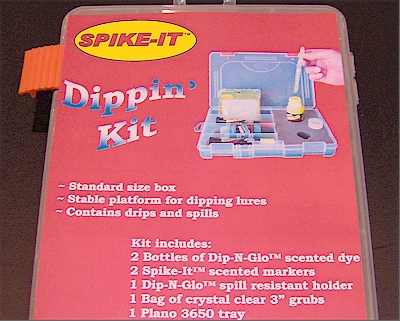 SPRO Corporation
New is a smaller size Dean Rojas Signature Series Bronzeye Jr. in a 1/2 oz size that's leaner and smaller. The company claims the smaller target maximizes the hook-up ratio, since the fish must strike more accurately and can engulf it more completely. It comes with a 3/0 Gamakatsu, which is a beefy hook, but also svelte enough that now even anglers who use spinning gear will be able to fish with hollow rubber frogs. Most other hollow rubber frogs on the market have hooks too heavy for a casual angler with spinning gear to ever be able to set the hook. Not so with the new Dean Rojas Signature Series Bronzeye Jr. It's a great move on SPRO's part that will open up frog fishing to the masses. Any angler regardless of their skill level or equipment will be able to fish the new Dean Rojas Signature Series Bronzeye Jr.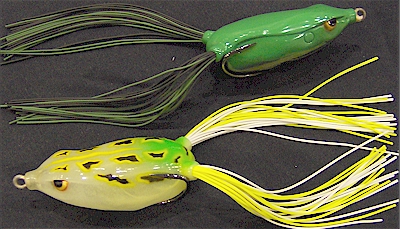 Beautiful new Dean Rojas Signature Series Bronzeye Jr. opens up frog fishing to the masses.
Next, I heard from the man in the big bass zone, Bill Seimantel about his new SPRO Signature BBZ-1 Swimbait. "I've put 20 years of hard work and reflection into fishing swimbaits, what makes them work, what makes them better, and poured all that into 2 years of development effort building this new beauty for SPRO," says Bill proudly.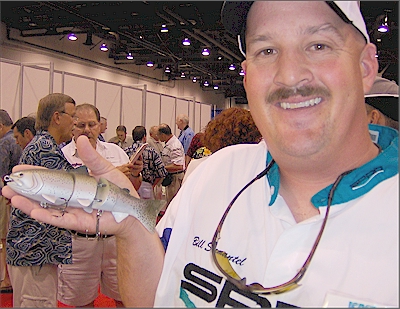 Bill Seimantel and his BBZ-1 Swimbait
The hard body almost has the appearance of soft plastic (which the tail section is) and an overall blended, continuous appearance, even at the transition from hard to soft in the tail. "The soft tail is attached to be shock-absorbent, so there's a transfer of energy and force on the cast that is absorbed and dissipated without tearing the tail off, a problem all too common on other brands of swimbaits," says Bill.
"The body fins are urethane, which is neither hard nor soft, meaning they cannot easily crack (too hard) nor rip (too soft) off the bait, but urethane is just right," says Bill. "If the fins do get bent or take a set from being stored improperly, put them in the sun for a while or under a blow-dryer, and the fins will pretty much return to their original proper alignment," says Bill.
"There are three models that all look similar, yet have different fishing characteristics. First, a floating model. Second, a slow sinker. Third, a fast fall model. That lets you cover the top, middle and bottom of the water column," explains Seimantel
"The front section (with the open mouth) has a stationary weight to be the stable center of balance for the entire bait," says Bill. "The back section (to which the soft tail is attached) has a movable weight inside it to create a knocker sound in the tail section, and to add a semblance of variable, unpredictable movement to the overall swimming action. The middle section is a bladder that adds upright stability and controls the floatability or sinkage rate," says Siemantel.
In terms of color, Bill favors three most of the time. "I like the glossy rainbow trout color for the occasionally overcast days, the matte rainbow trout color more for every day. That's in California and other places trout are stocked." However, Bill expects the black and silver pattern to be the most used everywhere. "It's universal," says he.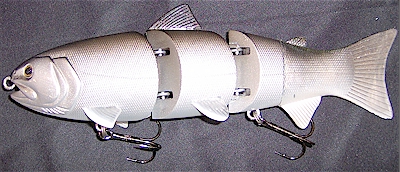 Siemantel expects the black and silver color to be the most used everywhere.
As much as he loves big bass and swimbaits, you'd be mistaken to think that Bill Siemantel fishes exclusively with big swimbaits alone. At the other end of the spectrum, Bill designed these new, awesome-looking light tackle "Float & Fly" jigs for SPRO. The synthetic hair is nice and soft. The colors are subtle with a well-blended appearance overall. I like the looks and hair texture of these.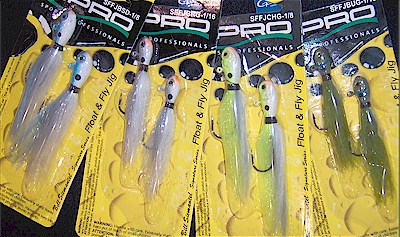 Other good news from SPRO is the new Aruku Jr. 3/8 oz lipless crankbait was added this year after its full-sized version was so successfully introduced last year.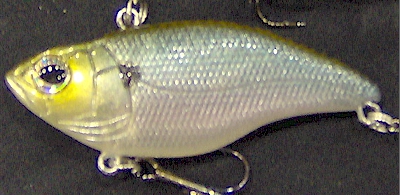 New Aruku Jr. 3/8 oz lipless crankbait
Strike King
Strike King dips its toe in the pool of premium balsa wood lures this year with two new crankbaits, the Flat Shad and the Stealth Shad. Both have circuit board lips and are labeled as Strike King's "Custom Shop" line of lures. The Flat Shad runs up to 4 feet deep. Stealth Shad dives to 6 feet. Made of balsa wood.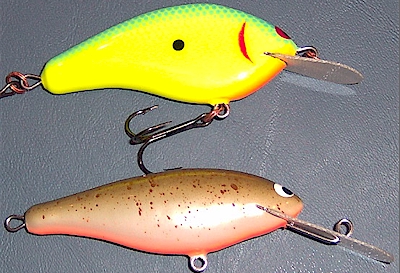 Strike King offers two models of balsa baits for the first time, with circuit board lips.
What I appreciated most at Strike King's booth were the two great new sizes of Elaztech soft baits. This material is much softer with more flexible action and is more durable than many other soft baits, says the company. Strike King already has a bigger and smaller lizard on the market, but to borrow a line from Goldilocks, the new 8" Iguana Lizard seemed to me the one that's "just right" out of the three lizard sizes. Ditto for the new 3-3/4" size of Denny Brauer Magnum Chunk. It too seemed "just right" - a meaty morsel. Denny Brauer Chunks have the rich color and glitter options of soft plastic, but being Elaztech material, they won't easily tear off like other soft plastic chunks. They have the staying power of pork, but won't dry out like pork. Now that's a good chunk there. I don't care who you are.

The new size of Elaztech Lizard and Chunk both seem "just right"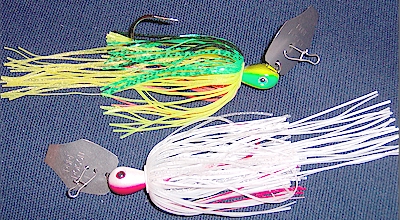 New bladed jigs shown at ICAST by Strike King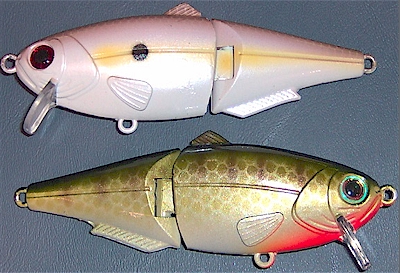 Strike King's new "King Shad" swimbait is 5" long with flat sides.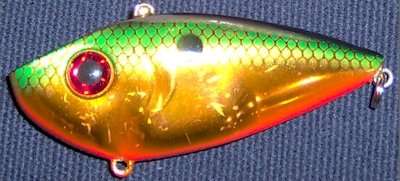 Strike King's new Red Eye Shad is a junior size lipless crank weighing 1/2 oz
Strike Pro
Steve Bullard gave me an overview of Strike Pro's new line of flexible swim baits, called Flex Phantom and Flex X. There are three sizes overall.
The articulated body is connected and linked together using a patented chain like a bicycle chain. Strike Pro recently won the Best New Visitor's Choice Award for this new lure type at the European Fishing Tackle Trade Show.
The way the bike chain joint system connects the lure segments gives these lures the most realistic swimming action available in a hard bait, claims the company.
"Other companies with articulated body baits are using through wire or hinges to link the sections together. However, the chain type linkage used by Strike Pro just has better action. Just better motion," says Steve.
Indeed, a video Steve showed me of the lure in motion looked like a live fish in frantic action. "Many who see the video mistake the lure in the video for an actual gamefish chasing the lure," says Steve. "People see the lure swimming, thinking it is a fish that's chasing something, and keep waiting to see it strike the lure."
I watched the video, and it certainly looks like Steve says.
The Flex Phantom also has a unique fish attracting internal flasher embedded throughout the articulated body parts, which reflect light throughout the water column.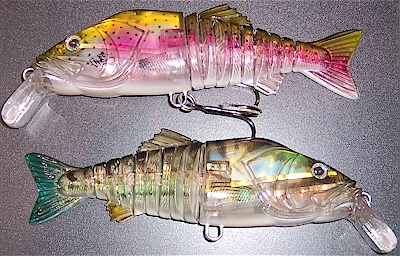 Storm Lures
The blade on Storm's new Spin Tail Shad is unique and gives it maximum flash while allowing it to be fished at slow speeds, says the manufacturer. Might be something to hold the rod tip high and try buzzing or bulging the surface with it, eh?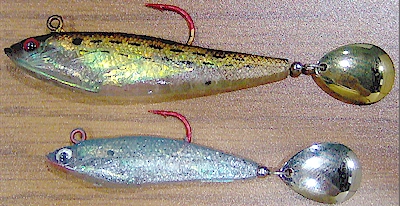 Swans Sports Glasses
Masa Nakatani introduced me to Swans sports glasses. Import/export manager for Popeye, a prestigious angler shop in Japan, Masa says, "We have just started to solicit interest in Swans sports glasses in the USA and other countries outside Japan. We are seeking distributors, wholesalers, retail establishments and consumers who wish to try Swans eyewear made especially for fishing."
"FLW Pro Shin Fukae uses our glasses to the greatest degree," says Masa. He may use as many as four different lens colors and several different styles for different degrees of shading and eye coverage. He uses these during practice to thoroughly study and familiarize himself with the landscape above and under the water. "At Beaver Lake where Shin recently won the $200,000 first place prize, Shin saw fishes during practice that other guys couldn't see or can't find them," reveals Masa.
"With our glasses and especially our goggles, Shin can see in the water even when driving the boat."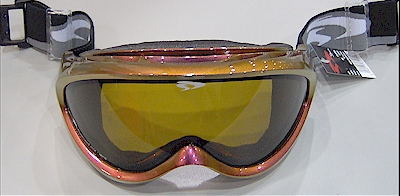 Not sold at ski shops! The Swans boating goggles were developed for added safety and advanced ability to see while on a high speed motor boat. There are two lenses, both polarized, for added optical clarity. The goggles fit easily over my prescription eyeglasses.

For fishing, Shin Fukae favors the "Warrior" style of Swans glasses (shown below). The lens is angled down at 16 degrees to enhance optical clarity while fishing and looking down in the water. The inside of the frames are painted black on the inside to reduce any reflection caused by the frame. Gary Yamamoto prefers the model #5020 (shown below) with its larger oval shape, frameless on the sides and bottom, and close-fitting to the face all around in order to reduce glare or ambient light that can't enter from below or from the sides. The lenses wrap way back on the sides for unparalleled peripheral vision to spot jumping bass or bait out of the corner of your eye. Being frameless on sides and bottom, no part of the frame ever obstructs your vision or detracts from your concentration when looking in the water at any angle.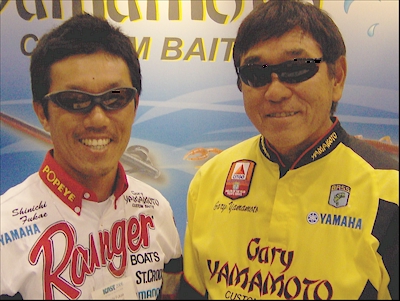 Shin wins with the "Warrior" style. Gary goes with the full field of vision in model #5020.

Swans Model 5010 available in black, silver or red frames and 3 lens colors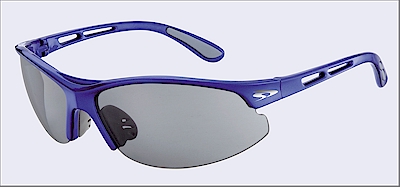 Swans Model 5020 (preferred by Gary Yamamoto) comes in black, silver, red or blue frames and 3 lens colors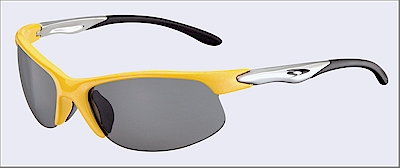 Swans Model 5030 available in black, silver or yellow frames and 3 lens colors
Tattoo's Tackle
Mike Dauphin of Tattoo's Tackle was not at ICAST but released a new product the same week. Tattoo's new Surface Swimmer causes an action swimming across the surface unlike anything freshwater bass have seen before. It establishes an entire new bass lure category called "surface swimmers."
Famous for crafting wooden surf fishing plugs, this is the company's first parlay into freshwater lures.
Now, surface swimmers have been around saltwater since 1944 which was when Bob Pond of Attleboro, Massachusetts created the first of what Pond called his Atom Forty (40) Surface Swimmer. It was called the "Forty" because Pond built it for massive striped bass of forty inches or longer that were marauding on the surface in Cape Cod Canal. Interestingly, Cape Cod Canal anglers of that era held a notion that striped bass couldn't be caught on lures, only live or dead bait. Pond's wood creation went on to become perhaps the most famous saltwater striped bass lure of all time.
So surface swimmers have been used in saltwater for over sixty years. Yet, they are virtually unknown in fresh. It's a bridge many great lures never get to cross, until now.
First of its kind for freshwater bass, Tattoo's Surface Swimmer is not nearly as big as the original, the Atom 40. Tattoo's Surface Swimmer weighs 5/8 ounce, is made of wood, and measures 4-1/2 inches long. It's through-wired from nose to tail with stout stainless wire, and the belly treble hangs off a heavy duty (220 lb. test) swivel. The line tie eye and metal lip are both adjustable, enabling an angler to create an infinite variety of surface swimming actions ranging from a tight, fast wriggle to a slow, sweeping, last gasp kind of death roll across the surface. The action has never been seen before in a freshwater bass lure.
The best way to describe the action of a surface swimmer is to visualize a "walking bait" action. For example, think of a Heddon Super Spook or Lucky Craft Sammy zigzag action, yet softer or smoother. The surface swimmer is still an aggressive, exciting non-stop action, except not as splashy, albeit every bit as deadly. Tattoo's Surface Swimmer rolls and roils the surface as opposed to frantic splashing.
There are two big differences between "walking baits" versus Tattoo's Surface Swimmer:
First, no rod action is required to make the surface swimmer zig and zag. Just steady reeling is all that's required to create the side to side walking movements.

Second, whereas other walking baits usually lose some of their effectiveness under bright sun on calm surfaces, Tattoo's Surface Swimmer keeps on producing even under bright skies, clear water and calm conditions.
It certainly does fill a niche that's sorely missing in the topwater lure market for largemouth, smallmouth and spotted bass.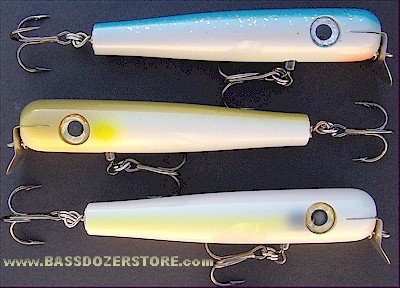 Tattoo's kicks off a brand new freshwater lure type - the surface swimmer.
Colors shown: Blue Herring (top). Ayu (center). Chartreuse Shad (bottom).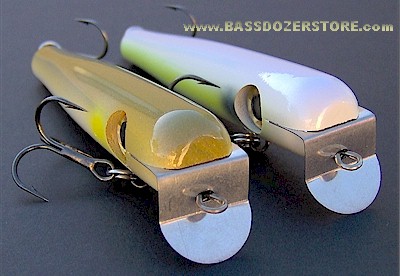 The lip and line tie eye are adjustable to fine tune a variety of lure actions.
Colors shown: Ayu (left). Chartreuse Shad (right).
Thornwood Lures
Ron Troyer was quite proud of the new Full Nelson. "This is a true wake bait, with a more severe lip angle so it stays right on surface. It's great for calm water. If you're on a morning topwater bite, and it dies by 9 o'clock with more aggressive lures, you can switch to the Full Nelson and that will extend the topwater bite until 10 or 11. Fish will keep coming up and hitting this when they've stopped hitting other topwaters," says Ron. That's so true of certain wakebaits or surface swimmers that can extend the morning surface bite. If you get nothing else out of this 100 page ICAST report, you can take Ron Troyer to the bank on that valuable tip right there. That's no lie.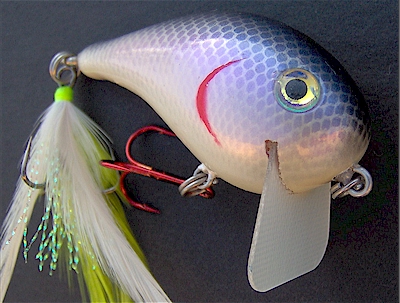 Full Nelson can extend morning topwater bite for hours.
"Next, the new Hybrid Morehead has more head than tail," chuckles Troyer. "But the tail is more important since that's what really kicks up a storm on this lure. It works great fished quickly in open water. With rod action, it can be made to walk side to side - on the surface or subsurface - or you can slow down and it will take on a lazy head down swimming action. Yet it's the tail that's the kicker," explains Ron.
"The Weedless Morehead gets in places few other crankbaits dare go. You can walk it over a thick weedbed, and when it gets to the edge or to a hole, just let it drop down. It has that tail kick all the way down," winks Ron.
"The heavy Depth Charge sinks since its made of Brazilian cherry wood that has almost zero buoyancy itself. Once you add weight in the belly, it sinks quickly. It has a circuit board coffin bill shaped lip. Reason I developed it is that I wanted a crankbait to get deeper but did not want a big bait. Usually, the only way to get a crankbait deep is to make its body and its bill both very, very big. Even still, the most depth you may ever get is rarely ever even 20 feet. I routinely fish the Depth Charge down to 30 feet," reveals Ron. "Let it drop down to the desired depth. It sinks at over one foot a second. Then drag it with the rod tip first before you reel the slack like you would a Carolina rig. As soon as you start retrieving, the lure's inclination is to come up due to pull of the line - so stop and go is better to maintain depth with a sinking lure like this at such great depths. That's actually a blessing in disguise since fish often strike crankbaits better on a stop-and-go retrieve than a steady one," admits Ron Troyer.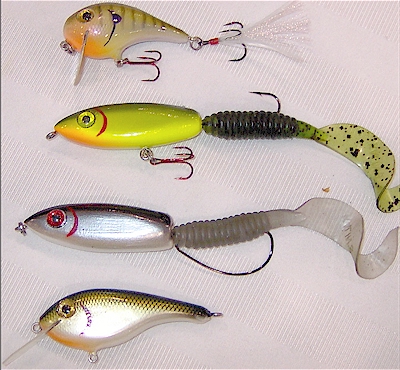 Full Nelson wakebait (top). Hybrid Morehead (second). Weedless Morehead (third). Depth Charge (bottom).
Triple Fish
Triton Mike Bucca informed me of Chum Line leader infused with bait flavor and amino acids in the line. "The chum effect can last up to 90 minutes, but maximum effectiveness is in the first 15 to 20 minutes," says Tee Mike. "For Carolina rigging or any time a leader is required, this is the stuff to use. The line spool is a UV-resistant casing, so there's no deterioration from being left out in the sun."
Dave Burkhardt adds, "We're going to go down to 6 lb test with this flavor-enhanced leader line. The chum is infused under pressure. To spray or wipe it on would not be adequate. This line is monofilament and as with all mono, it is open and porous. That's the reason why potential records must be tested by IGFA with both wet and dry line strength tests. Especially mono absorbs a lot of water. It can absorb up to 15% of the line volume in water. What we do with Chum Line is fill those open pours and indentations in the line under pressure with amino acids."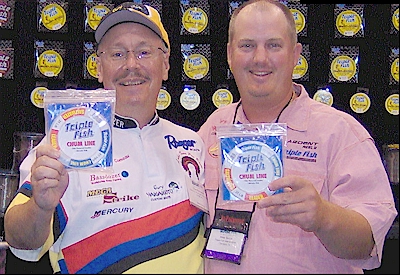 Bassdozer and Triton Mike Bucca with Chum Line fish-flavored leader.
Tru Tungsten
The "Hack Attack" Frog Hook seems to be the new Tru-Tungsten product that anglers are most interested to see. Tom Branch Jr explained to me that, "With the double-tined 'M' Bend hooks, they keep soft frogs in place better and help to prolong the life of frogs since the plastic around the hook doesn't get as worn out and 'hook tired' as quickly."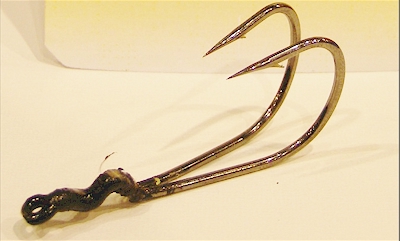 Greg Hackney Frog Hook
Tom continues, "Another problem is rolling over with many soft plastic frogs and toads. Many may land upside down for starters, and it can be difficult to aright them, or they may loop, roll over or up on their sides in the water on the retrieve. The Hack Attack Hook helps stabilize frogs, almost like a keel. It helps prevent them from looping in the water, and whether or not one lands upright, just be patient for a few seconds, and let the Hack Attack Hook help a frog to right itself."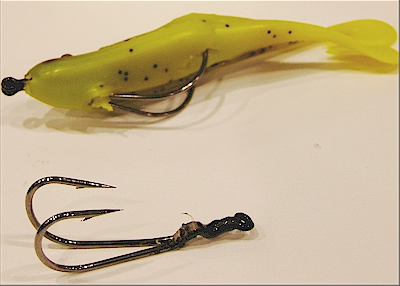 Also new are the single "M-Bend" hooks that help keep all kinds of soft baits in place.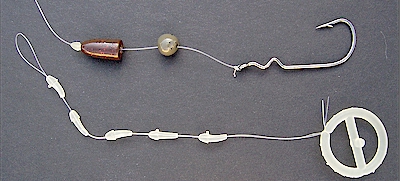 New M-Bend Hook rigged behind a Tru-Tungsten weight pegged with Tru-Tungsten's Smart Peg. A shatterproof Force Bead adds sound. Smart Pegs (bottom) come on a kind of key chain lanyard for quick and easy rigging.
Also new was the Nail Weight which allows the nail to be smaller and less intrusive in a bait since it's heavier tungsten alloy. Nice anti-slip sharp corners keep the nail from slipping out.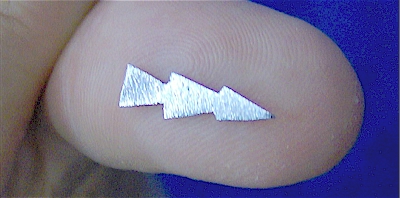 New Tungsten Nail Weight
TTI-Blakemore
Ron Stallings was excited about the new Aaron Martens Rollin' Runner that features a ball-bearing swivel and Gamakatsu hook. "Most often, a soft jerkbait is used as the tail dressing and slow steady retrieves are most effective. On a slow retrieve, the Rollin' Runner falls naturally into the depths." Ron has noticed that, " An occasional pause while reeling is often followed by a sudden hookset."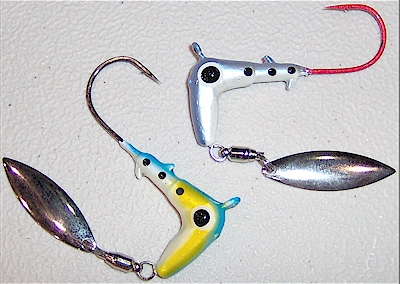 Aaron Martens (left) and Randy Howell (right) Rollin' Runners in hot new colors
TJ Stallings, says "In the Rollin' Runner photo, there's one with a Bleeding Bait Hook. That one is new and will be released as Randy's Rollin' Runner (Randy Howell)."
"Randy was one of the first pro's to 'discover' Bleeding Bait Hooks," recalls TJ. "Being the great guy he is, he shared his secret with everyone. So it just seemed fitting that we name this version for him."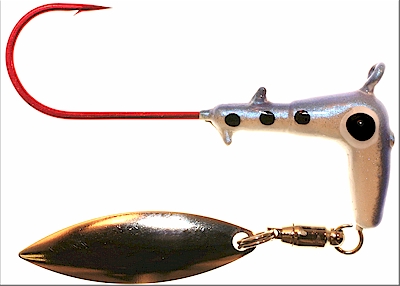 New Randy's Rollin' Runner named for pro Randy Howell
UOYA
Uoya Company, from Japan, presented several of their new products for 2007 in the booth of their US distributor, Lobina Lures. I'm not certain just how the naming or branding of these lures go, but they are also referred to as Fish Arrow brand or series. Also, whoever names them must know Jack about fishing, since many of the products are named Jack this or Jack that!
First new item this year is the Cover Jack, a hollow rubber frog with sophisticated body color patterns and instead of threaded-on legs, an interchangeable silicone skirt used as a hinged tail. 3" 5/8 oz.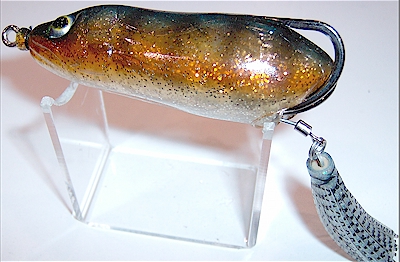 Cover Jack
Next, the Slide Jack is the first wacky-rigged swimbait to hit the USA from Japan. Tie your line on to the mid-body right or left tie ring to swim to the right or left. The body rolls side to side as the soft tail slides the entire lure under overhangs, docks and other hard to reach areas.


Slide Jack
The Spooky Jack Jr. is a new junior size that epitomizes the industry-wide trend toward junior size swimbaits today. Junior size swimbaits are still pretty beefy baits, but not as oversized as the prior generation of much bigger swimbaits on the market.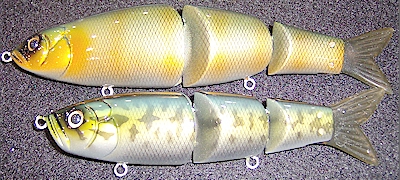 Prior generation Spooky Jack (top) and new generation Spooky Jack Jr. (bottom)
VMC
Cyrille Mathieu was ecstatic about the new BugEye Fast-Grip Vanadium wide gap hook with a weighted realistic lead and high density epoxy body. Whereas there are many other weighted wacky or weighted worm hooks on the market, this is the first that treats the weight on the hook as an attraction to fish. It's a great evolution in weighted hook concepts!
"We were not sure how it would be received in the market, but 'Wow' is all we can say," marvels Cyrille.
"Using this hook wacky style is very popular. A number of top pros, like David Fritts, are using it. The big bug eyes become a target, when the hook is waving around under a wacky worm. Bass act awfully aggressive toward it. It drives fish crazy," exclaims Cyrille.
"With standard Texas style rigging of weightless topwater stickbaits like Flukes and Senkos, the BugEye hook lets you work them a little faster and with a little crisper action. They dart and shoot instead of flounder, and taking the time to add a separate weight is not necessary" says Mathieu.
When it comes to rigging a stickbait, the ornate belly looks bulky, but the surface is a super-slick finish and when wet, rigging a stickbait or other meaty worm by sliding it right over the belly goes very smoothly and easily. Yet the bait's nose can't easily slide back down over the bulging bug eyes once rigged.
"Top sellers have been the red and the black, mainly the 2/0 and 3/0 in 1/8 and 1/16 oz sizes," informs Cyrille.
The clear and silver-bellied hook, in the 1/8 ounce size, can be presented alone on light tackle to match the hatch of inch-long young-of-year shad or other newborn baitfish or "no see 'um" minnows that bass have a vexing habit or popping off the top. It seems no lures work when bass are doting on these tiny types of baits, but the clear-and-silver BugEye hook alone is one of the few baits you can catch these fish with. The black and red colors work alone too, without any soft bait added, and imitate a wide variety of nymph and crawfish hatches when those tiny types of aquatic life infest brush or cover the bottom, bass get fixated on them. Bigger baits won't work, but match the hatch with the VMC BugEye and you can be a hero.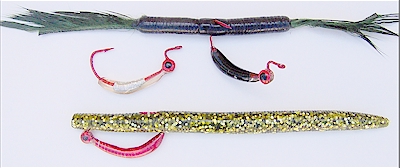 Also totally new for VMC are several multi-sized jig kits. "VMC has never been in the jig business before, and these jig kits are a great way for us to enter the jig market with minimum SKU's (individual products), less inventory management, less peg space taken on a store shelf, and more customer satisfaction. It's just better for everybody," confides Cyrille. "What I mean is, take our two new Tube Jig and Round Ball Head kits. The conventional way, we would need to manage 8 SKU's, the store would need to stock 8 SKU's and the customer would need to buy 8 items. Now, all that's done in just 2 kits," explains Mathieu. It helps the customer a lot. Many customers may not know just what size tube jig head they need for instance. So we have put the 4 most popular sizes of tube jigs in the kit. Now, the customer is sure to get all the best sizes in one buy. It's ease and convenience for anglers, and ensures the customer's tube jig fishing experience will work out swell," smiles Cyrille happily.
In our Round Ball Jig Kit, we used the Barbarian design hook, because we found it helps keep a rigged soft bait perfect every time. We found the crook in the shank of the Barbarian hook helps hold the top of a soft bait's body right there. So when a soft bait starts to slide back off the jig head, the crook in the Barbarian hook helps the body stop right there. So you will catch more fish simply because your soft bait is presented properly. The tube jigs also have the Barbarian hook and the same bait presentation benefits. Fish love a properly-presented bait," says Cyrille.
"We envision kits like these will become key for VMC to bring out new products. Oh yes, notice the clamshell box does not have only one lid, but four separate fliptop lids, one for each compartment. You can have one lid open, and three lids remain closed. It's good for the angler, and we like offering it too," says Cyrille.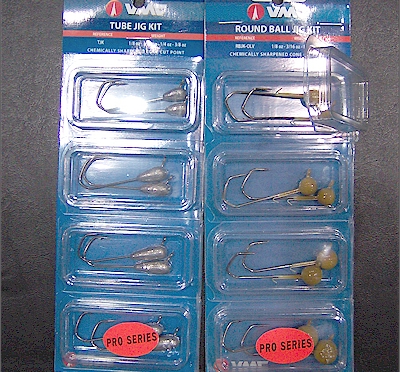 Kits like these new VMC jig kits create higher angler satisfaction.
"Kits, good kits, are great for customer satisfaction, to get everything a customer may need in one buy. We are introducing flipping and Texas rig kits with our very best styles and sizes for those tactics. Have you ever been in a two-day tournament, and you start to run out of the hook you need by the end of the first day? So the advanced angler gets a few of everything he needs, just to make sure he does not run out over the weekend. It's like a comfort blanket to ensure a good weekend. No matter what size or shape soft bait or what hook you may end up needing, you've got it all covered. You've got the best VMC's possible. The novice angler, who may not be sure exactly what hook he or she needs, also gets all the bases covered with our very best sizes and styles. From novice to expert, at VMC, we very much like this approach to satisfying customers" states Cyrille.
"We have our Sure Set hook kit this year. It's a new hook concept for crankbaits developed by David Fritts. Anglers and retailers who desire to give SureSet hooks a try, do not have to buy multiple items or spend time figuring out exactly what size, color they need. Now an angler (or retailer) who wants to give legendary crankbait master David Fritt's new hooks a try, they get everything in one item. The kit includes the sizes you need, in red, black nickel and a few dressed with tail feathers... and oh, yes, you need split rings, the right size rings, to change out your crankbait's trebles too, so they are in the kit for you. It is ease and convenience, and everything one needs to upgrade crankbaits to David Fritts' SureSet hooks," says Mathieu.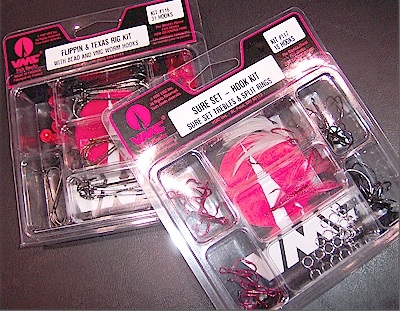 Everything you need to flip or upgrade hooks on crankbaits - no more, no less
VMC's newest worm hook, the extra long barbed locking bend, wide gap #6319 is representative of what's going on with all hooks of all brands. All hooks are getting better, getting better all the time. You wouldn't think so, but it is true.
Forbes magazine readers, editors and a panel of experts recently ranked the fish hook as one of the top 20 most important tools of all time, in terms of its impact on human civilization. You wouldn't think so, but it is true. As basic and simple as the fish hook has remained throughout human history, it is changing every year. The hook is getting better with every new model that is made. New model hooks are like that. They tend to obsolete prior models because the new ones are designed to catch more fish. There's many ways a new hook design catches more fish. One, it must hold bait on better (such as soft bait), be engulfed better, be less of an encumbrance, not be rejected or spit out easily, engage the point better in the roof of the mouth (or corner) just aft the lip, not bend or roll the point on hard contact, stay there long enough to engage the barb, not wear a hole, not be thrown, and that's just the beginning of a long, long list of factors whereby hookmakers design better hooks with every new model they make. Maybe one day I will write more about it, but for now suffice it to say that VMC's latest model #6319 is one of the greatest hooks of all time. Most new model hooks are.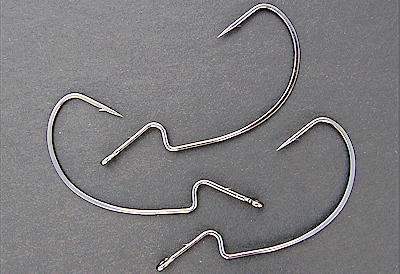 All hooks are getting better, getting better all the time. VMC's latest #6319 extra long barbed locking bend, wide gap hook.
World's Greatest Fishing Band
Good old Gary Shiebler and the World's Greatest Fishing Band have put out their greatest CD to date!
The "All Gone Fishin'" CD includes fishing tunes written, sung and strum by country music legends Bobby Bare, George Jones, Tanya Tucker, Jerry Reed, Merle Haggard, Patty Loveless, Mel Tillis, Porter Wagoner, Arlo Guthrie, Gary Shiebler, Lorrie Morgan, Little Jimmy Dickens, Danny Gilley and Bryan White with Rachel Proctor.
It's hands-down the finest fishing music I have ever tapped my toe to! You'll love it. I'm listening to it now.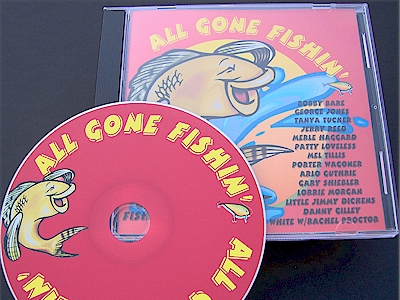 XCalibur Hi-Tek Tackle
Jeff Samsel was most excited about XCalibur's new Xw6 Wake Bait. Jeff exclaimed, "It's a wake bait all the way. Instead of starting with a shallow-running crank, like many other so-called wakebaits are, we started with a clean design slate in order to create a 100% bona fide wakebait. You can't crank it hard enough to not make a wake," states Jeff unequivocally.
This surface-swelling wakebait wobbles widely with part of the lure always at the water line – even when reeled at high speeds – pushing out a far-ranging wake and rattling loudly to beckon big fish to the top.
"Even if you reel your darndest to get it to go under, it will still bulge the surface no matter what," says Samsel.
"You don't need to hold your rod tip high to wake it, where you can't set the hook, and you don't need to reel slowly to keep the lure on top."
The Xw6 Wake Bait is 2-3/4 inches long and weighs a distance-rocketing 3/4 ounce.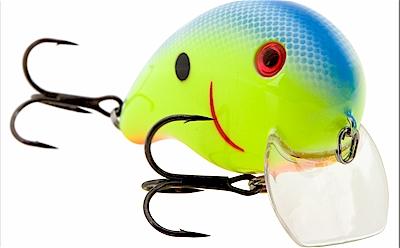 XCalibur's new Xw6 Wake Bait is not a shallow-running crankbait compromise. It's a bona fide wakebait.
YUM Bait Company
"The Dancin Eel is back! it looks the same as the old classic version of this legendary lure, but the new one's a total rebuild," says Jeff Samsel.
Engineered with a one-piece hard plastic internal body and paddle tail makes it run true and literally come to life in the water. It couples the wobble of a crankbait with the fluid motion of a soft plastic bait. It has a built-in slow scent release chamber that can be filled with attractant.


Bill's Dancin' Eel is back!
The Forked Tail Dinger debuts from YUM for 2007 too. "The forked tail slows the fall, makes a better shad-shaped imitation, and creates a better jerk and glide action," says Samsel.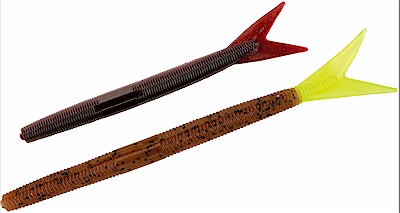 New YUM Forktail Dingers come in 4-1/2 and 6 inch sizes.
A final hot tip on the side from Jeff Samsel is that the new YUM Troutkrilla a brand new paste bait for trout, is being used on smallmouth bass. "It is made with krill, a kind of shrimp-like crustacean that apparently smallmouth bass have a wicked sweet tooth for krill flavor," winks Samsel who added, "Don't tell too many people, though." Oops!
Z-Man / GLC Fishing / Rad Lures
You may not know Z-Man yet. They are more of a supplier or servicer to many other tackle vendors rather than a direct marketer of their own tackle to consumers. Z-Man has been in business 11 years, starting out as a manufacturer of fishing lure skirts such as for spinnerbaits, buzzbaits and jigs. Over the years, they have grown to also become the manufacturing source of Elaztech super-stretchy soft baits marketed by various other vendors, and this year, has become the manufacturer/marketer of the Chatterbait for Rad Lures, one of the biggest new lure sensations of 2006.
Says Ron Davis of Rad Lures about the Chatterbait, "My whole life has changed, and it happened in a hurry. Z-Man helped us out. Chatterbait lure sales took off so fast, starting about February, that we really could not get caught up on our own and missed some of the buying season until May. The demand for the Chatterbait swelled up overnight, and our production ability was not there and it would have been hard for us if it wasn't thanks to Z-Man," admits Ron.
"Chatterbait sales are still going strong. New sales just rolled up across country with the seasons, from Florida on up into the northern states and right through into Canada, sales of the Chatterbait are still climbing from the manufacturing level," states Ron.


New, long-awaited Flippin' Series Chatterbait
Ron introduced the new Flippin Chatterbait with a weedless design for heavy cover. It has not a fiberguard but a soft bait keeper barb behind the jighead that lets you rig a soft bait like a plastic crawdad Texas-style on the back of the Flippin Chatterbait jighead. Plus it rattles.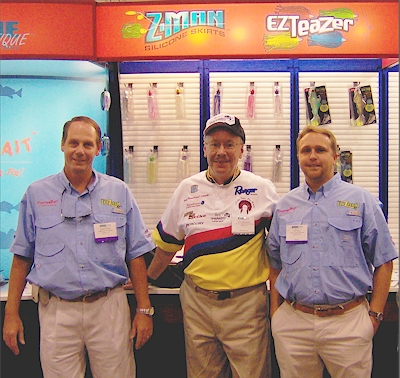 Daryl Greene (left) of GLC Fishing is designer/manufacturer for Z-Man. Bassdozer (center). Ron Davis of Rad Lures (right).
Daryl Greene of GLC Fishing, designer and manufacturer of the SilaFlash and EZ Skirts, was overjoyed about the prospects for the new SilaFlash skirts.
"We originally developed SilaFlash skirts for offshore trolling lures for big game trolling, tuna and billfish, dolphin and the like," says Daryl. Offshore anglers had been using a lot of Mylar material in their trolling lures, but they always desired something flashing that was more supple and had more action than stiff Mylar, plus could be integrated right into rich skirt colors as opposed to separate Mylar strands and could be easily replaced on the teaser lure head without taping and gluing. "We met these needs and exceeded them with the Big Game SilaFlash EZ Skirt," beams Daryl. "I do much offshore trolling myself, and the new SilaFlash skirts pull big game fish up from the deep blue ocean far better than Mylar or anything else I've ever seen. You can look behind the boat, and see the SilaFlash skirts strobe-flashing in the trolling wake 75 yards behind the boat. It's unmistakably bright when the material is in water and there's any light to be reflected," says Greene. "We are in production now and expect to release SilaFlash skirts for bass and other freshwater species in 2007," he adds.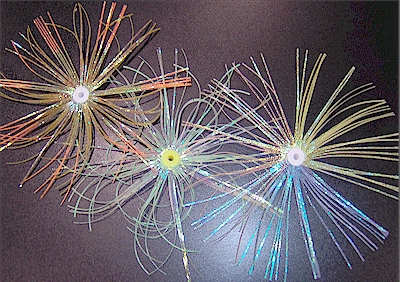 Prototype SilaFlash skirts for bass fishing are more sparkly than the camera can capture in above photo.