La Presa El Cuchillo, Mexico
Story by Russ Bassdozer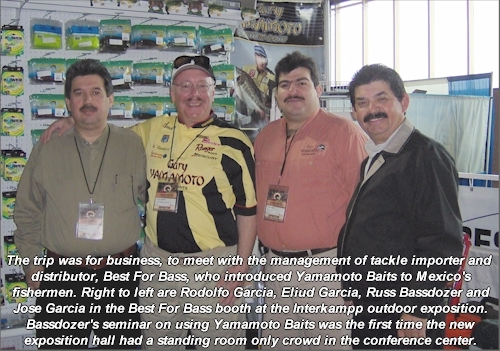 In early February 2006, I visited La Presa El Cuchillo near the town of China in northeast Mexico. "La presa" means "the dam" in Spanish. Many of Mexico's trophy bass waters are man-made impoundments. They're not called lakes in Mexico. They're called dams.
It was a business trip to present a Yamamoto fishing clinic to many avid anglers at Interkampp (www.interkampp.com), an upscale outdoor exposition held in a brand new and beautiful convention center in downtown Monterrey. I was invited to be the guest of Rodolfo Garcia, a tackle importer and distributor. Rodolfo's brother, Jose Garcia, and cousin, Eliud Garcia operate the family business. The Garcias' two premier tackle shops, both named "Best For Bass" are located in metropolitan Monterrey. Through their company, Best for Bass, they have made Gary Yamamoto Custom Baits a household name among anglers in Mexico.
Monterrey, the city where the exposition was held, is very interesting, very modern and appeared affluent. It is as modern and bigger than many American cities, and appeared more like a European or Mediterranean style city nestled between the most beautiful and exotic mountains. Four million people live in Monterrey, and it appears the citizens in the sections of the city I saw are well-to-do and sophisticated. They had the best of everything in the downtown section - and as far as I could see during my brief stay, Monterrey appears to be a stunning and modern city.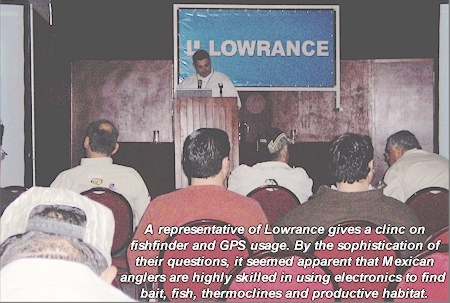 On Saturday, I worked in the Best for Bass exhibit booth at the outdoor exposition and gave a Yamamoto fishing clinic presentation to a standing room only crowd of local Mexican anglers. The Gary Yamamoto Fishing Clinic was packed. There were no seats left in the audience. The convention center was built about one year ago and there have been numerous conventions, conferences and seminars of all kinds held there practically every week. The Yamamoto fishing clinic was the first time the seminar room was completely filled and standing room only. Needless to say, the convention center management were very impressed. The local anglers (and the fish) in Mexico just love Gary Yamamoto Custom Baits!

On Friday, the day prior to the clinic, I spent Friday fishing on La Presa El Cuchillo so I could get some first-hand experience on the presa before giving the fishing clinic on Saturday. Fishing was good - and of course, I can't wait to return. One enchanting day on La Presa El Cuchillo, Mexico's newest and hottest trophy bass lake, is not enough for anyone.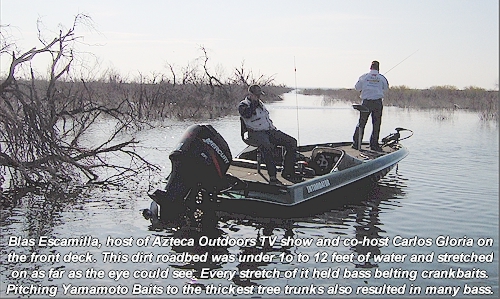 Blas Escamilla, host of the "Azteca Outdoors" TV show and co-host Carlos Gloria joined us on the fishing trip, and filmed it for their TV show. Carlos owns MotoNautica which purchases, sells, rents and repairs outdoor sports recreational vehicles such as bass boats, fish and ski boats, wave runners, sea doos, ATVs, motorcycles, light trucks, 4x4s and other vehicles for hunting, fishing and outdoor recreation. Carlos is a fishing guide on El Cuchillo and has the Hacienta Santa Fe Lodge on nearby El Guerrero. So Carlos can guide fishing parties on two of the best presas in Mexico, the world-famous trophy bass factory El Guerrero and the still new and untapped big bass goldmine, El Cuchillo.

Big bass waters abound across Mexico. The majority are known only to the most adventurous outdoorsmen. Many waters have only ever seen local fishermen. Lake Huites. El Salto. Baccarac. Comedero. El Guerrero. These are the select few and most famous spots where tourists travel on pilgrimages to catch ten pound bass. Anglers from the United States, Canada, Europe, Japan and fishermen from everywhere on the planet journey to this famous handful of sparkling waters in Mexico, to catch their bass of a lifetime. There are more double digit bass caught in Mexico than anywhere.

The newest Mexican Mecca for trophy bass is La Presa El Cuchillo. El Cuchillo is still unfamiliar to the tourist fishing world at large, and still an untapped goldmine of big bass. Opened to fishing in 1994, El Cuchillo may be unique among Mexico's presas in that lucky local residents, bass anglers numbering in the thousands fish El Cuchillo passionately. Frequent bass tournament competitions with over two hundred local bass boats are commonplace. The many Mexican anglers who fish El Cuchillo have as new and modern bass boats, the latest outboards and advanced electronics as anywhere.
Upon first arrival in the town of China, the first of many bass boats I spied was a late model Triton as big as a battleship with a 300 horsepower engine towering handsomely over the transom. Truly an impressive rig but not the only one. The latest bass boat models were parked everywhere in town The driveways of many haciendas were bristling with high-powered bass boats. It was instantly clear that the anglers in this section of Mexico are as up-to-date as bass anglers anywhere in the world.

Two hundred boat tournaments are common - all Mexican local anglers - with the latest boats and advanced electronics.

The local anglers who fish El Cuchillo, their bass fishing skills, ability to strategize, make decisions and understand bass are second to none.

Everyone is quite proud of the bass fishing there, and the biologists and park officials take the presa and the vitality of the bass fishery quite seriously.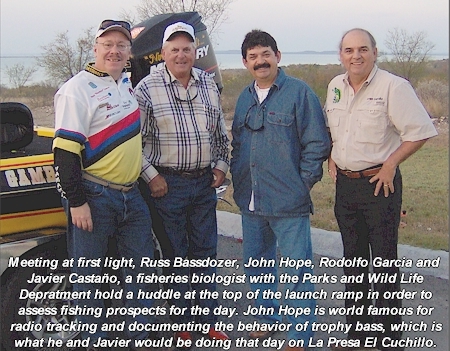 The presa is in a state park and therefore does not permit commercial fishing or netting.

For sportfishing, there is a limit of one bass that can be kept per angler per day. Even still, most passionate local bass anglers never keep a bass. For them, it is voluntarily a catch-and-release presa.

The most prolific spawning grounds are marked with buoys as off limits to fishing during spawning season. I was there in early February, and it did not seem that spawning had begun in earnest at that time. So I'd speculate that March is when spawning may start to get into full swing on El Cuchillo.

La Presa El Cuchillo, the dam is at the northeast end and that's some 48 miles south of the US-Mexican border. As part of developing this new Mecca for sportfishing, El Cuchillo was heavily stocked with Florida bass and anglers say the largemouth gene pool there is 54% Florida strain. I didn't verify that. It is what local anglers proudly told me about their beloved presa.

The other 46% of the bass genes in El Cuchillo? Anglers say these are bass that were already there in small presas that existed all along the original San Juan River drainage and watershed. Local anglers reverently refer to these as"Mexican bass" genes. Where these bass came from to begin with or how long these bass have been in these small presas in this part of Mexico, local anglers I met were not sure.

In 1989, when the major dam was first constructed to form El Cuchillo and hold back and impound the waters of the San Juan River, the newly-forming impoundment of El Cuchillo overflowed and flooded many numerous smaller presas that had already been in the area for years. Some of the original smaller earthen-dam presas, now flooded under, are known to have been built thirty, forty or many more years ago. One map I've seen showed about one dozen of these smaller bass-laden presas. Click here to view an El Cuchillo map page.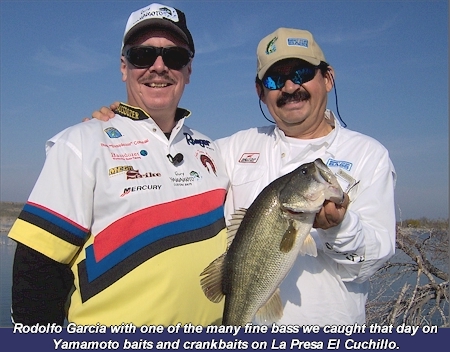 These original smaller presas are now completely under or broken through and adjoined along the shoreline of El Cuchillo. These original presas are where the other 46% of the bass genes in El Cuchillo are said to come from. I did not verify this, but it is part of the local angling folklore.

Although underwater or with their earthen dams broken through and overflown by El Cuchillo, the original smaller presas are still peak mega-centers of bass activity. Bass still seem to exist and live in these underwater or broken-through smaller presas as if they were not part of the bigger presa. Fishing the locations of the original presas, whether adjoined along the shoreline or submerged mid-lake under twenty feet of water, that is the primary key to success on El Cuchillo as I see it in my one day of fishing there. This is an overlooked and little-known concept on any man-made impoundment - to strictly fish the original water and drainage systems that were present before the impoundment. It can be successful, and all you ever need to do on man-made impoundments.

That not only means the original smaller presa, but includes, equally importantly, any original streams, riverbeds or drainages or washes or gulches that are now underwater. Some of these can still be seen above land along the shoreline as inflowing creeks or streams or seeps still flowing, either year-round, intermittent seasonally or downpour incident-driven flowage veins. But many can really only be discovered by studying old maps and then pinpointing them with sonar and GPS electronics. Ferreting out as many maps from as many sources as possible are part of this process, since no two maps show the same original watershed features. If you're serious about mastering El Cuchillo (or any man-made impoundment), you have just been handed the key to unlock some fantastic fishing.

In addition to the original smaller presas and original watershed system and drainage run-off routes, any flooded roadbeds, whether dirt roads or pavement, and any flooded man-made buildings, clear-cut brush perimeters and so on are also key. These are some of the best places to fish for the bass of a lifetime on La Presa El Cuchillo. Especially where one or more of these features converge or intersect. If you maximize your time spent at these types of locations, you should do swell any time of the season in my opinion. A couple of the longer roadbeds we fished, it seemed we could have stayed on those road beds catching bass all day. However, we left while the fish were still biting so that I could get a feel for other spots on the lake.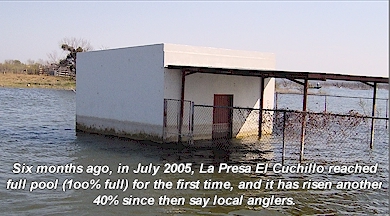 In terms of size, by crisscrossing it by boat several times during the day, I would say the main basin appears to be about 10 to 12 miles long and 3 to 4 miles across at most places at the current water level.

True, this is a big basin, but it is not a huge body of water. Thanks to the guiding of world-class angler Carlos Gloria, I was able to dissect and fish all four quadrants of the main basin of El Cuchillo in one day. I sampled a diversity of productive cover and structure, and felt I was able to gain a deep understanding of the presa and how to fish it.

El Cuchillo is currently well over full pool. The dam was built in 1989. When opened to fishing in 1994, El Cuchillo was about 17% full and it weathered a period of subsequent dry years so it did not fill quickly. About six months ago, it first reached 100% full, and it has increased in size by 40% over full pool within the past six months due to the major hurricanes in August and September 2005. This article is information I pieced together from a brief trip, and it may not necessarily be correct or complete.

Most of the fish were found holding in 10 to 15 feet of water this day. This seems to me will probably always hold up as a reliable depth to find fish on La Presa El Cuchillo. If you focus your fishing in this depth range, you should have a good chance to do well any time of the season in my opinion. It's just a good, stable depth of water, and a transitional zone between shallower and deeper areas. This depth of water was mostly buffered and sheltered from El Cuchillo's often powerful winds. Outside brush and tree lines in deeper water bore the brunt of the wind, but sheltered the 10 to 15 foot depths which were often calmer and clearer.

However, don't neglect the exposed outer structure if wind permits. On the deeper outside brush and tree lines, offshore ledges and drop-offs of main lake points, we caught fish as deep as 20 feet. Main lake points, emergent mid-lake islands, ledges and drop-offs all held fish this day. I feel these types of more exposed main lake areas will probably always be good prospects on any day here, depending on whether the wind lets you fish these exposed outside areas. One of the smaller sunken presas we fished, it seemed to be way out in the middle of nowhere under 20 feet of water, yet still laden with hefty bass as if they never left the smaller sunken presa. If you concentrate your fishing on these types of locations, you should be able to find action any time of the season, wind permitting, in my opinion.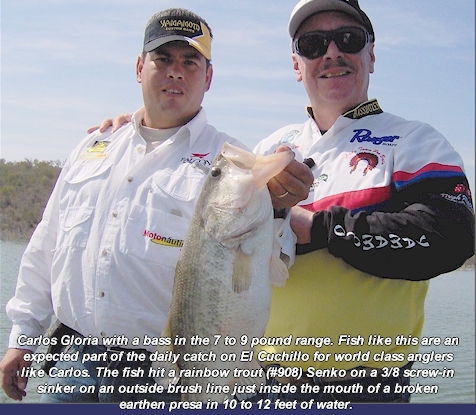 There is also the San Juan River arm which enters the main basin from the south end. The navigable length and nature of this inflowing water source, I do not know and did not see. The river arm extends for some distance, and many of the locals like Carlos Gloria know the river arm like the back of his hand. According to Carlos, you would need weeks to fish it all. There are many good points to fish, there are long arms with creeks and underwater caverns, trees, cliffs, and small side rivers (four of them) full of big dead trees. The main river channel is 40 to 50 feet deep while the main basin is over 70 feet deep.

The river arm is said to have a crawdad population and good bass fishing. Yet the main body of the presa is said to not have many crawfish. But it more than makes up for the perceived lack of crawfish by having a plentitude of finned baitfish. The presa teems with countless schools of silversides, tilapia, bluegill sunfish, gizzard shad, threadfin shad and several other small baitfish species common to the region. In addition to largemouth bass, there are gar, bowfin, carp and catfish.

My guide to El Cuchillo, Carlos Garcia is clearly a world class angler in my opinion, and apparently one of the best anglers in the state of Nuevo Leon, Mexico. That was my impression which I base on his proven track record of scoring highly in tournament competition. With Carlos picking our fishing spots and making the decisions when to move where, we caught many bass, primarily two to four pounds - some bigger, some smaller - all day at every stop we made. Bass were plentiful and everywhere Carlos took us, we scored well.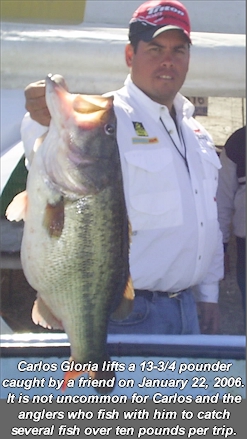 In thick brush and tree cover, the Yamamoto Senko, the 13-series Yamamoto lizard, the 7X-series Yamamoto Kut Tail Worm and the Yamamoto Kreature were all equally productive. Oh yes, the 10-series Yamamoto Big Grub worked as well as anything else, and the Big Grub is the numero uno preferred big bass bait of many El Cuchillo anglers.

Flipping jigs are not used much because of the perception that the dense brush, believe it or not, is too thick to fish even the most snagless of jigs. Therefore, flipping and pitching Texas-rigged soft plastics with screw-in bullet weights is the most popular and most snagless fishing tactic day in and day out on El Cuchillo.

Crankbaits also caught a lot of bass in open water over the road beds or where brush and trees were sparse enough to make a cast without hanging up. A variety of medium to deep-running crankbaits worked, say anything that would get down to six feet or as deep as ten feet.

There is a sign in the airport at Monterrey that greets visitors. It says, "If you don't like the weather, come back in one hour." This saying describes the strong and powerful winds that rise and fall suddenly in this region. On El Cuchillo, most local anglers have marine radios. Anglers say that park officials tend to ask if you have a radio onboard when you enter the park, and the officials broadcast sudden wind alerts. Winds can be sudden, strong and dangerous to boaters. Wind alerts are broadcast in Spanish only. If you are fishing on your own, you need to be prepared for strong winds and rough water. It can get pretty sporting in an instant.

Because of the constant ebb and flow of wind throughout the day, screw-in sinkers are pretty much standard fare for flipping and pitching soft plastics. When the wind is quiet, weightless soft plastics can be used, but most of the time, a screw-in sinker is required to fish soft baits in the wind. A good all-around size is 3/8 ounce for fishing 10 to 15 foot depths. When the wind is down, you can go lighter, and when it howls, you may need to go as heavy as one ounce in order to fish effectively. However, if you want to stick with just one size as an all-around compromise, I'd say 3/8 or 1/2 ounce will work under a range of wind conditions.

I didn't see any gin clear water on El Cuchillo, and the depth range that held the most fish, from 10 to 15 feet deep, seemed to be the clearest band of water, although still stained. Shallower than that, the water soured, got thicker and more stained, whereas deeper than that, the water was less protected from the wind, and therefore also more stained as far as I saw that day. The band of water in the middle - from 10 to 15 feet - seemed to be the freshest, least stained section, and also held the most fish that day. There are certainly periods when local anglers catch many fish much shallower, but during my visit, the shallower water was dirtier and presumably less oxygenated than the ten to fifteen foot deep band of clearer, fresher water.

Although fishfinders can be set to display either meters or feet, the custom of local anglers on El Cuchillo is to set their fishfinders to display depth in feet. Everything else, however, speed, distance, length and weight is the metric system (and Spanish language). The magic mark for double-digit bass (ten pounders) is 4.55 kilograms. Kilograms are the easiest metric unit to convert (to pounds) and the most important number to anglers - 4.55 kilos. Simply multiply kilograms by 2.2 to convert to pounds - and keep your fingers crossed that the metric scales of the big bass you catch on La Presa El Cuchillo exceeds 4.55 kilos (times 2.2 = 10.01 pounds). That is the magic mark that is achievable any day when you fish El Cuchillo!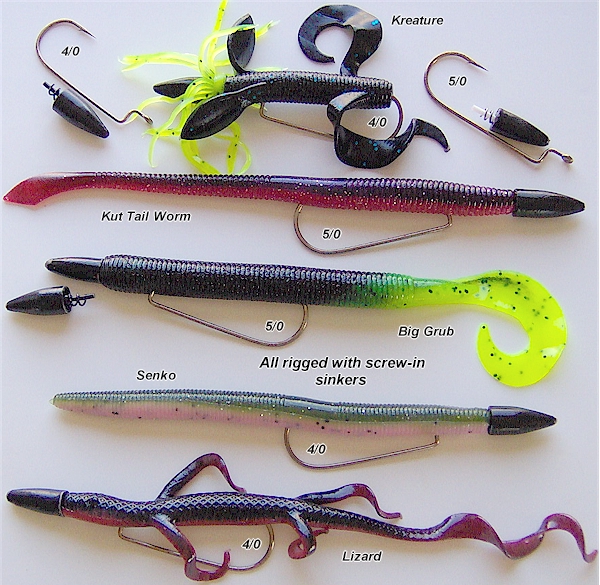 If You Go ~ WHO TO CONTACT
Tackle Shop:
BEST FOR BASS
Proprietor:
Eliud Garcia
Phone:
Fax:
Email:
(011) 52 + (81) 83700505
(011) 52 + (81) 83734007
best_for_bass@hotmail.com
Location:
Raul Rangel Frias
#550 Col. Burocratas
Monterrey, Nuevo Leon Mexico C.P. 64380
Equipment Checklist ~ WHAT TO TRY
Pitching & Flipping Rod:
Falcon Expert Model #EC-7H or comparable seven foot heavy action rod
Reel:
Shimano Castaic, Daiwa TD-103 series or comparable heavy duty baitcaster
Line:
Power Pro 65 lb test braid (No leader required. Tie direct)
Sinkers:
Bullet Weights Screw-in weights ~ assorted sizes from light to heavy
Hooks:
Gamakatsu or Daiichi 4/0 (minimum) or 5/0 (preferred)
90-degree offset round bend wide gap heavy wire
Soft Plastics:
Yamamoto Senko 9-series
Yamamoto Big Grub 10-series
Yamamoto Lizard 13-series
Yamamoto Kut Tail Worm 7X-series
Yamamoto Kreature 5-series
Colors:
066 Black with chartreuse tail
908 Rainbow trout laminate (watermelon/bubblegum)
522 Black with chartreuse skirt
900 Red shad laminate
922 Red shad with silver laminate
913 Green pumpkin with chartreuse tip
297 Green pumpkin pepper
330 Green pumpkin with purple & copper
520 Black with blue tail
523 Black with blue tip
| | |
| --- | --- |
| Crankbait Rod: | Seven foot Falcon Cara CCB-4-17MR Deep Cranker I |
| Reel: | Shimano Chronarch B or comparable high-strength baitcaster |
| Line: | Yamamoto Sugoi Fluorocarbon ~ gray casting line ~ 12 to 14 lb test |
| Crankbaits: | Your favorite medium (6 foot range) and deep-running (10 foot range) crankbaits |