New EZ Chartreuse Sexy Shad and EZ Sexy Herring Skirts

by Russ Bassdozer
This shows and tells product photos, product descriptions and information for the lure models and colors that are (or have been) available at BassdozerStore.com. Not all models and colors shown are currently available, and exact specifications are subject to change.
Note: Some of the following configurations may not all be currently in stock. Some may be sold out at this time. Please check online at www.BassdozerStore.com for current availability of specific items below. Thank you for your business.
---
Give all your bass jigs, spinnerbaits and buzzbaits a fresh, exciting new look with these lure skirts!
EZ Skirts. These same skirts are used on several name brand lures. The EZ Skirt manufacturer only offers a limited number of factory-defined color patterns. So you'll see many of these same EZ Skirt colors repeated on various lure brands.
The skirts are named 'EZ' because they are so easy to get on and off a jig, spinnerbait or buzzbait . The skirts stay firmly in place. Striking fish really can't pull the skirts down easily (if at all) and the skirt strands are looked permanently and perfectly in position. So the appearance can't get wrecked. Strands layered in baitfish patterns can never get jumbled up or out of kilter.
Each EZ Skirt style has 70 silicone strands (each 2-1/2" long) that all billow backward. It has a light, airy, "full yet sparse" look. The strands are locked permanently in place by a small rubber center hub that creates a perfect "umbrella" profile. Because the strands are locked in place, the different colors (fixed in five strand increments) do not move out of place or get mixed into each other. So if a skirt has different back, side and belly colors, the colors are permanently locked in position.
These have very good action and lots of wiggle in the water. The skirt looks square cut in the back, but when they're moving in the water, the ends of the skirt tips pull together nicely into a point like the tapered tip of an artist's paintbrush. Because the "bloom" or bend where the strands come off the hub puffs out so much, it constantly flexes backward, making the strands wriggle actively. It's a very lively action skirt. There's a good amount of shimmy, squiggle and breathing pulse the skirt displays on the retrieve.
When paused, such as when a jig rests on bottom, the strands spring open like unfurling a picnic blanket, presenting the jig trailer in the middle.
Which is Better? People often ask which skirt style do I like better - the standard skirt or the EZ skirt? I like them both. I like the standard skirt for a bulkier flipping jig for example. I like the EZ Skirt for its sparse billowy appearance. It is ideal for clear water. There is a lot more see-through effect on the EZ Skirt which breaks it up more and blends more naturally into the background.
A few of my favorite EZ Skirt applications are:
The EZ Skirt goes nicely on a hidden head spinnerbait since fish get a great glimpse of the baitfish-shaped spinnerbait body hidden beneath the billowy skirt. This skirt lets fish more clearly view the attractive fish-shaped hidden weight belly.
On a swimming jig or finesse jig in clear water with a soft plastic trailer, the sparseness of the EZ Skirt style really shows off the soft trailer body underneath, letting fish get a good peek-a-boo glimpse of the full trailer shape beneath the billowing skirt.
I like buzzbaits dressed with an EZ Skirt. They present beautifully on buzzbaits and have an incredible wriggling action, plus the fact that bass can't easily pull them down. A buzzbait needs to be cast a little different than and more forceful than a spinnerbait or jig. standard skirts can pull off the lead collar even just from casting a buzzbait with the standard skirt band. A standard style skirt, once you catch a couple fish on it, just does not stay in place on a hard cast or when a fish grabs at a buzzbait but misses, a standard skirt often gets pulled down the hook. On the other hand, the EZ Skirts stay in place.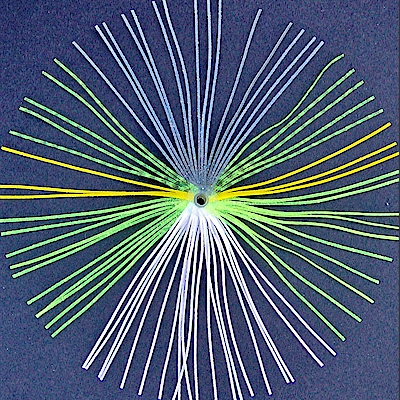 Chatreuse Sexy Shad ~ EZ Skirt. New killer color for 2010. Has the same steel blue back, snow white belly and yellow lateral line as on the original EZ Sexy Shad skirt. Like the original EZ Sexy Shad color, every strand of every color has a coppery micro-crystal in it. What's new and different on this skirt is a swatch of smoky barred chartreuse above and bright chartreuse below the yellow lateral line. Certain to be a great shad-imitating color in stained water or low visibility conditions. It's just another fantastic, sexy skirt color.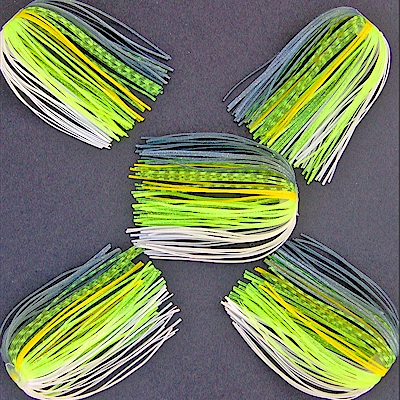 5 Spinnerbait/Jig Skirts ~ EZ Chartreuse Sexy Shad
---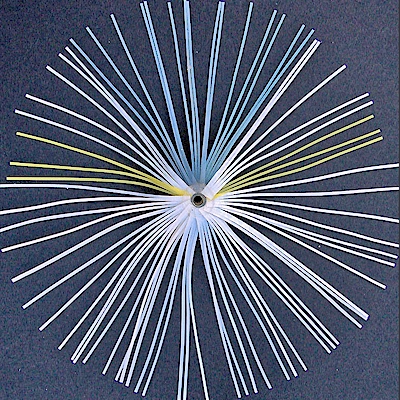 Sexy Herring ~ EZ Skirt. New killer color for 2010. Has the signature yellow lateral lines and a similar steel blue back as on the original EZ Sexy Shad skirt, but the blue back on EZ Sexy Herring is infused with smoky chartreuse and earthy green tones, making it a chameleon color that shifts from blue to chartreuse to green depending on the light angle. The rest of the strands on EZ Sexy Herring are all pearlescent white, all infused with a pale pearlescent powder blue hue, and many of the strands are printed with a reflective pale pearlescent print pattern on them. Difficult to describe in writing, and tough to even see in the photos. Certain to be a great herring-imitating color and yet another fantastic, sexy skirt color!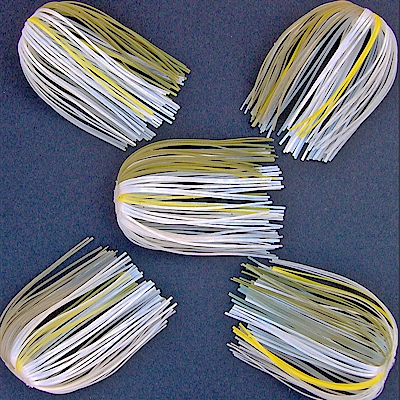 5 Spinnerbait/Jig Skirts ~ EZ Sexy Herring
---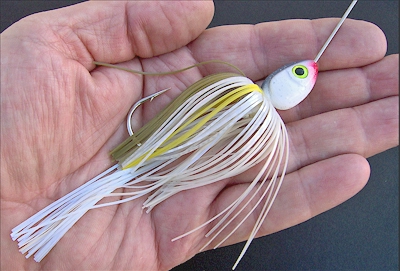 The long, trailing tail section adds the finishing touch to the standard EZ Skirt.
The easy on, easy off EZ Skirt usually consists of 70 silicone skirt strands, each 2-1/2" long, that are permanently bonded onto a core retainer hub. As a result of this unique hub mounted strand design, the 70 skirt strands project out from the hub at a 90 degree angle creating a perfect umbrella shape and when these 70 strands are bent back by water pressure, they have a pulsating action like no other skirt on the market.
In addition, there are now 21 more strands, each 4" long, that trail our behind the skirt to form a tail. These tail strands are also permanently bonded onto the core retainer hub. The trailing tail really heightens the allure of the EZ Skirt.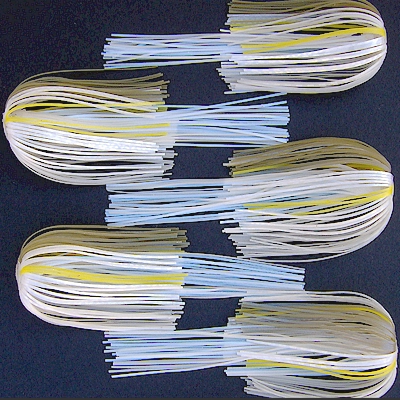 5 Spinnerbait/Jig Skirts ~ EZ Sexy Herring with Tail