SEBILE Lures in Limited Japan-Only Colors

by Russ Bassdozer
This shows and tells product photos, product descriptions and information for the lure models and colors that are (or have been) available at BassdozerStore.com. Not all models and colors shown are currently available, and exact specifications are subject to change.
Note: Some of the following configurations may not all be currently in stock. Some may be sold out at this time. Please check online at www.BassdozerStore.com for current availability of specific items below. Thank you for your business.
---
SEBILE Lures in Limited Japan-Only Colors
I've added a few Japan-only colors of SEBILE lures to BassdozerStore.com
They are mainly the popular D9 (Holo Greenie) color - but in specific models listed below where D9 is not available in these models, except in Japan only.
---
SEBILE Slim Stick ~ Surface Action Lure
A curvy "walk the dog" topwater that differentiates itself from all others first by its slim, swervy, snakelike body, and second, it has an awfully loud, almost popping noise from a one-knocker tungsten bead. Available in 98 (3-7/8"), 118 (4-5/8") and 138 (5-1/2") sizes.
Shown below:
| | | | | |
| --- | --- | --- | --- | --- |
| Model | Length | Weight | Depth | Type |
| Slim Stick 118 | 4-5/8" (118mm) | 5/8 oz (17.2g) | Surface | Topwater, Walking, One Knocker |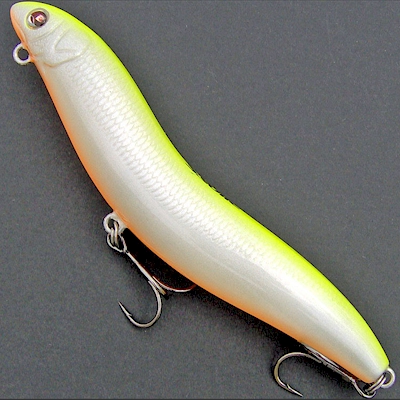 SEBILE Slim Stick 118 ~ Chartreuse White OB (Japan only)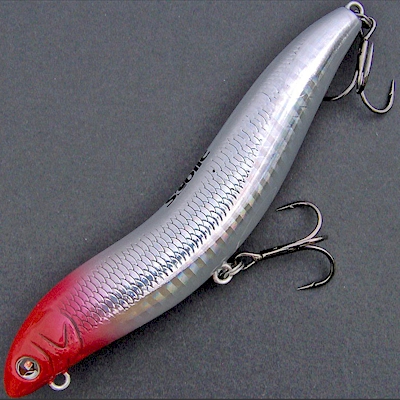 SEBILE Slim Stick 118 ~ Red Head White Hologram (Japan only)
---
SEBILE Stick Shadd ~ Surface Action Lure
The Stick Shadd FT is unique in that it spends as much or more time barely below the surface than on top of it, due to the sharp "Power Keel" that causes the Stick Shadd to slice through the water in a knifing yet natural action. SEBILE pro-staffer and musky guru Pete Maina explains it best, as follows: "Using quick, sharp, short snaps with the Stick Shadd causes super-erratic movement when snapped. Most any other topwater that you work with sharp snaps or twitches results in a very consistent, repetitive, almost mechanical movement. All others are far more predictable in their path during the retrieve. The Stick Shadd, you just never really know what it is going to do next. It looks like something hurt and wounded that isn't sure what to do or where to go next. It doesn't just go to the opposite side like some others that move in the same amount side-to-side no matter what you do. To the contrary, the Stick Shadd goes one time two feet to one side, and next it will go one foot to the same side, then all of a sudden, shoot a little higher up or dart down in the water. So it has 360 degrees or full "3D" (3-dimensional) darting movement up, down, left and right. It never looks like anything that is patternable, and that really helps trigger predators. They really think this is a wounded deal that they better grab right now or they won't be able to grab it at all. It's all over the place, and that really is the way the Stick Shadd gets fish to react to its elusive, unpredictable darting action," according to Pete Maina's explanation of how best to use the Stick Shadd FT for muskie, pike, bass or any gamefish that eats other fish. Sizes range from 72 (3"), 90 (3-1/2"), 114 (4-3/4"), 155 (6-1/4") and 182 (7-5/8") in FT (Floating), SU (Suspending) and SK (Sinking) versions.
Shown below:
Model
Length
Weight
Running
Depth
Type
Stick Shadd 72 FT
3" (72mm)
1/3 oz (8g)
0-1'
Floating, topwater/subsurface, walking, darting, jerking.
Stick Shadd 114 FT
4-3/4" (114mm)
1 oz (26g)
0-1'
Floating, topwater/subsurface, walking, darting, jerking.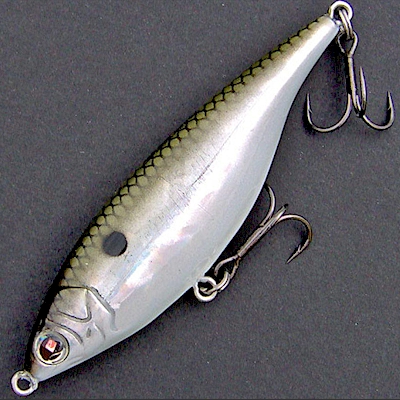 SEBILE Stick Shad 72 FT ~ Holo Greenie (Japan only)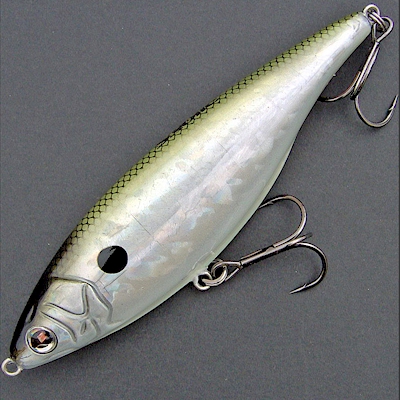 SEBILE Stick Shad 114 FT ~ Holo Greenie (Japan only)
---
SEBILE Splasher ~ Surface Action Lure
There are four Splasher sizes useful for bass in particular. First, the diminutive Splasher 52 is no bigger than a grasshopper and matches many aquatic insect hatches. Great for small ponds and streams. Also useful for those vexing times when bass are slurping "no see'um minnows" off the surface and nothing else seems to work. Second, the Splasher 72 is an ideal size for smallmouth or smaller bass. Third, the beefier Splasher 90 is well-suited to chunky largemouth. Fourth, the Splasher 120 is a big lure for big bass. The flared trumpet-blaring head shape of the Splasher is large, and the deep bowl can eject just a ton of water (if you want), plus the Splasher has SEBILE's "Power Keel" to help it cut crisply from one side to the other as you walk the dog with it. All that action-creating bulk is at the front of the Splasher, however, it is important to note that even the 120 size isn't too large for decent bass, because the tail section on all Splashers tapers down to a thin and streamlined pointy tail that bass engulf easily, resulting in solid hooksets. Whether you want to make a big splash, a subtle pop or walk the dog, the Splasher 52, 72, 90 and 120 cover all your topwater bass bases.
Shown below:
| | | | |
| --- | --- | --- | --- |
| Model | Length | Weight | Type |
| Splasher 52 | 2-1/4" (52mm) | 1/8 oz (5g) | Floating, Popping, Walking, Splashing |
| Splasher 72 | 3" (72mm) | 3/8 oz (10g) | Floating, Popping, Walking, Splashing |
| Splasher 120 | 5" (120mm) | 1-1/2 oz (42g) | Floating, Popping, Walking, Splashing |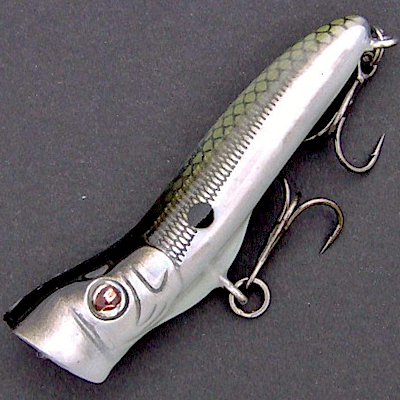 SEBILE Splasher 52 ~ Holo Greenie (Japan only)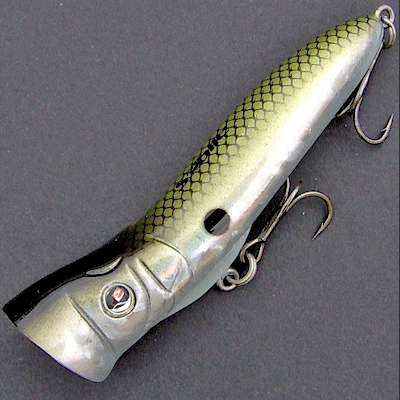 SEBILE Splasher 72 ~ Holo Greenie (Japan only)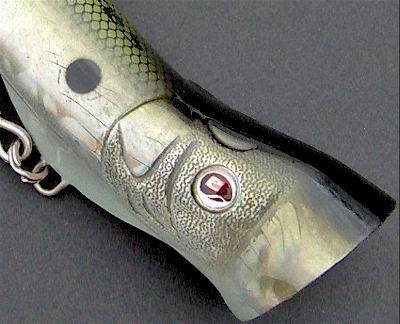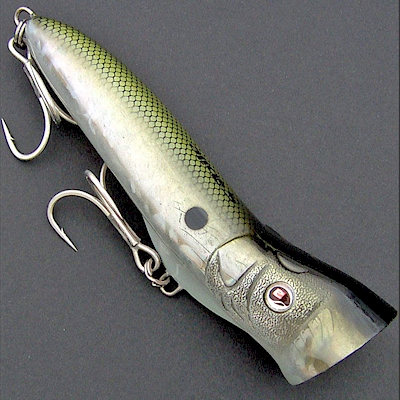 SEBILE Splasher 120 ~ Holo Greenie (Japan only)