Big Game is Good!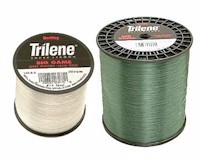 I am satisfied with the Berkley Trilene Big Game. I'm not going to recite the long list of same old reasons why some people say one line is slightly better than another. Just suffice it to say that I am more than glad that I've settled on Big Game as my line of choice for both freshwater and saltwater fishing. If you use some other line, it is a simple test to buy a 1/4 pound of Big Game and compare it yourself. Even if you don't like the Big Game, you can still use it up (the line will not go to waste). But if you do like it better than what you currently use, then you'll be glad you made the comparison! Why not take the test?

I like consistent use of line across multi-applications. As part of finding what's my line, I also tested two special varieties of Big Game called "Inshore" (formulated for saltwater casting) and "Flipping" (formulated for close-up heavy freshwater cover). I never thought the special advantages of either of these lines outweighed the advantage of using the plain old Big Game consistently across most of my saltwater and freshwater fishing. My application gamut runs from finesse fishing small lures for with 10 lb. test; spinnerbaits and crankbaits on 12 and 15; pitching heavy cover with 20; surfcasting plugs, tins and jigs for stripers, blues and weaks in surf and bay on 15 or 20; all the way up to livelining long eels for huge stripers in raging tidal rips with 25 lb. test. To me, learning to excel with one line (i.e., Big Game) is better than learning (or worse, not learning) how to deal with the peculiar properties of a whole host of different lines for a whole host of different applications. Catching fish is a challenging pursuit, and the more I can do to reduce the complexity and increase the consistency of the gear I use, the better I can hit my goal of "catching" fish instead of coping with the technicalities of "fishing" with the gear.

Line Color. I like to use green line. Especially when the water has a greenish color. Also, whenever there's a backdrop of underwater weeds or dense shoreline vegetation. When I go fishing out West in the deep, clear, weedless impoundments there, I tend to respool with clear line for those situations.

Always remember that your success at bass fishing - with jigs, worms, most soft plastics - is based on "line watching". You will "see" most hits in the line before you feel them. An example of this is that most good guides will detect when their clients get bites and tell them when to set the hook by watching their client's lines. So, what matters most is that you can see the line move when a fish hits it. Therefore, the color of your line does not matter as much as the ability for you to see the line tick. In this regards, Big Game comes in a color called "Solar Collector" which is a high visibility line. You can see every hit with this line, and if you fish at night, it is the one to use. I have also used this hi-vis line during the day, catching as many or more fish than my partners using regular lines. Do hi-vis lines cut down on strikes in clear water? Even in clear water, I do not believe a hi-vis line cuts down on the strikes you get. It does not seem to matter much to the bass that I catch.

Cold weather line. Only one small problem is when the weather gets cold enough to wear gloves while fishing. During the tag end of the season, the Big Game will consistently break at moments you pressure a fighting fish - not even a big fish either. Fortunately, there is a special Berkley Trilene "Cold Weather" line that remains resilient and works well for me whenever the gloves go on.

Other manufacturers' lines. I also tested the Tectan and the P-Line monos (and a whole bunch of others) which are frequently touted by people who say they are "better" monofilament lines, typically for freshwater. In my tests, it was hard to find a better line at a better price than Big Game. Whether other lines are truly better or not, I clearly chose to stick with the Big Game for consistency. Also because any time I need a spool in a pinch, I can go into any store that sells any tackle and buy Big Game there at a cheap price. I can't get some of the "better" lines except via mail order and at much higher prices per spool (plus the shipping/handling surcharge). So, Big Game is more than "good enough" for me. At some point, tackle becomes "good enough" to get the job done - rather than always striving for tackle that is the "best". At some point, your personal ability to find and catch fish transcends the gear that you use - regardless of whether that gear is more than "good enough" or it's the "best." Now don't get me wrong, I like to use the newest and "best" stuff as much as anyone else. But I fish with a few guys who have a humbling habit of reminding me what really counts most. They are "better" or "as good" fishermen as I who can routinely outcatch me on "worse" tackle than I.

Thin mono lines. I use thin line primarily in freshwater where I need extra casting distance and/or more sensitive feedback as to how the lure is working on the retrieve. Extra distance counts with ultralight jigs (between 1/32 to 1/8 ounce), and sensitive feedback counts when working freshwater lures like 1/4 oz. spinnerbaits and 1/4 oz. crankbaits. Even with such light lures, I often use 12 lb. test (rarely dipping to 10), because bass are feisty critters that like rugged areas. For example, last week I was fishing the Connecticut River right under the dam at Holyoke, Massachusetts. It's a great place. The river bottom is mostly hard rock composition with natural rock points and ledges that make current rips in the main river channels, plus many man-made hydroelectric and factory outlets emptying into the river. These outlets are like huge concrete caverns, and all sorts of fish stack up inside them. I caught lots of smallies in the main rips and caverns, plus a few largemouth, crappies, rock bass, white perch, yellow perch and big bluegills in the caverns. Point I wanted to make is that I was using an ultralight rod/reel with a 1/32 oz. jig/grub - with 12 lb. test. Even still, the two biggest smallies of the day broke my line. If I need more casting distance (or sinking depth) with such light jigs, I merely add a splitshot or two up the line at times, rather than downsizing the line strength in order to get distance or depth.

For whatever it's worth, I tried all the "thinnies" out there and Trilene "Ultra Thin" was the best for me. Unfortunately for me, they stopped making it this year, and I am now using its apparent replacement, Trilene "SensiThin." When I couldn't buy 12 lb. Ultra Thin at the store, I would sometimes have no choice but to buy the 12 lb. Stren MagnaThin - which I never liked. However, I have recently heard that there is a new formulation of Stren MagnaThin, but it really hasn't hit the shelves in the stores near me, which still have dusty old boxes of MagnaThin from who knows when. But if I do see some fresh boxes of Magnathin come in next spring, I'll remember to try it again based on the recommendation I got.

By the way, there are only a few factories in the world that have the expensive machinery required to exude and produce all known brands of mono. So, although there are many dozens of different monos out there, they are all being manufactured in only a couple of places, a major one being in Germany.