Springtime Bass, Doing Their Thing
by Tom Lester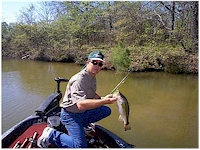 I suppose the bass have finally figured out that spring is here and it is time to go shallow. It seems like we humans have been experiencing spring-like conditions for several weeks, but the bass have been waiting, and now is the time to get out there and catch 'em. The spawn is to bassfishermen/women what the rut is to deer hunters. It is the time of year the big 'uns become more vulnerable than any other time of the year.
Recently, Benji Hohenberger and I headed over to pre-fish a tournament at Cedar Creek Lake. After fishing for an hour or so, we headed into a small creek looking for bass and boy, was I surprised. The water was just clear enough to spot a nice bass on the bed with the help of my Solar Bat polorized glasses. High quality sunglasses, like the Solar Bat's, are a must when bed fishing. They help you see through the water's glare enabling you to spot bass on their spawning nest. Upon further inspection in our small creek, we found several more bass protecting their nest. I love to sight fish for bass more than any other type of fishing.
At this point, we pitched lizards and small worms onto the nest. Being careful not the spook the fish, we would actually pitch past the nest and drag the Kalin's watermelon lizard or Western worm in green back onto the nest in front of the fish. Once the bait was on the nest, we shook the line to make the bait move a little and aggravate the bass to the point that they wanted it off of the nest. They would pick it up in their mouth to move it and BOOM, we'd set the hook and the rest is in the pictures. We even caught the same bass, two different times. I caught it first and 20 minutes later Benji caught it off of the same nest. I like the Kalin's worms and lizards because they are packed with salt, which the bass find irresistible. Once they bite, they hold on longer than with other plastic baits I've used. Proper rod, reel and line selection is also important when bed fishing. The clarity of the water you are fishing will greatly dictate the size line you need to use. Bedding fish are spooky and in clear water, the chances of hooking up with these fish are less than when they are in murkier water. Proper gear selection is important.
In clear water I use P Line's CX fluorocarbon coated line. It is virtually invisible underwater making it difficult for bass to detect. In all other conditions, I use P Line's CXX line. It is limp and spools off of the reel smoothly making accurate pitching much easier to do. When bed fishing, it is imperative that your casting be on target to increase your chances of hooking up with the bass. A good medium-heavy to heavy action rod is a good choice. I prefer my Abu Garcia 6'6'' med/heavy action Conolon rod with my Moorum reel, also by Abu Garcia. With precision casting being a necessity when bed fishing, I go with the smoothest rod and reel combo in my arsenal. In "gin clear" water, like that often found at Lake Whitney during the spring, I use my Ultra cast spinning reel mounted on a 6'6'' medium action Conolon rod rigged with 6-10 lb. P Line. It makes for a lethal combination for clear water bassin'.
If sight fishing is not for you, try chunking spinnerbaits along the bank. Cover lots of water, and you will probably catch fish. I like bright colors in the spring. Look for 60-68 degree water and watch for movement along the shoreline or for the bass themselves. If you want to fish the spawn, but don't own a boat, don't know where to go or what to do, contact a guide. They are there to help you catch fish and learn the sport. They can be a great benefit to you. Contact Stan Lawhon or Mike's Guide Serivce. I highly recommend both of them for a good day on the water.
This is the time of year for you to do your thing, if your thing is catching bass here in the south. Find or make time to get out on the water and look for spawning bass.
Until next time, enjoy the Texas outdoors.
Tom Lester
Author Information.

Tom Lester owns and operates Four Seasons Lawnscape, a landscape and lawn maintenance service, in Corsicana, Texas. He has fished for most of his 36 years to some degree or another. He fishes competitively in bass tournaments and is beginning his professional bass fishing career in the BASS invitational circuit and the Everstart Series.
Tom lives with his wife, Kelly, in Corsicana, Texas, only a few miles from Richland-Chambers reservoir, one of the hottest new bass lakes to open in Texas in the past ten years. He formerly resided in Cleburne, Texas, where he guided part-time for largemouth and smallmouth bass. Tom is currently on the field staff for Abu Garcia, Norman Lures, Inspiration Lures, and Bill Lewis Lures, and on the pro staff for Kalin's, CastAway Rods, P-Line, and Nuwave Products.
Tom enjoys fishing, hunting and writing his outdoor column for the Corsicana Daily Sun and freelance writing. He is a former high school Agricultural Science instructor and animal health pharmaceutical sales rep. He graduated from Texas A&M University with a B.S in Agricultural Education and a Master of Education degree. Tom likes being his own boss so he can take off to go fishing, whenever he likes, and leave his wife in charge of the business.
Email Tom at lester01@airmail.net
Visit Tom at his web site: Fishing Pro Staff